Access options
Subscribe to Journal
Get full journal access for 1 year
$59.00
only $4.92 per issue
All prices are NET prices.
VAT will be added later in the checkout.
Tax calculation will be finalised during checkout.
Rent or Buy article
Get time limited or full article access on ReadCube.
from$8.99
All prices are NET prices.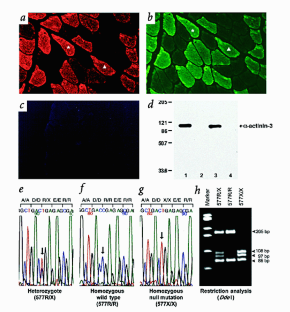 References
1

Blanchard, A., Ohanian, V. & Critchley D. J. Muscle Res. Cell Motil. 10, 280–289 (1989).

2

Beggs, A.H. et al. J. Biol. Chem. 267, 9281–9288 (1992).

3

North, K.N. & Beggs, A.H. Neuromuscul. Disord. 6, 229–235 (1996).

4

Vainzof, M. et al. Neuropediatrics 28, 223–228 (1997).

5

Minetti, C., Ricci, E. & Bonilla, E. Neurology 41, 1977–1981 (1991).

6

Slatkin, M. & Excoffier, L. Heredity 76, 377–383 (1996).

7

Cooke, J. et al. Trends Genet. 13, 360–364 (1997).

8

Chan, Y.-m. et al. Biochem. Biophys. Res. Comm. 248, 134–139 (1998).

9

Simoneau, J.-A. & Bouchard, C. in Paediatric Anaerobic Performance (ed. Van Praagh, E.) 5–21 (Human Kinetics Publishers, Champaign, Illinois, 1998).

10

Flood, G., Rowe, A.J., Critchley, D.R. & Gratzer, W.B. Eur. Biophys. J. 25, 431–435 (1997).

11

Li, W.-H. J. Mol. Evol. 36, 96–99 (1993).

12

Kimura, M. J. Mol. Evol. 16, 111–120 (1980).
Acknowledgements
We thank S. Kim and H.-Q. Tong for technical assistance, M. Ettore for help with ACTN3 genotyping and P. Gunning, L. Kunkel and J. Scharf for their suggestions and critical reading of the manuscript. The authors acknowledge a gift of anonymous DNA samples from D. Bing and R. Houranieh at the Boston Center for Blood Research. This work was supported by an RACP Glaxo Wellcome Australia Fellowship to K.N.N. and by grants from the Muscular Dystrophy Association and the National Institutes of Health (NIAMS R01 AR44345 and K02 AR02026) to A.H.B.
About this article
Cite this article
North, K., Yang, N., Wattanasirichaigoon, D. et al. A common nonsense mutation results in α-actinin-3 deficiency in the general population. Nat Genet 21, 353–354 (1999). https://doi.org/10.1038/7675