Abstract
Darier disease (DD) is an autosomal-dominant skin disorder characterized by loss of adhesion between epidermal cells (acantholysis) and abnormal keratinization. Recently we constructed a 2.4-Mb, P1-derived artificial chromosome contig spanning the DD candidate region on chromosome 12q23-24.1. After screening several genes that mapped to this region, we identified mutations in the ATP2A2 gene, which encodes the sarco/endoplasmic reticulum Ca2+-ATPase type 2 isoform (SERCA2) and is highly expressed in keratinocytes. Thirteen mutations were identified, including frameshift deletions, in-frame deletions or insertions, splice-site mutations and non-conservative missense mutations in functional domains. Our results demonstrate that mutations in ATP2A2 cause DD and disclose a role for this pump in a Ca2+-signalling pathway regulating cell-to-cell adhesion and differentiation of the epidermis.
Access options
Access options
Subscribe to Journal
Get full journal access for 1 year
$225.00
only $18.75 per issue
All prices are NET prices.
VAT will be added later in the checkout.
Rent or Buy article
Get time limited or full article access on ReadCube.
from$8.99
All prices are NET prices.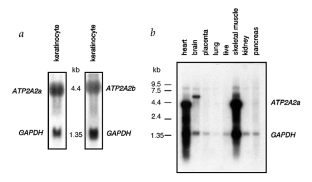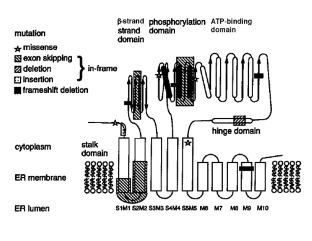 Accession codes
Accessions
GenBank/EMBL/DDBJ
References
1

Burge, S. & Wilkinson, D.J. Darier-White disease: a review of the clinical features in 163 patients. J. Am. Acad. Dermatol. 27, 40–50 (1992).

2

Munro, C.S. The phenotype of Darier's disease: penetrance and expressivity in adults and children. Br. J. Dermatol. 127, 126– 130 (1992).

3

Burge, S. & Garrod, D.R. An immunohistological study of desmosomes in Darier's disease and Hailey-Hailey disease. Br. J. Dermatol. 124, 242–251 (1991).

4

Craddock, N. et al. The gene for Darier's disease maps to chromosome 12q23-q24.1. Hum. Mol. Genet. 2, 1941– 1943 (1993).

5

Bashir, R. et al. Localisation of a gene for Darier's disease. Hum. Mol. Genet. 2, 1937–1939 (1993).

6

Carter, S.A. et al. Linkage analyses in British pedigrees suggest a single locus for Darier disease and narrow the location to the interval between D12S105 and D12S129. Genomics 24, 378– 382 (1994).

7

Ikeda, S. et al. Localization of the gene for Darier disease to a 5-cM interval on chromosome 12q. J. Invest. Dermatol. 103, 478–481 (1994).

8

Parfitt, E. et al. The gene for Darier's disease maps between D12S78 and D12S79. Hum. Mol. Genet. 3, 35– 38 (1994).

9

Wakem, P. et al. Localization of the Darier disease gene to a 2-cM portion of 12q23-24.1. J. Invest. Dermatol 106, 365 –367 (1996).

10

Monk, S. et al. Refined genetic mapping of the Darier locus to a <1-cM region of chromosome 12q24.1, and construction of a complete, high-resolution P1 artificial chromosome/bacterial artificial chromosome contig of the critical region. Am. J. Hum. Genet. 62, 890– 903 (1998).

11

Lytton, J. & MacLennan, D.H. Molecular cloning of cDNAs from human kidney coding for two alternatively spliced products of the cardiac Ca2+-ATPase gene. J. Biol. Chem. 263 , 15024–15031 (1988).

12

MacLennan, D.H., Brandl, C.J., Korczak, B. & Green, N.M. Amino-acid sequence of a Ca2+ + Mg2+-dependent ATPase from rabbit muscle sarcoplasmic reticulum, deduced from its complementary sequence. Nature 316, 696– 700 (1985).

13

Pozzan, T., Rizzuto, R., Volpe, P. & Meldolesi, J. Molecular and cellular physiology of intracellular calcium stores. Physiol. Rev. 74, 595–636 (1994).

14

Missiaen, L. et al. Ca2+ extrusion across plasma membrane and Ca2+ uptake by intracellular stores. Pharmacol. Ther. 50, 191–232 (1991).

15

Stuart, R.O., Sun, A., Bush, K.T. & Nigam, S.K. Dependence of epithelial intercellular junction biogenesis on thapsigargin-sensitive intracellular calcium stores. J. Biol. Chem. 271, 13636 –13641 (1996).

16

Berridge, M.J., Bootman, M.D. & Lipp, P. Calcium—a life and death signal. Nature 395, 645–648 (1998).

17

Baba-Aissa, F., Raeymaekers, L., Wuytack, F., Dode, L. & Casteels, R. Distribution and isoform diversity of the organellar Ca2+ pumps in the brain. Mol. Chem. Neuropathol. 33, 199–208 (1998).

18

Brandl, C.J., Green, N.M., Korczak, B. & MacLennan, D.H. Two Ca2+ ATPase genes: homologies and mechanistic implications of deduced amino acid sequences. Cell 44, 597– 607 (1986).

19

MacLennan, D.H., Rice, W.J., Odermatt, A. & Green, N.M. Structure-function relationships in the Ca2+-binding and translocation domain of SERCA1: physiological correlates in Brody disease. Acta Physiol. Scand. 643 (suppl.), 55–67 (1998).

20

Clarke, D.M., Loo, T.W., Inesi, G. & MacLennan, D.H. Location of high affinity Ca2+-binding sites within the predicted transmembrane domain of the sarcoplasmic reticulum Ca2+-ATPase. Nature 339, 476–478 (1989).

21

Carafoli, E., Garcia-Martin, E. & Guerini, D. The plasma membrane calcium pump: recent developments and future perspectives. Experientia 52, 1091–1100 (1996).

22

Burge, S. Cohesion in the epidermis. Br. J. Dermatol. 131, 153–159 (1994).

23

Garrod, D.R., Chidgey, M.A.J. & North, A.J. Desmosomes: differentiation, development, dynamics and disease. Curr. Opin. Cell Biol. 8, 670 –678 (1996).

24

Burdett, I.D.J. Aspects of the structure and assembly of desmosomes. Micron 29, 309–328 (1998).

25

Koch, P.J. & Franke, W.W. Desmosomal cadherins: another growing multigene family of adhesion molecules. Curr. Opin. Cell Biol. 6, 682–687 (1994).

26

Smith, E.A. & Fuchs, E. Defining the interactions between intermediate filaments and desmosomes. J. Cell Biol. 141, 1229–1241 (1998).

27

Watt, F.M., Mattey, D.L. & Garrod, D.R. Calcium-induced reorganization of desmosomal components in cultured human keratinocytes. J. Cell Biol. 99, 2211–2215 (1984).

28

Duden, R. & Franke, W.W. Organization of desmosomal plaque proteins in cells growing at low calcium concentrations. J. Cell Biol. 107, 1049–1063 (1988).

29

Nigam, S.K., Rodriguez-Boulan, E. & Silver, R.B. Changes in intracellular calcium during the development of epithelial polarity and junctions. Proc. Natl Acad. Sci. USA 89, 6162–6166 (1992).

30

Lytton, J., Westlin, M. & Hanley, M.R. Thapsigargin inhibits the sarcoplasmic or endoplasmic reticulum Ca2+-ATPase family of calcium pumps. J. Biol. Chem. 266, 17067–17071 (1991).

31

Rudolph, H.K. et al. The yeast secretory pathway is perturbed by mutations in PMR1, a member of a Ca2+ ATPase family. Cell 58, 133–145 (1989).

32

Petersen, C.C.H., Petersen, O.H. & Berridge, M.J. The role of endoplasmic reticulum calcium pumps during cytosolic calcium spiking in pancreatic acinar cells. J. Biol. Chem. 268, 22262–22264 (1993).

33

Dolmetsch, R.E., Xu, K. & Lewis, R.S. Calcium oscillations increase the efficiency and specificity of gene expression. Nature 392, 933–936 (1998).

34

Odermatt, A. et al. Mutations in the gene encoding SERCA1, the fast-twitch skeletal muscle sarcoplasmic reticulum Ca2+ ATPase, are associated with Brody disease. Nature Genet. 14, 191– 194 (1996).

35

Street, V.A., McKee-Johnson, J.W., Fonseca, R.C., Tempel, B.L. & Noben-Trauth, K. Mutations in a plasma membrane Ca2+-ATPase gene cause deafness in deafwaddler mice. Nature Genet. 19, 390–394 (1998).

36

Maquat, L.E. When cells stop making sense: effect of non-sense codons on RNA metabolism in vertebrate cells. RNA 1, 453– 465 (1995).

37

Lytton, J. & MacLennan, D.H. Sarcoplasmic reticulum. in The Heart and Cardiovascular System (ed. Fozzard, H.A.) 1203–1211 (Raven, New York, 1992).

38

Keith, D. et al. Haploinsufficiency of desmoplakin causes a striate subtype of palmoplantar keratoderma. Hum. Mol. Genet. 8, 143–148 (1999).

39

Hailey, H. & Hailey, H. Familial benign chronic pemphigus. Arch. Dermatol. 39, 679– 685 (1939).

40

Grover, R.W. Transient acantholytic dermatosis. Arch. Dermatol. 101, 426–434 (1970).

41

Toyofuku, T., Kurzydlowski, K., Lytton, J. & MacLennan, D.H. The nucleotide binding/hinge domain plays a crucial role in determining isoform-specific Ca2+ dependence of organellar Ca2+-ATPases. J. Biol. Chem. 267, 14490– 14496 (1992).
Acknowledgements
We thank the clinicians and the families who participated; R. Cox and E. Levy for their contribution in the physical mapping and cytogenetic parts of the project; R. Gibbs for the freely available sequence from the NIH-funded Human Genome Sequencing effort at the Baylor College of Medicine Human Genome Sequencing Center (BCM-HGSC); and J. Bell for support and encouragement. A.S. has a fellowship from the Royal Thai Government and the faculty of Medicine, Ramathibodi Hospital, Mahidol University; S.M. had a Wellcome Trust prize studentship; A.P.M. is a Wellcome Principal Research Fellow; A.H. held a Wellcome Trust and an EC research fellowship. S.C. was supported by a Wellcome Trust Project Grant awarded to T.S., C.S.M. and J.R.; V.R.-P. holds an EC fellowship. The work in Cardiff was supported by grants from the Wellcome Trust. N.C. is a Wellcome Senior Research Fellow.