A new study shows that the piRNA-binding protein Piwi interacts with Hsp90 and suppresses phenotypic variation in Drosophila melanogaster by preventing the expression of hidden epigenetic variation. This suggests that Hsp90 and Piwi function are dampened in times of stress to increase genetic and epigenetic variability, providing a last-ditch mechanism for a species to survive.
Your institute does not have access to this article
Access options
Subscribe to Journal
Get full journal access for 1 year
$59.00
only $4.92 per issue
All prices are NET prices.
VAT will be added later in the checkout.
Tax calculation will be finalised during checkout.
Buy article
Get time limited or full article access on ReadCube.
$32.00
All prices are NET prices.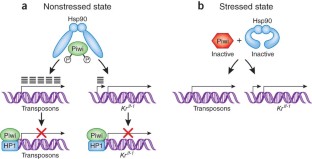 References
Huxley, J. Evolution: the Modern Synthesis. (G. Allen & Unwin London, 1942).

Gangaraju, V.K. et al. Nat. Genet. 43, 153–158 (2011).

Lin, H. & Spradling, A.C. Development 124, 2463–2476 (1997).

Zambon, R.A., Vakharia, V.N. & Wu, L.P. Cell. Microbiol. 8, 880–889 (2006).

Brennecke, J. et al. Cell 128, 1089–1103 (2007).

Specchia, V. et al. Nature 463, 662–665 (2010).

Waddington, C.H. Nature 150, 563–565 (1942).

McClintock, B. Science 226, 792–801 (1984).

Sollars, V. et al. Nat. Genet. 33, 70–74 (2003).

Pal-Bhadra, M. et al. Science 303, 669–672 (2004).

Saurin, A.J. et al. J. Cell Biol. 142, 887–898 (1998).
Ethics declarations
Competing interests
The author declares no competing financial interests.
About this article
Cite this article
Ruden, D. The (new) new synthesis and epigenetic capacitors of morphological evolution. Nat Genet 43, 88–89 (2011). https://doi.org/10.1038/ng0211-88
Published:

Issue Date:

DOI: https://doi.org/10.1038/ng0211-88