Abstract
WikiGenes is the first wiki system to combine the collaborative and largely altruistic possibilities of wikis with explicit authorship. In view of the extraordinary success of Wikipedia there remains no doubt about the potential of collaborative publishing, yet its adoption in science has been limited. Here I discuss a dynamic collaborative knowledge base for the life sciences that provides authors with due credit and that can evolve via continual revision and traditional peer review into a rigorous scientific tool.
Relevant articles
Open Access articles citing this article.
Regan J. Hayward

,

James W. Marsh

…

Garry S. A. Myers

Epigenetics & Chromatin Open Access 27 October 2020

Environmental Sciences Europe Open Access 11 June 2019

Mujib Ullah

&

Zhongjie Sun

Stem Cell Research & Therapy Open Access 10 January 2018
Access options
Subscribe to this journal
Receive 12 print issues and online access
$209.00 per year
only $17.42 per issue
Rent or buy this article
Prices vary by article type
from$1.95
to$39.95
Prices may be subject to local taxes which are calculated during checkout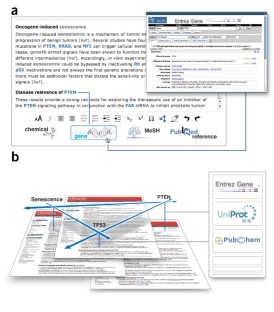 References
Butler, D. Science in the web age: joint efforts. Nature 438, 548–549 (2005).

Waldrop, M.M. Science 2.0. Sci. Am. 298, 68–73 (2008).

Westerhoff, H.V. & Palsson, B.O. The evolution of molecular biology into systems biology. Nat. Biotechnol. 22, 1249–1252 (2004).

Taipale, J. & Beachy, P.A. The Hedgehog and Wnt signalling pathways in cancer. Nature 411, 349–354 (2001).

Patterson, S.D. & Aebersold, R.H. Proteomics: the first decade and beyond. Nat. Genet. 33 (Suppl.), 311–323 (2003).

Pruitt, K.D., Tatusova, T. & Maglott, D.R. NCBI reference sequences (RefSeq): a curated non-redundant sequence database of genomes, transcripts and proteins. Nucleic Acids Res. 35 (Database issue), D61–D65 (2007).

Brooksbank, C., Cameron, G. & Thornton, J. The European Bioinformatics Institute's data resources: towards systems biology. Nucleic Acids Res. 33 (Database issue), D46–D53 (2005).

The UniProt Consortium. The universal protein resource (UniProt). Nucleic Acids Res. 36 (Database issue), D190–D195 (2008).

Hamosh, A., Scott, A.F., Amberger, J.S., Bocchini, C.A. & McKusick, V.A. Online Mendelian Inheritance in Man (OMIM), a knowledgebase of human genes and genetic disorders. Nucleic Acids Res. 33 (Database issue), D514–D517 (2005).

Baumgartner, W.A. Jr, Cohen, K.B., Fox, L.M., Acquaah-Mensah, G. & Hunter, L. Manual curation is not sufficient for annotation of genomic databases. Bioinformatics 23, i41–i48 (2007).

Salzberg, S.L. Genome re-annotation: a wiki solution? Genome Biol. 8, 102 (2007).

Wang, K. Gene-function wiki would let biologists pool worldwide resources. Nature 439, 534 (2006).

Mons, B. et al. Calling on a million minds for community annotation in WikiProteins. Genome Biol. 9, R89 (2008).

Huss, J.W. et al. A gene wiki for community annotation of gene function. PLoS Biol. 6, e175 (2008).

Check, E. More biologists but tenure stays static. Nature 448, 848–849 (2007).

Lehmann, S., Jackson, A.D. & Lautrup, B.E. Measures for measures. Nature 444, 1003–1004 (2006).

Giles, J. Internet encyclopaedias go head to head. Nature 438, 900–901 (2005).

Adler, B.T., de Alfaro, L. A content-driven reputation system for the Wikipedia in Proc. WWW., 261–270 (ACM Press, New York, 2007).

Giles, J. Wikipedia rival calls in the experts. Nature 443, 493 (2006).

Spier, R. The history of the peer-review process. Trends Biotechnol. 20, 357–358 (2002).

Kassirer, J.P. & Campion, E.W. Peer review. Crude and understudied, but indispensable. J. Am. Med. Assoc. 272, 96–97 (1994).

Cokol, M., Iossifov, I., Rodriguez-Esteban, R. & Rzhetsky, A. How many scientific papers should be retracted? EMBO Rep. 8, 422–423 (2007).

Conte, R. & Paolucci, M. Reputation in Artificial Societies: Social Beliefs for Social Order. (Kluwer Academic Publishers, Boston, 2002).

Resnick, P., Zeckhauser, R., Friedman, E. & Kuwabara, K. Reputation systems. Comm. ACM Conf. 43, 45–48 (2000).

Friedman, E. & Resnick, P. The social cost of cheap pseudonyms. J. Econ. Manage. Strategy 10, 173–199 (2001).

Kling, R. Computerization and Controversy: Value Conflicts and Social Choices 2nd edn. (Academic Press, San Diego, 1996).

Chen, M. & Singh, J.P., Computing and using reputations for internet ratings, in Proc. ACM Conf. Electronic Commerce. 154–162 (ACM Press, New York, 2001).

Rodriguez, M.A., Bollen, J. & Van de Sompel, H. The convergence of digital libraries and the peer-review process. J. Inf. Sci. 32, 149–159 (2006).

McKusick, V.A. HUGO news. The Human Genome Organisation: history, purposes, and membership. Genomics 5, 385–387 (1989).

Little, P. Human genome annotation—a possible role for HUGO? Human Genome Organisation. Nat. Genet. 19, 222 (1998).

de Lichtenberg, U., Jensen, L.J., Brunak, S. & Bork, P. Dynamic complex formation during the yeast cell cycle. Science 307, 724–727 (2005).

Campbell, S.L., Khosravi-Far, R., Rossman, K.L., Clark, G.J. & Der, C.J. Increasing complexity of Ras signaling. Oncogene, 17 (11 Reviews),1395–1413 (1998).

von Bubnoff, A. & Cho, K.W. Intracellular BMP signaling regulation in vertebrates: pathway or network? Dev. Biol. 239, 1–14 (2001).

Anonymous. Compete, collaborate, compel. Nat. Genet. 39, 931 (2007).

Heber, J. Print and perish? Nat. Mater. 7, 512–514 (2008).

Hoffmann, R. & Valencia, A. A gene network for navigating the literature. Nat. Genet. 36, 664 (2004).

Berners-Lee, T. & Hendler, J. Publishing on the semantic web. Nature 410, 1023–1024 (2001).

Searls, D.B. Data integration: challenges for drug discovery. Nat. Rev. Drug Discov. 4, 45–58 (2005).

Anonymous. Let data speak to data. Nature 438, 531 (2005).

Wheeler, D.L. et al. Database resources of the National Center for Biotechnology Information. Nucleic Acids Res. 36 (Database issue), D13–D21 (2008).

Roberts, L., Davenport, R.J., Pennisi, E. & Marshall, E. A history of the Human Genome Project. Science 291, 1195 (2001).

Frazer, K.A. et al. A second generation human haplotype map of over 3.1 million SNPs. Nature 449, 851–861 (2007).

Cotton, R.G. et al. Recommendations of the 2006 Human Variome Project meeting. Nat. Genet. 39, 433–436 (2007).

Anonymous. Join a social revolution. Nature 436, 1066 (2005).

Lipscomb, C.E. Medical Subject Headings (MeSH). Bull. Med. Libr. Assoc. 88, 265–266 (2000).

Hoffmann, R. & Valencia, A. Implementing the iHOP concept for navigation of biomedical literature. Bioinformatics 21 (Suppl. 2), ii252–ii258 (2005).

Terry, S.F., Terry, P.F., Rauen, K.A., Uitto, J. & Bercovitch, L.G. Advocacy groups as research organizations: the PXE International example. Nat. Rev. Genet. 8, 157–164 (2007).

Anonymous. What is the human variome project? Nat. Genet. 39, 423 (2007).
Acknowledgements
This work was supported in part by the Branco Weiss Fellowship, Society in Science. I am thankful to the Memorial Sloan-Kettering Cancer Center for hosting the iHOP information resource, C. Sander and M. Ramirez-Gaite for helpful discussion, and T. Berners-Lee and D. Weitzner for their support.
About this article
Cite this article
Hoffmann, R. A wiki for the life sciences where authorship matters. Nat Genet 40, 1047–1051 (2008). https://doi.org/10.1038/ng.f.217
Published:

Issue Date:

DOI: https://doi.org/10.1038/ng.f.217