A study characterizes the in vitro replicative capacity of over 70,000 clinical isolates of HIV-1 in the absence of drugs, or in the presence of one of 15 individual drugs. The largest survey of the effects of mutations on fitness undertaken in any organism, this study finds extensive pairwise interactions among over 1,800 variable sites identified through sequencing the protease and reverse transcriptase genes.
Access options
Subscribe to Journal
Get full journal access for 1 year
$79.00
only $6.58 per issue
All prices are NET prices.
VAT will be added later in the checkout.
Tax calculation will be finalised during checkout.
Buy article
Get time limited or full article access on ReadCube.
$32.00
All prices are NET prices.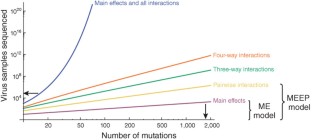 References
Richman, D.D. et al. Trans. Am. Clin. Climatol. Assoc. 115, 289–303 (2004).

Shafer, R.W. J. Infect. Dis. 194, S51–S58 (2006).

da Silva, J., Coetzer, M., Nedellec, R., Pastore, C. & Mosier, D.E. Genetics 185, 293–303 (2010).

Bonhoeffer, S., Chappey, C., Parkin, N.T., Whitcomb, J.M. & Petropolous, C.J. Science 306, 1547–1550 (2004).

Phillips, P.C. Genetics 149, 1167–1171 (1998).

Hinkley, T. et al. Nat. Genet. 43, 487–489 (2011).

Petropoulos, C.J. et al. Antimicrob. Agents Chemother. 44, 920–928 (2000).

Poelwijk, F.J., Kiviet, D.J., Weinreich, D.M. & Tans, S.J. Nature 445, 383–386 (2007).

Dean, A.M. & Thornton, J.W. Nat. Rev. Genet. 8, 675–688 (2007).

Efron, B., Hastie, T., Johnston, I. & Tibshirani, R. Ann. Stat. 32, 407–499 (2002).

Candes, E. & Tao, T. Ann. Stat. 35, 2141–2351 (2007).

Tokuriki, N. & Tawfik, D.S. Curr. Opin. Struct. Biol. 19, 596–604 (2009).

Wright, S. in Proceedings of the Sixth International Congress of Genetics (ed. Jones, D.F.) 356–366 (Brooklyn Botanic Garden, Menasha, Wisconsin, USA, 1932).

Maynard Smith, J. Nature 225, 563–564 (1970).

Weinreich, D.M., Watson, R.A. & Chao, L. Evolution 59, 1165–1174 (2005).
Ethics declarations
Competing interests
The author declares no competing financial interests.
About this article
Cite this article
Weinreich, D. High-throughput identification of genetic interactions in HIV-1. Nat Genet 43, 398–400 (2011). https://doi.org/10.1038/ng.820
Published:

Issue Date:

DOI: https://doi.org/10.1038/ng.820