Abstract
Fanconi anemia is a rare recessive disorder characterized by genome instability, congenital malformations, progressive bone marrow failure and predisposition to hematologic malignancies and solid tumors1. At the cellular level, hypersensitivity to DNA interstrand crosslinks is the defining feature in Fanconi anemia2. Mutations in thirteen distinct Fanconi anemia genes3 have been shown to interfere with the DNA-replication–dependent repair of lesions involving crosslinked DNA at stalled replication forks4. Depletion of SLX4, which interacts with multiple nucleases and has been recently identified as a Holliday junction resolvase5,6,7, results in increased sensitivity of the cells to DNA crosslinking agents. Here we report the identification of biallelic SLX4 mutations in two individuals with typical clinical features of Fanconi anemia and show that the cellular defects in these individuals' cells are complemented by wildtype SLX4, demonstrating that biallelic mutations in SLX4 (renamed here as FANCP) cause a new subtype of Fanconi anemia, Fanconi anemia-P.
Relevant articles
Open Access articles citing this article.
Giuliana Giannuzzi

,

Nicolas Chatron

…

Alexandre Reymond

npj Genomic Medicine Open Access 17 June 2022

Nature Communications Open Access 16 July 2021

Mike M. Moradian

,

Davit T. Babikyan

…

Tamara F. Sarkisian

Human Genome Variation Open Access 09 February 2021
Access options
Subscribe to this journal
Receive 12 print issues and online access
$209.00 per year
only $17.42 per issue
Rent or buy this article
Prices vary by article type
from$1.95
to$39.95
Prices may be subject to local taxes which are calculated during checkout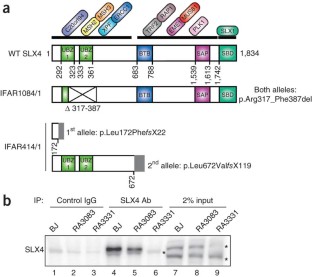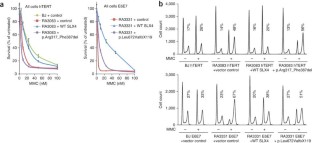 Accession codes
Accessions
NCBI Reference Sequence
References
Auerbach, A.D. Fanconi anemia and its diagnosis. Mutat. Res. 668, 4–10 (2009).

Auerbach, A.D. & Wolman, S.R. Susceptibility of Fanconi′s anaemia fibroblasts to chromosome damage by carcinogens. Nature 261, 494–496 (1976).

Moldovan, G.L. & D'Andrea, A.D. How the fanconi anemia pathway guards the genome. Annu. Rev. Genet. 43, 223–249 (2009).

Knipscheer, P. et al. The Fanconi anemia pathway promotes replication-dependent DNA interstrand cross-link repair. Science 326, 1698–1701 (2009).

Fekairi, S. et al. Human SLX4 is a Holliday junction resolvase subunit that binds multiple DNA repair/recombination endonucleases. Cell 138, 78–89 (2009).

Munoz, I.M. et al. Coordination of structure-specific nucleases by human SLX4/BTBD12 is required for DNA repair. Mol. Cell 35, 116–127 (2009).

Svendsen, J.M. et al. Mammalian BTBD12/SLX4 assembles a Holliday junction resolvase and is required for DNA repair. Cell 138, 63–77 (2009).

Ciccia, A., McDonald, N. & West, S.C. Structural and functional relationships of the XPF/MUS81 family of proteins. Annu. Rev. Biochem. 77, 259–287 (2008).

Garcia-Higuera, I. et al. Interaction of the Fanconi anemia proteins and BRCA1 in a common pathway. Mol. Cell 7, 249–262 (2001).

Smogorzewska, A. et al. Identification of the FANCI protein, a monoubiquitinated FANCD2 paralog required for DNA repair. Cell 129, 289–301 (2007).

Kratz, K. et al. Deficiency of FANCD2-associated nuclease KIAA1018/FAN1 sensitizes cells to interstrand crosslinking agents. Cell 142, 77–88 (2010).

Liu, T., Ghosal, G., Yuan, J., Chen, J. & Huang, J. FAN1 acts with FANCI-FANCD2 to promote DNA interstrand cross-link repair. Science 329, 693–696 (2010).

MacKay, C. et al. Identification of KIAA1018/FAN1, a DNA repair nuclease recruited to DNA damage by monoubiquitinated FANCD2. Cell 142, 65–76 (2010).

Smogorzewska, A. et al. A genetic screen identifies FAN1, a Fanconi anemia-associated nuclease necessary for DNA interstrand crosslink repair. Mol. Cell 39, 36–47 (2010).

Vaz, F. et al. Mutation of the RAD51C gene in a Fanconi anemia-like disorder. Nat. Genet. 42, 406–409 (2010).

Kutler, D.I. et al. A 20-year perspective on the International Fanconi Anemia Registry (IFAR). Blood 101, 1249–1256 (2003).

Hofmann, K. Ubiquitin-binding domains and their role in the DNA damage response. DNA Repair (Amst.) 8, 544–556 (2009).

Sobhian, B. et al. RAP80 targets BRCA1 to specific ubiquitin structures at DNA damage sites. Science 316, 1198–1202 (2007).

Howlett, N.G. et al. Biallelic inactivation of BRCA2 in Fanconi anemia. Science 297, 606–609 (2002).

Xia, B. et al. Fanconi anemia is associated with a defect in the BRCA2 partner PALB2. Nat. Genet. 39, 159–161 (2007).

Meindl, A. et al. Germline mutations in breast and ovarian cancer pedigrees establish RAD51C as a human cancer susceptibility gene. Nat. Genet. 42, 410–414 (2010).

Rahman, N. et al. PALB2, which encodes a BRCA2-interacting protein, is a breast cancer susceptibility gene. Nat. Genet. 39, 165–167 (2007).

Seal, S. et al. Truncating mutations in the Fanconi anemia J gene BRIP1 are low-penetrance breast cancer susceptibility alleles. Nat. Genet. 38, 1239–1241 (2006).

Wooster, R. et al. Identification of the breast cancer susceptibility gene BRCA2. Nature 378, 789–792 (1995).

Lamesch, P. et al. hORFeome v3.1: a resource of human open reading frames representing over 10,000 human genes. Genomics 89, 307–315 (2007).

Dolma, S., Lessnick, S.L., Hahn, W.C. & Stockwell, B.R. Identification of genotype-selective antitumor agents using synthetic lethal chemical screening in engineered human tumor cells. Cancer Cell 3, 285–296 (2003).
Acknowledgements
We are grateful to the affected individuals and their families for their participation in this study. We thank the Harper Lab, Harvard Medical School, Boston, Massachusetts, USA for reagents, E. Foley for advice and J. de Winter for communicating unpublished results. H.H. is supported by the Deutsche Forschungsgemeinschaft SPP1230, the Bundesministerium für Bildung und Forschung network for Bone Marrow failure Syndrome, and FoneFA. A.S. is supported by the Burroughs Wellcome Fund Career Award for Medical Scientists and is a Rita Allen Foundation and an Irma T. Hirschl Scholar.
Ethics declarations
Competing interests
The authors declare no competing financial interests.
Supplementary information
About this article
Cite this article
Kim, Y., Lach, F., Desetty, R. et al. Mutations of the SLX4 gene in Fanconi anemia. Nat Genet 43, 142–146 (2011). https://doi.org/10.1038/ng.750
Received:

Accepted:

Published:

Issue Date:

DOI: https://doi.org/10.1038/ng.750