Abstract
Thoracic aortic aneurysms and dissections are a main feature of connective tissue disorders, such as Marfan syndrome and Loeys-Dietz syndrome. We delineated a new syndrome presenting with aneurysms, dissections and tortuosity throughout the arterial tree in association with mild craniofacial features and skeletal and cutaneous anomalies. In contrast with other aneurysm syndromes, most of these affected individuals presented with early-onset osteoarthritis. We mapped the genetic locus to chromosome 15q22.2–24.2 and show that the disease is caused by mutations in SMAD3. This gene encodes a member of the TGF-β pathway that is essential for TGF-β signal transmission1,2,3. SMAD3 mutations lead to increased aortic expression of several key players in the TGF-β pathway, including SMAD3. Molecular diagnosis will allow early and reliable identification of cases and relatives at risk for major cardiovascular complications. Our findings endorse the TGF-β pathway as the primary pharmacological target for the development of new treatments for aortic aneurysms and osteoarthritis.
Relevant articles
Open Access articles citing this article.
Kush Ketan Patel

,

Cynthia Venkatesan

…

Zeeshan Ahmed

Human Genomics Open Access 03 June 2023

Brittany Balint

,

Jan Federspiel

…

Hans-Joachim Schäfers

Scientific Reports Open Access 14 September 2022

Karsyn N. Bailey

&

Tamara Alliston

Current Rheumatology Reports Open Access 02 May 2022
Access options
Subscribe to this journal
Receive 12 print issues and online access
$209.00 per year
only $17.42 per issue
Rent or buy this article
Prices vary by article type
from$1.95
to$39.95
Prices may be subject to local taxes which are calculated during checkout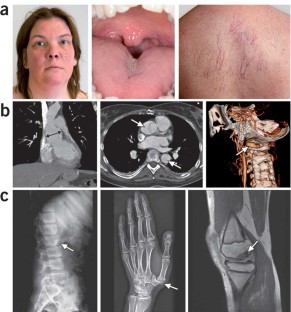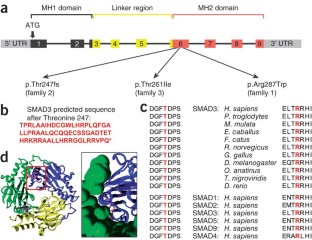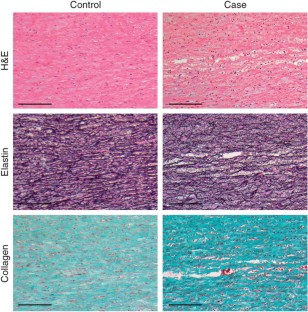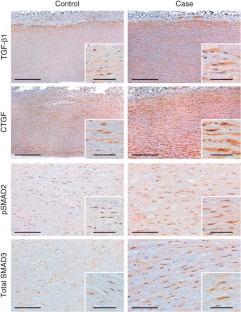 Accession codes
Accessions
NCBI Reference Sequence
References
Zhang, Y., Feng, X., We, R. & Derynck, R. Receptor-associated Mad homologues synergize as effectors of the TGF-beta response. Nature 383, 168–172 (1996).

Massague, J., Seoane, J. & Wotton, D. Smad transcription factors. Genes Dev. 19, 2783–2810 (2005).

Datto, M.B. et al. Targeted disruption of Smad3 reveals an essential role in transforming growth factor beta-mediated signal transduction. Mol. Cell. Biol. 19, 2495–2504 (1999).

Lilienfeld, D.E., Gunderson, P.D., Sprafka, J.M. & Vargas, C. Epidemiology of aortic aneurysms: I. Mortality trends in the United States, 1951 to 1981. Arteriosclerosis 7, 637–643 (1987).

Loeys, B.L. et al. A syndrome of altered cardiovascular, craniofacial, neurocognitive and skeletal development caused by mutations in TGFBR1 or TGFBR2. Nat. Genet. 37, 275–281 (2005).

Coucke, P.J. et al. Mutations in the facilitative glucose transporter GLUT10 alter angiogenesis and cause arterial tortuosity syndrome. Nat. Genet. 38, 452–457 (2006).

Maleszewski, J.J., Miller, D.V., Lu, J., Dietz, H.C. & Halushka, M.K. Histopathologic findings in ascending aortas from individuals with Loeys-Dietz syndrome (LDS). Am. J. Surg. Pathol. 33, 194–201 (2009).

Neptune, E.R. et al. Dysregulation of TGF-beta activation contributes to pathogenesis in Marfan syndrome. Nat. Genet. 33, 407–411 (2003).

Wang, X. et al. Increased collagen deposition and elevated expression of connective tissue growth factor in human thoracic aortic dissection. Circulation 114, I200–I205 (2006).

Verrecchia, F., Chu, M.L. & Mauviel, A. Identification of novel TGF-beta /Smad gene targets in dermal fibroblasts using a combined cDNA microarray/promoter transactivation approach. J. Biol. Chem. 276, 17058–17062 (2001).

Loeys, B.L. et al. Aneurysm syndromes caused by mutations in the TGF-beta receptor. N. Engl. J. Med. 355, 788–798 (2006).

Silverman, D.I. et al. Life expectancy in the Marfan syndrome. Am. J. Cardiol. 75, 157–160 (1995).

Chacko, B.M. et al. Structural basis of heteromeric smad protein assembly in TGF-beta signaling. Mol. Cell 15, 813–823 (2004).

Prokova, V., Mavridou, S., Papakosta, P., Petratos, K. & Kardassis, D. Novel mutations in Smad proteins that inhibit signaling by the transforming growth factor beta in mammalian cells. Biochemistry 46, 13775–13786 (2007).

Gomez, D. et al. Syndromic and non-syndromic aneurysms of the human ascending aorta share activation of the Smad2 pathway. J. Pathol. 218, 131–142 (2009).

Yang, X. et al. TGF-beta/Smad3 signals repress chondrocyte hypertrophic differentiation and are required for maintaining articular cartilage. J. Cell Biol. 153, 35–46 (2001).

Li, C.G. et al. A continuous observation of the degenerative process in the intervertebral disc of Smad3 gene knock-out mice. Spine 34, 1363–1369 (2009).

Lacro, R.V. et al. Rationale and design of a randomized clinical trial of beta-blocker therapy (atenolol) versus angiotensin II receptor blocker therapy (losartan) in individuals with Marfan syndrome. Am. Heart J. 154, 624–631 (2007).

Faivre, L. et al. Effect of mutation type and location on clinical outcome in 1,013 probands with Marfan syndrome or related phenotypes and FBN1 mutations: an international study. Am. J. Hum. Genet. 81, 454–466 (2007).

Roman, M.J., Devereux, R.B., Kramer-Fox, R. & O′Loughlin, J. Two-dimensional echocardiographic aortic root dimensions in normal children and adults. Am. J. Cardiol. 64, 507–512 (1989).

Lin, F.Y. et al. Assessment of the thoracic aorta by multidetector computed tomography: age- and sex-specific reference values in adults without evident cardiovascular disease. J. Cardiovasc. Comput. Tomogr. 2, 298–308 (2008).

Kellgren, J.H. & Lawrence, J.S. Radiological assessment of osteo-arthrosis. Ann. Rheum. Dis. 16, 494–502 (1957).

Lane, N.E., Nevitt, M.C., Genant, H.K. & Hochberg, M.C. Reliability of new indices of radiographic osteoarthritis of the hand and hip and lumbar disc degeneration. J. Rheumatol. 20, 1911–1918 (1993).

van de Laar, I. et al. First locus for primary pulmonary vein stenosis maps to chromosome 2q. Eur. Heart J. 30, 2485–2492 (2009).

Hoffmann, K. & Lindner, T.H. easyLINKAGE-Plus–automated linkage analyses using large-scale SNP data. Bioinformatics 21, 3565–3567 (2005).

Krieger, E., Koraimann, G. & Vriend, G. Increasing the precision of comparative models with YASARA NOVA–a self-parameterizing force field. Proteins 47, 393–402 (2002).

Vriend, G. WHAT IF: a molecular modeling and drug design program. J. Mol. Graph. 8, 52–56 (1990).

Bakker, C.E. et al. Immunocytochemical and biochemical characterization of FMRP, FXR1P, and FXR2P in the mouse. Exp. Cell Res. 258, 162–170 (2000).
Acknowledgements
We are indebted to all cases and family members for their enthusiastic participation in the study.
We acknowledge W. van IJcken from the Erasmus Center for Biomics for processing the Affymetrix 250K SNP arrays. We thank E. Steyerberg (Department of Public Health, Erasmus Medical Center, Rotterdam, The Netherlands) for the survival analysis and H. Weinans (Department of Orthopedics, Erasmus Medical Center, Rotterdam, The Netherlands) for helpful discussions. We thank T. de Vries-Lentsch, R. Koppenol (Department of Clinical Genetics, Erasmus Medical Center, Rotterdam, The Netherlands) and F. van der Panne (Department of Pathology, Erasmus Medical Center, Rotterdam, The Netherlands) for the photographic work and W. Dinjens from the Department of Pathology, Erasmus Medical Center, Rotterdam, The Netherlands, for isolation of DNA from paraffin-embedded tissues.
This work was partially funded by an Erasmus Fellowship (Erasmus Medical Center, The Netherlands) to A.M.B.-A. and a grant from the Center for Biomedical Genetics (CBG), The Netherlands to B.A.O.
Ethics declarations
Competing interests
The authors declare no competing financial interests.
Supplementary information
Supplementary Figures 1–5, Supplementary Note and Supplementary Table 1 (PDF 974 kb)
About this article
Cite this article
van de Laar, I., Oldenburg, R., Pals, G. et al. Mutations in SMAD3 cause a syndromic form of aortic aneurysms and dissections with early-onset osteoarthritis. Nat Genet 43, 121–126 (2011). https://doi.org/10.1038/ng.744
Received:

Accepted:

Published:

Issue Date:

DOI: https://doi.org/10.1038/ng.744