Abstract
Covalent modifications of histones have an established role as chromatin effectors, as they control processes such as DNA replication and transcription, and repair or regulate nucleosomal structure1,2. Loss of modifications on histone N tails, whether due to mutations in genes belonging to histone-modifying complexes or mutations directly affecting the histone tails, causes developmental disorders3,4,5,6 or has a role in tumorigenesis7,8. More recently, modifications affecting the globular histone core have been uncovered as being crucial for DNA repair, pluripotency and oncogenesis9,10. Here we report monoallelic missense mutations affecting lysine 91 in the histone H4 core (H4K91) in three individuals with a syndrome of growth delay, microcephaly and intellectual disability. Expression of the histone H4 mutants in zebrafish embryos recapitulates the developmental anomalies seen in the patients. We show that the histone H4 alterations cause genomic instability, resulting in increased apoptosis and cell cycle progression anomalies during early development. Mechanistically, our findings indicate an important role for the ubiquitination of H4K91 in genomic stability during embryonic development.
Relevant articles
Open Access articles citing this article.
Stefano Amatori

,

Simona Tavolaro

…

Mirco Fanelli

Clinical Epigenetics Open Access 07 April 2021

Federico Tessadori

,

Atteeq U. Rehman

…

Gijs van Haaften

European Journal of Human Genetics Open Access 05 December 2019
Access options
Subscribe to Nature+
Get immediate online access to Nature and 55 other Nature journal
Subscribe to Journal
Get full journal access for 1 year
$79.00
only $6.58 per issue
All prices are NET prices.
VAT will be added later in the checkout.
Tax calculation will be finalised during checkout.
Buy article
Get time limited or full article access on ReadCube.
$32.00
All prices are NET prices.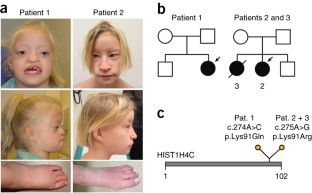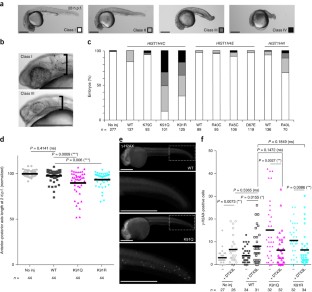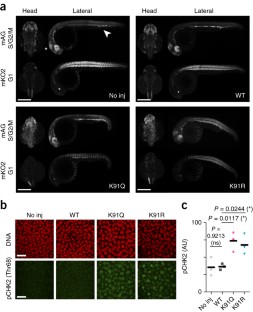 References
Bannister, A.J. & Kouzarides, T. Regulation of chromatin by histone modifications. Cell Res. 21, 381–395 (2011).

Tessarz, P. & Kouzarides, T. Histone core modifications regulating nucleosome structure and dynamics. Nat. Rev. Mol. Cell Biol. 15, 703–708 (2014).

Koolen, D.A. et al. Mutations in the chromatin modifier gene KANSL1 cause the 17q21.31 microdeletion syndrome. Nat. Genet. 44, 639–641 (2012).

Ng, S.B. et al. Exome sequencing identifies MLL2 mutations as a cause of Kabuki syndrome. Nat. Genet. 42, 790–793 (2010).

Qi, H.H. et al. Histone H4K20/H3K9 demethylase PHF8 regulates zebrafish brain and craniofacial development. Nature 466, 503–507 (2010).

Zollino, M. et al. Mutations in KANSL1 cause the 17q21.31 microdeletion syndrome phenotype. Nat. Genet. 44, 636–638 (2012).

Papillon-Cavanagh, S. et al. Impaired H3K36 methylation defines a subset of head and neck squamous cell carcinomas. Nat. Genet. 49, 180–185 (2017).

Kallappagoudar, S., Yadav, R.K., Lowe, B.R. & Partridge, J.F. Histone H3 mutations—a special role for H3.3 in tumorigenesis? Chromosoma 124, 177–189 (2015).

Lawrence, M., Daujat, S. & Schneider, R. Lateral thinking: how histone modifications regulate gene expression. Trends Genet. 32, 42–56 (2016).

Tropberger, P. & Schneider, R. Scratching the (lateral) surface of chromatin regulation by histone modifications. Nat. Struct. Mol. Biol. 20, 657–661 (2013).

Wright, C.F. et al. Genetic diagnosis of developmental disorders in the DDD study: a scalable analysis of genome-wide research data. Lancet 385, 1305–1314 (2015).

Firth, H.V. et al. DECIPHER: Database of Chromosomal Imbalance and Phenotype in Humans Using Ensembl Resources. Am. J. Hum. Genet. 84, 524–533 (2009).

Deciphering Developmental Disorders Study. Prevalence and architecture of de novo mutations in developmental disorders. Nature 542, 433–438 (2017).

Park, S.J. et al. Inferring the choreography of parental genomes during fertilization from ultralarge-scale whole-transcriptome analysis. Genes Dev. 27, 2736–2748 (2013).

Yang, H. et al. Deep mRNA sequencing analysis to capture the transcriptome landscape of zebrafish embryos and larvae. PLoS One 8, e64058 (2013).

Yan, Q. et al. BBAP monoubiquitylates histone H4 at lysine 91 and selectively modulates the DNA damage response. Mol. Cell 36, 110–120 (2009).

Ye, J. et al. Histone H4 lysine 91 acetylation: a core domain modification associated with chromatin assembly. Mol. Cell 18, 123–130 (2005).

Dai, L. et al. Lysine 2-hydroxyisobutyrylation is a widely distributed active histone mark. Nat. Chem. Biol. 10, 365–370 (2014).

Govin, J. et al. Systematic screen reveals new functional dynamics of histones H3 and H4 during gametogenesis. Genes Dev. 24, 1772–1786 (2010).

Yang, X. et al. HAT4, a Golgi apparatus–anchored B-type histone acetyltransferase, acetylates free histone H4 and facilitates chromatin assembly. Mol. Cell 44, 39–50 (2011).

Sugiyama, M. et al. Illuminating cell-cycle progression in the developing zebrafish embryo. Proc. Natl. Acad. Sci. USA 106, 20812–20817 (2009).

O'Driscoll, M. Diseases associated with defective responses to DNA damage. Cold Spring Harb. Perspect. Biol. 4, a012773 (2012).

Ribezzo, F., Shiloh, Y. & Schumacher, B. Systemic DNA damage responses in aging and diseases. Semin. Cancer Biol. 37-38, 26–35 (2016).

Mokrani-Benhelli, H. et al. Primary microcephaly, impaired DNA replication, and genomic instability caused by compound heterozygous ATR mutations. Hum. Mutat. 34, 374–384 (2013).

Cimprich, K.A. & Cortez, D. ATR: an essential regulator of genome integrity. Nat. Rev. Mol. Cell Biol. 9, 616–627 (2008).

Murga, M. et al. A mouse model of ATR–Seckel shows embryonic replicative stress and accelerated aging. Nat. Genet. 41, 891–898 (2009).

Liu, Y., Sepich, D.S. & Solnica-Krezel, L. Stat3/Cdc25a-dependent cell proliferation promotes embryonic axis extension during zebrafish gastrulation. PLoS Genet. 13, e1006564 (2017).

Westerfield, M. The Zebrafish Book: A Guide for the Laboratory Use of Zebrafish (Brachydanio rerio) (M. Westerfield, 1993).

Slaats, G.G. et al. Nephronophthisis-associated CEP164 regulates cell cycle progression, apoptosis and epithelial-to-mesenchymal transition. PLoS Genet. 10, e1004594 (2014).

Tessadori, F. et al. Nodal signaling range is regulated by proprotein convertase–mediated maturation. Dev. Cell 32, 631–639 (2015).

Cox, J. & Mann, M. MaxQuant enables high peptide identification rates, individualized p.p.b.-range mass accuracies and proteome-wide protein quantification. Nat. Biotechnol. 26, 1367–1372 (2008).

Dobin, A. et al. STAR: ultrafast universal RNA-seq aligner. Bioinformatics 29, 15–21 (2013).

Anders, S., Pyl, P.T. & Huber, W. HTSeq—a Python framework to work with high-throughput sequencing data. Bioinformatics 31, 166–169 (2015).

Robinson, M.D., McCarthy, D.J. & Smyth, G.K. edgeR: a Bioconductor package for differential expression analysis of digital gene expression data. Bioinformatics 26, 139–140 (2010).

Chen, J., Bardes, E.E., Aronow, B.J. & Jegga, A.G. ToppGene Suite for gene list enrichment analysis and candidate gene prioritization. Nucleic Acids Res. 37, W305–W311 (2009).
Acknowledgements
We thank the subjects and their parents for being willing to be part of this study, S. van der Elst for technical assistance for the FACS analysis, P. Nguyen for the zebrafish embryonic cell suspension protocol, D. Guardavaccaro for advice on western blotting and A. de Graaff.
We acknowledge support from the Netherlands Cardiovascular Research Initiative, Dutch Heart Foundation grant CVON2014-18 CONCOR-GENES and the 'Proteins at Work' program of the Netherlands Organization for Scientific Research (NWO; project 184.032.201).
The DDD study presents independent research commissioned by the Health Innovation Challenge Fund (grant HICF-1009-003), a parallel funding partnership between the Wellcome Trust with the Department of Health and the Wellcome Trust Sanger Institute (grant WT098051). The views expressed in this publication are those of the author(s) and not necessarily those of the Wellcome Trust or the Department of Health. The study has UK Research Ethics Committee approval (10/H0305/83, granted by the Cambridge South REC, and GEN/284/12, granted by the Republic of Ireland REC). The research team acknowledges the support of the National Institute for Health Research, through the Comprehensive Clinical Research Network.
Ethics declarations
Competing interests
The authors declare no competing financial interests.
Integrated supplementary information
Supplementary information
About this article
Cite this article
Tessadori, F., Giltay, J., Hurst, J. et al. Germline mutations affecting the histone H4 core cause a developmental syndrome by altering DNA damage response and cell cycle control. Nat Genet 49, 1642–1646 (2017). https://doi.org/10.1038/ng.3956
Received:

Accepted:

Published:

Issue Date:

DOI: https://doi.org/10.1038/ng.3956