Abstract
After fertilization, to initiate development, gametes are reprogramed to become totipotent. Approximately half of the mammalian genome consists of repetitive elements, including retrotransposons, some of which are transcribed after fertilization. Retrotransposon activation is generally assumed to be a side effect of the extensive chromatin remodeling underlying the epigenetic reprogramming of gametes. Here, we used a targeted epigenomic approach to address whether specific retrotransposon families play a direct role in chromatin organization and developmental progression. We demonstrate that premature silencing of LINE-1 elements decreases chromatin accessibility, whereas prolonged activation prevents the gradual chromatin compaction that occurs naturally in developmental progression. Preventing LINE-1 activation and interfering with its silencing decreases developmental rates independently of the coding nature of the LINE-1 transcript, thus suggesting that LINE-1 functions primarily at the chromatin level. Our data suggest that activation of LINE-1 regulates global chromatin accessibility at the beginning of development and indicate that retrotransposon activation is integral to the developmental program.
Relevant articles
Open Access articles citing this article.
Fangnong Lai

,

Lijia Li

…

Wei Xie

Cell Research Open Access 07 November 2023

Damiano Mangoni

,

Alessandro Simi

…

Stefano Gustincich

Nature Communications Open Access 17 August 2023

Giovanni Spirito

,

Michele Filosi

…

Remo Sanges

Molecular Autism Open Access 28 June 2023
Access options
Access Nature and 54 other Nature Portfolio journals
Get Nature+, our best-value online-access subscription
$29.99 / 30 days
cancel any time
Subscribe to this journal
Receive 12 print issues and online access
$209.00 per year
only $17.42 per issue
Rent or buy this article
Prices vary by article type
from$1.95
to$39.95
Prices may be subject to local taxes which are calculated during checkout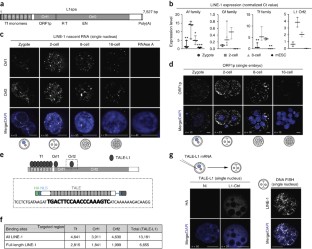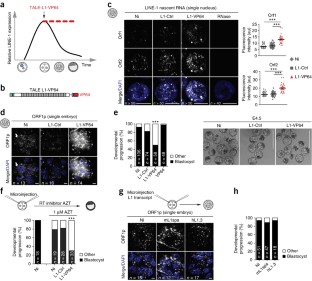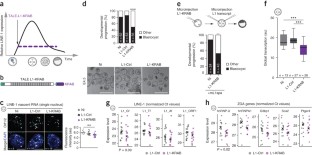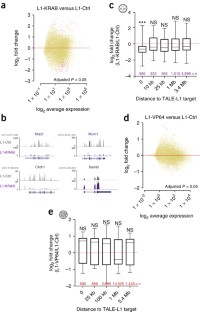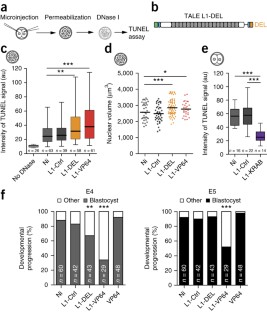 Accession codes
Primary accessions
Gene Expression Omnibus
References
Watanabe, T. et al. Endogenous siRNAs from naturally formed dsRNAs regulate transcripts in mouse oocytes. Nature 453, 539–543 (2008).

Tam, O.H. et al. Pseudogene-derived small interfering RNAs regulate gene expression in mouse oocytes. Nature 453, 534–538 (2008).

Veselovska, L. et al. Deep sequencing and de novo assembly of the mouse oocyte transcriptome define the contribution of transcription to the DNA methylation landscape. Genome Biol. 16, 209 (2015).

Burton, A. & Torres-Padilla, M.E. Chromatin dynamics in the regulation of cell fate allocation during early embryogenesis. Nat. Rev. Mol. Cell Biol. 15, 723–734 (2014).

Hemberger, M., Dean, W. & Reik, W. Epigenetic dynamics of stem cells and cell lineage commitment: digging Waddington's canal. Nat. Rev. Mol. Cell Biol. 10, 526–537 (2009).

Mayer, W., Niveleau, A., Walter, J., Fundele, R. & Haaf, T. Demethylation of the zygotic paternal genome. Nature 403, 501–502 (2000).

Smith, Z.D. et al. A unique regulatory phase of DNA methylation in the early mammalian embryo. Nature 484, 339–344 (2012).

Friedli, M. et al. Loss of transcriptional control over endogenous retroelements during reprogramming to pluripotency. Genome Res. 24, 1251–1259 (2014).

Akagi, K., Li, J., Stephens, R.M., Volfovsky, N. & Symer, D.E. Extensive variation between inbred mouse strains due to endogenous L1 retrotransposition. Genome Res. 18, 869–880 (2008).

Naas, T.P. et al. An actively retrotransposing, novel subfamily of mouse L1 elements. EMBO J. 17, 590–597 (1998).

Waterston, R.H. et al. Initial sequencing and comparative analysis of the mouse genome. Nature 420, 520–562 (2002).

Peaston, A.E. et al. Retrotransposons regulate host genes in mouse oocytes and preimplantation embryos. Dev. Cell 7, 597–606 (2004).

Fadloun, A. et al. Chromatin signatures and retrotransposon profiling in mouse embryos reveal regulation of LINE-1 by RNA. Nat. Struct. Mol. Biol. 20, 332–338 (2013).

Ancelin, K. et al. Maternal LSD1/KDM1A is an essential regulator of chromatin and transcription landscapes during zygotic genome activation. eLife 5, e08851 (2016).

Sookdeo, A., Hepp, C.M., McClure, M.A. & Boissinot, S. Revisiting the evolution of mouse LINE-1 in the genomic era. Mob. DNA 4, 3 (2013).

Moran, J.V. et al. High frequency retrotransposition in cultured mammalian cells. Cell 87, 917–927 (1996).

Adey, N.B. et al. Rodent L1 evolution has been driven by a single dominant lineage that has repeatedly acquired new transcriptional regulatory sequences. Mol. Biol. Evol. 11, 778–789 (1994).

Faulkner, G.J. et al. The regulated retrotransposon transcriptome of mammalian cells. Nat. Genet. 41, 563–571 (2009).

Bulut-Karslioglu, A. et al. Suv39h-dependent H3K9me3 marks intact retrotransposons and silences LINE elements in mouse embryonic stem cells. Mol. Cell 55, 277–290 (2014).

Doucet, A.J. et al. Characterization of LINE-1 ribonucleoprotein particles. PLoS Genet. 6, e1001150 (2010).

Miyanari, Y., Ziegler-Birling, C. & Torres-Padilla, M.E. Live visualization of chromatin dynamics with fluorescent TALEs. Nat. Struct. Mol. Biol. 20, 1321–1324 (2013).

Nakamura, T. et al. PGC7 binds histone H3K9me2 to protect against conversion of 5mC to 5hmC in early embryos. Nature 486, 415–419 (2012).

Mathias, S.L., Scott, A.F., Kazazian, H.H. Jr., Boeke, J.D. & Gabriel, A. Reverse transcriptase encoded by a human transposable element. Science 254, 1808–1810 (1991).

Dai, L., Huang, Q. & Boeke, J.D. Effect of reverse transcriptase inhibitors on LINE-1 and Ty1 reverse transcriptase activities and on LINE-1 retrotransposition. BMC Biochem. 12, 18 (2011).

Xie, Y., Rosser, J.M., Thompson, T.L., Boeke, J.D. & An, W. Characterization of L1 retrotransposition with high-throughput dual-luciferase assays. Nucleic Acids Res. 39, e16 (2011).

Dombroski, B.A., Scott, A.F. & Kazazian, H.H. Jr. Two additional potential retrotransposons isolated from a human L1 subfamily that contains an active retrotransposable element. Proc. Natl. Acad. Sci. USA 90, 6513–6517 (1993).

Gilbert, L.A. et al. CRISPR-mediated modular RNA-guided regulation of transcription in eukaryotes. Cell 154, 442–451 (2013).

Schultz, R.M. Regulation of zygotic gene activation in the mouse. BioEssays 15, 531–538 (1993).

Schultz, R.M. & Worrad, D.M. Role of chromatin structure in zygotic gene activation in the mammalian embryo. Semin. Cell Biol. 6, 201–208 (1995).

Martens, J.H. et al. The profile of repeat-associated histone lysine methylation states in the mouse epigenome. EMBO J. 24, 800–812 (2005).

Burton, A. et al. Single-cell profiling of epigenetic modifiers identifies PRDM14 as an inducer of cell fate in the mammalian embryo. Cell Rep. 5, 687–701 (2013).

Guo, G. et al. Resolution of cell fate decisions revealed by single-cell gene expression analysis from zygote to blastocyst. Dev. Cell 18, 675–685 (2010).

Jachowicz, J.W., Santenard, A., Bender, A., Muller, J. & Torres-Padilla, M.E. Heterochromatin establishment at pericentromeres depends on nuclear position. Genes Dev. 27, 2427–2432 (2013).

Bošković, A. et al. Higher chromatin mobility supports totipotency and precedes pluripotency in vivo. Genes Dev. 28, 1042–1047 (2014).

Aiken, C.E., Swoboda, P.P., Skepper, J.N. & Johnson, M.H. The direct measurement of embryogenic volume and nucleo-cytoplasmic ratio during mouse pre-implantation development. Reproduction 128, 527–535 (2004).

Wu, J. et al. The landscape of accessible chromatin in mammalian preimplantation embryos. Nature 534, 652–657 (2016).

Carpenter, A.E., Memedula, S., Plutz, M.J. & Belmont, A.S. Common effects of acidic activators on large-scale chromatin structure and transcription. Mol. Cell. Biol. 25, 958–968 (2005).

Kulpa, D.A. & Moran, J.V. Cis-preferential LINE-1 reverse transcriptase activity in ribonucleoprotein particles. Nat. Struct. Mol. Biol. 13, 655–660 (2006).

Wei, W. et al. Human L1 retrotransposition: cis preference versus trans complementation. Mol. Cell. Biol. 21, 1429–1439 (2001).

Ecco, G. et al. Transposable elements and their KRAB-ZFP controllers regulate gene expression in adult tissues. Dev. Cell 36, 611–623 (2016).

Svoboda, P. et al. RNAi and expression of retrotransposons MuERV-L and IAP in preimplantation mouse embryos. Dev. Biol. 269, 276–285 (2004).

Ishiuchi, T. et al. Early embryonic-like cells are induced by downregulating replication-dependent chromatin assembly. Nat. Struct. Mol. Biol. 22, 662–671 (2015).

Macfarlan, T.S. et al. Embryonic stem cell potency fluctuates with endogenous retrovirus activity. Nature 487, 57–63 (2012).

Muotri, A.R. et al. Somatic mosaicism in neuronal precursor cells mediated by L1 retrotransposition. Nature 435, 903–910 (2005).

Chow, J.C. et al. LINE-1 activity in facultative heterochromatin formation during X chromosome inactivation. Cell 141, 956–969 (2010).

Cermak, T. et al. Efficient design and assembly of custom TALEN and other TAL effector-based constructs for DNA targeting. Nucleic Acids Res. 39, e82 (2011).

Miyanari, Y. & Torres-Padilla, M.E. Control of ground-state pluripotency by allelic regulation of Nanog. Nature 483, 470–473 (2012).

Malki, S., van der Heijden, G.W., O'Donnell, K.A., Martin, S.L. & Bortvin, A. A role for retrotransposon LINE-1 in fetal oocyte attrition in mice. Dev. Cell 29, 521–533 (2014).

Pittoggi, C. et al. Role of endogenous reverse transcriptase in murine early embryo development. Mol. Reprod. Dev. 66, 225–236 (2003).

Nashun, B. et al. Continuous histone replacement by Hira is essential for normal transcriptional regulation and de novo DNA methylation during mouse oogenesis. Mol. Cell 60, 611–625 (2015).

Shalek, A.K. et al. Single-cell transcriptomics reveals bimodality in expression and splicing in immune cells. Nature 498, 236–240 (2013).

Ramsköld, D. et al. Full-length mRNA-Seq from single-cell levels of RNA and individual circulating tumor cells. Nat. Biotechnol. 30, 777–782 (2012).

Picelli, S. et al. Smart-seq2 for sensitive full-length transcriptome profiling in single cells. Nat. Methods 10, 1096–1098 (2013).

Trombetta, J.J. et al. Preparation of single-cell RNA-Seq libraries for next generation sequencing. Curr. Protoc. Mol. Biol. 107, 4.22 (2014).
Acknowledgements
We thank D. O'Carroll (MRC Centre for Regenerative Medicine) for anti-ORF1p; S. Le Gras for initial assembly of the LINE-1 genome and help with the Galaxy platform; G. LeBoulle for customized TaqMan assay design; D. Rodriguez-Terrones for advice on Biomark analysis; A. Fadloun, Y. Miyanari and members of the laboratory of M.-E.T.-P. for helpful discussions; V. Ignatova (Institute of Functional Epigenetics, Helmholtz Centre Munich) for the Gal4-TALE construct; and J. M. Vaquerizas and R. Enriquez-Gasca for advice on RNA-seq. M.-E.T.-P. acknowledges funding from ERC-Stg 280840 'NuclearPotency', the Schlumberger Foundation for Research and Education (2016-Torres-Padilla) and the Helmholtz Gesellschaft. J.W.J was supported as a recipient of a doctoral fellowship from the Ligue Contre le Cancer (2015-Jachowicz); A.B. was supported by a postdoctoral fellowship from H.F.S.P.
Ethics declarations
Competing interests
The authors declare no competing financial interests.
Integrated supplementary information
Supplementary information
About this article
Cite this article
Jachowicz, J., Bing, X., Pontabry, J. et al. LINE-1 activation after fertilization regulates global chromatin accessibility in the early mouse embryo. Nat Genet 49, 1502–1510 (2017). https://doi.org/10.1038/ng.3945
Received:

Accepted:

Published:

Issue Date:

DOI: https://doi.org/10.1038/ng.3945