Abstract
Autism spectrum disorder (ASD) risk is influenced by common polygenic and de novo variation. We aimed to clarify the influence of polygenic risk for ASD and to identify subgroups of ASD cases, including those with strongly acting de novo variants, in which polygenic risk is relevant. Using a novel approach called the polygenic transmission disequilibrium test and data from 6,454 families with a child with ASD, we show that polygenic risk for ASD, schizophrenia, and greater educational attainment is over-transmitted to children with ASD. These findings hold independent of proband IQ. We find that polygenic variation contributes additively to risk in ASD cases who carry a strongly acting de novo variant. Lastly, we show that elements of polygenic risk are independent and differ in their relationship with phenotype. These results confirm that the genetic influences on ASD are additive and suggest that they create risk through at least partially distinct etiologic pathways.
Your institute does not have access to this article
Relevant articles
Open Access articles citing this article.
Taylor R. Thomas

,

Tanner Koomar

…

Jacob J. Michaelson

Translational Psychiatry Open Access 13 June 2022

Alexander I. Young

,

Seyed Moeen Nehzati

…

Augustine Kong

Nature Genetics Open Access 09 June 2022

André Luíz Teles e Silva

,

Talita Glaser

…

Andrea Laurato Sertié

Translational Psychiatry Open Access 06 June 2022
Access options
Subscribe to Nature+
Get immediate online access to the entire Nature family of 50+ journals
Subscribe to Journal
Get full journal access for 1 year
$59.00
only $4.92 per issue
All prices are NET prices.
VAT will be added later in the checkout.
Tax calculation will be finalised during checkout.
Buy article
Get time limited or full article access on ReadCube.
$32.00
All prices are NET prices.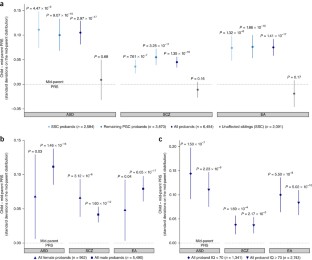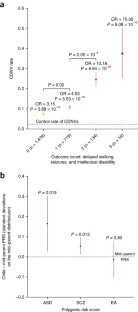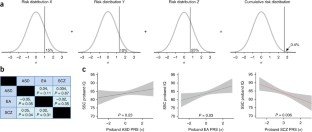 References
Sanders, S.J. et al. Insights into autism spectrum disorder genomic architecture and biology from 71 risk loci. Neuron 87, 1215–1233 (2015).

Gaugler, T. et al. Most genetic risk for autism resides with common variation. Nat. Genet. 46, 881–885 (2014).

De Rubeis, S. et al. Synaptic, transcriptional and chromatin genes disrupted in autism. Nature 515, 209–215 (2014).

Iossifov, I. et al. The contribution of de novo coding mutations to autism spectrum disorder. Nature 515, 216–221 (2014).

Bulik-Sullivan, B.K. et al. LD Score regression distinguishes confounding from polygenicity in genome-wide association studies. Nat. Genet. 47, 291–295 (2015).

Bulik-Sullivan, B. et al. An atlas of genetic correlations across human diseases and traits. Nat. Genet. 47, 1236–1241 (2015).

Krumm, N. et al. Excess of rare, inherited truncating mutations in autism. Nat. Genet. 47, 582–588 (2015).

Anney, R. et al. Individual common variants exert weak effects on the risk for autism spectrum disorders. Hum. Mol. Genet. 21, 4781–4792 (2012).

Klei, L. et al. Common genetic variants, acting additively, are a major source of risk for autism. Mol. Autism 3, 9 (2012).

World Health Organization. WHO Motor Development Study: windows of achievement for six gross motor development milestones. Acta Paediatr. 450, 86–95 (2006).

Deciphering Developmental Disorders Study. Large-scale discovery of novel genetic causes of developmental disorders. Nature 519, 223–228 (2015).

Okbay, A. et al. Genome-wide association study identifies 74 loci associated with educational attainment. Nature 533, 539–542 (2016).

Clarke, T.K. et al. Common polygenic risk for autism spectrum disorder (ASD) is associated with cognitive ability in the general population. Mol. Psychiatry 21, 419–425 (2016).

Hagenaars, S.P. et al. Shared genetic aetiology between cognitive functions and physical and mental health in UK Biobank (N=112 151) and 24 GWAS consortia. Mol. Psychiatry 21, 1624–1632 (2016).

Robinson, E.B. et al. Autism spectrum disorder severity reflects the average contribution of de novo and familial influences. Proc. Natl. Acad. Sci. USA 111, 15161–15165 (2014).

Munafo, M.R., Tilling, K., Taylor, A.E., Evans, D.M. & Davey Smith, G. Collider Scope: how selection bias can induce spurious associations. Preprint at bioRxiv http://dx.doi.org/10.1101/079707 (2016).

Spielman, R.S., McGinnis, R.E. & Ewens, W.J. Transmission test for linkage disequilibrium: the insulin gene region and insulin-dependent diabetes mellitus (IDDM). Am. J. Hum. Genet. 52, 506–516 (1993).

Fischbach, G.D. & Lord, C. The Simons Simplex Collection: a resource for identification of autism genetic risk factors. Neuron 68, 192–195 (2010).

Schizophrenia Working Group of the Psychiatric Genomics Consortium. Biological insights from 108 schizophrenia-associated genetic loci. Nature 511, 421–427 (2014).

Cross-Disorder Group of the Psychiatric Genomic Consortium. Genetic relationship between five psychiatric disorders estimated from genome-wide SNPs. Nat. Genet. 45, 984–994 (2013).

Kosmicki, J.A. et al. Refining the role of de novo protein-truncating variants in neurodevelopmental disorders by using population reference samples. Nat. Genet. 49, 504–510 (2017).

Lek, M. et al. Analysis of protein-coding genetic variation in 60,706 humans. Nature 536, 285–291 (2016).

Samocha, K.E. et al. A framework for the interpretation of de novo mutation in human disease. Nat. Genet. 46, 944–950 (2014).

Robinson, E.B. et al. Genetic risk for autism spectrum disorders and neuropsychiatric variation in the general population. Nat. Genet. 48, 552–555 (2016).

1000 Genomes Project Consortium. An integrated map of genetic variation from 1,092 human genomes. Nature 491, 56–65 (2012).

International HapMap 3 Consortium. Integrating common and rare genetic variation in diverse human populations. Nature 467, 52–58 (2010).

Yang, J., Lee, S.H., Goddard, M.E. & Visscher, P.M. GCTA: a tool for genome-wide complex trait analysis. Am. J. Hum. Genet. 88, 76–82 (2011).

Wray, N.R., Goddard, M.E. & Visscher, P.M. Prediction of individual genetic risk to disease from genome-wide association studies. Genome Res. 17, 1520–1528 (2007).

Locke, A.E. et al. Genetic studies of body mass index yield new insights for obesity biology. Nature 518, 197–206 (2015).

Chang, C.C. et al. Second-generation PLINK: rising to the challenge of larger and richer datasets. Gigascience 4, 7 (2015).

Elliott, C. Differential Ability Scales (The Psychological Corporation, 2007).

Mullen, E. Mullen Scales of Early Learning (American Guidance Service, 1995).

Wechsler, D. Wechsler Abbreviated Scale of Intelligence (Psychological Corporation, 1999).

Chaste, P. et al. A genome-wide association study of autism using the Simons Simplex Collection: does reducing phenotypic heterogeneity in autism increase genetic homogeneity? Biol. Psychiatry 77, 775–784 (2015).

Provost, B., Lopez, B.R. & Heimerl, S. A comparison of motor delays in young children: autism spectrum disorder, developmental delay, and developmental concerns. J. Autism Dev. Disord. 37, 321–328 (2007).
Acknowledgements
We thank S. Hyman and R. Hosking for their thoughtful comments. We also thank A. Pai for his help in the development of the pTDT analytic software. E.B.R. and D.J.W. were funded by National Institute of Mental Health grant 1K01MH099286-01A1 and Brain Behavior Research Foundation (NARSAD) Young Investigator grant 22379. E.M.W. was funded by the Stanley Center for Psychiatric Research at the Broad Institute. A.O. was funded by an ERC Consolidator Grant (647648 EdGe). We thank the families who took part in the Simons Simplex Collection study and the clinicians who collected data at each of the study sites. The iPSYCH project is funded by the Lundbeck Foundation and the universities and university hospitals of Aarhus and Copenhagen. Genotyping of iPSYCH and PGC samples was supported by grants from the Stanley Foundation, the Simons Foundation (SFARI 311789 to M.J.D.), and the National Institute of Mental Health (5U01MH094432-02 to M.J.D.). This work was also supported by a grant from the Simons Foundation (SFARI 402281 to S.J.S.). The authors would like to thank the Exome Aggregation Consortium and the groups that provided exome variant data for comparison. A full list of contributing groups can be found on the ExAC website (see URLs).
Ethics declarations
Competing interests
The authors declare no competing financial interests.
Additional information
A list of members and affiliations appears at the end of the paper.
A list of members and affiliations appears at the end of the paper.
Integrated supplementary information
Supplementary information
Supplementary Figures 1–12, Supplementary Tables 1–22 and Supplementary Note (PDF 2163 kb)
About this article
Cite this article
Weiner, D., Wigdor, E., Ripke, S. et al. Polygenic transmission disequilibrium confirms that common and rare variation act additively to create risk for autism spectrum disorders. Nat Genet 49, 978–985 (2017). https://doi.org/10.1038/ng.3863
Received:

Accepted:

Published:

Issue Date:

DOI: https://doi.org/10.1038/ng.3863