Abstract
We identify SMARCD2 (SWI/SNF-related, matrix-associated, actin-dependent regulator of chromatin, subfamily D, member 2), also known as BAF60b (BRG1/Brahma-associated factor 60b), as a critical regulator of myeloid differentiation in humans, mice, and zebrafish. Studying patients from three unrelated pedigrees characterized by neutropenia, specific granule deficiency, myelodysplasia with excess of blast cells, and various developmental aberrations, we identified three homozygous loss-of-function mutations in SMARCD2. Using mice and zebrafish as model systems, we showed that SMARCD2 controls early steps in the differentiation of myeloid–erythroid progenitor cells. In vitro, SMARCD2 interacts with the transcription factor CEBPɛ and controls expression of neutrophil proteins stored in specific granules. Defective expression of SMARCD2 leads to transcriptional and chromatin changes in acute myeloid leukemia (AML) human promyelocytic cells. In summary, SMARCD2 is a key factor controlling myelopoiesis and is a potential tumor suppressor in leukemia.
Relevant articles
Open Access articles citing this article.
Zi Wang

,

Pan Wang

…

Jing Liu

Signal Transduction and Targeted Therapy Open Access 20 January 2021

Julia Minderjahn

,

Andreas Schmidt

…

Michael Rehli

Nature Communications Open Access 21 January 2020
Access options
Subscribe to Nature+
Get immediate online access to the entire Nature family of 50+ journals
Subscribe to Journal
Get full journal access for 1 year
$99.00
only $8.25 per issue
All prices are NET prices.
VAT will be added later in the checkout.
Tax calculation will be finalised during checkout.
Buy article
Get time limited or full article access on ReadCube.
$32.00
All prices are NET prices.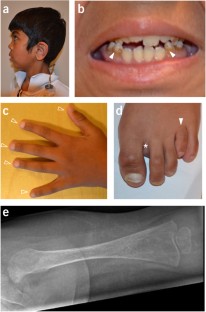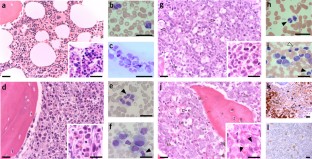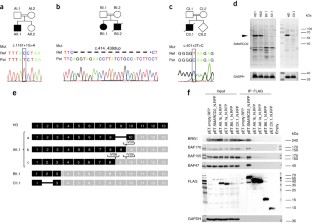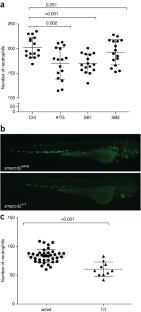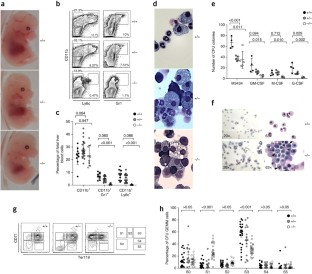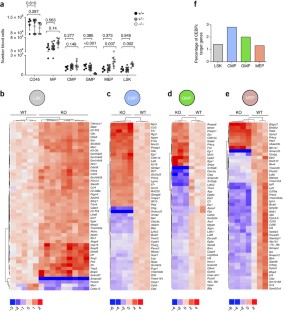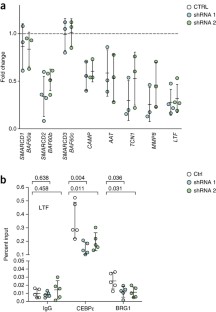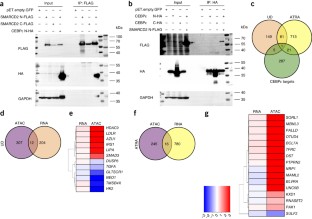 References
Krumsiek, J., Marr, C., Schroeder, T. & Theis, F.J. Hierarchical differentiation of myeloid progenitors is encoded in the transcription factor network. PLoS One 6, e22649 (2011).

Orkin, S.H. & Zon, L.I. Hematopoiesis: an evolving paradigm for stem cell biology. Cell 132, 631–644 (2008).

Krosl, J. et al. A mutant allele of the Swi/Snf member BAF250a determines the pool size of fetal liver hemopoietic stem cell populations. Blood 116, 1678–1684 (2010).

Friedman, A.D. Transcriptional control of granulocyte and monocyte development. Oncogene 26, 6816–6828 (2007).

Griffin, C.T., Brennan, J. & Magnuson, T. The chromatin-remodeling enzyme BRG1 plays an essential role in primitive erythropoiesis and vascular development. Development 135, 493–500 (2008).

Huang, H.T. et al. A network of epigenetic regulators guides developmental haematopoiesis in vivo. Nat. Cell Biol. 15, 1516–1525 (2013).

Álvarez-Errico, D., Vento-Tormo, R., Sieweke, M. & Ballestar, E. Epigenetic control of myeloid cell differentiation, identity and function. Nat. Rev. Immunol. 15, 7–17 (2015).

Cedar, H. & Bergman, Y. Epigenetics of haematopoietic cell development. Nat. Rev. Immunol. 11, 478–488 (2011).

Cairns, B.R. The logic of chromatin architecture and remodelling at promoters. Nature 461, 193–198 (2009).

de la Serna, I.L., Ohkawa, Y. & Imbalzano, A.N. Chromatin remodelling in mammalian differentiation: lessons from ATP-dependent remodellers. Nat. Rev. Genet. 7, 461–473 (2006).

Tolstorukov, M.Y. et al. Swi/Snf chromatin remodeling/tumor suppressor complex establishes nucleosome occupancy at target promoters. Proc. Natl. Acad. Sci. USA 110, 10165–10170 (2013).

Wilson, B.G. & Roberts, C.W. SWI/SNF nucleosome remodellers and cancer. Nat. Rev. Cancer 11, 481–492 (2011).

Buscarlet, M. et al. Essential role of BRG, the ATPase subunit of BAF chromatin remodeling complexes, in leukemia maintenance. Blood 123, 1720–1728 (2014).

Jojic, V. et al. Identification of transcriptional regulators in the mouse immune system. Nat. Immunol. 14, 633–643 (2013).

Alajem, A. et al. Differential association of chromatin proteins identifies BAF60a/SMARCD1 as a regulator of embryonic stem cell differentiation. Cell Rep. 10, 2019–2031 (2015).

Lickert, H. et al. Baf60c is essential for function of BAF chromatin remodelling complexes in heart development. Nature 432, 107–112 (2004).

Hall, C., Flores, M.V., Storm, T., Crosier, K. & Crosier, P. The zebrafish lysozyme C promoter drives myeloid-specific expression in transgenic fish. BMC Dev. Biol. 7, 42 (2007).

Liongue, C., Hall, C.J., O'Connell, B.A., Crosier, P. & Ward, A.C. Zebrafish granulocyte colony-stimulating factor receptor signaling promotes myelopoiesis and myeloid cell migration. Blood 113, 2535–2546 (2009).

Renshaw, S.A. et al. A transgenic zebrafish model of neutrophilic inflammation. Blood 108, 3976–3978 (2006).

Koulnis, M. et al. Identification and analysis of mouse erythroid progenitors using the CD71/TER119 flow-cytometric assay. J. Vis. Exp. 5, 2809 (2011).

Ramirez-Carrozzi, V.R. et al. A unifying model for the selective regulation of inducible transcription by CpG islands and nucleosome remodeling. Cell 138, 114–128 (2009).

Iriyama, N. et al. Enhancement of differentiation induction and upregulation of CCAAT/enhancer-binding proteins and PU.1 in NB4 cells treated with combination of ATRA and valproic acid. Int. J. Oncol. 44, 865–873 (2014).

Tanaka, M., Gombart, A.F., Koeffler, H.P. & Shiohara, M. Expression of bactericidal/permeability-increasing protein requires C/EBPɛ. Int. J. Hematol. 85, 304–311 (2007).

Lekstrom-Himes, J. & Xanthopoulos, K.G. CCAAT/enhancer binding protein ɛ is critical for effective neutrophil-mediated response to inflammatory challenge. Blood 93, 3096–3105 (1999).

Lekstrom-Himes, J.A., Dorman, S.E., Kopar, P., Holland, S.M. & Gallin, J.I. Neutrophil-specific granule deficiency results from a novel mutation with loss of function of the transcription factor CCAAT/enhancer binding protein ɛ. J. Exp. Med. 189, 1847–1852 (1999).

Hu, H. et al. Maturity-dependent fractionation of neutrophil progenitors: a new method to examine in vivo expression profiles of differentiation-regulating genes. Exp. Hematol. 40, 675–681 (2012).

Gkikopoulos, T. et al. A role for Snf2-related nucleosome-spacing enzymes in genome-wide nucleosome organization. Science 333, 1758–1760 (2011).

Wada, T. et al. A novel in-frame deletion in the leucine zipper domain of C/EBPɛ leads to neutrophil-specific granule deficiency. J. Immunol. 195, 80–86 (2015).

Gallin, J.I. et al. Human neutrophil-specific granule deficiency: a model to assess the role of neutrophil-specific granules in the evolution of the inflammatory response. Blood 59, 1317–1329 (1982).

Breton-Gorius, J., Mason, D.Y., Buriot, D., Vilde, J.L. & Griscelli, C. Lactoferrin deficiency as a consequence of a lack of specific granules in neutrophils from a patient with recurrent infections. Detection by immunoperoxidase staining for lactoferrin and cytochemical electron microscopy. Am. J. Pathol. 99, 413–428 (1980).

Komiyama, A., Morosawa, H., Nakahata, T., Miyagawa, Y. & Akabane, T. Abnormal neutrophil maturation in a neutrophil defect with morphologic abnormality and impaired function. J. Pediatr. 94, 19–25 (1979).

Khanna-Gupta, A. et al. Growth factor independence-1 (Gfi-1) plays a role in mediating specific granule deficiency (SGD) in a patient lacking a gene-inactivating mutation in the C/EBPɛ gene. Blood 109, 4181–4190 (2007).

Koike, M. et al. C/EBP-ɛ: chromosomal mapping and mutational analysis of the gene in leukemia and preleukemia. Leuk. Res. 21, 833–839 (1997).

Verbeek, W., Wachter, M., Lekstrom-Himes, J. & Koeffler, H.P. C/EBPɛ−/− mice: increased rate of myeloid proliferation and apoptosis. Leukemia 15, 103–111 (2001).

Yamanaka, R. et al. Impaired granulopoiesis, myelodysplasia, and early lethality in CCAAT/enhancer binding protein ɛ–deficient mice. Proc. Natl. Acad. Sci. USA 94, 13187–13192 (1997).

Shi, J. et al. Role of SWI/SNF in acute leukemia maintenance and enhancer-mediated Myc regulation. Genes Dev. 27, 2648–2662 (2013).

Cruickshank, V.A. et al. SWI/SNF subunits SMARCA4, SMARCD2 and DPF2 collaborate in MLL-rearranged leukaemia maintenance. PLoS One 10, e0142806 (2015).

Madan, V. et al. Comprehensive mutational analysis of primary and relapse acute promyelocytic leukemia. Leukemia 30, 1672–1681 (2016).

Priam, P. et al. SMARCD2 subunit of the SWI/SNF chromatin-remodeling complex mediates granulopoiesis through a CEBPɛ- dependent mechanism. Nat. Genet. http://dx.doi.org/10.1038/ng.3812 (2017).

Wynn, R.F. et al. Intractable diarrhoea of infancy caused by neutrophil specific granule deficiency and cured by stem cell transplantation. Gut 55, 292–293 (2006).

Kotlarz, D. et al. Loss-of-function mutations in the IL-21 receptor gene cause a primary immunodeficiency syndrome. J. Exp. Med. 210, 433–443 (2013).

Glocker, E.O. et al. Inflammatory bowel disease and mutations affecting the interleukin-10 receptor. N. Engl. J. Med. 361, 2033–2045 (2009).

Bohn, G. et al. A novel human primary immunodeficiency syndrome caused by deficiency of the endosomal adaptor protein p14. Nat. Med. 13, 38–45 (2007).

Hamada, T. et al. Lipoid proteinosis maps to 1q21 and is caused by mutations in the extracellular matrix protein 1 gene (ECM1). Hum. Mol. Genet. 11, 833–840 (2002).

Krawitz, P. et al. Microindel detection in short-read sequence data. Bioinformatics 26, 722–729 (2010).

Li, H. et al. The Sequence Alignment/Map format and SAMtools. Bioinformatics 25, 2078–2079 (2009).

Quinlan, A.R. & Hall, I.M. BEDTools: a flexible suite of utilities for comparing genomic features. Bioinformatics 26, 841–842 (2010).

Lek, M. et al. Analysis of protein-coding genetic variation in 60,706 humans. Nature 536, 285–291 (2016).

Ellett, F., Pase, L., Hayman, J.W., Andrianopoulos, A. & Lieschke, G.J. mpeg1 promoter transgenes direct macrophage-lineage expression in zebrafish. Blood 117, e49–e56 (2011).

Lin, H.F. et al. Analysis of thrombocyte development in CD41–GFP transgenic zebrafish. Blood 106, 3803–3810 (2005).

Gagnon, J.A. et al. Efficient mutagenesis by Cas9 protein-mediated oligonucleotide insertion and large-scale assessment of single-guide RNAs. PLoS One 9, e98186 (2014).

Meeker, N.D., Hutchinson, S.A., Ho, L. & Trede, N.S. Method for isolation of PCR-ready genomic DNA from zebrafish tissues. Biotechniques 43, 610, 612, 614 (2007).

Zhu, L.J., Holmes, B.R., Aronin, N. & Brodsky, M.H. CRISPRseek: a Bioconductor package to identify target-specific guide RNAs for CRISPR–Cas9 genome-editing systems. PLoS One 9, e108424 (2014).

Picelli, S. et al. Smart-seq2 for sensitive full-length transcriptome profiling in single cells. Nat. Methods 10, 1096–1098 (2013).

Liu, Y., Zhou, J. & White, K.P. RNA–seq differential expression studies: more sequence or more replication? Bioinformatics 30, 301–304 (2014).

Sedlazeck, F.J., Rescheneder, P. & von Haeseler, A. NextGenMap: fast and accurate read mapping in highly polymorphic genomes. Bioinformatics 29, 2790–2791 (2013).

Liao, Y., Smyth, G.K. & Shi, W. featureCounts: an efficient general purpose program for assigning sequence reads to genomic features. Bioinformatics 30, 923–930 (2014).

Rau, A., Gallopin, M., Celeux, G. & Jaffrezic, F. Data-based filtering for replicated high-throughput transcriptome sequencing experiments. Bioinformatics 29, 2146–2152 (2013).

Love, M.I., Huber, W. & Anders, S. Moderated estimation of fold change and dispersion for RNA–seq data with DESeq2. Genome Biol. 15, 550 (2014).

Adli, M. & Bernstein, B.E. Whole-genome chromatin profiling from limited numbers of cells using nano-ChIP–seq. Nat. Protoc. 6, 1656–1668 (2011).

Cernilogar, F.M. et al. Chromatin-associated RNA interference components contribute to transcriptional regulation in Drosophila. Nature 480, 391–395 (2011).

Dahl, J.A. & Collas, P. A rapid micro chromatin immunoprecipitation assay (microChIP). Nat. Protoc. 3, 1032–1045 (2008).

Rahl, P.B. et al. c-Myc regulates transcriptional pause release. Cell 141, 432–445 (2010).

Buenrostro, J.D., Wu, B., Chang, H.Y. & Greenleaf, W.J. ATAC–seq: a method for assaying chromatin accessibility genome-wide. Curr. Protoc. Mol. Biol. 109, 21.29.1–21.29.9 (2015).

Li, H. & Durbin, R. Fast and accurate short read alignment with Burrows–Wheeler transform. Bioinformatics 25, 1754–1760 (2009).

Harrow, J. et al. GENCODE: the reference human genome annotation for The ENCODE Project. Genome Res. 22, 1760–1774 (2012).

Lawrence, M. et al. Software for computing and annotating genomic ranges. PLoS Comput. Biol. 9, e1003118 (2013).

Shannon, P. et al. Cytoscape: a software environment for integrated models of biomolecular interaction networks. Genome Res. 13, 2498–2504 (2003).

Croft, D. et al. The Reactome pathway knowledgebase. Nucleic Acids Res. 42, D472–D477 (2014).

Milacic, M. et al. Annotating cancer variants and anti-cancer therapeutics in Reactome. Cancers (Basel) 4, 1180–1211 (2012).

Newman, M.E. Modularity and community structure in networks. Proc. Natl. Acad. Sci. USA 103, 8577–8582 (2006).
Acknowledgements
We thank all medical and laboratory staff members involved in taking care of patients and performing scientific experiments, in particular R. Conca (FACS sorting), J. Hinke (genomic facility), and P. Robinson and S. Mundlos for next-generation sequencing expertise. We thank S. Hollizeck, D. Kotlarz, M. Lyszkiewicz, and N. Zietara for critical scientific discussion. We thank B. Zeller, R. Abdennour, and H. Nordgarden for clinical care of patients and A. Tierens for initial FACS and histological workup. We thank J. Lessard (IRIC, Université de Montréal) for providing antibodies to SMARCD1, SMARCD2, and SMARCD3 and for critical discussion.
The study has been supported by the European Research Council (ERC Advanced Grant 'Explore'), the Else Kröner-Fresenius-Stiftung, the DZIF (German Center for Infection Research), the Deutsche Forschungsgemeinschaft (Gottfried Wilhelm Leibniz Program), the German PID-NET (BMBF), and the Care-for-Rare Foundation.
V.P. was supported by a Monash International Postgraduate Research Scholarship (MIPRS) and a Monash Graduate Scholarship (MGS). G.L. was supported by the NHMRC (1069284, 1044754). The Australian Regenerative Medicine Institute (ARMI) is supported by grants from the State Government of Victoria and the Australian Government. This research was supported in part by the Intramural Research Program of the US National Institutes of Health, NLM. W.E. and C.Z. were supported by the Deutsche Forschungsgemeinschaft (DFG) through LMUexcellent and SFB1243 (subproject A14). J.G. was supported by the Bundesministerium für Bildung und Forschung, Juniorverbund in der Sytemmedizin 'mitOmics' grant FKZ 01ZX1405A, and C.M. is supported by EU Horizon2020 Collaborative Research Project SOUND (633974).
Ethics declarations
Competing interests
The authors declare no competing financial interests.
Integrated supplementary information
Supplementary information
About this article
Cite this article
Witzel, M., Petersheim, D., Fan, Y. et al. Chromatin-remodeling factor SMARCD2 regulates transcriptional networks controlling differentiation of neutrophil granulocytes. Nat Genet 49, 742–752 (2017). https://doi.org/10.1038/ng.3833
Received:

Accepted:

Published:

Issue Date:

DOI: https://doi.org/10.1038/ng.3833