Abstract
The timing of puberty is highly variable1. We carried out a genome-wide association study for age at menarche in 4,714 women and report an association in LIN28B on chromosome 6 (rs314276, minor allele frequency (MAF) = 0.33, P = 1.5 × 10−8). In independent replication studies in 16,373 women, each major allele was associated with 0.12 years earlier menarche (95% CI = 0.08–0.16; P = 2.8 × 10−10; combined P = 3.6 × 10−16). This allele was also associated with earlier breast development in girls (P = 0.001; N = 4,271); earlier voice breaking (P = 0.006, N = 1,026) and more advanced pubic hair development in boys (P = 0.01; N = 4,588); a faster tempo of height growth in girls (P = 0.00008; N = 4,271) and boys (P = 0.03; N = 4,588); and shorter adult height in women (P = 3.6 × 10−7; N = 17,274) and men (P = 0.006; N = 9,840) in keeping with earlier growth cessation. These studies identify variation in LIN28B, a potent and specific regulator of microRNA processing2, as the first genetic determinant regulating the timing of human pubertal growth and development.
Relevant articles
Open Access articles citing this article.
Matthew C. Pahl

,

Claudia A. Doege

…

Struan F. A. Grant

Nature Communications Open Access 19 November 2021

Bernard Mulvey

&

Joseph D. Dougherty

Translational Psychiatry Open Access 22 July 2021

Dongdong Bo

,

Xunping Jiang

…

Shishay Girmay

BMC Genomics Open Access 25 May 2020
Access options
Subscribe to Journal
Get full journal access for 1 year
$79.00
only $6.58 per issue
All prices are NET prices.
VAT will be added later in the checkout.
Tax calculation will be finalised during checkout.
Buy article
Get time limited or full article access on ReadCube.
$32.00
All prices are NET prices.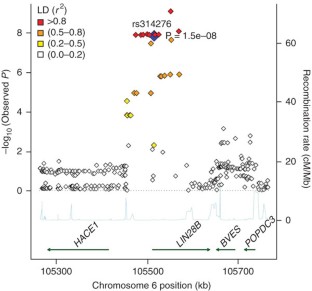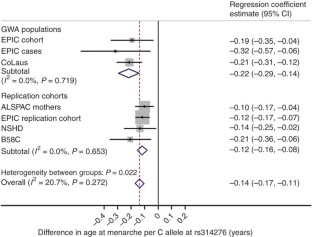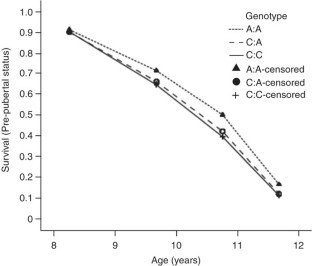 References
Parent, A.S. et al. The timing of normal puberty and the age limits of sexual precocity: variations around the world, secular trends, and changes after migration. Endocr. Rev. 24, 668–693 (2003).

Viswanathan, S.R., Daley, G.Q. & Gregory, R.I. Selective blockade of microRNA processing by Lin28. Science 320, 97–100 (2008).

Lakshman, R. et al. Association between age at menarche and risk of diabetes in adults: results from the EPIC-Norfolk cohort study. Diabetologia 51, 781–786 (2008).

Gajdos, Z.K., Hirschhorn, J.N. & Palmert, M.R. What controls the timing of puberty? An update on progress from genetic investigation. Curr. Opin. Endocrinol. Diabetes Obes. 16, 16–24 (2009).

Lettre, G. et al. Identification of ten loci associated with height highlights new biological pathways in human growth. Nat. Genet. 40, 584–591 (2008).

Harries, M.L., Walker, J.M., Williams, D.M., Hawkins, S. & Hughes, I.A. Changes in the male voice at puberty. Arch. Dis. Child. 77, 445–447 (1997).

Guo, Y. et al. Identification and characterization of lin-28 homolog B (LIN28B) in human hepatocellular carcinoma. Gene 384, 51–61 (2006).

Ambros, V. & Horvitz, H.R. Heterochronic mutants of the nematode Caenorhabditis elegans. Science 226, 409–416 (1984).

Moss, E.G., Lee, R.C. & Ambros, V. The cold shock domain protein LIN-28 controls developmental timing in C. elegans and is regulated by the lin-4 RNA. Cell 88, 637–646 (1997).

Yu, J. et al. Induced pluripotent stem cell lines derived from human somatic cells. Science 318, 1917–1920 (2007).

Day, N. et al. EPIC-Norfolk: study design and characteristics of the cohort. European Prospective Investigation of Cancer. Br. J. Cancer 80 (Suppl. 1), 95–103 (1999).

Firmann, M. et al. The CoLaus study: a population-based study to investigate the epidemiology and genetic determinants of cardiovascular risk factors and metabolic syndrome. BMC Cardiovasc. Disord. 8, 6 (2008).

Golding, J., Pembrey, M.E. & Jones, R. ALSPAC — the Avon Longitudinal Study of Parents and Children. I. Study methodology. Paediatr. Perinat. Epidemiol. 15, 74–87 (2001).

Wadsworth, M., Kuh, D., Richards, M. & Hardy, R. Cohort Profile: The 1946 National Birth Cohort (MRC National Survey of Health and Development). Int. J. Epidemiol. 35, 49–54 (2006).

Wehkalampi, K. et al. Genetic and environmental influences on pubertal timing assessed by height growth. Am. J. Hum. Biol. 20, 417–423 (2008).
Acknowledgements
We are grateful to all of the participants in each of the studies contributing to this effort. Full acknowledgments can be found in the Supplementary Note.
Support for this research was provided by: the UK Medical Research Council; the Wellcome Trust; University of Bristol; the Faculty of Biology and Medicine of Lausanne, Switzerland; and GlaxoSmithKline.
Ethics declarations
Competing interests
Vincent Mooser, Dawn Waterworth and Kijoung Song are full-time employees of GlaxoSmithKline. Peter Vollenweider and Gérard Waeber received financial support from GlaxoSmithKline to build the CoLaus study. Inês Barroso owns stock in the companies GlaxoSmithKline (GSK) and Incyte (INCY).
Supplementary information
Supplementary Figures 1–3 and Supplementary Tables 1–3, Supplementary Note (PDF 354 kb)
Candidate gene SNP associations with age at menarche (XLS 136 kb)
About this article
Cite this article
Ong, K., Elks, C., Li, S. et al. Genetic variation in LIN28B is associated with the timing of puberty. Nat Genet 41, 729–733 (2009). https://doi.org/10.1038/ng.382
Received:

Accepted:

Published:

Issue Date:

DOI: https://doi.org/10.1038/ng.382