Abstract
ABL1 is a proto-oncogene well known as part of the fusion gene BCR-ABL1 in the Philadelphia chromosome of leukemia cancer cells1. Inherited germline ABL1 changes have not been associated with genetic disorders. Here we report ABL1 germline variants cosegregating with an autosomal dominant disorder characterized by congenital heart disease, skeletal abnormalities, and failure to thrive. The variant c.734A>G (p.Tyr245Cys) was found to occur de novo or cosegregate with disease in five individuals (families 1–3). Additionally, a de novo c.1066G>A (p.Ala356Thr) variant was identified in a sixth individual (family 4). We overexpressed the mutant constructs in HEK 293T cells and observed increased tyrosine phosphorylation, suggesting increased ABL1 kinase activities associated with both the p.Tyr245Cys and p.Ala356Thr substitutions. Our clinical and experimental findings, together with previously reported teratogenic effects of selective BCR-ABL inhibitors in humans2,3,4,5 and developmental defects in Abl1 knockout mice6,7, suggest that ABL1 has an important role during organismal development.
Relevant articles
Open Access articles citing this article.
Alexander J. M. Blakes

,

Emily Gaul

…

Andrew G. L. Douglas

European Journal of Human Genetics Open Access 22 November 2020
Access options
Subscribe to Nature+
Get immediate online access to Nature and 55 other Nature journal
Subscribe to Journal
Get full journal access for 1 year
$79.00
only $6.58 per issue
All prices are NET prices.
VAT will be added later in the checkout.
Tax calculation will be finalised during checkout.
Buy article
Get time limited or full article access on ReadCube.
$32.00
All prices are NET prices.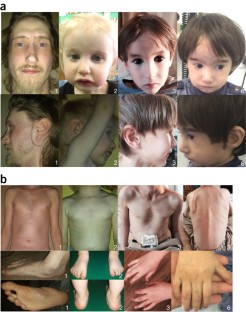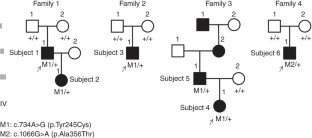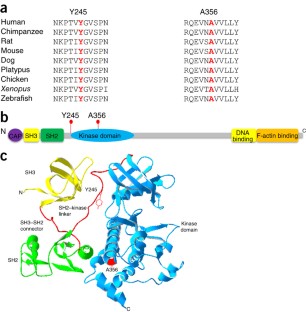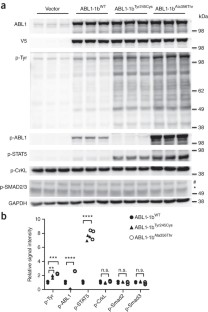 Accession codes
Accessions
Protein Data Bank
References
de Klein, A. et al. A cellular oncogene is translocated to the Philadelphia chromosome in chronic myelocytic leukaemia. Nature 300, 765–767 (1982).

Pye, S.M. et al. The effects of imatinib on pregnancy outcome. Blood 111, 5505–5508 (2008).

Apperley, J. Issues of imatinib and pregnancy outcome. J. Natl. Compr. Canc. Netw. 7, 1050–1058 (2009).

Jain, N., Sharma, D., Agrawal, R. & Jain, A. A newborn with teratogenic effect of imatinib mesylate: a very rare case report. Med. Princ. Pract. 24, 291–293 (2015).

Ault, P. et al. Pregnancy among patients with chronic myeloid leukemia treated with imatinib. J. Clin. Oncol. 24, 1204–1208 (2006).

Li, B. et al. Mice deficient in Abl are osteoporotic and have defects in osteoblast maturation. Nat. Genet. 24, 304–308 (2000).

Qiu, Z., Cang, Y. & Goff, S.P. c-Abl tyrosine kinase regulates cardiac growth and development. Proc. Natl. Acad. Sci. USA 107, 1136–1141 (2010).

Tartaglia, M. et al. Mutations in PTPN11, encoding the protein tyrosine phosphatase SHP-2, cause Noonan syndrome. Nat. Genet. 29, 465–468 (2001).

Yang, W. et al. Ptpn11 deletion in a novel progenitor causes metachondromatosis by inducing hedgehog signalling. Nature 499, 491–495 (2013).

Hafner, C., Toll, A. & Real, F.X. HRAS mutation mosaicism causing urothelial cancer and epidermal nevus. N. Engl. J. Med. 365, 1940–1942 (2011).

Aoki, Y. et al. Germline mutations in HRAS proto-oncogene cause Costello syndrome. Nat. Genet. 37, 1038–1040 (2005).

Lahiry, P., Torkamani, A., Schork, N.J. & Hegele, R.A. Kinase mutations in human disease: interpreting genotype–phenotype relationships. Nat. Rev. Genet. 11, 60–74 (2010).

Yang, Y. et al. Clinical whole-exome sequencing for the diagnosis of mendelian disorders. N. Engl. J. Med. 369, 1502–1511 (2013).

Yang, Y. et al. Molecular findings among patients referred for clinical whole-exome sequencing. J. Am. Med. Assoc. 312, 1870–1879 (2014).

Brasher, B.B. & Van Etten, R.A. c-Abl has high intrinsic tyrosine kinase activity that is stimulated by mutation of the Src homology 3 domain and by autophosphorylation at two distinct regulatory tyrosines. J. Biol. Chem. 275, 35631–35637 (2000).

Hantschel, O. et al. A myristoyl/phosphotyrosine switch regulates c-Abl. Cell 112, 845–857 (2003).

Hardin, J.D., Boast, S., Mendelsohn, M., de los Santos, K. & Goff, S.P. Transgenes encoding both type I and type IV c-abl proteins rescue the lethality of c-abl mutant mice. Oncogene 12, 2669–2677 (1996).

Nagar, B. et al. Structural basis for the autoinhibition of c-Abl tyrosine kinase. Cell 112, 859–871 (2003).

Guex, N. & Peitsch, M.C. SWISS-MODEL and the Swiss-PdbViewer: an environment for comparative protein modeling. Electrophoresis 18, 2714–2723 (1997).

Kumar, P., Henikoff, S. & Ng, P.C. Predicting the effects of coding non-synonymous variants on protein function using the SIFT algorithm. Nat. Protoc. 4, 1073–1081 (2009).

Adzhubei, I.A. et al. A method and server for predicting damaging missense mutations. Nat. Methods 7, 248–249 (2010).

Schwarz, J.M., Cooper, D.N., Schuelke, M. & Seelow, D. MutationTaster2: mutation prediction for the deep-sequencing age. Nat. Methods 11, 361–362 (2014).

Li, H. & Durbin, R. Fast and accurate long-read alignment with Burrows–Wheeler transform. Bioinformatics 26, 589–595 (2010).

Shen, Y. et al. A SNP discovery method to assess variant allele probability from next-generation resequencing data. Genome Res. 20, 273–280 (2010).
Acknowledgements
We thank the families for their participation and collaboration. This work was funded in part by US National Human Genome Research Institute (NHGRI)/National Heart, Lung, and Blood Institute (NHLBI) grant U54HG006542 to the Baylor-Hopkins Center for Mendelian Genomics (BH-CMG) and the NIH Common Fund, through the Office of Strategic Coordination/Office of the NIH Director under award U01HG007709. W.-L.C. was supported by Cancer Prevention Research Institute of Texas (CPRIT) training Program RP140102. The work of N.A.M. is supported by the Rashid Family Fund.
Ethics declarations
Competing interests
J.R.L. is a paid consultant for Regeneron Pharmaceuticals, holds stock ownership in 23andMe and Lasergen, Inc., is on the scientific advisory board of Baylor Genetics, and is a co-inventor on US and European patents related to molecular diagnostics. S.E.P. is on the scientific advisory board of Baylor Genetics. The Department of Molecular and Human Genetics at Baylor College of Medicine derives revenue from molecular genetic testing offered at Baylor Genetics.
Integrated supplementary information
Supplementary information
Supplementary Figures 1–8, Supplementary Tables 1–5 and Supplementary Note (PDF 2615 kb)
The exact numbers used for statistical calculation. (XLSX 18 kb)
About this article
Cite this article
Wang, X., Charng, WL., Chen, CA. et al. Germline mutations in ABL1 cause an autosomal dominant syndrome characterized by congenital heart defects and skeletal malformations. Nat Genet 49, 613–617 (2017). https://doi.org/10.1038/ng.3815
Received:

Accepted:

Published:

Issue Date:

DOI: https://doi.org/10.1038/ng.3815