Abstract
Experiments in model organisms report abundant genetic interactions underlying biologically important traits, whereas quantitative genetics theory predicts, and data support, the notion that most genetic variance in populations is additive. Here we describe networks of capacitating genetic interactions that contribute to quantitative trait variation in a large yeast intercross population. The additive variance explained by individual loci in a network is highly dependent on the allele frequencies of the interacting loci. Modeling of phenotypes for multilocus genotype classes in the epistatic networks is often improved by accounting for the interactions. We discuss the implications of these results for attempts to dissect genetic architectures and to predict individual phenotypes and long-term responses to selection.
Relevant articles
Open Access articles citing this article.
Mang Liang

,

Bingxing An

…

Huijiang Gao

Journal of Animal Science and Biotechnology Open Access 20 September 2022

Takeshi Matsui

,

Martin N. Mullis

…

Ian M. Ehrenreich

Nature Communications Open Access 18 March 2022

Rostam Abdollahi-Arpanahi

,

Daniel Gianola

&

Francisco Peñagaricano

Genetics Selection Evolution Open Access 24 February 2020
Access options
Subscribe to Nature+
Get immediate online access to Nature and 55 other Nature journal
Subscribe to Journal
Get full journal access for 1 year
$79.00
only $6.58 per issue
All prices are NET prices.
VAT will be added later in the checkout.
Tax calculation will be finalised during checkout.
Buy article
Get time limited or full article access on ReadCube.
$32.00
All prices are NET prices.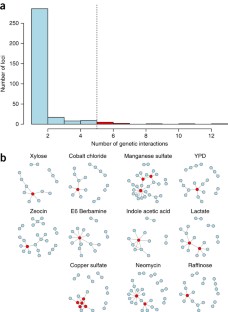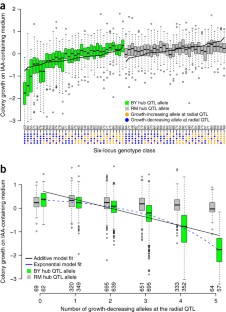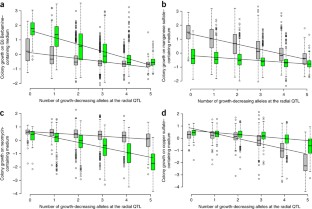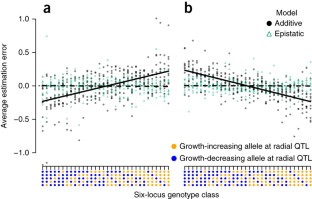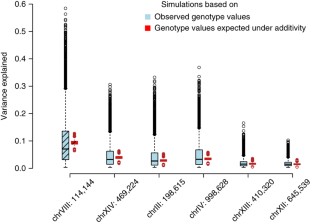 References
Hill, W.G., Goddard, M.E. & Visscher, P.M. Data and theory point to mainly additive genetic variance for complex traits. PLoS Genet. 4, e1000008 (2008).

Bloom, J.S., Ehrenreich, I.M., Loo, W.T., Lite, T.-L.V. & Kruglyak, L. Finding the sources of missing heritability in a yeast cross. Nature 494, 234–237 (2013).

Bloom, J.S. et al. Genetic interactions contribute less than additive effects to quantitative trait variation in yeast. Nat. Commun. 6, 8712 (2015).

Polderman, T.J.C. et al. Meta-analysis of the heritability of human traits based on fifty years of twin studies. Nat. Genet. 47, 702–709 (2015).

Cheverud, J.M. & Routman, E.J. Epistasis and its contribution to genetic variance components. Genetics 139, 1455–1461 (1995).

Carlborg, O. & Haley, C.S. Epistasis: too often neglected in complex trait studies? Nat. Rev. Genet. 5, 618–625 (2004).

Mackay, T.F.C. Epistasis and quantitative traits: using model organisms to study gene–gene interactions. Nat. Rev. Genet. 15, 22–33 (2014).

Nelson, R.M., Pettersson, M.E. & Carlborg, Ö. A century after Fisher: time for a new paradigm in quantitative genetics. Trends Genet. 29, 669–676 (2013).

Gerke, J., Lorenz, K. & Cohen, B. Genetic interactions between transcription factors cause natural variation in yeast. Science 323, 498–501 (2009).

Le Rouzic, A., Siegel, P.B. & Carlborg, O. Phenotypic evolution from genetic polymorphisms in a radial network architecture. BMC Biol. 5, 50 (2007).

Le Rouzic, A. & Carlborg, Ö. Evolutionary potential of hidden genetic variation. Trends Ecol. Evol. 23, 33–37 (2008).

Carlborg, O., Jacobsson, L., Ahgren, P., Siegel, P. & Andersson, L. Epistasis and the release of genetic variation during long-term selection. Nat. Genet. 38, 418–420 (2006).

Paixão, T. & Barton, N.H. The effect of gene interactions on the long-term response to selection. Proc. Natl. Acad. Sci. USA 113, 4422–4427 (2016).

Rönnegård, L. & Valdar, W. Detecting major genetic loci controlling phenotypic variability in experimental crosses. Genetics 188, 435–447 (2011).

Rönnegård, L. & Valdar, W. Recent developments in statistical methods for detecting genetic loci affecting phenotypic variability. BMC Genet. 13, 63 (2012).

Rutherford, S.L. & Lindquist, S. Hsp90 as a capacitor for morphological evolution. Nature 396, 336–342 (1998).

True, H.L. & Lindquist, S.L. A yeast prion provides a mechanism for genetic variation and phenotypic diversity. Nature 407, 477–483 (2000).

Gibson, G. & Dworkin, I. Uncovering cryptic genetic variation. Nat. Rev. Genet. 5, 681–690 (2004).

Paaby, A.B. & Rockman, M.V. Cryptic genetic variation: evolution's hidden substrate. Nat. Rev. Genet. 15, 247–258 (2014).

Falconer, D.S. & Mackay, T.F.C. Introduction to Quantitative Genetics 4th edn (Longmans Green, 1996).

Bateson, W. Facts limiting the theory of heredity. Science 26, 649–660 (1907).

Monnahan, P.J. & Kelly, J.K. Epistasis is a major determinant of the additive genetic variance in Mimulus guttatus. PLoS Genet. 11, e1005201 (2015).

Bergman, A. & Siegal, M.L. Evolutionary capacitance as a general feature of complex gene networks. Nature 424, 549–552 (2003).

Masel, J. & Siegal, M.L. Robustness: mechanisms and consequences. Trends Genet. 25, 395–403 (2009).

Queitsch, C., Sangster, T.A. & Lindquist, S. Hsp90 as a capacitor of phenotypic variation. Nature 417, 618–624 (2002).

Dworkin, I., Palsson, A., Birdsall, K. & Gibson, G. Evidence that Egfr contributes to cryptic genetic variation for photoreceptor determination in natural populations of Drosophila melanogaster. Curr. Biol. 13, 1888–1893 (2003).

Lachowiec, J., Shen, X., Queitsch, C. & Carlborg, Ö. A genome-wide association analysis reveals epistatic cancellation of additive genetic variance for root length in Arabidopsis thaliana. PLoS Genet. 11, e1005541 (2015).

Yvert, G. et al. Trans-acting regulatory variation in Saccharomyces cerevisiae and the role of transcription factors. Nat. Genet. 35, 57–64 (2003).

Lang, G.I., Murray, A.W. & Botstein, D. The cost of gene expression underlies a fitness trade-off in yeast. Proc. Natl. Acad. Sci. USA 106, 5755–5760 (2009).

Brem, R.B., Storey, J.D., Whittle, J. & Kruglyak, L. Genetic interactions between polymorphisms that affect gene expression in yeast. Nature 436, 701–703 (2005).

Slessareva, J.E., Routt, S.M., Temple, B., Bankaitis, V.A. & Dohlman, H.G. Activation of the phosphatidylinositol 3-kinase Vps34 by a G protein α subunit at the endosome. Cell 126, 191–203 (2006).

Fogel, S., Welch, J.W. & Maloney, D.H. The molecular genetics of copper resistance in Saccharomyces cerevisiae—a paradigm for non-conventional yeasts. J. Basic Microbiol. 28, 147–160 (1988).

Perlstein, E.O., Ruderfer, D.M., Roberts, D.C., Schreiber, S.L. & Kruglyak, L. Genetic basis of individual differences in the response to small-molecule drugs in yeast. Nat. Genet. 39, 496–502 (2007).

Sadhu, M.J., Bloom, J.S., Day, L. & Kruglyak, L. Mapping without crosses. Science 352, 1113–1116 (2016).

Csárdi, G. & Nepusz, T. The igraph software package for complex network research. InterJournal, Complex Systems 1695, 1695 (2006).

Aulchenko, Y.S., Ripke, S., Isaacs, A. & van Duijn, C.M. GenABEL: an R library for genome-wide association analysis. Bioinformatics 23, 1294–1296 (2007).

Smyth, G.K. Generalized linear models with varying dispersion. J. R. Stat. Soc. B 51, 47–60 (1989).
Acknowledgements
Funding was provided by the Howard Hughes Medical Institute and by NIH grants R01 GM102308 (L.K.) and F32 GM116318 (M.J.S.) and Swedish Research Council grant 621-2012-4632 (Ö.C.).
Ethics declarations
Competing interests
The authors declare no competing financial interests.
Integrated supplementary information
Supplementary information
About this article
Cite this article
Forsberg, S., Bloom, J., Sadhu, M. et al. Accounting for genetic interactions improves modeling of individual quantitative trait phenotypes in yeast. Nat Genet 49, 497–503 (2017). https://doi.org/10.1038/ng.3800
Received:

Accepted:

Published:

Issue Date:

DOI: https://doi.org/10.1038/ng.3800