Abstract
Bosma arhinia microphthalmia syndrome (BAMS) is an extremely rare and striking condition characterized by complete absence of the nose with or without ocular defects. We report here that missense mutations in the epigenetic regulator SMCHD1 mapping to the extended ATPase domain of the encoded protein cause BAMS in all 14 cases studied. All mutations were de novo where parental DNA was available. Biochemical tests and in vivo assays in Xenopus laevis embryos suggest that these mutations may behave as gain-of-function alleles. This finding is in contrast to the loss-of-function mutations in SMCHD1 that have been associated with facioscapulohumeral muscular dystrophy (FSHD) type 2. Our results establish SMCHD1 as a key player in nasal development and provide biochemical insight into its enzymatic function that may be exploited for development of therapeutics for FSHD.
Access options
Subscribe to Journal
Get full journal access for 1 year
$209.00
only $17.42 per issue
All prices are NET prices.
VAT will be added later in the checkout.
Rent or Buy article
Get time limited or full article access on ReadCube.
from$8.99
All prices are NET prices.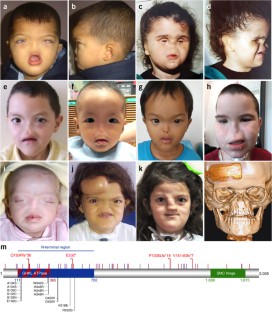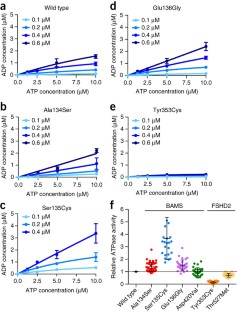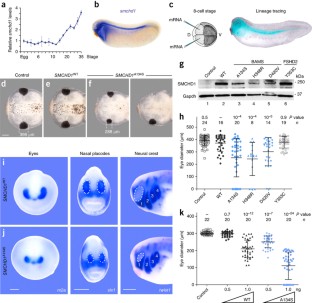 Accession codes
Accessions
Protein Data Bank
References
1

Brasseur, B., Martin, C.M., Cayci, Z., Burmeister, L. & Schimmenti, L.A. Bosma arhinia microphthalmia syndrome: clinical report and review of the literature. Am. J. Med. Genet. A. 170A, 1302–1307 (2016).

2

Graham, J.M. Jr. & Lee, J. Bosma arhinia microphthalmia syndrome. Am. J. Med. Genet. A. 140, 189–193 (2006).

3

Shaw, N.D. et al. SMCHD1 mutations associated with a rare muscular dystrophy can also cause isolated arhinia and Bosma arhinia microphthalmia syndrome. Nat. Genet. http://dx.doi.org/10.1038/ng.3743 (2017).

4

Forni, P.E. & Wray, S. GnRH, anosmia and hypogonadotropic hypogonadism—where are we? Front. Neuroendocrinol. 36, 165–177 (2015).

5

Szabo-Rogers, H.L. et al. Novel skeletogenic patterning roles for the olfactory pit. Development 136, 219–229 (2009).

6

Blewitt, M.E. et al. SmcHD1, containing a structural-maintenance-of-chromosomes hinge domain, has a critical role in X inactivation. Nat. Genet. 40, 663–669 (2008).

7

Nickell, M.D., Breheny, P., Stromberg, A.J. & McClintock, T.S. Genomics of mature and immature olfactory sensory neurons. J. Comp. Neurol. 520, 2608–2629 (2012).

8

Tryggestad, J.B., Li, S. & Chernausek, S.D. Hypogonadotropic hypogonadism presenting with arhinia: a case report. J. Med. Case Rep. 7, 52 (2013).

9

Gendrel, A.-V. et al. Smchd1-dependent and -independent pathways determine developmental dynamics of CpG island methylation on the inactive X chromosome. Dev. Cell 23, 265–279 (2012).

10

Gendrel, A.-V. et al. Epigenetic functions of Smchd1 repress gene clusters on the inactive X chromosome and on autosomes. Mol. Cell. Biol. 33, 3150–3165 (2013).

11

Nozawa, R.-S. et al. Human inactive X chromosome is compacted through a PRC2-independent SMCHD1–HBiX1 pathway. Nat. Struct. Mol. Biol. 20, 566–573 (2013).

12

Mould, A.W. et al. Smchd1 regulates a subset of autosomal genes subject to monoallelic expression in addition to being critical for X inactivation. Epigenetics Chromatin 6, 19 (2013).

13

Chen, K. et al. Genome-wide binding and mechanistic analyses of Smchd1-mediated epigenetic regulation. Proc. Natl. Acad. Sci. USA 112, E3535–E3544 (2015).

14

Coker, H. & Brockdorff, N. SMCHD1 accumulates at DNA damage sites and facilitates the repair of DNA double-strand breaks. J. Cell Sci. 127, 1869–1874 (2014).

15

Tang, M. et al. Structural maintenance of chromosomes flexible hinge domain containing 1 (SMCHD1) promotes non-homologous end joining and inhibits homologous recombination repair upon DNA damage. J. Biol. Chem. 289, 34024–34032 (2014).

16

Lemmers, R.J.L.F. et al. Digenic inheritance of an SMCHD1 mutation and an FSHD-permissive D4Z4 allele causes facioscapulohumeral muscular dystrophy type 2. Nat. Genet. 44, 1370–1374 (2012).

17

Hewitt, J.E. Loss of epigenetic silencing of the DUX4 transcription factor gene in facioscapulohumeral muscular dystrophy. Hum. Mol. Genet. 24 R1, R17–R23 (2015).

18

Lemmers, R.J.L.F. et al. A unifying genetic model for facioscapulohumeral muscular dystrophy. Science 329, 1650–1653 (2010).

19

Sacconi, S. et al. The FSHD2 gene SMCHD1 is a modifier of disease severity in families affected by FSHD1. Am. J. Hum. Genet. 93, 744–751 (2013).

20

Lemmers, R.J.L.F. et al. Inter-individual differences in CpG methylation at D4Z4 correlate with clinical variability in FSHD1 and FSHD2. Hum. Mol. Genet. 24, 659–669 (2015).

21

de Greef, J.C. et al. Clinical features of facioscapulohumeral muscular dystrophy 2. Neurology 75, 1548–1554 (2010).

22

Chen, K. et al. The epigenetic regulator Smchd1 contains a functional GHKL-type ATPase domain. Biochem. J. 473, 1733–1744 (2016).

23

Brideau, N.J. et al. Independent mechanisms target SMCHD1 to trimethylated histone H3 lysine 9–modified chromatin and the inactive X chromosome. Mol. Cell. Biol. 35, 4053–4068 (2015).

24

Dutta, R. & Inouye, M. GHKL, an emergent ATPase/kinase superfamily. Trends Biochem. Sci. 25, 24–28 (2000).

25

McKenna, A. et al. The Genome Analysis Toolkit: a MapReduce framework for analyzing next-generation DNA sequencing data. Genome Res. 20, 1297–1303 (2010).

26

Li, H. et al. The Sequence Alignment/Map format and SAMtools. Bioinformatics 25, 2078–2079 (2009).

27

Flicek, P. et al. Ensembl 2013. Nucleic Acids Res. 41, D48–D55 (2013).

28

DePristo, M.A. et al. A framework for variation discovery and genotyping using next-generation DNA sequencing data. Nat. Genet. 43, 491–498 (2011).

29

Van der Auwera, G.A. et al. From FastQ data to high confidence variant calls: the Genome Analysis Toolkit best practices pipeline. Curr. Protoc. Bioinformatics 43, 11.10.1–11.10.33 (2013).

30

Javed, A., Agrawal, S. & Ng, P.C. Phen-Gen: combining phenotype and genotype to analyze rare disorders. Nat. Methods 11, 935–937 (2014).

31

Sherry, S.T. et al. dbSNP: the NCBI database of genetic variation. Nucleic Acids Res. 29, 308–311 (2001).

32

Mishima, H., Sasaki, K., Tanaka, M., Tatebe, O. & Yoshiura, K. Agile parallel bioinformatics workflow management using Pwrake. BMC Res. Notes 4, 331 (2011).

33

Wang, K., Li, M. & Hakonarson, H. ANNOVAR: functional annotation of genetic variants from high-throughput sequencing data. Nucleic Acids Res. 38, e164 (2010).

34

Harrow, J. et al. GENCODE: the reference human genome annotation for The ENCODE Project. Genome Res. 22, 1760–1774 (2012).

35

1000 Genomes Project Consortium. A global reference for human genetic variation. Nature 526, 68–74 (2015).

36

Adzhubei, I.A. et al. A method and server for predicting damaging missense mutations. Nat. Methods 7, 248–249 (2010).

37

Kumar, P., Henikoff, S. & Ng, P.C. Predicting the effects of coding non-synonymous variants on protein function using the SIFT algorithm. Nat. Protoc. 4, 1073–1081 (2009).

38

Liu, X., Jian, X. & Boerwinkle, E. dbNSFP: a lightweight database of human nonsynonymous SNPs and their functional predictions. Hum. Mutat. 32, 894–899 (2011).

39

Liu, X., Wu, C., Li, C. & Boerwinkle, E. dbNSFP v3.0: a one-stop database of functional predictions and annotations for human nonsynonymous and splice-site SNVs. Hum. Mutat. 37, 235–241 (2016).

40

Magdinier, F. et al. Regional methylation of the 5′ end CpG island of BRCA1 is associated with reduced gene expression in human somatic cells. FASEB J. 14, 1585–1594 (2000).

41

Li, L.-C. & Dahiya, R. MethPrimer: designing primers for methylation PCRs. Bioinformatics 18, 1427–1431 (2002).

42

Bock, C. et al. BiQ Analyzer: visualization and quality control for DNA methylation data from bisulfite sequencing. Bioinformatics 21, 4067–4068 (2005).

43

Gaillard, M.-C. et al. Differential DNA methylation of the D4Z4 repeat in patients with FSHD and asymptomatic carriers. Neurology 83, 733–742 (2014).

44

Gaillard, M.-C. et al. Segregation between SMCHD1 mutation, D4Z4 hypomethylation and facio-scapulo-humeral dystrophy: a case report. BMC Med. Genet. 17, 66 (2016).

45

Kelley, L.A., Mezulis, S., Yates, C.M., Wass, M.N. & Sternberg, M.J.E. The Phyre2 web portal for protein modeling, prediction and analysis. Nat. Protoc. 10, 845–858 (2015).

46

Thompson, J.D., Higgins, D.G. & Gibson, T.J. CLUSTAL W: improving the sensitivity of progressive multiple sequence alignment through sequence weighting, position-specific gap penalties and weight matrix choice. Nucleic Acids Res. 22, 4673–4680 (1994).

47

Robert, X. & Gouet, P. Deciphering key features in protein structures with the new ENDscript server. Nucleic Acids Res. 42, W320–W324 (2014).

48

Rosin, N. et al. Mutations in XRCC4 cause primary microcephaly, short stature and increased genomic instability. Hum. Mol. Genet. 24, 3708–3717 (2015).

49

Verkaik, N.S. et al. Different types of V(D)J recombination and end-joining defects in DNA double-strand break repair mutant mammalian cells. Eur. J. Immunol. 32, 701–709 (2002).
Acknowledgements
We would like to thank all family members and their relatives for their participation and kind contribution to this study. N. Akarsu was instrumental for recruiting patient 11. Support from the Jean Renny Endowed Chair for Craniofacial Research (M.L.C.) is acknowledged. C.D. is the recipient of a fellowship from the French Ministry of Education and Research. H.F. was supported by a postdoctoral grant from INSERM. B.R. is a fellow of the Branco Weiss Foundation, an A*STAR Investigator, an EMBO Young Investigator and a recipient of the inaugural AAA Fellowship in Amsterdam. This work was supported by funding from the Agence Nationale de la Recherche (ANR-10-IAHU-01, CranioRespiro), the Cancer Council Victoria (fellowship to K.C.), the National Health and Medical Research Council (NHMRC) of Australia to M.E.B. and J.M.M. (1098290 and fellowships 1110206 and 1105754), the Scientific and Technological Research Council of Turkey (TUBITAK) to H.K. (grant 112S398, E-RARE network CRANIRARE-2), the Association Française contre les Myopathies (AFM) to F.M., Victorian State Government Operational Infrastructure Support, an NHMRC IRIISS grant (9000220), the German Federal Ministry of Education and Research (BMBF) to B.W. (grant 01GM1211A, E-RARE network CRANIRARE-2), the German Research Foundation (SFB1002, project D02) to B.W., MACS, VICTA and Baillie Gifford grant support to N. Ragge, Mahidol University and Research Career Development Awards from the Faculty of Medicine Ramathibodi Hospital to D. Wattanasirichaigoon, an A*STAR JCO Career Development grant to A.J., an A*STAR BMRC Young Investigator Grant to S.X. and a Strategic Positioning Fund on Genetic Orphan Diseases from the Biomedical Research Council, A*STAR, Singapore, to B.R.
Ethics declarations
Competing interests
The authors declare no competing financial interests.
Integrated supplementary information
Supplementary information
Supplementary Figures 1–13 and Supplementary Tables 3–6 (PDF 3070 kb)
Clinical features of 14 patients with BAMS. (XLSX 13 kb)
Exome variant filtering for cases 1, 2 and 9–13. (XLSX 11 kb)
About this article
Cite this article
Gordon, C., Xue, S., Yigit, G. et al. De novo mutations in SMCHD1 cause Bosma arhinia microphthalmia syndrome and abrogate nasal development. Nat Genet 49, 249–255 (2017). https://doi.org/10.1038/ng.3765
Received:

Accepted:

Published:

Issue Date: