Abstract
Titin-truncating variants (TTNtv) commonly cause dilated cardiomyopathy (DCM). TTNtv are also encountered in ∼1% of the general population, where they may be silent, perhaps reflecting allelic factors. To better understand TTNtv, we integrated TTN allelic series, cardiac imaging and genomic data in humans and studied rat models with disparate TTNtv. In patients with DCM, TTNtv throughout titin were significantly associated with DCM. Ribosomal profiling in rat showed the translational footprint of premature stop codons in Ttn, TTNtv-position-independent nonsense-mediated degradation of the mutant allele and a signature of perturbed cardiac metabolism. Heart physiology in rats with TTNtv was unremarkable at baseline but became impaired during cardiac stress. In healthy humans, machine-learning-based analysis of high-resolution cardiac imaging showed TTNtv to be associated with eccentric cardiac remodeling. These data show that TTNtv have molecular and physiological effects on the heart across species, with a continuum of expressivity in health and disease.
Relevant articles
Open Access articles citing this article.
Claudia Crocini

&

Michael Gotthardt

Biophysical Reviews Open Access 12 October 2021

Franziska Witte

,

Jorge Ruiz-Orera

…

Sebastiaan van Heesch

Genome Biology Open Access 28 June 2021

He Jiang

,

Charlotte Hooper

…

Katja Gehmlich

Basic Research in Cardiology Open Access 26 February 2021
Access options
Subscribe to this journal
Receive 12 print issues and online access
$209.00 per year
only $17.42 per issue
Rent or buy this article
Prices vary by article type
from$1.95
to$39.95
Prices may be subject to local taxes which are calculated during checkout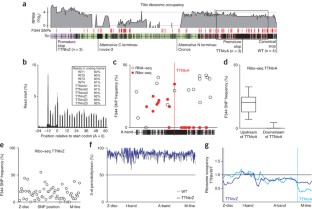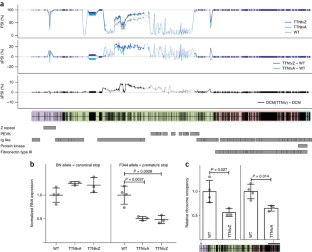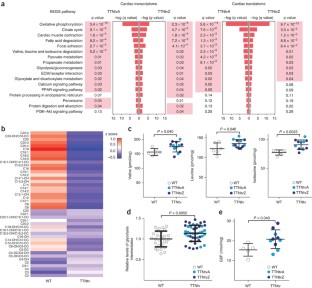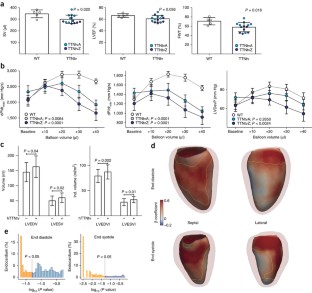 References
Hershberger, R.E., Hedges, D.J. & Morales, A. Dilated cardiomyopathy: the complexity of a diverse genetic architecture. Nat. Rev. Cardiol. 10, 531–547 (2013).

Herman, D.S. et al. Truncations of titin causing dilated cardiomyopathy. N. Engl. J. Med. 366, 619–628 (2012).

Roberts, A.M. et al. Integrated allelic, transcriptional, and phenomic dissection of the cardiac effects of titin truncations in health and disease. Sci. Transl. Med. 7, 270ra6 (2015).

Norton, N. et al. Exome sequencing and genome-wide linkage analysis in 17 families illustrate the complex contribution of TTN truncating variants to dilated cardiomyopathy. Circ Cardiovasc Genet 6, 144–153 (2013).

Chauveau, C., Rowell, J. & Ferreiro, A. A rising titan: TTN review and mutation update. Hum. Mutat. 35, 1046–1059 (2014).

Akinrinade, O., Koskenvuo, J.W. & Alastalo, T.-P. Prevalence of titin truncating variants in general population. PLoS One 10, e0145284 (2015).

Akinrinade, O., Alastalo, T.P. & Koskenvuo, J.W. Relevance of truncating titin mutations in dilated cardiomyopathy. Clinic. Genet. 90, 49–54 (2016).

Robinson, E.B. et al. Genetic risk for autism spectrum disorders and neuropsychiatric variation in the general population. Nat. Genet. 48, 552–555 (2016).

Hinson, J.T. et al. Titin mutations in iPS cells define sarcomere insufficiency as a cause of dilated cardiomyopathy. Science 349, 982–986 (2015).

Gramlich, M. et al. Stress-induced dilated cardiomyopathy in a knock-in mouse model mimicking human titin-based disease. J. Mol. Cell. Cardiol. 47, 352–358 (2009).

Lek, M. et al. Analysis of protein-coding genetic variation in 60,706 humans. Nature 536, 285–291 (2016).

Zou, J. et al. An internal promoter underlies the difference in disease severity between N- and C-terminal truncation mutations of Titin in zebrafish. eLife 4, e09406 (2015).

Forrest, A.R. et al. A promoter-level mammalian expression atlas. Nature 507, 462–470 (2014).

Ingolia, N.T., Ghaemmaghami, S., Newman, J.R. & Weissman, J.S. Genome-wide analysis in vivo of translation with nucleotide resolution using ribosome profiling. Science 324, 218–223 (2009).

Schafer, S. et al. Translational regulation shapes the molecular landscape of complex disease phenotypes. Nat. Commun. 6, 7200 (2015).

Kundaje, A. et al. Integrative analysis of 111 reference human epigenomes. Nature 518, 317–330 (2015).

Schafer, S. et al. Alternative splicing signatures in RNA–seq data: percent spliced in (PSI). Curr. Protoc. Hum. Genet. 87, 11.16.1–11.16.14 (2015).

Guo, W. et al. RBM20, a gene for hereditary cardiomyopathy, regulates titin splicing. Nat. Med. 18, 766–773 (2012).

Maatz, H. et al. RNA-binding protein RBM20 represses splicing to orchestrate cardiac pre-mRNA processing. J. Clin. Invest. 124, 3419–3430 (2014).

Le Hir, H., Izaurralde, E., Maquat, L.E. & Moore, M.J. The spliceosome deposits multiple proteins 20–24 nucleotides upstream of mRNA exon–exon junctions. EMBO J. 19, 6860–6869 (2000).

Le Hir, H., Gatfield, D., Izaurralde, E. & Moore, M.J. The exon–exon junction complex provides a binding platform for factors involved in mRNA export and nonsense-mediated mRNA decay. EMBO J. 20, 4987–4997 (2001).

Luo, W., Friedman, M.S., Shedden, K., Hankenson, K.D. & Woolf, P.J. GAGE: generally applicable gene set enrichment for pathway analysis. BMC Bioinformatics 10, 161 (2009).

Kanehisa, M. & Goto, S. KEGG: Kyoto Encyclopedia of Genes and Genomes. Nucleic Acids Res. 28, 27–30 (2000).

Lai, L. et al. Energy metabolic reprogramming in the hypertrophied and early stage failing heart: a multisystems approach. Circ Heart Fail 7, 1022–1031 (2014).

Shibayama, J. et al. Metabolic remodeling in moderate synchronous versus dyssynchronous pacing-induced heart failure: integrated metabolomics and proteomics study. PLoS One 10, e0118974 (2015).

Doenst, T., Nguyen, T.D. & Abel, E.D. Cardiac metabolism in heart failure: implications beyond ATP production. Circ. Res. 113, 709–724 (2013).

Stanley, W.C., Recchia, F.A. & Lopaschuk, G.D. Myocardial substrate metabolism in the normal and failing heart. Physiol. Rev. 85, 1093–1129 (2005).

Schisler, J.C. et al. Cardiac energy dependence on glucose increases metabolites related to glutathione and activates metabolic genes controlled by mechanistic target of rapamycin. J. Am. Heart Assoc. 4, e001136 (2015).

Neubauer, S. The failing heart—an engine out of fuel. N. Engl. J. Med. 356, 1140–1151 (2007).

Yano, T. et al. Clinical impact of myocardial mTORC1 activation in nonischemic dilated cardiomyopathy. J. Mol. Cell. Cardiol. 91, 6–9 (2016).

Ramos, F.J. et al. Rapamycin reverses elevated mTORC1 signaling in lamin A/C-deficient mice, rescues cardiac and skeletal muscle function, and extends survival. Sci. Transl. Med. 4, 144ra103 (2012).

Neishabouri, S.H., Hutson, S.M. & Davoodi, J. Chronic activation of mTOR complex 1 by branched chain amino acids and organ hypertrophy. Amino Acids 47, 1167–1182 (2015).

Ait-Mou, Y. et al. Titin strain contributes to the Frank–Starling law of the heart by structural rearrangements of both thin- and thick-filament proteins. Proc. Natl. Acad. Sci. USA 113, 2306–2311 (2016).

Sen, S. et al. Glucose regulation of load-induced mTOR signaling and ER stress in mammalian heart. J. Am. Heart Assoc. 2, e004796 (2013).

Shende, P. et al. Cardiac raptor ablation impairs adaptive hypertrophy, alters metabolic gene expression, and causes heart failure in mice. Circulation 123, 1073–1082 (2011).

Zhang, D. et al. MTORC1 regulates cardiac function and myocyte survival through 4E-BP1 inhibition in mice. J. Clin. Invest. 120, 2805–2816 (2010).

Mestroni, L. et al. Guidelines for the study of familial dilated cardiomyopathies. Eur. Heart J. 20, 93–102 (1999).

Vasan, R.S., Larson, M.G., Benjamin, E.J., Evans, J.C. & Levy, D. Left ventricular dilatation and the risk of congestive heart failure in people without myocardial infarction. N. Engl. J. Med. 336, 1350–1355 (1997).

Levy, D. et al. Genome-wide association study of blood pressure and hypertension. Nat. Genet. 41, 677–687 (2009).

Newton-Cheh, C. et al. Genome-wide association study identifies eight loci associated with blood pressure. Nat. Genet. 41, 666–676 (2009).

de Marvao, A. et al. Population-based studies of myocardial hypertrophy: high resolution cardiovascular magnetic resonance atlases improve statistical power. J. Cardiovasc. Magn. Reson. 16, 16 (2014).

Bai, W. et al. A bi-ventricular cardiac atlas built from 1000+ high resolution MR images of healthy subjects and an analysis of shape and motion. Med. Image Anal. 26, 133–145 (2015).

Ware, J.S. et al. Shared genetic predisposition in peripartum and dilated cardiomyopathies. N. Engl. J. Med. 374, 233–241 (2016).

Watkins, H. Tackling the Achilles' heel of genetic testing. Sci. Transl. Med. 7, 270fs1 (2015).

Pugh, T.J. et al. The landscape of genetic variation in dilated cardiomyopathy as surveyed by clinical DNA sequencing. Genet. Med. 16, 601–608 (2014).

Walsh, R. et al. Reassessment of Mendelian gene pathogenicity using 7,855 cardiomyopathy cases and 60,706 reference samples. Genet. Med. http://dx.doi.org/10.1038/gim.2016.90 (2016).

Pua, C.J. et al. Development of a comprehensive sequencing assay for inherited cardiac condition genes. J. Cardiovasc. Transl. Res. 9, 3–11 (2016).

Langmead, B., Trapnell, C., Pop, M. & Salzberg, S.L. Ultrafast and memory-efficient alignment of short DNA sequences to the human genome. Genome Biol. 10, R25 (2009).

Langmead, B. & Salzberg, S.L. Fast gapped-read alignment with Bowtie 2. Nat. Methods 9, 357–359 (2012).

Cunningham, F. et al. Ensembl 2015. Nucleic Acids Res. 43, D662–D669 (2015).

Kim, D. et al. TopHat2: accurate alignment of transcriptomes in the presence of insertions, deletions and gene fusions. Genome Biol. 14, R36 (2013).

Goecks, J., Nekrutenko, A., Taylor, J. & Team, T. Galaxy: a comprehensive approach for supporting accessible, reproducible, and transparent computational research in the life sciences. Genome Biol. 11, R86 (2010).

Giardine, B. et al. Galaxy: a platform for interactive large-scale genome analysis. Genome Res. 15, 1451–1455 (2005).

Love, M.I., Huber, W. & Anders, S. Moderated estimation of fold change and dispersion for RNA–seq data with DESeq2. Genome Biol. 15, 550 (2014).

Shimoyama, M. et al. The Rat Genome Database 2015: genomic, phenotypic and environmental variations and disease. Nucleic Acids Res. 43, D743–D750 (2015).

Haberle, V., Forrest, A.R., Hayashizaki, Y., Carninci, P. & Lenhard, B. CAGEr: precise TSS data retrieval and high-resolution promoterome mining for integrative analyses. Nucleic Acids Res. 43, e51 (2015).

Gu, Z., Gu, L., Eils, R., Schlesner, M. & Brors, B. circlize implements and enhances circular visualization in R. Bioinformatics 30, 2811–2812 (2014).

Anders, S., Reyes, A. & Huber, W. Detecting differential usage of exons from RNA–seq data. Genome Res. 22, 2008–2017 (2012).

Price, A.N. et al. Cardiovascular magnetic resonance imaging in experimental models. Open Cardiovasc. Med. J. 4, 278–292 (2010).

Heiberg, E. et al. Design and validation of Segment—freely available software for cardiovascular image analysis. BMC Med. Imaging 10, 1 (2010).

Ross, A.J. et al. Serial MRI evaluation of cardiac structure and function in mice after reperfused myocardial infarction. Magn. Reson. Med. 47, 1158–1168 (2002).

Tortoledo, F.A., Quinones, M.A., Fernandez, G.C., Waggoner, A.D. & Winters, W.L. Jr. Quantification of left ventricular volumes by two-dimensional echocardiography: a simplified and accurate approach. Circulation 67, 579–584 (1983).

Sahn, D.J., DeMaria, A., Kisslo, J. & Weyman, A. Recommendations regarding quantitation in M-mode echocardiography: results of a survey of echocardiographic measurements. Circulation 58, 1072–1083 (1978).

Sutherland, F.J. & Hearse, D.J. The isolated blood and perfusion fluid perfused heart. Pharmacol. Res. 41, 613–627 (2000).

Muoio, D.M. et al. Muscle-specific deletion of carnitine acetyltransferase compromises glucose tolerance and metabolic flexibility. Cell Metab. 15, 764–777 (2012).

Soga, T. & Heiger, D.N. Amino acid analysis by capillary electrophoresis electrospray ionization mass spectrometry. Anal. Chem. 72, 1236–1241 (2000).

Soga, T. et al. Simultaneous determination of anionic intermediates for Bacillus subtilis metabolic pathways by capillary electrophoresis electrospray ionization mass spectrometry. Anal. Chem. 74, 2233–2239 (2002).

Sugimoto, M. et al. Differential metabolomics software for capillary electrophoresis–mass spectrometry data analysis. Metabolomics 6, 27–41 (2010).

de Marvao, A. et al. Precursors of hypertensive heart phenotype develop in healthy adults: a high-resolution 3D MRI study. JACC Cardiovasc. Imaging 8, 1260–1269 (2015).

Bellenger, N.G., Grothues, F., Smith, G.C. & Pennell, D.J. Quantification of right and left ventricular function by cardiovascular magnetic resonance. Herz 25, 392–399 (2000).

Grothues, F. et al. Comparison of interstudy reproducibility of cardiovascular magnetic resonance with two-dimensional echocardiography in normal subjects and in patients with heart failure or left ventricular hypertrophy. Am. J. Cardiol. 90, 29–34 (2002).

Smith, S.M. & Nichols, T.E. Threshold-free cluster enhancement: addressing problems of smoothing, threshold dependence and localisation in cluster inference. Neuroimage 44, 83–98 (2009).

Benjamini, Y. & Hochberg, Y. Controlling the false discovery rate: a practical and powerful approach to multiple testing. J. R. Stat. Soc. B 57, 289–300 (1995).
Acknowledgements
We thank all the patients and healthy volunteers for taking part in this research and our team of research nurses across the hospital sites. We also thank M. von Frieling-Salewsky for technical support. The research was supported by the MRC Clinical Sciences Centre, UK, to J.S.W., S.A.C., A.d.M. and D.P.O'R., the NIHR Biomedical Research Unit in Cardiovascular Disease at Royal Brompton, the Harefield NHS Foundation Trust and Imperial College London to J.S.W. and S.A.C., the NIHR Imperial Biomedical Research Centre, British Heart Foundation, UK (SP/10/10/28431, PG/12/27/29489) to S.A.C., D.P.O'R. and C.B., the Wellcome Trust, UK (107469/Z/15/Z to J.S.W., 087183/Z/08/Z, 092854/Z/10/Z and WT095908), a Wellcome Trust Fellowship (100211/Z/12/Z and P43579_WMET to T.J.W.D.), Fondation Leducq to J.S.W., the Tanoto Foundation to S.A.C., CORDA, the National Institutes of Health (NHLBI 2R01HL080494 to J.G.S. and C.E.S.), the National Medical Research Council (NMRC) Singapore (CIRG13nov024 and STaR13nov002 to D.P.V.d.K.), the SingHealth Duke–NUS Institute of Precision Medicine, the Rosetrees Trust, the Health Innovation Challenge Fund (HICF-R6-373 to J.S.W.) funding from the Wellcome Trust and the Department of Health, UK, the Howard Hughes Medical Institute, the European Union EURATRANS award (HEALTH-F4-2010-241504 to N.H.), the Helmholtz Alliance ICEMED to N.H., European Union FP7 (CardioNeT-ITN-289600 to F.M.), Deutsche Forschungsgemeinschaft (SFB1002, TPA08 to W.A.L., Forschergruppe 1054 HU 1522/1-1 to N.H. and TP1 to V.R.-Z.), and an EMBO Long-Term Fellowship (ALTF 186-2015 to S.v.H.) and Marie Curie Actions (LTFCOFUND2013, GA-2013-609409 to S.v.H.). This publication includes independent research commissioned by the Health Innovation Challenge Fund (HICF), a parallel funding partnership between the UK Department of Health and the Wellcome Trust. The views expressed in this work are those of the authors and not necessarily those of the UK Department of Health or the Wellcome Trust.
Ethics declarations
Competing interests
S.A.C. consults for Illumina.
Integrated supplementary information
Supplementary information
Supplementary Figures 1–13 and Supplementary Tables 1–5. (PDF 3548 kb)
Mass univariate regression models show the relationship between TTNtv genotype (cardiac exons with PSI > 15%) and increasing endocardial volume (positive coefficients) in end systole (left) and end diastole (right). Standardized β coefficients are plotted on the endocardial surface with outlines of left (red) and right (blue) ventricles. The area enclosed by the yellow contour has a corrected P <0.05 (multiple linear regression). (MP4 6250 kb)
About this article
Cite this article
Schafer, S., de Marvao, A., Adami, E. et al. Titin-truncating variants affect heart function in disease cohorts and the general population. Nat Genet 49, 46–53 (2017). https://doi.org/10.1038/ng.3719
Received:

Accepted:

Published:

Issue Date:

DOI: https://doi.org/10.1038/ng.3719