Abstract
The potential for early embryonic events to program epigenetic states that influence adult physiology remains an important question in health and development. Using the imprinted Zdbf2 locus as a paradigm for the early programming of phenotypes, we demonstrate here that chromatin changes that occur in the pluripotent embryo can be dispensable for embryogenesis but instead signal essential regulatory information in the adult. The Liz (long isoform of Zdbf2) transcript is transiently expressed in early embryos and embryonic stem cells (ESCs). This transcription locally promotes de novo DNA methylation upstream of the Zdbf2 promoter, which antagonizes Polycomb-mediated repression of Zdbf2. Strikingly, mouse embryos deficient for Liz develop normally but fail to activate Zdbf2 in the postnatal brain and show indelible growth reduction, implying a crucial role for a Liz-dependent epigenetic switch. This work provides evidence that transcription during an early embryonic timeframe can program a stable epigenetic state with later physiological consequences.
Relevant articles
Open Access articles citing this article.
Julien Richard Albert

,

Toshihiro Kobayashi

…

Hisato Kobayashi

Genome Biology Open Access 14 March 2023

Giacomo Furlan

,

Aurélia Huyghe

…

Fabrice Lavial

Nature Communications Open Access 05 January 2023

William A. Pastor

&

Sin Young Kwon

Cellular and Molecular Life Sciences Open Access 26 October 2022
Access options
Subscribe to this journal
Receive 12 print issues and online access
$209.00 per year
only $17.42 per issue
Rent or buy this article
Prices vary by article type
from$1.95
to$39.95
Prices may be subject to local taxes which are calculated during checkout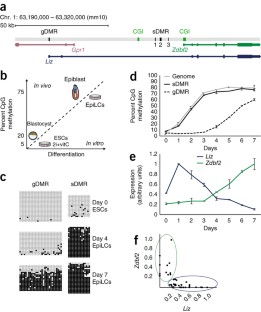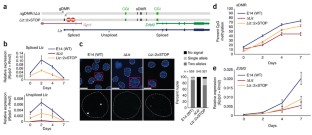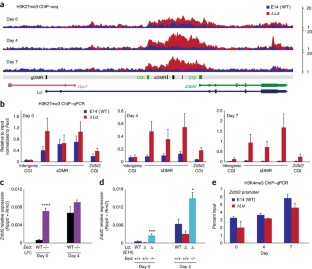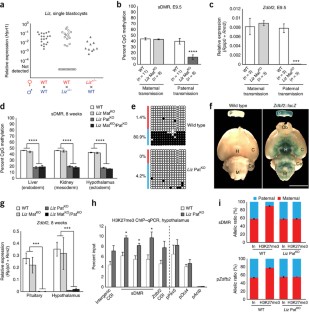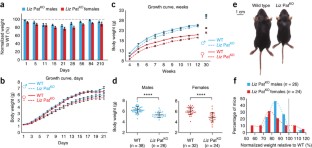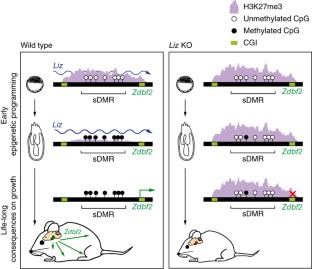 Accession codes
Primary accessions
Gene Expression Omnibus
References
Borsos, M. & Torres-Padilla, M.E. Building up the nucleus: nuclear organization in the establishment of totipotency and pluripotency during mammalian development. Genes Dev. 30, 611–621 (2016).

Schübeler, D. et al. Genomic targeting of methylated DNA: influence of methylation on transcription, replication, chromatin structure, and histone acetylation. Mol. Cell. Biol. 20, 9103–9112 (2000).

Lee, H.J., Hore, T.A. & Reik, W. Reprogramming the methylome: erasing memory and creating diversity. Cell Stem Cell 14, 710–719 (2014).

Auclair, G., Guibert, S., Bender, A. & Weber, M. Ontogeny of CpG island methylation and specificity of DNMT3 methyltransferases during embryonic development in the mouse. Genome Biol. 15, 545 (2014).

Dhayalan, A. et al. The Dnmt3a PWWP domain reads histone 3 lysine 36 trimethylation and guides DNA methylation. J. Biol. Chem. 285, 26114–26120 (2010).

Baubec, T. et al. Genomic profiling of DNA methyltransferases reveals a role for DNMT3B in genic methylation. Nature 520, 243–247 (2015).

Ooi, S.K. et al. DNMT3L connects unmethylated lysine 4 of histone H3 to de novo methylation of DNA. Nature 448, 714–717 (2007).

Guo, X. et al. Structural insight into autoinhibition and histone H3–induced activation of DNMT3A. Nature 517, 640–644 (2015).

Tanay, A., O'Donnell, A.H., Damelin, M. & Bestor, T.H. Hyperconserved CpG domains underlie Polycomb-binding sites. Proc. Natl. Acad. Sci. USA 104, 5521–5526 (2007).

Brinkman, A.B. et al. Sequential ChIP–bisulfite sequencing enables direct genome-scale investigation of chromatin and DNA methylation cross-talk. Genome Res. 22, 1128–1138 (2012).

Statham, A.L. et al. Bisulfite sequencing of chromatin immunoprecipitated DNA (BisChIP–seq) directly informs methylation status of histone-modified DNA. Genome Res. 22, 1120–1127 (2012).

Jermann, P., Hoerner, L., Burger, L. & Schübeler, D. Short sequences can efficiently recruit histone H3 lysine 27 trimethylation in the absence of enhancer activity and DNA methylation. Proc. Natl. Acad. Sci. USA 111, E3415–E3421 (2014).

Li, E., Bestor, T.H. & Jaenisch, R. Targeted mutation of the DNA methyltransferase gene results in embryonic lethality. Cell 69, 915–926 (1992).

Okano, M., Bell, D.W., Haber, D.A. & Li, E. DNA methyltransferases Dnmt3a and Dnmt3b are essential for de novo methylation and mammalian development. Cell 99, 247–257 (1999).

O'Carroll, D. et al. The Polycomb-group gene Ezh2 is required for early mouse development. Mol. Cell. Biol. 21, 4330–4336 (2001).

Faust, C., Lawson, K.A., Schork, N.J., Thiel, B. & Magnuson, T. The Polycomb-group gene Eed is required for normal morphogenetic movements during gastrulation in the mouse embryo. Development 125, 4495–4506 (1998).

Pasini, D., Bracken, A.P., Jensen, M.R., Lazzerini Denchi, E. & Helin, K. Suz12 is essential for mouse development and for EZH2 histone methyltransferase activity. EMBO J. 23, 4061–4071 (2004).

Duffié, R. et al. The Gpr1/Zdbf2 locus provides new paradigms for transient and dynamic genomic imprinting in mammals. Genes Dev. 28, 463–478 (2014).

Ferguson-Smith, A.C. Genomic imprinting: the emergence of an epigenetic paradigm. Nat. Rev. Genet. 12, 565–575 (2011).

Proudhon, C. et al. Protection against de novo methylation is instrumental in maintaining parent-of-origin methylation inherited from the gametes. Mol. Cell 47, 909–920 (2012).

Kobayashi, H. et al. Identification of the mouse paternally expressed imprinted gene Zdbf2 on chromosome 1 and its imprinted human homolog ZDBF2 on chromosome 2. Genomics 93, 461–472 (2009).

Kobayashi, H. et al. Imprinted DNA methylation reprogramming during early mouse embryogenesis at the Gpr1–Zdbf2 locus is linked to long cis-intergenic transcription. FEBS Lett. 586, 827–833 (2012).

Greenberg, M.V. & Bourc'his, D. Cultural relativism: maintenance of genomic imprints in pluripotent stem cell culture systems. Curr. Opin. Genet. Dev. 31, 42–49 (2015).

Walter, M., Teissandier, A., Pérez-Palacios, R. & Bourc'his, D. An epigenetic switch ensures transposon repression upon dynamic loss of DNA methylation in embryonic stem cells. eLife 5, e11418 (2016).

Guo, G. et al. Klf4 reverts developmentally programmed restriction of ground state pluripotency. Development 136, 1063–1069 (2009).

Feng, S. et al. Conservation and divergence of methylation patterning in plants and animals. Proc. Natl. Acad. Sci. USA 107, 8689–8694 (2010).

Mikkelsen, T.S. et al. Genome-wide maps of chromatin state in pluripotent and lineage-committed cells. Nature 448, 553–560 (2007).

Marks, H. et al. The transcriptional and epigenomic foundations of ground state pluripotency. Cell 149, 590–604 (2012).

Schoeftner, S. et al. Recruitment of PRC1 function at the initiation of X inactivation independent of PRC2 and silencing. EMBO J. 25, 3110–3122 (2006).

Galonska, C., Ziller, M.J., Karnik, R. & Meissner, A. Ground state conditions induce rapid reorganization of core pluripotency factor binding before global epigenetic reprogramming. Cell Stem Cell 17, 462–470 (2015).

Tsumura, A. et al. Maintenance of self-renewal ability of mouse embryonic stem cells in the absence of DNA methyltransferases Dnmt1, Dnmt3a and Dnmt3b. Genes Cells 11, 805–814 (2006).

Jackson, M. et al. Severe global DNA hypomethylation blocks differentiation and induces histone hyperacetylation in embryonic stem cells. Mol. Cell. Biol. 24, 8862–8871 (2004).

Schmidt, C.S. et al. Global DNA hypomethylation prevents consolidation of differentiation programs and allows reversion to the embryonic stem cell state. PLoS One 7, e52629 (2012).

Liu, X. et al. Distinct features of H3K4me3 and H3K27me3 chromatin domains in pre-implantation embryos. Nature 537, 558–562 (2016).

Zheng, H. et al. Resetting epigenetic memory by reprogramming of histone modifications in mammals. Mol. Cell 63, 1066–1079 (2016).

Jeffery, L. & Nakielny, S. Components of the DNA methylation system of chromatin control are RNA-binding proteins. J. Biol. Chem. 279, 49479–49487 (2004).

Grau, D.J. et al. Compaction of chromatin by diverse Polycomb group proteins requires localized regions of high charge. Genes Dev. 25, 2210–2221 (2011).

Venkatesh, S. & Workman, J.L. Histone exchange, chromatin structure and the regulation of transcription. Nat. Rev. Mol. Cell Biol. 16, 178–189 (2015).

Boulard, M., Edwards, J.R. & Bestor, T.H. FBXL10 protects Polycomb-bound genes from hypermethylation. Nat. Genet. 47, 479–485 (2015).

Blackledge, N.P. et al. Variant PRC1 complex–dependent H2A ubiquitylation drives PRC2 recruitment and Polycomb domain formation. Cell 157, 1445–1459 (2014).

Farcas, A.M. et al. KDM2B links the Polycomb repressive complex 1 (PRC1) to recognition of CpG islands. eLife 1, e00205 (2012).

Wu, X., Johansen, J.V. & Helin, K. Fbxl10/Kdm2b recruits Polycomb repressive complex 1 to CpG islands and regulates H2A ubiquitylation. Mol. Cell 49, 1134–1146 (2013).

Wu, H. et al. Dnmt3a-dependent nonpromoter DNA methylation facilitates transcription of neurogenic genes. Science 329, 444–448 (2010).

Moore, T. & Haig, D. Genomic imprinting in mammalian development: a parental tug-of-war. Trends Genet. 7, 45–49 (1991).

Charalambous, M., da Rocha, S.T. & Ferguson-Smith, A.C. Genomic imprinting, growth control and the allocation of nutritional resources: consequences for postnatal life. Curr. Opin. Endocrinol. Diabetes Obes. 14, 3–12 (2007).

Volkow, N.D., Wang, G.J. & Baler, R.D. Reward, dopamine and the control of food intake: implications for obesity. Trends Cogn. Sci. 15, 37–46 (2011).

Smallwood, S.A. et al. Dynamic CpG island methylation landscape in oocytes and preimplantation embryos. Nat. Genet. 43, 811–814 (2011).

Kobayashi, H. et al. Contribution of intragenic DNA methylation in mouse gametic DNA methylomes to establish oocyte-specific heritable marks. PLoS Genet. 8, e1002440 (2012).

Smith, Z.D. et al. A unique regulatory phase of DNA methylation in the early mammalian embryo. Nature 484, 339–344 (2012).

Sanjana, N.E. et al. A transcription activator–like effector toolbox for genome engineering. Nat. Protoc. 7, 171–192 (2012).

Hsu, P.D. et al. DNA targeting specificity of RNA-guided Cas9 nucleases. Nat. Biotechnol. 31, 827–832 (2013).

Cong, L. et al. Multiplex genome engineering using CRISPR/Cas systems. Science 339, 819–823 (2013).

Luikenhuis, S., Wutz, A. & Jaenisch, R. Antisense transcription through the Xist locus mediates Tsix function in embryonic stem cells. Mol. Cell. Biol. 21, 8512–8520 (2001).

Wang, H. et al. One-step generation of mice carrying mutations in multiple genes by CRISPR/Cas-mediated genome engineering. Cell 153, 910–918 (2013).

Kaneda, M. et al. Essential role for de novo DNA methyltransferase Dnmt3a in paternal and maternal imprinting. Nature 429, 900–903 (2004).

Karimi, M. et al. LUMA (LUminometric Methylation Assay)—a high throughput method to the analysis of genomic DNA methylation. Exp. Cell Res. 312, 1989–1995 (2006).

Bock, C. et al. BiQ Analyzer: visualization and quality control for DNA methylation data from bisulfite sequencing. Bioinformatics 21, 4067–4068 (2005).

Heinz, S. et al. Simple combinations of lineage-determining transcription factors prime cis-regulatory elements required for macrophage and B cell identities. Mol. Cell 38, 576–589 (2010).
Acknowledgements
We would like to thank members of the Bourc'his laboratory for insightful experimental and conceptual input; E. Heard, R. Margueron, J. Barau and R. Duffié for critical advice on the manuscript; M. Weber for the DNMT3-mutant embryos; and C. Jouhanneau and the Institut Curie Animal Facility for excellent mouse husbandry. High-throughput sequencing was performed by the ICGex NGS platform of the Institut Curie supported by grants from the ANR 'Investissements d'Avenir' program (ANR-10-EQPX-03, Equipex and ANR-10-INBS-09-08, France Génomique Consortium) and from Cancéropôle Île-de-France. The laboratory of D.B. is part of the Laboratoire d'Excellence (LABEX) entitled DEEP (11-LBX0044). This research was supported by grants from the ERC (ERC-Cog EpiRepro) and the ANR (ABS4NGS-ANR-11-BINF-0001). M.V.C.G. was supported by ARC and EMBO (LTF 457-2013) postdoctoral fellowships. J.G. was a recipient of a PhD fellowship from DIM Biotherapy, Île-de-France. M.W. was the recipient of a PhD fellowship from the École Polytechnique.
Ethics declarations
Competing interests
The authors declare no competing financial interests.
Integrated supplementary information
Supplementary information
Supplementary Figures 1–8 and Supplementary Tables 1 and 2. (PDF 1684 kb)
About this article
Cite this article
Greenberg, M., Glaser, J., Borsos, M. et al. Transient transcription in the early embryo sets an epigenetic state that programs postnatal growth. Nat Genet 49, 110–118 (2017). https://doi.org/10.1038/ng.3718
Received:

Accepted:

Published:

Issue Date:

DOI: https://doi.org/10.1038/ng.3718