Abstract
Fusarium head blight (FHB), caused by Fusarium graminearum, is a devastating disease of wheat and barley that leads to reduced yield and mycotoxin contamination of grain, making it unfit for human consumption. FHB is a global problem, with outbreaks in the United States, Canada, Europe, Asia and South America. In the United States alone, total direct and secondary economic losses from 1993 to 2001 owing to FHB were estimated at $7.67 billion1. Fhb1 is the most consistently reported quantitative trait locus (QTL) for FHB resistance breeding. Here we report the map-based cloning of Fhb1 from a Chinese wheat cultivar Sumai 3. By mutation analysis, gene silencing and transgenic overexpression, we show that a pore-forming toxin-like (PFT) gene at Fhb1 confers FHB resistance. PFT is predicted to encode a chimeric lectin with two agglutinin domains and an ETX/MTX2 toxin domain. Our discovery identifies a new type of durable plant resistance gene conferring quantitative disease resistance to plants against Fusarium species.
Relevant articles
Open Access articles citing this article.
A. C. Kushalappa

,

N. G. Hegde

…

L. Ajjamada

Scientific Reports Open Access 27 November 2022

Ming Xu

,

Qinhu Wang

…

Cong Jiang

Phytopathology Research Open Access 10 October 2022

Zhengxi Sun

,

Yi Hu

…

Tao Li

BMC Plant Biology Open Access 03 January 2022
Access options
Subscribe to this journal
Receive 12 print issues and online access
$189.00 per year
only $15.75 per issue
Rent or buy this article
Get just this article for as long as you need it
$39.95
Prices may be subject to local taxes which are calculated during checkout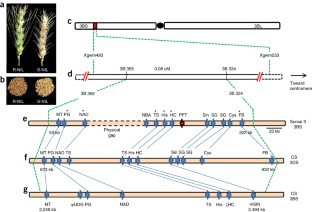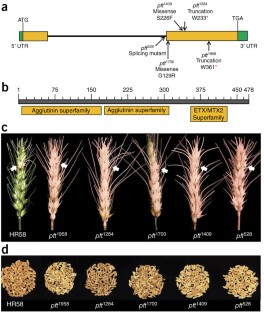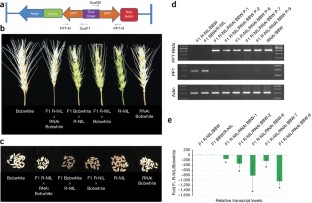 Accession codes
Primary accessions
NCBI Reference Sequence
Referenced accessions
NCBI Reference Sequence
References
Nganje, W.E., Kaitibie, S., Wilson, W.W., Leistritz, F.L. & Bangsund, D.A. Economic impacts of Fusarium head blight in wheat and barley: 1993–2001 (Agribusiness and Applied Economics Report No. 538) (North Dakota State University, 2004).

McMullen, M., Jones, R. & Gallenberg, D. Scab of wheat and barley: a reemerging disease of devastating impact. Plant Dis. 81, 1340–1348 (1997).

Jin, L.F. et al. Fusarium head blight resistance in U.S. winter wheat cultivars and elite breeding lines. Crop Sci. 53, 2006–2013 (2013).

Anderson, J.A., Glover, K. & Mergoum, M. Successful adoption of spring wheat cultivars with moderate resistance to FHB by growers in the North Central Region. in Proc. 2011 Natl. Fusarium Head Blight Forum (eds. Canty, S., Clark, A., Anderson-Scully, A., Ellis, D. & Van Sanford, D.) 3 (US Wheat and Barley Scab Initiative, 2011).

Stack, R.W., Frohberg, R.C. & Casper, H. Reaction of spring wheats incorporating Sumai-3 derived resistance to inoculation with seven Fusarium species. Cereal Res. Commun. 25, 667–671 (1997).

Liu, S. et al. Towards positional cloning of Fhb1, a major QTL for Fusarium head blight resistance in wheat. Cereal Res. Commun. 36, 195–201 (2008).

Bernardo, A.N., Ma, H., Zhang, D. & Bai, G. Single nucleotide polymorphism in wheat chromosome region harboring Fhb1 for Fusarium head blight resistance. Mol. Breed. 29, 477–488 (2012).

Schweiger, W. et al. Transcriptomic characterization of two major Fusarium resistance quantitative trait loci (QTLs), Fhb1 and Qfhs.ifa-5A, identifies novel candidate genes. Mol. Plant Pathol. 14, 772–785 (2013).

Xiao, J. et al. Transcriptome-based discovery of pathways and genes related to resistance against Fusarium head blight in wheat landrace Wangshuibai. BMC Genomics 14, 197 (2013).

Choulet, F. et al. Megabase level sequencing reveals contrasted organization and evolution patterns of the wheat gene and transposable element spaces. Plant Cell 22, 1686–1701 (2010).

Hao, C. et al. Association mapping and haplotype analysis of a 3.1-Mb genomic region involved in Fusarium head blight resistance on wheat chromosome 3BS. PLoS One 7, e46444 (2012).

Bartoš, J. et al. Intraspecific sequence comparisons reveal similar rates of non-collinear gene insertion in the B and D genomes of bread wheat. BMC Plant Biol. 12, 155 (2012).

Liu, S. et al. Complex microcolinearity among wheat, rice, and barley revealed by fine mapping of the genomic region harboring a major QTL for resistance to Fusarium head blight in wheat. Funct. Integr. Genomics 6, 83–89 (2006).

Pumphrey, M.O. Towards Map-Based Cloning of Fusarium Head Blight Resistance QTL Fhb1 and Non-Additive Expression of Homoeologous Genes in Allohexaploid Wheat. PhD thesis (Kansas State University, 2007).

Lannoo, N. & Van Damme, E.J.M. Lectin domains at the frontiers of plant defense. Front. Plant Sci. 5, 397 (2014).

McHale, L., Tan, X., Koehl, P. & Michelmore, R.W. Plant NBS-LRR proteins: adaptable guards. Genome Biol. 7, 212 (2006).

Yu, J.B., Bai, G.H., Zhou, W.C., Dong, Y.H. & Kolb, F.L. Quantitative trait loci for Fusarium head blight resistance in a recombinant inbred population of Wangshuibai/Wheaton. Phytopathology 98, 87–94 (2008).

Berthiller, F. et al. Masked mycotoxins: determination of a deoxynivalenol glucoside in artificially and naturally contaminated wheat by liquid chromatography–tandem mass spectrometry. J. Agric. Food Chem. 53, 3421–3425 (2005).

Lemmens, M. et al. The ability to detoxify the mycotoxin deoxynivalenol colocalizes with a major quantitative trait locus for Fusarium head blight resistance in wheat. Mol. Plant Microbe Interact. 18, 1318–1324 (2005).

Lin, F.Y., Lu, Q.X., Xu, J.H. & Shi, J.R. Cloning and expression analysis of two salt and Fusarium graminearum stress associated UDP–glucosyltransferases genes in wheat. Yi Chuan 30, 1608–1614 (2008).

Lulin, M. et al. Molecular cloning and characterization of an up-regulated UDP–glucosyltransferase gene induced by DON from Triticum aestivum L. cv. Wangshuibai. Mol. Biol. Rep. 37, 785–795 (2010).

Van Damme, E.J.M., Lannoo, N. & Peumans, W.J. Plant lectins. Adv. Bot. Res. 48, 107–209 (2008).

Thanabalu, T. & Porter, A.G. A Bacillus sphaericus gene encoding a novel type of mosquitocidal toxin of 31.8 kDa. Gene 170, 85–89 (1996).

Petit, L., Maier, E., Gibert, M., Popoff, M.R. & Benz, R. Clostridium perfringens epsilon toxin induces a rapid change of cell membrane permeability to ions and forms channels in artificial lipid bilayers. J. Biol. Chem. 276, 15736–15740 (2001).

Puthoff, D.P., Sardesai, N., Subramanyam, S., Nemacheck, J.A. & Williams, C.E. Hfr-2, a wheat cytolytic toxin–like gene, is up-regulated by virulent Hessian fly larval feeding. Mol. Plant Pathol. 6, 411–423 (2005).

Mesterházy, Á. Role of deoxynivalenol in aggressiveness of Fusarium graminearum and F. culmorum and in resistance to Fusarium head blight. Eur. J. Plant Pathol. 108, 675–684 (2002).

van Eeuwijk, F.A. et al. Assessing non-specificity of resistance in wheat to head blight caused by inoculation with European strains of Fusarium culmorum, F. graminearum and F. nivale using a multiplicative model for interaction. Theor. Appl. Genet. 90, 221–228 (1995).

Bai, G.H., Chen, L.F. & Shaner, G. in Fusarium Head Blight of Wheat and Barley (eds. Leonard, K.J. & Bushnell, W.R.) 296–317 (American Phytopathological Society, 2003).

Waldron, B.L., Moreno-Sevilla, B., Anderson, J.A., Stack, R.W. & Frohberg, R.C. RFLP mapping of QTL for Fusarium head blight resistance in wheat. Crop Sci. 39, 805–811 (1999).

Akhunov, E.D., Akhunova, A.R. & Dvorák, J. BAC libraries of Triticum urartu, Aegilops speltoides and Ae. tauschii, the diploid ancestors of polyploid wheat. Theor. Appl. Genet. 111, 1617–1622 (2005).

Mathewson, C.A., Schein, J.E. & Marra, M.A. Large-scale BAC clone restriction digest fingerprinting. Curr. Protoc. Hum. Genet. 53, 5.19 (2007).

Leroy, P. et al. TriAnnot: a versatile and high performance pipeline for the automated annotation of plant genomes. Front. Plant Sci. 3, 5 (2012).

Rawat, N. et al. A diploid wheat TILLING resource for wheat functional genomics. BMC Plant Biol. 12, 205 (2012).

Tacke, B.K. & Casper, H.H. Determination of deoxynivalenol in wheat, barley, and malt by column cleanup and gas chromatography with electron capture detection. J. AOAC Int. 79, 472–475 (1996).

Miki, D. & Shimamoto, K. Simple RNAi vectors for stable and transient suppression of gene function in rice. Plant Cell Physiol. 45, 490–495 (2004).

Finer, J.J., Vain, P., Jones, M.W. & McMullen, M.D. Development of the particle inflow gun for DNA delivery to plant cells. Plant Cell Rep. 11, 323–328 (1992).

Christensen, A.H. & Quail, P.H. Ubiquitin promoter-based vectors for high-level expression of selectable and/or screenable marker genes in monocotyledonous plants. Transgenic Res. 5, 213–218 (1996).

Saintenac, C. et al. Identification of wheat gene Sr35 that confers resistance to Ug99 stem rust race group. Science 341, 783–786 (2013).

Madden, L.V., Hughes, G. & van den Bosch, F. The Study of Plant Disease Epidemics (American Phytopathological Society, 2007).

Ovando-Martínez, M. et al. Analysis of deoxynivalenol and deoxynivalenol-3-glucoside in hard red spring wheat inoculated with Fusarium graminearum. Toxins (Basel) 5, 2522–2532 (2013).

Kelley, L.A. & Sternberg, M.J.E. Protein structure prediction on the Web: a case study using the Phyre server. Nat. Protoc. 4, 363–371 (2009).
Acknowledgements
This work was supported by US Wheat and Barley Scab Initiative (USDA-ARS grant 59-0206-2-088) and US National Science Foundation grant contract (IIP-1338897). We thank G. Bai for (USDA-ARS, Manhattan, Kansas) providing seeds of wheat cultivars and landraces for association studies and S. McCormick (USDA-ARS, Peoria, Illinois) for providing purified DON for inoculation experiments. We thank A. Akhunova, R. Matniyazov, S. Sehgal, S. Simsek, K. Benson, B. Friebe, D. Wilson, J.W. Raupp, N. Tyagi, U.M. Quraishi and L. Jiarui for technical support. We acknowledge help from student workers C. McDaniel, K. Madden and R. Clay-Pettis. This is contribution 16-147-J from the Kansas Agricultural Experiment Station.
Ethics declarations
Competing interests
The authors declare no competing financial interests.
Integrated supplementary information
Supplementary information
Supplementary Figures 1–7 and Supplementary Tables 1, 2 and 4–7. (PDF 1760 kb)
SNPs found in the Fhb1 region in a collection of 41 wheat cultivars and landraces known for their Fhb1-mediated resistance to Fusarium head blight. (XLSX 44 kb)
GenBank accession numbers for all genes, nucleotides and proteins used in the study. (XLSX 12 kb)
About this article
Cite this article
Rawat, N., Pumphrey, M., Liu, S. et al. Wheat Fhb1 encodes a chimeric lectin with agglutinin domains and a pore-forming toxin-like domain conferring resistance to Fusarium head blight. Nat Genet 48, 1576–1580 (2016). https://doi.org/10.1038/ng.3706
Received:

Accepted:

Published:

Issue Date:

DOI: https://doi.org/10.1038/ng.3706