Abstract
Elevated basal serum tryptase levels are present in 4–6% of the general population, but the cause and relevance of such increases are unknown1,2. Previously, we described subjects with dominantly inherited elevated basal serum tryptase levels associated with multisystem complaints including cutaneous flushing and pruritus, dysautonomia, functional gastrointestinal symptoms, chronic pain, and connective tissue abnormalities, including joint hypermobility. Here we report the identification of germline duplications and triplications in the TPSAB1 gene encoding α-tryptase that segregate with inherited increases in basal serum tryptase levels in 35 families presenting with associated multisystem complaints. Individuals harboring alleles encoding three copies of α-tryptase had higher basal serum levels of tryptase and were more symptomatic than those with alleles encoding two copies, suggesting a gene-dose effect. Further, we found in two additional cohorts (172 individuals) that elevated basal serum tryptase levels were exclusively associated with duplication of α-tryptase–encoding sequence in TPSAB1, and affected individuals reported symptom complexes seen in our initial familial cohort. Thus, our findings link duplications in TPSAB1 with irritable bowel syndrome, cutaneous complaints, connective tissue abnormalities, and dysautonomia.
Access options
Subscribe to Journal
Get full journal access for 1 year
$79.00
only $6.58 per issue
All prices are NET prices.
VAT will be added later in the checkout.
Tax calculation will be finalised during checkout.
Buy article
Get time limited or full article access on ReadCube.
$32.00
All prices are NET prices.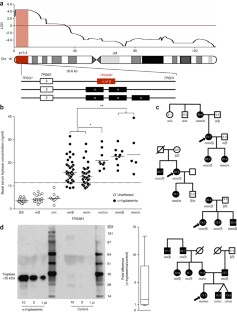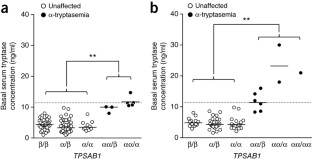 Accession codes
Primary accessions
BioProject
References
Fellinger, C. et al. Clinical characteristics and risk profile of patients with elevated baseline serum tryptase. Allergol. Immunopathol. (Madr.) 42, 544–552 (2014).

Gonzalez-Quintela, A. et al. Factors influencing serum total tryptase concentrations in a general adult population. Clin. Chem. Lab. Med. 48, 701–706 (2010).

Henningsen, P., Zimmermann, T. & Sattel, H. Medically unexplained physical symptoms, anxiety, and depression: a meta-analytic review. Psychosom. Med. 65, 528–533 (2003).

Cardet, J.C., Castells, M.C. & Hamilton, M.J. Immunology and clinical manifestations of non-clonal mast cell activation syndrome. Curr. Allergy Asthma Rep. 13, 10–18 (2013).

Li, H. et al. Autoimmune basis for postural tachycardia syndrome. J. Am. Heart Assoc. 3, e000755 (2014).

Zarate, N. et al. Unexplained gastrointestinal symptoms and joint hypermobility: is connective tissue the missing link? Neurogastroenterol. Motil. 22, 252–e78 (2010).

Lyons, J.J. et al. Mendelian inheritance of elevated serum tryptase associated with atopy and connective tissue abnormalities. J. Allergy Clin. Immunol. 133, 1471–1474 (2014).

Ross, J. & Grahame, R. Joint hypermobility syndrome. Br. Med. J. 342, c7167 (2011).

Buskila, D. & Sarzi-Puttini, P. Biology and therapy of fibromyalgia. Genetic aspects of fibromyalgia syndrome. Arthritis Res. Ther. 8, 218 (2006).

Castori, M. Ehlers–Danlos syndrome, hypermobility type: an underdiagnosed hereditary connective tissue disorder with mucocutaneous, articular, and systemic manifestations. ISRN Dermatol. 2012, 751768 (2012).

Sabato, V. et al. Familial hypertryptasemia with associated mast cell activation syndrome. J. Allergy Clin. Immunol. 134, 1448–1450.e3 (2014).

Saito, Y.A., Schoenfeld, P. & Locke, G.R., III. The epidemiology of irritable bowel syndrome in North America: a systematic review. Am. J. Gastroenterol. 97, 1910–1915 (2002).

El-Serag, H.B., Sweet, S., Winchester, C.C. & Dent, J. Update on the epidemiology of gastro-oesophageal reflux disease: a systematic review. Gut 63, 871–880 (2014).

Remvig, L., Jensen, D.V. & Ward, R.C. Epidemiology of general joint hypermobility and basis for the proposed criteria for benign joint hypermobility syndrome: review of the literature. J. Rheumatol. 34, 804–809 (2007).

Ruëff, F. et al. Predictors of severe systemic anaphylactic reactions in patients with Hymenoptera venom allergy: importance of baseline serum tryptase—a study of the European Academy of Allergology and Clinical Immunology Interest Group on Insect Venom Hypersensitivity. J. Allergy Clin. Immunol. 124, 1047–1054 (2009).

Sturm, G.J. et al. Sensitization to Hymenoptera venoms is common, but systemic sting reactions are rare. J. Allergy Clin. Immunol. 133, 1635–43 e1 (2014).

Savova, V. et al. Genes with monoallelic expression contribute disproportionately to genetic diversity in humans. Nat. Genet. 48, 231–237 (2016).

Bailey, J.A. et al. Recent segmental duplications in the human genome. Science 297, 1003–1007 (2002).

Chiang, P.W. et al. Somatic and germ-line mosaicism in Rubinstein–Taybi syndrome. Am. J. Med. Genet. A. 149A, 1463–1467 (2009).

Trivedi, N.N., Tong, Q., Raman, K., Bhagwandin, V.J. & Caughey, G.H. Mast cell α and β tryptases changed rapidly during primate speciation and evolved from γ-like transmembrane peptidases in ancestral vertebrates. J. Immunol. 179, 6072–6079 (2007).

Drossman, D.A. & Dumitrascu, D.L. Rome III: new standard for functional gastrointestinal disorders. J. Gastrointestin. Liver Dis. 15, 237–241 (2006).

Sletten, D.M., Suarez, G.A., Low, P.A., Mandrekar, J. & Singer, W. COMPASS 31: a refined and abbreviated Composite Autonomic Symptom Score. Mayo Clin. Proc. 87, 1196–1201 (2012).

Biesecker, L.G. et al. The ClinSeq Project: piloting large-scale genome sequencing for research in genomic medicine. Genome Res. 19, 1665–1674 (2009).

Alfter, K. et al. New aspects of liver abnormalities as part of the systemic mast cell activation syndrome. Liver Int. 29, 181–186 (2009).

Zhang, Y. et al. Autosomal recessive phosphoglucomutase 3 (PGM3) mutations link glycosylation defects to atopy, immune deficiency, autoimmunity, and neurocognitive impairment. J. Allergy Clin. Immunol. 133, 1400–1409, 1409.e1–1409.e5 (2014).

Brennan, C.W. et al. The somatic genomic landscape of glioblastoma. Cell 155, 462–477 (2013).

Johnston, J.J. et al. Individualized iterative phenotyping for genome-wide analysis of loss-of-function mutations. Am. J. Hum. Genet. 96, 913–925 (2015).

Abecasis, G.R., Cherny, S.S., Cookson, W.O. & Cardon, L.R. Merlin—rapid analysis of dense genetic maps using sparse gene flow trees. Nat. Genet. 30, 97–101 (2002).

Kristensen, T., Vestergaard, H., Bindslev-Jensen, C., Møller, M.B. & Broesby-Olsen, S. Sensitive KIT D816V mutation analysis of blood as a diagnostic test in mastocytosis. Am. J. Hematol. 89, 493–498 (2014).

Ferrer, M. et al. Serum total tryptase levels are increased in patients with active chronic urticaria. Clin. Exp. Allergy 40, 1760–1766 (2010).

Schwartz, L.B. Diagnostic value of tryptase in anaphylaxis and mastocytosis. Immunol. Allergy Clin. North Am. 26, 451–463 (2006).

Le, Q.T., Lotfi-Emran, S., Min, H.K. & Schwartz, L.B. A simple, sensitive and safe method to determine the human α/β-tryptase genotype. PLoS One 9, e114944 (2014).

Miller, J.S., Moxley, G. & Schwartz, L.B. Cloning and characterization of a second complementary DNA for human tryptase. J. Clin. Invest. 86, 864–870 (1990).

Trivedi, N.N., Tamraz, B., Chu, C., Kwok, P.Y. & Caughey, G.H. Human subjects are protected from mast cell tryptase deficiency despite frequent inheritance of loss-of-function mutations. J. Allergy Clin. Immunol. 124, 1099–105.e1, 4 (2009).

Kirshenbaum, A.S. et al. Demonstration that human mast cells arise from a progenitor cell population that is CD34+, c-kit+, and expresses aminopeptidase N (CD13). Blood 94, 2333–2342 (1999).

Schwartz, L.B., Lewis, R.A., Seldin, D. & Austen, K.F. Acid hydrolases and tryptase from secretory granules of dispersed human lung mast cells. J. Immunol. 126, 1290–1294 (1981).

Tkaczyk, C., Metcalfe, D.D. & Gilfillan, A.M. Determination of protein phosphorylation in FcɛRI-activated human mast cells by immunoblot analysis requires protein extraction under denaturing conditions. J. Immunol. Methods 268, 239–243 (2002).
Acknowledgements
We thank the patients, their families, and the numerous healthy volunteers who contributed to this research, as well as the clinical staff of the LAD, NIMH, NIDDK, and NHGRI for their efforts, in particular the Gastrointestinal and Psychiatry Consultation Liaison Services physicians, especially T. Alqassem, who participated in the care of these patients. We thank all the referring care providers, in particular A. Maitland and M. Carter for each referring several families for evaluation. We also acknowledge the collaborative spirit and efforts of the NIAMS and NIAID clinical genomics programs, specifically the investigators (M.J. Lenardo, H.S. Su, and R.T. Goldbach-Mansky) who shared clinical genomics data and study samples. We also thank M.J. Lenardo, W. Gahl, C. Akin, and J.-L. Casanova for their review of the manuscript. Lastly, we thank D. Abdulazeez of VCU for performing the tryptase immunoassays. This study was supported in part by the Division of Intramural Research of the National Institute of Allergy and Infectious Diseases, NIH. The involvement of N.J. was funded by NCI contract HHSN261200800001E. Funding was also provided in part by ARTrust/The Mastocytosis Society Research Award in Mastocytosis and/or Mast Cell Activation Syndrome (J.J.L.) and by NIH HL024136 (G.H.C.). L.G.B., C.H., and K.L.L. were supported by the Intramural Research Program of the NHGRI.
Ethics declarations
Competing interests
The NIH authors declare no conflicts of interest. L.B.S. receives royalties from VCU that are collected from Thermo Fisher for the tryptase UniCAP assay and receives consulting fees from Genentech, Inc. L.G.B. is an uncompensated advisor to Illumina and receives royalties from Genentech, Inc., and Amgen, and honoraria from Wiley-Blackwell.
Integrated supplementary information
Supplementary information
Supplementary Figures 1–6, Supplementary Tables 1–4 and Supplementary Note. (PDF 1699 kb)
About this article
Cite this article
Lyons, J., Yu, X., Hughes, J. et al. Elevated basal serum tryptase identifies a multisystem disorder associated with increased TPSAB1 copy number. Nat Genet 48, 1564–1569 (2016). https://doi.org/10.1038/ng.3696
Received:

Accepted:

Published:

Issue Date:

DOI: https://doi.org/10.1038/ng.3696