Abstract
Polycomb group proteins form two main complexes, PRC2 and PRC1, which generally coregulate their target genes. Here we show that PRC1 components act as neoplastic tumor suppressors independently of PRC2 function. By mapping the distribution of PRC1 components and trimethylation of histone H3 at Lys27 (H3K27me3) across the genome, we identify a large set of genes that acquire PRC1 in the absence of H3K27me3 in Drosophila larval tissues. These genes massively outnumber canonical targets and are mainly involved in the regulation of cell proliferation, signaling and polarity. Alterations in PRC1 components specifically deregulate this set of genes, whereas canonical targets are derepressed in both PRC1 and PRC2 mutants. In human embryonic stem cells, PRC1 components colocalize with H3K27me3 as in Drosophila embryos, whereas in differentiated cell types they are selectively recruited to a large set of proliferation and signaling-associated genes that lack H3K27me3, suggesting that the redeployment of PRC1 components during development is evolutionarily conserved.
Relevant articles
Open Access articles citing this article.
Victoria Parreno

,

Anne-Marie Martinez

&

Giacomo Cavalli

Cell Research Open Access 19 January 2022

Reza Raeisossadati

,

Merari F. R. Ferrari

…

Jeffrey M. Gross

Epigenetics & Chromatin Open Access 09 February 2021

Ho Lam Chan

,

Felipe Beckedorff

…

Lluis Morey

Nature Communications Open Access 23 August 2018
Access options
Subscribe to Journal
Get full journal access for 1 year
$79.00
only $6.58 per issue
All prices are NET prices.
VAT will be added later in the checkout.
Tax calculation will be finalised during checkout.
Buy article
Get time limited or full article access on ReadCube.
$32.00
All prices are NET prices.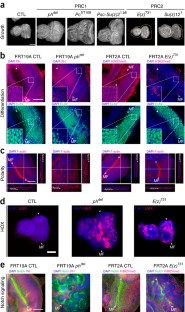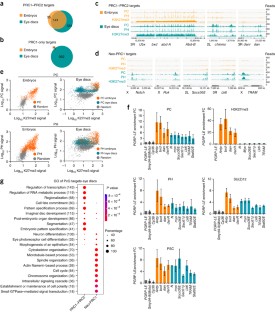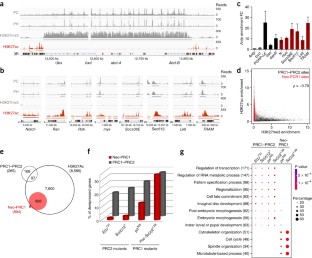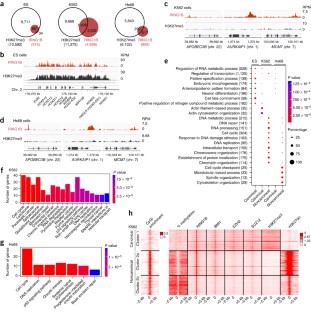 References
Czermin, B. et al. Drosophila enhancer of Zeste/ESC complexes have a histone H3 methyltransferase activity that marks chromosomal Polycomb sites. Cell 111, 185–196 (2002).

Müller, J. et al. Histone methyltransferase activity of a Drosophila Polycomb group repressor complex. Cell 111, 197–208 (2002).

Cao, R. et al. Role of histone H3 lysine 27 methylation in Polycomb-group silencing. Science 298, 1039–1043 (2002).

Kuzmichev, A., Nishioka, K., Erdjument-Bromage, H., Tempst, P. & Reinberg, D. Histone methyltransferase activity associated with a human multiprotein complex containing the Enhancer of Zeste protein. Genes Dev. 16, 2893–2905 (2002).

Shao, Z. et al. Stabilization of chromatin structure by PRC1, a Polycomb complex. Cell 98, 37–46 (1999).

Schuettengruber, B. et al. Cooperativity, specificity, and evolutionary stability of Polycomb targeting in Drosophila. Cell Rep. 9, 219–233 (2014).

Schuettengruber, B. et al. Functional anatomy of Polycomb and trithorax chromatin landscapes in Drosophila embryos. PLoS Biol. 7, e13 (2009).

Grimaud, C., Nègre, N. & Cavalli, G. From genetics to epigenetics: the tale of Polycomb group and trithorax group genes. Chromosome Res. 14, 363–375 (2006).

Classen, A.K., Bunker, B.D., Harvey, K.F., Vaccari, T. & Bilder, D. A tumor suppressor activity of Drosophila Polycomb genes mediated by JAK-STAT signaling. Nat. Genet. 41, 1150–1155 (2009).

Martinez, A.M. et al. Polyhomeotic has a tumor suppressor activity mediated by repression of Notch signaling. Nat. Genet. 41, 1076–1082 (2009).

Beuchle, D., Struhl, G. & Müller, J. Polycomb group proteins and heritable silencing of Drosophila Hox genes. Development 128, 993–1004 (2001).

Stowers, R.S. & Schwarz, T.L. A genetic method for generating Drosophila eyes composed exclusively of mitotic clones of a single genotype. Genetics 152, 1631–1639 (1999).

Kurzhals, R.L., Tie, F., Stratton, C.A. & Harte, P.J. Drosophila ESC-like can substitute for ESC and becomes required for Polycomb silencing if ESC is absent. Dev. Biol. 313, 293–306 (2008).

Phillips, M.D. & Shearn, A. Mutations in polycombeotic, a Drosophila polycomb-group gene, cause a wide range of maternal and zygotic phenotypes. Genetics 125, 91–101 (1990).

Lee, J.J., von Kessler, D.P., Parks, S. & Beachy, P.A. Secretion and localized transcription suggest a role in positional signaling for products of the segmentation gene hedgehog. Cell 71, 33–50 (1992).

Mohn, F. et al. Lineage-specific polycomb targets and de novo DNA methylation define restriction and potential of neuronal progenitors. Mol. Cell 30, 755–766 (2008).

Oktaba, K. et al. Dynamic regulation by Polycomb group protein complexes controls pattern formation and the cell cycle in Drosophila. Dev. Cell 15, 877–889 (2008).

Kwong, C. et al. Stability and dynamics of Polycomb target sites in Drosophila development. PLoS Genet. 4, e1000178 (2008).

Herz, H.M. et al. Polycomb repressive complex 2-dependent and -independent functions of Jarid2 in transcriptional regulation in Drosophila. Mol. Cell. Biol. 32, 1683–1693 (2012).

Gutiérrez, L. et al. The role of the histone H2A ubiquitinase Sce in Polycomb repression. Development 139, 117–127 (2012).

Mousavi, K., Zare, H., Wang, A.H. & Sartorelli, V. Polycomb protein Ezh1 promotes RNA polymerase II elongation. Mol. Cell 45, 255–262 (2012).

Xu, K. et al. EZH2 oncogenic activity in castration-resistant prostate cancer cells is Polycomb-independent. Science 338, 1465–1469 (2012).

Pemberton, H. et al. Genome-wide co-localization of Polycomb orthologs and their effects on gene expression in human fibroblasts. Genome Biol. 15, R23 (2014).

Schaaf, C.A. et al. Cohesin and polycomb proteins functionally interact to control transcription at silenced and active genes. PLoS Genet. 9, e1003560 (2013).

Bunker, B.D., Nellimoottil, T.T., Boileau, R.M., Classen, A.K. & Bilder, D. The transcriptional response to tumorigenic polarity loss in Drosophila. eLife 4 2015).

Mummery-Widmer, J.L. et al. Genome-wide analysis of Notch signalling in Drosophila by transgenic RNAi. Nature 458, 987–992 (2009).

Muñoz-Descalzo, S., Tkocz, K., Balayo, T. & Arias, A.M. Modulation of the ligand-independent traffic of Notch by Axin and Apc contributes to the activation of Armadillo in Drosophila. Development 138, 1501–1506 (2011).

Fisher, K.H., Wright, V.M., Taylor, A., Zeidler, M.P. & Brown, S. Advances in genome-wide RNAi cellular screens: a case study using the Drosophila JAK/STAT pathway. BMC Genomics 13, 506 (2012).

Gregory, S.L. et al. A Drosophila overexpression screen for modifiers of Rho signalling in cytokinesis. Fly (Austin) 1, 13–22 (2007).

Grossniklaus, U. & Paro, R. Transcriptional silencing by Polycomb-group proteins. Cold Spring Harb. Perspect. Biol. 6, a019331 (2014).

Schuettengruber, B. & Cavalli, G. Recruitment of Polycomb group complexes and their role in the dynamic regulation of cell fate choice. Development 136, 3531–3542 (2009).

Koppens, M. & van Lohuizen, M. Context-dependent actions of Polycomb repressors in cancer. Oncogene 35, 1341–1352 (2016).

Piunti, A. et al. Polycomb proteins control proliferation and transformation independently of cell cycle checkpoints by regulating DNA replication. Nat. Commun. 5, 3649 (2014).

Gao, Z. et al. PCGF homologs, CBX proteins, and RYBP define functionally distinct PRC1 family complexes. Mol. Cell 45, 344–356 (2012).

Vidal, M. Role of Polycomb proteins Ring1A and Ring1B in the epigenetic regulation of gene expression. Int. J. Dev. Biol. 53, 355–370 (2009).

Morey, L., Aloia, L., Cozzuto, L., Benitah, S.A. & Di Croce, L. RYBP and Cbx7 define specific biological functions of Polycomb complexes in mouse embryonic stem cells. Cell Rep. 3, 60–69 (2013).

Farcas, A.M. et al. KDM2B links the Polycomb Repressive Complex 1 (PRC1) to recognition of CpG islands. eLife 1, e00205 (2012).

Kloet, S.L. et al. The dynamic interactome and genomic targets of Polycomb complexes during stem-cell differentiation. Nat. Struct. Mol. Biol. 23, 682–690 (2016).

Oguro, H. et al. Lethal myelofibrosis induced by Bmi1-deficient hematopoietic cells unveils a tumor suppressor function of the Polycomb group genes. J. Exp. Med. 209, 445–454 (2012).

Nègre, N. et al. Chromosomal distribution of PcG proteins during Drosophila development. PLoS Biol. 4, e170 (2006).

Brown, J.L., Fritsch, C., Mueller, J. & Kassis, J.A. The Drosophila pho-like gene encodes a YY1-related DNA binding protein that is redundant with pleiohomeotic in homeotic gene silencing. Development 130, 285–294 (2003).

Strutt, H. & Paro, R. The Polycomb group protein complex of Drosophila melanogaster has different compositions at different target genes. Mol. Cell. Biol. 17, 6773–6783 (1997).

Zhang, Y. et al. Model-based analysis of ChIP-Seq (MACS). Genome Biol. 9, R137 (2008).

Zang, C. et al. A clustering approach for identification of enriched domains from histone modification ChIP-seq data. Bioinformatics 25, 1952–1958 (2009).

Robinson, J.T. et al. Integrative genomics viewer. Nat. Biotechnol. 29, 24–26 (2011).

Thorvaldsdóttir, H., Robinson, J.T. & Mesirov, J.P. Integrative Genomics Viewer (IGV): high-performance genomics data visualization and exploration. Brief. Bioinform. 14, 178–192 (2013).

Lerdrup, M., Johansen, J.V., Agrawal-Singh, S. & Hansen, K. An interactive environment for agile analysis and visualization of ChIP-sequencing data. Nat. Struct. Mol. Biol. 23, 349–357 (2016).

Nègre, N. et al. A cis-regulatory map of the Drosophila genome. Nature 471, 527–531 (2011).

Kim, D. et al. TopHat2: accurate alignment of transcriptomes in the presence of insertions, deletions and gene fusions. Genome Biol. 14, R36 (2013).

Gentleman, R.C. et al. Bioconductor: open software development for computational biology and bioinformatics. Genome Biol. 5, R80 (2004).

Robinson, M.D., McCarthy, D.J. & Smyth, G.K. edgeR: a Bioconductor package for differential expression analysis of digital gene expression data. Bioinformatics 26, 139–140 (2010).

Robinson, M.D. & Oshlack, A. A scaling normalization method for differential expression analysis of RNA-seq data. Genome Biol. 11, R25 (2010).

Huang, W., Sherman, B.T. & Lempicki, R.A. Systematic and integrative analysis of large gene lists using DAVID bioinformatics resources. Nat. Protoc. 4, 44–57 (2009).

Huang, W., Sherman, B.T. & Lempicki, R.A. Bioinformatics enrichment tools: paths toward the comprehensive functional analysis of large gene lists. Nucleic Acids Res. 37, 1–13 (2009).

Yu, G., Wang, L.G., Han, Y. & He, Q.Y. clusterProfiler: an R package for comparing biological themes among gene clusters. OMICS 16, 284–287 (2012).

Ku, M. et al. Genome-wide analysis of PRC1 and PRC2 occupancy identifies two classes of bivalent domains. PLoS Genet. 4, e1000242 (2008).
Acknowledgements
We thank F. Bantignies for his contribution on immuno-FISH experiments, S. Roux and C. Jacquier for producing and testing anti-SU(Z)12 rabbit antibodies. We thank the Montpellier RIO imaging facility for assistance with microscopy and the MGX facility for genomic data production and first-level processing. We are grateful to J. Kassis for anti-PHO antibodies, V. Pirrotta and R. Jones for anti-E(Z) antibodies and J. Müller for Sce-mutant fly lines. We thank the Bloomington Stock Center (Indiana University) and the Developmental Studies Hybridoma Bank (University of Iowa) for fly stocks and antibodies. We thank the laboratory of J. Wang for the phdel stock. We thank S. Perez-Lluch and Montserrat Corominas for providing the RNA-seq data on wild-type eye and wing imaginal discs before publication. We are grateful to the Genotoul bioinformatics platform Toulouse Midi-Pyrenees for providing computing and storage resources. Research in the laboratory of G.C. was supported by grants from the European Research Council (ERC-2008-AdG No 232947), CNRS, the European Network of Excellence EpiGeneSys, the European H2020 E-INFRASTRUCTURES Multiscale Genomics (MuG) grant, L'Agence Nationale de la Recherche, the Laboratory of Excellence EpiGenMed and the Fondation ARC pour la Recherche sur le Cancer. A.-M.M. was supported by a grant from the Canceropole Grand Sud-Ouest (2012-E10). B.B. is supported by the Sir Henry Wellcome Postdoctoral Fellowship (WT100136MA). V.L. is supported by a doctoral fellowship from the Laboratory of Excellence (Labex) EpiGenMed. B.S. is supported by L'Institut National de la Santé et de la Recherche Médicale. S.S. is supported by a postdoctoral fellowship from the Labex EpiGenMed.
Ethics declarations
Competing interests
The authors declare no competing financial interests.
Integrated supplementary information
Supplementary information
About this article
Cite this article
Loubiere, V., Delest, A., Thomas, A. et al. Coordinate redeployment of PRC1 proteins suppresses tumor formation during Drosophila development. Nat Genet 48, 1436–1442 (2016). https://doi.org/10.1038/ng.3671
Received:

Accepted:

Published:

Issue Date:

DOI: https://doi.org/10.1038/ng.3671