Abstract
Premature termination codons (PTCs) cause a large proportion of inherited human genetic diseases. PTC-containing transcripts can be degraded by an mRNA surveillance pathway termed nonsense-mediated mRNA decay (NMD). However, the efficiency of NMD varies; it is inefficient when a PTC is located downstream of the last exon junction complex (EJC). We used matched exome and transcriptome data from 9,769 human tumors to systematically elucidate the rules of NMD targeting in human cells. An integrated model incorporating multiple rules beyond the canonical EJC model explains approximately three-fourths of the non-random variance in NMD efficiency across thousands of PTCs. We also show that dosage compensation may sometimes mask the effects of NMD. Applying the NMD model identifies signatures of both positive and negative selection on NMD-triggering mutations in human tumors and provides a classification for tumor-suppressor genes.
Relevant articles
Open Access articles citing this article.
Daniel Meraviglia-Crivelli

,

Helena Villanueva

…

Fernando Pastor

Molecular Cancer Open Access 28 November 2022

Zixiang Wang

,

Shourong Wang

…

Zhaojian Liu

Nature Communications Open Access 21 October 2022

Yasaman Arjmand Abbassi

,

Claudia Le Guin

…

Dietmar R. Lohmann

Familial Cancer Open Access 03 August 2022
Access options
Subscribe to Journal
Get full journal access for 1 year
$79.00
only $6.58 per issue
All prices are NET prices.
VAT will be added later in the checkout.
Tax calculation will be finalised during checkout.
Buy article
Get time limited or full article access on ReadCube.
$32.00
All prices are NET prices.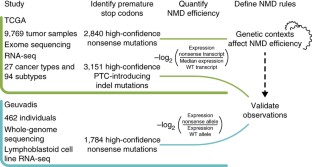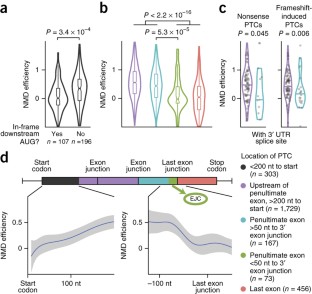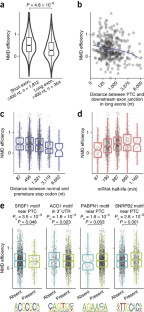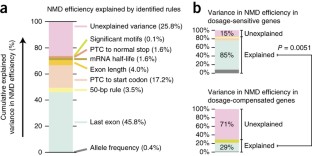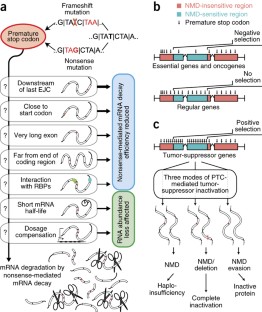 References
Maquat, L.E. When cells stop making sense: effects of nonsense codons on RNA metabolism in vertebrate cells. RNA 1, 453–465 (1995).

Mendell, J.T., Sharifi, N.A., Meyers, J.L., Martinez-Murillo, F. & Dietz, H.C. Nonsense surveillance regulates expression of diverse classes of mammalian transcripts and mutes genomic noise. Nat. Genet. 36, 1073–1078 (2004).

Frischmeyer, P.A. & Dietz, H.C. Nonsense-mediated mRNA decay in health and disease. Hum. Mol. Genet. 8, 1893–1900 (1999).

Hall, G.W. & Thein, S. Nonsense codon mutations in the terminal exon of the β-globin gene are not associated with a reduction in β-mRNA accumulation: a mechanism for the phenotype of dominant β-thalassemia. Blood 83, 2031–2037 (1994).

Kerr, T.P., Sewry, C.A., Robb, S.A. & Roberts, R.G. Long mutant dystrophins and variable phenotypes: evasion of nonsense-mediated decay? Hum. Genet. 109, 402–407 (2001).

Zhang, J., Sun, X., Qian, Y., LaDuca, J.P. & Maquat, L.E. At least one intron is required for the nonsense-mediated decay of triosephosphate isomerase mRNA: a possible link between nuclear splicing and cytoplasmic translation. Mol. Cell. Biol. 18, 5272–5283 (1998).

Thermann, R. et al. Binary specification of nonsense codons by splicing and cytoplasmic translation. EMBO J. 17, 3484–3494 (1998).

Le Hir, H., Gatfield, D., Izaurralde, E. & Moore, M.J. The exon–exon junction complex provides a binding platform for factors involved in mRNA export and nonsense-mediated mRNA decay. EMBO J. 20, 4987–4997 (2001).

Chamieh, H., Ballut, L., Bonneau, F. & Le Hir, H. NMD factors UPF2 and UPF3 bridge UPF1 to the exon junction complex and stimulate its RNA helicase activity. Nat. Struct. Mol. Biol. 15, 85–93 (2008).

Brogna, S. & Wen, J. Nonsense-mediated mRNA decay (NMD) mechanisms. Nat. Struct. Mol. Biol. 16, 107–113 (2009).

Wang, J., Gudikote, J.P., Olivas, O.R. & Wilkinson, M.F. Boundary-independent polar nonsense-mediated decay. EMBO Rep. 3, 274–279 (2002).

Bühler, M., Paillusson, A. & Mühlemann, O. Efficient downregulation of immunoglobulin μ mRNA with premature translation-termination codons requires the 5′-half of the VDJ exon. Nucleic Acids Res. 32, 3304–3315 (2004).

Eberle, A.B., Stalder, L., Mathys, H., Orozco, R.Z. & Mühlemann, O. Posttranscriptional gene regulation by spatial rearrangement of the 3′ untranslated region. PLoS Biol. 6, e92 (2008).

Mangus, D.A., Evans, M.C. & Jacobson, A. Poly(A)-binding proteins: multifunctional scaffolds for the post-transcriptional control of gene expression. Genome Biol. 4, 223 (2003).

Gatfield, D., Unterholzner, L., Ciccarelli, F.D., Bork, P. & Izaurralde, E. Nonsense-mediated mRNA decay in Drosophila: at the intersection of the yeast and mammalian pathways. EMBO J. 22, 3960–3970 (2003).

Longman, D., Plasterk, R.H., Johnstone, I.L. & Cáceres, J.F. Mechanistic insights and identification of two novel factors in the C. elegans NMD pathway. Genes Dev. 21, 1075–1085 (2007).

Zhang, J. & Maquat, L.E. Evidence that translation reinitiation abrogates nonsense-mediated mRNA decay in mammalian cells. EMBO J. 16, 826–833 (1997).

Romão, L. et al. Nonsense mutations in the human β-globin gene lead to unexpected levels of cytoplasmic mRNA accumulation. Blood 96, 2895–2901 (2000).

Silva, A.L., Ribeiro, P., Inácio, A., Liebhaber, S.A. & Romão, L. Proximity of the poly(A)-binding protein to a premature termination codon inhibits mammalian nonsense-mediated mRNA decay. RNA 14, 563–576 (2008).

Lappalainen, T. et al. Transcriptome and genome sequencing uncovers functional variation in humans. Nature 501, 506–511 (2013).

Rivas, M.A. et al. Effect of predicted protein-truncating genetic variants on the human transcriptome. Science 348, 666–669 (2015).

Martincorena, I. & Campbell, P.J. Somatic mutation in cancer and normal cells. Science 349, 1483–1489 (2015).

Kurosaki, T. et al. A post-translational regulatory switch on UPF1 controls targeted mRNA degradation. Genes Dev. 28, 1900–1916 (2014).

Singh, G., Rebbapragada, I. & Lykke-Andersen, J. A competition between stimulators and antagonists of Upf complex recruitment governs human nonsense-mediated mRNA decay. PLoS Biol. 6, e111 (2008).

Tani, H. et al. Identification of hundreds of novel UPF1 target transcripts by direct determination of whole transcriptome stability. RNA Biol. 9, 1370–1379 (2012).

Leek, J.T. & Storey, J.D. Capturing heterogeneity in gene expression studies by surrogate variable analysis. PLoS Genet. 3, 1724–1735 (2007).

Fiorini, F., Bagchi, D., Le Hir, H. & Croquette, V. Human Upf1 is a highly processive RNA helicase and translocase with RNP remodelling activities. Nat. Commun. 6, 7581 (2015).

Ray, D. et al. A compendium of RNA-binding motifs for decoding gene regulation. Nature 499, 172–177 (2013).

Zhang, Z. et al. Nonsense-mediated decay targets have multiple sequence-related features that can inhibit translation. Mol. Syst. Biol. 6, 442 (2010).

Supek, F., Skunca, N., Repar, J., Vlahovicek, K. & Smuc, T. Translational selection is ubiquitous in prokaryotes. PLoS Genet. 6, e1001004 (2010).

Rehwinkel, J., Raes, J. & Izaurralde, E. Nonsense-mediated mRNA decay: target genes and functional diversification of effectors. Trends Biochem. Sci. 31, 639–646 (2006).

Malone, J.H. et al. Mediation of Drosophila autosomal dosage effects and compensation by network interactions. Genome Biol. 13, r28 (2012).

Fehrmann, R.S. et al. Gene expression analysis identifies global gene dosage sensitivity in cancer. Nat. Genet. 47, 115–125 (2015).

Ju, Y.S. et al. Origins and functional consequences of somatic mitochondrial DNA mutations in human cancer. eLife 3, e02935 (2014).

Holbrook, J.A., Neu-Yilik, G., Hentze, M.W. & Kulozik, A.E. Nonsense-mediated decay approaches the clinic. Nat. Genet. 36, 801–808 (2004).

Gutmann, D.H. et al. Haploinsufficiency for the neurofibromatosis 1 (NF1) tumor suppressor results in increased astrocyte proliferation. Oncogene 18, 4450–4459 (1999).

Davoli, T. et al. Cumulative haploinsufficiency and triplosensitivity drive aneuploidy patterns and shape the cancer genome. Cell 155, 948–962 (2013).

McFarland, C.D., Mirny, L.A. & Korolev, K.S. Tug-of-war between driver and passenger mutations in cancer and other adaptive processes. Proc. Natl. Acad. Sci. USA 111, 15138–15143 (2014).

Forbes, S.A. et al. COSMIC: exploring the world's knowledge of somatic mutations in human cancer. Nucleic Acids Res. 43, D805–D811 (2015).

Hart, T., Brown, K.R., Sircoulomb, F., Rottapel, R. & Moffat, J. Measuring error rates in genomic perturbation screens: gold standards for human functional genomics. Mol. Syst. Biol. 10, 733 (2014).

Solimini, N.L. et al. Recurrent hemizygous deletions in cancers may optimize proliferative potential. Science 337, 104–109 (2012).

Gonzàlez-Porta, M., Frankish, A., Rung, J., Harrow, J. & Brazma, A. Transcriptome analysis of human tissues and cell lines reveals one dominant transcript per gene. Genome Biol. 14, R70 (2013).

Pirinen, M. et al. Assessing allele-specific expression across multiple tissues from RNA-seq read data. Bioinformatics 31, 2497–2504 (2015).

Stegle, O., Parts, L., Durbin, R. & Winn, J. A Bayesian framework to account for complex non-genetic factors in gene expression levels greatly increases power in eQTL studies. PLoS Comput. Biol. 6, e1000770 (2010).

Supek, F., Miñana, B., Valcárcel, J., Gabaldón, T. & Lehner, B. Synonymous mutations frequently act as driver mutations in human cancers. Cell 156, 1324–1335 (2014).

Friedel, C.C., Dölken, L., Ruzsics, Z., Koszinowski, U.H. & Zimmer, R. Conserved principles of mammalian transcriptional regulation revealed by RNA half-life. Nucleic Acids Res. 37, e115 (2009).

Tani, H. et al. Genome-wide determination of RNA stability reveals hundreds of short-lived noncoding transcripts in mammals. Genome Res. 22, 947–956 (2012).

Andreev, D.E. et al. Translation of 5′ leaders is pervasive in genes resistant to eIF2 repression. eLife 4, e03971 (2015).

Huntley, R.P. et al. The GOA database: gene ontology annotation updates for 2015. Nucleic Acids Res. 43, D1057–D1063 (2015).
Acknowledgements
This work was supported by a European Research Council (ERC) Consolidator grant (616434), the Spanish Ministry of Economy and Competitiveness (BFU2011-26206 and 'Centro de Excelencia Severo Ochoa 2013–2017' SEV-2012-0208), the AXA Research Fund, the Agencia de Gestio d'Ajuts Universitaris i de Recerca (AGAUR), FP7 project 4DCellFate (277899) and the EMBL-CRG Systems Biology Program. F.S. was also supported by FP7 grants MAESTRA (ICT-2013-612944) and InnoMol (FP7-REGPOT-2012-2013-1-316289).
Ethics declarations
Competing interests
The authors declare no competing financial interests.
Integrated supplementary information
Supplementary information
About this article
Cite this article
Lindeboom, R., Supek, F. & Lehner, B. The rules and impact of nonsense-mediated mRNA decay in human cancers. Nat Genet 48, 1112–1118 (2016). https://doi.org/10.1038/ng.3664
Received:

Accepted:

Published:

Issue Date:

DOI: https://doi.org/10.1038/ng.3664