Abstract
We describe a reference panel of 64,976 human haplotypes at 39,235,157 SNPs constructed using whole-genome sequence data from 20 studies of predominantly European ancestry. Using this resource leads to accurate genotype imputation at minor allele frequencies as low as 0.1% and a large increase in the number of SNPs tested in association studies, and it can help to discover and refine causal loci. We describe remote server resources that allow researchers to carry out imputation and phasing consistently and efficiently.
Access options
Subscribe to Journal
Get full journal access for 1 year
$209.00
only $17.42 per issue
All prices are NET prices.
VAT will be added later in the checkout.
Rent or Buy article
Get time limited or full article access on ReadCube.
from$8.99
All prices are NET prices.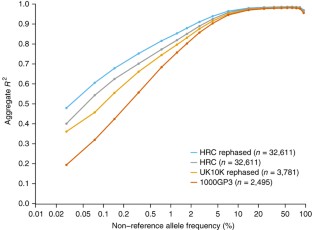 References
1

International HapMap Consortium. et al. A second generation human haplotype map of over 3.1 million SNPs. Nature 449, 851–861 (2007).

2

1000 Genomes Project Consortium. A global reference for human genetic variation. Nature 526, 68–74 (2015).

3

Genome of the Netherlands Consortium. Whole-genome sequence variation, population structure and demographic history of the Dutch population. Nat. Genet. 46, 818–825 (2014).

4

Huang, J. et al. Improved imputation of low-frequency and rare variants using the UK10K haplotype reference panel. Nat. Commun. 6, 8111 (2015).

5

Sidore, C. et al. Genome sequencing elucidates Sardinian genetic architecture and augments association analyses for lipid and blood inflammatory markers. Nat. Genet. 47, 1272–1281 (2015).

6

Marchini, J., Howie, B., Myers, S., McVean, G. & Donnelly, P. A new multipoint method for genome-wide association studies by imputation of genotypes. Nat. Genet. 39, 906–913 (2007).

7

Howie, B.N., Donnelly, P. & Marchini, J. A flexible and accurate genotype imputation method for the next generation of genome-wide association studies. PLoS Genet. 5, e1000529 (2009).

8

Li, Y., Willer, C.J., Ding, J., Scheet, P. & Abecasis, G.R. MaCH: using sequence and genotype data to estimate haplotypes and unobserved genotypes. Genet. Epidemiol. 34, 816–834 (2010).

9

Howie, B., Fuchsberger, C., Stephens, M., Marchini, J. & Abecasis, G.R. Fast and accurate genotype imputation in genome-wide association studies through pre-phasing. Nat. Genet. 44, 955–959 (2012).

10

Delaneau, O., Zagury, J.-F. & Marchini, J. Improved whole-chromosome phasing for disease and population genetic studies. Nat. Methods 10, 5–6 (2013).

11

Fuchsberger, C., Abecasis, G.R. & Hinds, D.A. minimac2: faster genotype imputation. Bioinformatics 31, 782–784 (2015).

12

O'Connell, J. et al. Haplotype estimation for biobank-scale data sets. Nat. Genet. 48, 817–820 (2016).

13

Ferrucci, L. et al. Subsystems contributing to the decline in ability to walk: bridging the gap between epidemiology and geriatric practice in the InCHIANTI study. J. Am. Geriatr. Soc. 48, 1618–1625 (2000).

14

Melzer, D. et al. A genome-wide association study identifies protein quantitative trait loci (pQTLs). PLoS Genet. 4, e1000072 (2008).

15

Wood, A.R. et al. Imputation of variants from the 1000 Genomes Project modestly improves known associations and can identify low-frequency variant–phenotype associations undetected by HapMap based imputation. PLoS One 8, e64343 (2013).

16

Bathurst, I.C., Travis, J., George, P.M. & Carrell, R.W. Structural and functional characterization of the abnormal Z α1-antitrypsin isolated from human liver. FEBS Lett. 177, 179–183 (1984).

17

Ferrarotti, I. et al. Serum levels and genotype distribution of α1-antitrypsin in the general population. Thorax http://dx.doi.org/10.1136/thoraxjnl-2011-201321 (2012).

18

Sharp, K., Kretzschmar, W., Delaneau, O. & Marchini, J. Phasing for medical sequencing using rare variants and large haplotype reference panels. Bioinformatics 32, 1974–1980 (2016).

19

CONVERGE Consortium. Sparse whole-genome sequencing identifies two loci for major depressive disorder. Nature 523, 588–591 (2015).

20

Gurdasani, D. et al. The African Genome Variation Project shapes medical genetics in Africa. Nature 517, 327–332 (2015).

21

Rosenberg, N.A. et al. Genetic structure of human populations. Science 298, 2381–2385 (2002).

22

Wang, Y., Lu, J., Yu, J., Gibbs, R.A. & Yu, F. An integrative variant analysis pipeline for accurate genotype/haplotype inference in population NGS data. Genome Res. 23, 833–842 (2013).

23

Völzke, H. et al. Cohort profile: the study of health in Pomerania. Int. J. Epidemiol. 40, 294–307 (2011).

24

Marchini, J. & Howie, B. Genotype imputation for genome-wide association studies. Nat. Rev. Genet. 11, 499–511 (2010).
Acknowledgements
We are grateful to all participants of all the studies that have contributed data to the HRC. J.M. acknowledges support from the ERC (grant 617306). W.K. acknowledges support from the Wellcome Trust (grant WT097307). S. McCarthy and R.D. acknowledge support from Wellcome Trust grant WT090851. A full list of acknowledgments for the cohorts is given in the Supplementary Note.
Ethics declarations
Competing interests
The author declare no competing financial interests.
Integrated supplementary information
Supplementary information
Supplementary Figures 1–6, Supplementary Tables 1–8 and Supplementary Note. (PDF 1898 kb)
About this article
Cite this article
the Haplotype Reference Consortium., McCarthy, S., Das, S. et al. A reference panel of 64,976 haplotypes for genotype imputation. Nat Genet 48, 1279–1283 (2016). https://doi.org/10.1038/ng.3643
Received:

Accepted:

Published:

Issue Date: