Abstract
Copy number variation (CNV) affecting protein-coding genes contributes substantially to human diversity and disease. Here we characterized the rates and properties of rare genic CNVs (<0.5% frequency) in exome sequencing data from nearly 60,000 individuals in the Exome Aggregation Consortium (ExAC) database. On average, individuals possessed 0.81 deleted and 1.75 duplicated genes, and most (70%) carried at least one rare genic CNV. For every gene, we empirically estimated an index of relative intolerance to CNVs that demonstrated moderate correlation with measures of genic constraint based on single-nucleotide variation (SNV) and was independently correlated with measures of evolutionary conservation. For individuals with schizophrenia, genes affected by CNVs were more intolerant than in controls. The ExAC CNV data constitute a critical component of an integrated database spanning the spectrum of human genetic variation, aiding in the interpretation of personal genomes as well as population-based disease studies. These data are freely available for download and visualization online.
Relevant articles
Open Access articles citing this article.
Kamila Szecówka

,

Błażej Misiak

…

Ahmed A. Moustafa

Molecular Neurobiology Open Access 29 December 2022

Kohei Hamanaka

,

Noriko Miyake

…

Naomichi Matsumoto

Genome Medicine Open Access 26 April 2022

Yi Liu

,

Yuqiang Lv

…

Zhongtao Gai

npj Genomic Medicine Open Access 12 January 2022
Access options
Subscribe to Journal
Get full journal access for 1 year
$79.00
only $6.58 per issue
All prices are NET prices.
VAT will be added later in the checkout.
Tax calculation will be finalised during checkout.
Buy article
Get time limited or full article access on ReadCube.
$32.00
All prices are NET prices.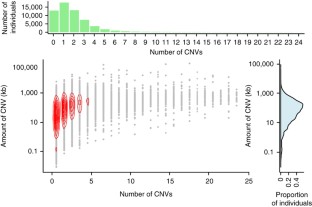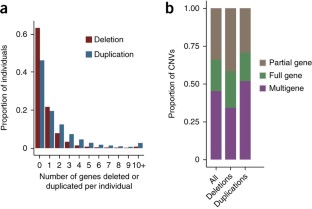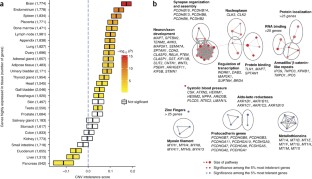 References
Lupski, J.R. Genomic disorders: structural features of the genome can lead to DNA rearrangements and human disease traits. Trends Genet. 14, 417–422 (1998).

Feuk, L., Carson, A.R. & Scherer, S.W. Structural variation in the human genome. Nat. Rev. Genet. 7, 85–97 (2006).

Jacobs, P.A., Baikie, A.G., Court Brown, W.M. & Strong, J.A. The somatic chromosomes in mongolism. Lancet 1, 710 (1959).

Lejeune, J., Turpin, R. & Gautier, M. Chromosomic diagnosis of mongolism. Arch. Fr. Pediatr. 16, 962–963 (1959).

Jacobs, P.A., Matsuura, J.S., Mayer, M. & Newlands, I.M. A cytogenetic survey of an institution for the mentally retarded: I. chromosome abnormalities. Clin. Genet. 13, 37–60 (1978).

Sudmant, P.H. et al. An integrated map of structural variation in 2,504 human genomes. Nature 526, 75–81 (2015).

Kidd, J.M. et al. Mapping and sequencing of structural variation from eight human genomes. Nature 453, 56–64 (2008).

Hastings, P.J., Lupski, J.R., Rosenberg, S.M. & Ira, G. Mechanisms of change in gene copy number. Nat. Rev. Genet. 10, 551–564 (2009).

Conrad, D.F. et al. Origins and functional impact of copy number variation in the human genome. Nature 464, 704–712 (2010).

Iafrate, A.J. et al. Detection of large-scale variation in the human genome. Nat. Genet. 36, 949–951 (2004).

Sebat, J. et al. Large-scale copy number polymorphism in the human genome. Science 305, 525–528 (2004).

Buchanan, J.A. & Scherer, S.W. Contemplating effects of genomic structural variation. Genet. Med. 10, 639–647 (2008).

Redon, R. et al. Global variation in copy number in the human genome. Nature 444, 444–454 (2006).

McCarroll, S.A. et al. Integrated detection and population-genetic analysis of SNPs and copy number variation. Nat. Genet. 40, 1166–1174 (2008).

Zarrei, M., MacDonald, J.R., Merico, D. & Scherer, S.W. A copy number variation map of the human genome. Nat. Rev. Genet. 16, 172–183 (2015).

Plagnol, V. et al. A robust model for read count data in exome sequencing experiments and implications for copy number variant calling. Bioinformatics 28, 2747–2754 (2012).

Fromer, M. et al. Discovery and statistical genotyping of copy-number variation from whole-exome sequencing depth. Am. J. Hum. Genet. 91, 597–607 (2012).

Poultney, C.S. et al. Identification of small exonic CNV from whole-exome sequence data and application to autism spectrum disorder. Am. J. Hum. Genet. 93, 607–619 (2013).

Lek, M. et al. Analysis of protein-coding genetic variation in 60,706 humans. Nature http://dx.doi.org/10.1038/nature19057 (2016).

Fu, W. & Akey, J.M. Selection and adaptation in the human genome. Annu. Rev. Genomics Hum. Genet. 14, 467–489 (2013).

Purcell, S.M. et al. A polygenic burden of rare disruptive mutations in schizophrenia. Nature 506, 185–190 (2014).

Itsara, A. et al. Population analysis of large copy number variants and hotspots of human genetic disease. Am. J. Hum. Genet. 84, 148–161 (2009).

Need, A.C. et al. A genome-wide investigation of SNPs and CNVs in schizophrenia. PLoS Genet. 5, e1000373 (2009).

Szatkiewicz, J.P. et al. Copy number variation in schizophrenia in Sweden. Mol. Psychiatry 19, 762–773 (2014).

MacArthur, D.G. et al. A systematic survey of loss-of-function variants in human protein-coding genes. Science 335, 823–828 (2012).

Desachy, G. et al. Increased female autosomal burden of rare copy number variants in human populations and in autism families. Mol. Psychiatry 20, 170–175 (2015).

Samocha, K.E. et al. A framework for the interpretation of de novo mutation in human disease. Nat. Genet. 46, 944–950 (2014).

Petrovski, S., Wang, Q., Heinzen, E.L., Allen, A.S. & Goldstein, D.B. Genic intolerance to functional variation and the interpretation of personal genomes. PLoS Genet. 9, e1003709 (2013).

Huang, N., Lee, I., Marcotte, E.M. & Hurles, M.E. Characterising and predicting haploinsufficiency in the human genome. PLoS Genet. 6, e1001154 (2010).

Cooper, G.M. et al. Distribution and intensity of constraint in mammalian genomic sequence. Genome Res. 15, 901–913 (2005).

Fagerberg, L. et al. Analysis of the human tissue-specific expression by genome-wide integration of transcriptomics and antibody-based proteomics. Mol. Cell. Proteomics 13, 397–406 (2014).

Sulem, P. et al. Identification of a large set of rare complete human knockouts. Nat. Genet. 47, 448–452 (2015).

Ye, Y.N., Hua, Z.G., Huang, J., Rao, N. & Guo, F.B. CEG: a database of essential gene clusters. BMC Genomics 14, 769 (2013).

Ripke, S. et al. Genome-wide association analysis identifies 13 new risk loci for schizophrenia. Nat. Genet. 45, 1150–1159 (2013).

Merico, D., Isserlin, R., Stueker, O., Emili, A. & Bader, G.D. Enrichment map: a network-based method for gene-set enrichment visualization and interpretation. PLoS One 5, e13984 (2010).

Handsaker, R.E. et al. Large multiallelic copy number variations in humans. Nat. Genet. 47, 296–303 (2015).

Kirov, G. et al. De novo CNV analysis implicates specific abnormalities of postsynaptic signalling complexes in the pathogenesis of schizophrenia. Mol. Psychiatry 17, 142–153 (2012).

Fromer, M. et al. De novo mutations in schizophrenia implicate synaptic networks. Nature 506, 179–184 (2014).

Chen, J., Bardes, E.E., Aronow, B.J. & Jegga, A.G. ToppGene Suite for gene list enrichment analysis and candidate gene prioritization. Nucleic Acids Res. 37, W305–W311 (2009).
Acknowledgements
We would like to acknowledge E. Fluder and K. Shakir for their help in running XHMM at the large scale required for over 60,000 samples. Work at the Icahn School of Medicine at Mount Sinai was supported by the Institute for Genomics and Multiscale Biology (including computational resources and staff expertise provided by the Department of Scientific Computing) and NIH grants R01-HG005827 and R01-MH099126 (to S.M.P.).
Ethics declarations
Competing interests
M.F. is now an employee at Verily Life Sciences.
Integrated supplementary information
Supplementary information
About this article
Cite this article
Ruderfer, D., Hamamsy, T., Lek, M. et al. Patterns of genic intolerance of rare copy number variation in 59,898 human exomes. Nat Genet 48, 1107–1111 (2016). https://doi.org/10.1038/ng.3638
Received:

Accepted:

Published:

Issue Date:

DOI: https://doi.org/10.1038/ng.3638