Abstract
Congenital heart defects (CHDs) have a neonatal incidence of 0.8–1% (refs. 1,2). Despite abundant examples of monogenic CHD in humans and mice, CHD has a low absolute sibling recurrence risk (∼2.7%)3, suggesting a considerable role for de novo mutations (DNMs) and/or incomplete penetrance4,5. De novo protein-truncating variants (PTVs) have been shown to be enriched among the 10% of 'syndromic' patients with extra-cardiac manifestations6,7. We exome sequenced 1,891 probands, including both syndromic CHD (S-CHD, n = 610) and nonsyndromic CHD (NS-CHD, n = 1,281). In S-CHD, we confirmed a significant enrichment of de novo PTVs but not inherited PTVs in known CHD-associated genes, consistent with recent findings8. Conversely, in NS-CHD we observed significant enrichment of PTVs inherited from unaffected parents in CHD-associated genes. We identified three genome-wide significant S-CHD disorders caused by DNMs in CHD4, CDK13 and PRKD1. Our study finds evidence for distinct genetic architectures underlying the low sibling recurrence risk in S-CHD and NS-CHD.
Your institute does not have access to this article
Relevant articles
Open Access articles citing this article.
Katinka Breuer

,

Korbinian M. Riedhammer

…

Julia Hoefele

European Journal of Human Genetics Open Access 26 April 2022

Nadine Spielmann

,

Gregor Miller

…

Martin Hrabe de Angelis

Nature Cardiovascular Research Open Access 17 February 2022

Dongchen Fan

,

Shuchao Pang

…

Bo Yan

BMC Cardiovascular Disorders Open Access 30 June 2021
Access options
Subscribe to Journal
Get full journal access for 1 year
$59.00
only $4.92 per issue
All prices are NET prices.
VAT will be added later in the checkout.
Tax calculation will be finalised during checkout.
Buy article
Get time limited or full article access on ReadCube.
$32.00
All prices are NET prices.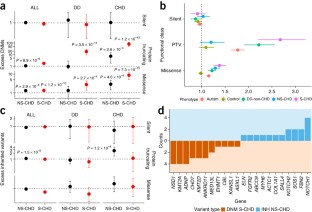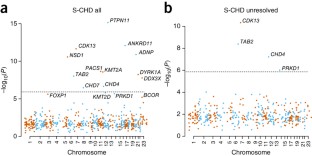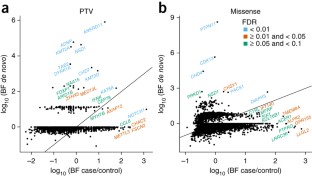 Accession codes
Accessions
Protein Data Bank
References
Hoffman, J.I.E. & Kaplan, S. The incidence of congenital heart disease. J. Am. Coll. Cardiol. 39, 1890–1900 (2002).

Øyen, N. et al. Recurrence of congenital heart defects in families. Circulation 120, 295–301 (2009).

Gill, H.K., Splitt, M., Sharland, G.K. & Simpson, J.M. Patterns of recurrence of congenital heart disease: an analysis of 6,640 consecutive pregnancies evaluated by detailed fetal echocardiography. J. Am. Coll. Cardiol. 42, 923–929 (2003).

Schulkey, C.E. et al. The maternal-age-associated risk of congenital heart disease is modifiable. Nature 520, 230–233 (2015).

Li, Y. et al. Global genetic analysis in mice unveils central role for cilia in congenital heart disease. Nature 521, 520–524 (2015).

Deciphering Developmental Disorders Study. Large-scale discovery of novel genetic causes of developmental disorders. Nature 519, 223–228 (2015).

Zaidi, S. et al. De novo mutations in histone-modifying genes in congenital heart disease. Nature 498, 220–223 (2013).

Homsy, J. et al. De novo mutations in congenital heart disease with neurodevelopmental and other congenital anomalies. Science 350, 1262–1266 (2015).

Samocha, K.E. et al. A framework for the interpretation of de novo mutation in human disease. Nat. Genet. 46, 944–950 (2014).

Iossifov, I. et al. The contribution of de novo coding mutations to autism spectrum disorder. Nature 515, 216–221 (2014).

Bauer, R.C. et al. Jagged1 (JAG1) mutations in patients with tetralogy of Fallot or pulmonic stenosis. Hum. Mutat. 31, 594–601 (2010).

Jia, Y. et al. The diagnostic value of next generation sequencing in familial nonsyndromic congenital heart defects. Am. J. Med. Genet. A. 167A, 1822–1829 (2015).

Thienpont, B. et al. Haploinsufficiency of TAB2 causes congenital heart defects in humans. Am. J. Hum. Genet. 86, 839–849 (2010).

Liang, K. et al. Characterization of human cyclin-dependent kinase 12 (CDK12) and CDK13 complexes in C-terminal domain phosphorylation, gene transcription, and RNA processing. Mol. Cell. Biol. 35, 928–938 (2015).

Blazek, D. et al. The cyclin K/Cdk12 complex maintains genomic stability via regulation of expression of DNA damage response genes. Genes Dev. 25, 2158–2172 (2011).

Chen, H.-H., Wang, Y.-C. & Fann, M.-J. Identification and characterization of the CDK12/cyclin L1 complex involved in alternative splicing regulation. Mol. Cell. Biol. 26, 2736–2745 (2006).

Polo, S.E., Kaidi, A., Baskcomb, L., Galanty, Y. & Jackson, S.P. Regulation of DNA-damage responses and cell-cycle progression by the chromatin remodelling factor CHD4. EMBO J. 29, 3130–3139 (2010).

de Ligt, J. et al. Diagnostic exome sequencing in persons with severe intellectual disability. N. Engl. J. Med. 367, 1921–1929 (2012).

Ingram, K.G., Curtis, C.D., Silasi-Mansat, R., Lupu, F. & Griffin, C.T. The NuRD chromatin-remodeling enzyme CHD4 promotes embryonic vascular integrity by transcriptionally regulating extracellular matrix proteolysis. PLoS Genet. 9, e1004031 (2013).

Shaheen, R. et al. Positional mapping of PRKD1, NRP1 and PRDM1 as novel candidate disease genes in truncus arteriosus. J. Med. Genet. 52, 322–329 (2015).

Fielitz, J. et al. Requirement of protein kinase D1 for pathological cardiac remodeling. Proc. Natl. Acad. Sci. USA 105, 3059–3063 (2008).

He, X. et al. Integrated model of de novo and inherited genetic variants yields greater power to identify risk genes. PLoS Genet. 9, e1003671 (2013).

Pierpont, M.E. et al. Genetic basis for congenital heart defects: current knowledge. Circulation 115, 3015–3038 (2007).

Miyake, N. et al. MLL2 and KDM6A mutations in patients with Kabuki syndrome. Am. J. Med. Genet. A. 161A, 2234–2243 (2013).

Tatton-Brown, K. et al. Genotype–phenotype associations in Sotos syndrome: an analysis of 266 individuals with NSD1 aberrations. Am. J. Hum. Genet. 77, 193–204 (2005).

Kiezun, A. et al. Exome sequencing and the genetic basis of complex traits. Nat. Genet. 44, 623–630 (2012).

Exome Aggregation Consortium. Analysis of protein-coding genetic variation in 60,706 humans. Preprint at bioRxiv http://dx.doi.org/10.1101/030338 (2015).

Giroud, J.M. et al. Report from the International Society for Nomenclature of Paediatric and Congenital Heart Disease: creation of a visual encyclopedia illustrating the terms and definitions of the International Pediatric and Congenital Cardiac Code. World J Pediatr. Congenit. Heart Surg. 1, 300–313 (2010).

Robinson, P.N. et al. The Human Phenotype Ontology: a tool for annotating and analyzing human hereditary disease. Am. J. Hum. Genet. 83, 610–615 (2008).

Moore, C. et al. The INTERVAL trial to determine whether intervals between blood donations can be safely and acceptably decreased to optimise blood supply: study protocol for a randomised controlled trial. Trials 15, 363 (2014).

Wright, C.F. et al. Genetic diagnosis of developmental disorders in the DDD study: a scalable analysis of genome-wide research data. Lancet 385, 1305–1314 (2015).

Li, H. & Durbin, R. Fast and accurate long-read alignment with Burrows–Wheeler transform. Bioinformatics 26, 589–595 (2010).

McKenna, A. et al. The Genome Analysis Toolkit: a MapReduce framework for analyzing next-generation DNA sequencing data. Genome Res. 20, 1297–1303 (2010).

Li, H. et al. The Sequence Alignment/Map format and SAMtools. Bioinformatics 25, 2078–2079 (2009).

Ramu, A. et al. DeNovoGear: de novo indel and point mutation discovery and phasing. Nat. Methods 10, 985–987 (2013).

Akawi, N. et al. Discovery of four recessive developmental disorders using probabilistic genotype and phenotype matching among 4,125 families. Nat. Genet. 47, 1363–1369 (2015).

Breuer, K. et al. InnateDB: systems biology of innate immunity and beyond—recent updates and continuing curation. Nucleic Acids Res. 41, D1228–D1233 (2013).

Szklarczyk, D. et al. STRING v10: protein–protein interaction networks, integrated over the tree of life. Nucleic Acids Res. 43, D447–D452 (2015).

Bordoli, L. et al. Protein structure homology modeling using SWISS-MODEL workspace. Nat. Protoc. 4, 1–13 (2009).
Acknowledgements
We thank the patients and their families for their participation and patience. The authors thank J. Lord for proofreading this manuscript and the Exome Aggregation Consortium for making their data available. The Deciphering Developmental Disorders study presents independent research commissioned by the Health Innovation Challenge Fund (grant HICF-1009-003), a parallel funding partnership between the Wellcome Trust and the UK Department of Health, and the Wellcome Trust Sanger Institute (grant WT098051). The views expressed in this publication are those of the author(s) and not necessarily those of the Wellcome Trust or the UK Department of Health. The research team acknowledges the support of the National Institutes for Health Research through the Comprehensive Clinical Research Network. The authors wish to thank the Sanger Human Genome Informatics team, the DNA pipelines team and the Core Sequencing team for their support in generating and processing the data. We would like to thank the Pediatric Cardiac Genomics Consortium (PCGC) and dbGAP for making the data publicly available. This study was supported by the German Center for Cardiovascular Research (DZHK) partner sites Berlin, Kiel and Competence Network for Congenital Heart Defects, National Register for Congenital Heart Defects. Participants in the INTERVAL randomized controlled trial were recruited with the active collaboration of NHS Blood and Transplant England, which has supported field work and other elements of the trial. DNA extraction and genotyping was funded by the National Institute of Health Research (NIHR), the NIHR BioResource and the NIHR Cambridge Biomedical Research Centre. The academic coordinating center for INTERVAL was supported by core funding from the NIHR Blood and Transplant Research Unit in Donor Health and Genomics, UK Medical Research Council (G0800270), British Heart Foundation (SP/09/002), and NIHR Research Cambridge Biomedical Research Centre. J.D.B., K.S. and A.K. are funded by British Heart Foundation Programme Grant RG/13/10/30376. A.W. is funded by a British Heart Foundation Clinical Fellowship FS/14/51/30879. D.R.F. is funded through an MRC Human Genetics Unit program grant to the University of Edinburgh. S.H.A.T., S.O.O. and R.M.A.-S. were supported by funding from King Abdullah International Medical Research Center (grant number RC12/037). J.B. was supported by the Klinisch Onderzoeksfonds UZ; B.T. was supported by the CHAMELEO Marie Curie Career Integration Grant; J.J.L. and M.G. Eddy Merckx Research grant. K.D. was funded by the GOA/2012/015 grant. A.K.M., D.M. and S.M. were supported by the Heart and Stroke Foundation of Ontario, Canadian Institutes of Health Research.
Ethics declarations
Competing interests
M.E.H. is a cofounder of and holds shares in Congenica Ltd., a genetics diagnostic company.
Integrated supplementary information
Supplementary information
About this article
Cite this article
Sifrim, A., Hitz, MP., Wilsdon, A. et al. Distinct genetic architectures for syndromic and nonsyndromic congenital heart defects identified by exome sequencing. Nat Genet 48, 1060–1065 (2016). https://doi.org/10.1038/ng.3627
Received:

Accepted:

Published:

Issue Date:

DOI: https://doi.org/10.1038/ng.3627