Abstract
Here we show that the cytosine-5 methyltransferase DNMT2 controls retrotransposon silencing in Drosophila somatic cells. In Drosophila, significant DNMT2-dependent DNA methylation occurs during early embryogenesis. Suppression of white gene silencing by Mt2 (Dnmt2) null mutations in variegated P[w+] element insertions identified functional targets of DNMT2. The enzyme controls DNA methylation at retrotransposons in early embryos and initiates histone H4K20 trimethylation catalyzed by the SUV4-20 methyltransferase. In somatic cells, loss of DNMT2 eliminates H4K20 trimethylation at retrotransposons and impairs maintenance of retrotransposon silencing. In Dnmt2 and Suv4-20 null genotypes, retrotransposons are strongly overexpressed in somatic but not germline cells, where retrotransposon silencing depends on an RNAi mechanism. DNMT2 also controls integrity of chromosome 2R and 3R telomeres. In Dnmt2 null strains, we found stable loss of the subtelomeric clusters of defective Invader4 elements. Together, these results demonstrate a previously unappreciated role of DNA methylation in retrotransposon silencing and telomere integrity in Drosophila.
Relevant articles
Open Access articles citing this article.
Xinrui Wang

,

Weiyi Song

…

Shumin Sun

Hereditas Open Access 12 August 2021

Rui Gao

,

Chun-Lin Li

…

Fang-Yin Dai

BMC Genomics Open Access 23 October 2020

Matthias Walther

,

Sandy Schrahn

…

Gunter Reuter

Chromosoma Open Access 16 January 2020
Access options
Subscribe to Journal
Get full journal access for 1 year
$79.00
only $6.58 per issue
All prices are NET prices.
VAT will be added later in the checkout.
Tax calculation will be finalised during checkout.
Buy article
Get time limited or full article access on ReadCube.
$32.00
All prices are NET prices.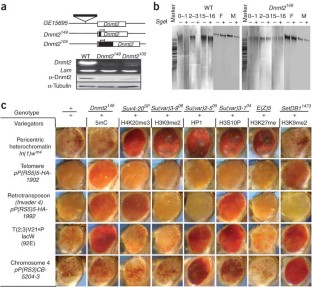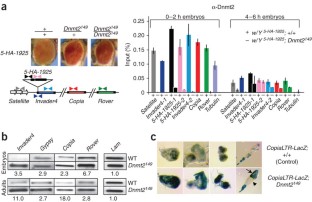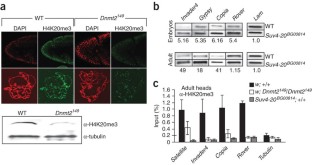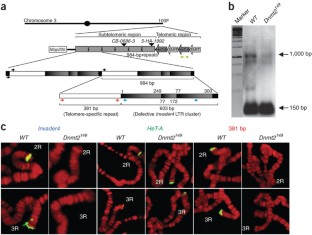 References
Bird, A. DNA methylation patterns and epigenetic memory. Genes Dev. 16, 6–12 (2002).

Tamaru, H. & Selker, E.U. A histone H3 methyltransferase controls DNA methylation in neurospora crassa. Nature 414, 277–283 (2001).

Lehnertz, B. et al. Suv39h-mediated histone H3 lysine 9 methylation directs DNA methylation to major satellite repeats at pericentric heterochromatin. Curr. Biol. 13, 1192–1200 (2003).

Meehan, R.R., Pennings, S. & Stancheva, I. Lashings of DNA methylation, forkfuls of chromatin remodeling. Genes Dev. 15, 3231–3236 (2001).

Yan, Q., Huang, J., Fan, T., Zhu, H. & Muegge, K. Lsh, a modulator of CpG methylation, is crucial for normal histone methylation. EMBO J. 22, 5154–5162 (2003).

Okano, M., Xie, S. & Li, E. Cloning and characterization of a family of novel mammalian DNA (cytosine-5) methyltransferases. Nat. Genet. 19, 219–220 (1998).

Okano, M., Bell, D.W., Haber, D.A. & Li, E. DNA methyltransferases Dnmt3 and Dnmt3b are essential for de novo methylation and mammalian development. Cell 99, 247–257 (1999).

Dong, A. et al. Structure of human DNMT2, an enigmatic DNA methyltransferase homolog that displays denaturant-resistant binding to DNA. Nucleic Acids Res. 29, 439–448 (2001).

Okano, M., Xie, S. & Li, E. Dnmt2 is not required for de novo and maintenance methylation of viral DNA in embryonic stem cells. Nucleic Acids Res. 26, 2536–2540 (1998).

Goll, M.G. et al. Methylation of tRNAAsp by the DNA methyltransferase homolog Dnmt2. Science 311, 395–398 (2006).

Jurkowski, T.P. et al. Human DNMT2 methylates tRNAAsp molecules using a DNA methyltransferase-like catalytic mechanism. RNA 14, 1663–1670 (2008).

Tweedie, S. et al. Vestiges of a DNA methylation system in Drosophila melanogaster. Nat. Genet. 23, 389–390 (1999).

Hung, M.S. et al. Drosophila proteins related to vertebrate DNA (5-cytosine) methyltransferases. Proc. Natl. Acad. Sci. USA 96, 11940–11945 (1999).

Kuhlmann, M. et al. Silencing of retrotransposons in Dictyostelium by DNA methylation and RNAi. Nucleic Acids Res. 33, 6405–6417 (2005).

Ehrlich, M. & Wang, R.Y.-H. 5-methylcytosine in eukaryotic DNA. Science 212, 1350–1357 (1981).

Gowher, H., Leismann, O. & Jeltsch, A. DNA of Drosophila melanogaster contains 5-methylcytosine. EMBO J. 19, 6918–6923 (2003).

Lyko, F., Ramsahoye, B.H. & Jaenisch, R. DNA methylation in Drosophila melanogaster. Nature 408, 538–540 (2000).

Tang, L.-Y. The eukaryotic DNMT2 genes encode a new class of cytosine-5 DNA methyltransferases. J. Biol. Chem. 278, 33613–33616 (2003).

Kunert, N., Marhold, J., Stanke, J., Stach, D. & Lyko, F.A. Dnmt2-like protein mediates DNA methylation in Drosophila. Development 130, 5083–5090 (2003).

Ryder, E. et al. The DrosDel Deletion set: a Drosophila genome-wide chromosomal deficiency resource. Genetics 177, 615–629 (2007).

Rudolph, T. et al. Heterochromatin formation in Drosophila is initiated through active removal of H3K4 methylation by the LSD1 homolog SU(VAR)3–3. Mol. Cell 26, 103–115 (2007).

Elgin, S.C.R. & Reuter, G. in Epigenetics (eds. Allis, C.D., Jenuwein, T. & Reinberg, D.) Position effect variegation in Drosophila: a tool to investigate heterochromatin formation (Cold Spring Harbor Laboratory Press, Cold Spring Harbor, New York, 2006).

Schotta, G. et al. Central role of Drosophila SU(VAR)3–9 in histone H3–K9 methylation and heterochromatic gene silencing. EMBO J. 21, 1121–1131 (2002).

Schotta, G. et al. A silencing pathway to induce H3–K9 and H4–K20 tri-methylation at constitutive heterochromatin. Genes Dev. 18, 1251–1262 (2004).

Ebert, A. et al. Su(var) genes regulate the balance between euchromatin and heterochromatin in Drosophila. Genes Dev. 18, 2973–2983 (2004).

Seum, C. et al. Drosophila SETDB1 is required for chromosome 4 silencing. PLoS Genet. 3, e76 (2007).

Dorer, D.R. & Henikoff, S. Expansions of transgene repeats cause heterochromatin formation and gene silencing in Drosophila. Cell 77, 993–1002 (1994).

Klenov, M.S. et al. Repeat-associated siRNAs cause chromatin silencing of retrotransposons in the Drosophila melanogaster germline. Nucleic Acids Res. 35, 5430–5438 (2007).

Vagin, V.V. et al. A distinct small RNA pathway silences selfish genetic elements in the germline. Science 313, 320–324 (2006).

Mason, J.M., Frydrychova, R.C. & Biessmann, H. Drosophila telomeres: an exception providing new insights. Bioessays 30, 25–27 (2008).

Peng, J.C. & Karpen, G.H. H3K9 methylation and RNA interference regulate nucleolar organization and repeated DNA stability. Nat. Cell Biol. 9, 25–35 (2007).
Acknowledgements
We thank M. Kube, M. Klimm and K. Kittlaus for experimental support, F. Lyko (Deutsches Krebsforschungszentrum) for providing a DNMT2-specific antibody, S.C.R. Elgin (Washington University, St. Louis) for HP1 antibody, T. Jenuwein (Max-Planck Institute of Immunobiology) for H4K20me3 antibody and Fermentas for providing SgeI enzyme and sharing the quality control data (Supplementary Fig. 1). This work was supported by grants from the Deutsche Forschungsgemeinschaft (DFG Priority Programme Epigenetics) and the European Union (EU-network epigenome).
Supplementary information
Supplementary Figures 1–10, Supplementary Tables 1 and 2 and Supplementary Methods (PDF 1449 kb)
About this article
Cite this article
Phalke, S., Nickel, O., Walluscheck, D. et al. Retrotransposon silencing and telomere integrity in somatic cells of Drosophila depends on the cytosine-5 methyltransferase DNMT2. Nat Genet 41, 696–702 (2009). https://doi.org/10.1038/ng.360
Received:

Accepted:

Published:

Issue Date:

DOI: https://doi.org/10.1038/ng.360