Abstract
The oncogenic mechanisms underlying acute lymphoblastic leukemia (ALL) in adolescents and young adults (AYA; 15–39 years old) remain largely elusive1,2,3. Here we have searched for new oncogenes in AYA-ALL by performing RNA-seq analysis of Philadelphia chromosome (Ph)-negative AYA-ALL specimens (n = 73) with the use of a next-generation sequencer. Interestingly, insertion of D4Z4 repeats containing the DUX4 gene into the IGH locus was frequently identified in B cell AYA-ALL, leading to a high level of expression of DUX4 protein with an aberrant C terminus. A transplantation assay in mice demonstrated that expression of DUX4-IGH in pro-B cells was capable of generating B cell leukemia in vivo. DUX4 fusions were preferentially detected in the AYA generation. Our data thus show that DUX4 can become an oncogenic driver as a result of somatic chromosomal rearrangements and that AYA-ALL may be a clinical entity distinct from ALL at other ages.
Relevant articles
Open Access articles citing this article.
Takashi Kurashige

,

Hiroyuki Morino

…

Hirofumi Maruyama

Journal of Human Genetics Open Access 07 November 2022

Kentaro Ohki

,

Ellie R. Butler

…

Atsushi Manabe

Leukemia Open Access 29 October 2022

Rita Alaggio

,

Catalina Amador

…

Wenbin Xiao

Leukemia Open Access 22 June 2022
Access options
Subscribe to Journal
Get full journal access for 1 year
$79.00
only $6.58 per issue
All prices are NET prices.
VAT will be added later in the checkout.
Tax calculation will be finalised during checkout.
Buy article
Get time limited or full article access on ReadCube.
$32.00
All prices are NET prices.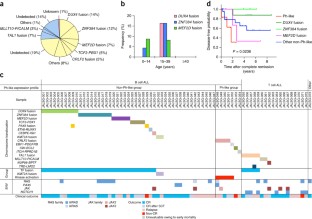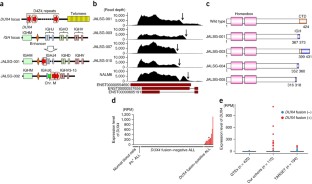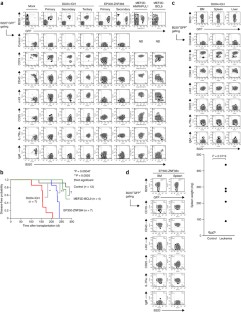 Accession codes
Accessions
NCBI Reference Sequence
References
Harrison, C.J. Cytogenetics of paediatric and adolescent acute lymphoblastic leukaemia. Br. J. Haematol. 144, 147–156 (2009).

Burke, P.W. & Douer, D. Acute lymphoblastic leukemia in adolescents and young adults. Acta Haematol. 132, 264–273 (2014).

Wood, W.A. & Lee, S.J. Malignant hematologic diseases in adolescents and young adults. Blood 117, 5803–5815 (2011).

Hayakawa, F. et al. Markedly improved outcomes and acceptable toxicity in adolescents and young adults with acute lymphoblastic leukemia following treatment with a pediatric protocol: a phase II study by the Japan Adult Leukemia Study Group. Blood Cancer J. 4, e252 (2014).

McPherson, A. et al. deFuse: an algorithm for gene fusion discovery in tumor RNA-Seq data. PLoS Comput. Biol. 7, e1001138 (2011).

Den Boer, M.L. et al. A subtype of childhood acute lymphoblastic leukaemia with poor treatment outcome: a genome-wide classification study. Lancet Oncol. 10, 125–134 (2009).

Roberts, K.G. et al. Genetic alterations activating kinase and cytokine receptor signaling in high-risk acute lymphoblastic leukemia. Cancer Cell 22, 153–166 (2012).

Clapp, J. et al. Evolutionary conservation of a coding function for D4Z4, the tandem DNA repeat mutated in facioscapulohumeral muscular dystrophy. Am. J. Hum. Genet. 81, 264–279 (2007).

Cabianca, D.S. & Gabellini, D. The cell biology of disease: FSHD: copy number variations on the theme of muscular dystrophy. J. Cell Biol. 191, 1049–1060 (2010).

Snider, L. et al. Facioscapulohumeral dystrophy: incomplete suppression of a retrotransposed gene. PLoS Genet. 6, e1001181 (2010).

Wijmenga, C. et al. Chromosome 4q DNA rearrangements associated with facioscapulohumeral muscular dystrophy. Nat. Genet. 2, 26–30 (1992).

Dixit, M. et al. DUX4, a candidate gene of facioscapulohumeral muscular dystrophy, encodes a transcriptional activator of PITX1. Proc. Natl. Acad. Sci. USA 104, 18157–18162 (2007).

Jones, T.I. et al. Facioscapulohumeral muscular dystrophy family studies of DUX4 expression: evidence for disease modifiers and a quantitative model of pathogenesis. Hum. Mol. Genet. 21, 4419–4430 (2012).

Kowaljow, V. et al. The DUX4 gene at the FSHD1A locus encodes a pro-apoptotic protein. Neuromuscul. Disord. 17, 611–623 (2007).

Geng, L.N. et al. DUX4 activates germline genes, retroelements, and immune mediators: implications for facioscapulohumeral dystrophy. Dev. Cell 22, 38–51 (2012).

Gocho, Y. et al. A novel recurrent EP300-ZNF384 gene fusion in B-cell precursor acute lymphoblastic leukemia. Leukemia 29, 2445–2448 (2015).

Martini, A. et al. Recurrent rearrangement of the Ewing's sarcoma gene, EWSR1, or its homologue, TAF15, with the transcription factor CIZ/NMP4 in acute leukemia. Cancer Res. 62, 5408–5412 (2002).

Yuki, Y. et al. Identification of a novel fusion gene in a pre-B acute lymphoblastic leukemia with t(1;19)(q23;p13). Cancer Sci. 95, 503–507 (2004).

Prima, V. & Hunger, S.P. Cooperative transformation by MEF2D/DAZAP1 and DAZAP1/MEF2D fusion proteins generated by the variant t(1;19) in acute lymphoblastic leukemia. Leukemia 21, 2470–2475 (2007).

Tsuzuki, S. & Seto, M. TEL (ETV6)-AML1 (RUNX1) initiates self-renewing fetal pro-B cells in association with a transcriptional program shared with embryonic stem cells in mice. Stem Cells 31, 236–247 (2013).

Russell, L.J. et al. IGH@ translocations are prevalent in teenagers and young adults with acute lymphoblastic leukemia and are associated with a poor outcome. J. Clin. Oncol. 32, 1453–1462 (2014).

Roth, D.B. Restraining the V(D)J recombinase. Nat. Rev. Immunol. 3, 656–666 (2003).

Corona, E.D., Jacquelin, D., Gatica, L. & Rosa, A.L. Multiple protein domains contribute to nuclear import and cell toxicity of DUX4, a candidate pathogenic protein for facioscapulohumeral muscular dystrophy. PLoS One 8, e75614 (2013).

Kawamura-Saito, M. et al. Fusion between CIC and DUX4 up-regulates PEA3 family genes in Ewing-like sarcomas with t(4;19)(q35;q13) translocation. Hum. Mol. Genet. 15, 2125–2137 (2006).

Schroeder, A. et al. The RIN: an RNA integrity number for assigning integrity values to RNA measurements. BMC Mol. Biol. 7, 3 (2006).

Corveleyn, A. et al. Cellular transformation of NIH3T3 fibroblasts by CIZ/NMP4 fusions. J. Cell. Biochem. 94, 1112–1125 (2005).
Acknowledgements
We thank M. Tamura and A. Maruyama for technical assistance. We are also grateful to H. Yoshimi and S. Yamazaki for providing leukemia specimens. This study was supported in part by grants for Leading Advanced Projects for Medical Innovation (LEAP) (to H.M.), for Programs for Development of Innovative Research on Cancer Therapeutics (P-DIRECT) (to T.N.) and for Practical Research for Innovative Cancer Control (to H.M. and F.H.) from the Japan Agency for Medical Research and Development. A list of centers and physicians that participated in the ALL202-U study and that provided clinical specimens can be found in the Supplementary Note.
Ethics declarations
Competing interests
The authors declare no competing financial interests.
Integrated supplementary information
Supplementary information
Supplementary Figures 1–10 and Supplementary Note. (PDF 4989 kb)
Supplementary Tables 1–13 (XLSX 84 kb)
About this article
Cite this article
Yasuda, T., Tsuzuki, S., Kawazu, M. et al. Recurrent DUX4 fusions in B cell acute lymphoblastic leukemia of adolescents and young adults. Nat Genet 48, 569–574 (2016). https://doi.org/10.1038/ng.3535
Received:

Accepted:

Published:

Issue Date:

DOI: https://doi.org/10.1038/ng.3535