Abstract
The HoxA and HoxD gene clusters of jawed vertebrates are organized into bipartite three-dimensional chromatin structures that separate long-range regulatory inputs coming from the anterior and posterior Hox-neighboring regions1. This architecture is instrumental in allowing vertebrate Hox genes to pattern disparate parts of the body, including limbs2. Almost nothing is known about how these three-dimensional topologies originated. Here we perform extensive 4C-seq profiling of the Hox cluster in embryos of amphioxus, an invertebrate chordate. We find that, in contrast to the architecture in vertebrates, the amphioxus Hox cluster is organized into a single chromatin interaction domain that includes long-range contacts mostly from the anterior side, bringing distant cis-regulatory elements into contact with Hox genes. We infer that the vertebrate Hox bipartite regulatory system is an evolutionary novelty generated by combining ancient long-range regulatory contacts from DNA in the anterior Hox neighborhood with new regulatory inputs from the posterior side.
Relevant articles
Open Access articles citing this article.
Lu Gong

,

Xiaoxia Ding

…

He Su

BMC Plant Biology Open Access 09 November 2022

Christopher Chase Bolt

,

Lucille Lopez-Delisle

…

Denis Duboule

Nature Communications Open Access 17 June 2022

Nicolas S. M. Robert

,

Fatih Sarigol

…

Oleg Simakov

BMC Genomics Open Access 17 February 2022
Access options
Subscribe to this journal
Receive 12 print issues and online access
$189.00 per year
only $15.75 per issue
Rent or buy this article
Get just this article for as long as you need it
$39.95
Prices may be subject to local taxes which are calculated during checkout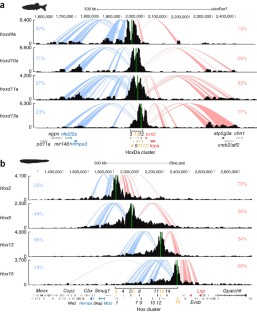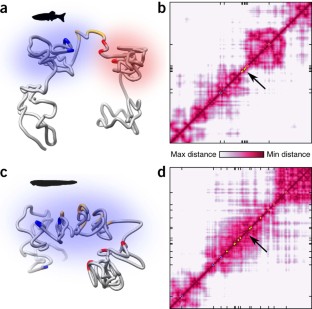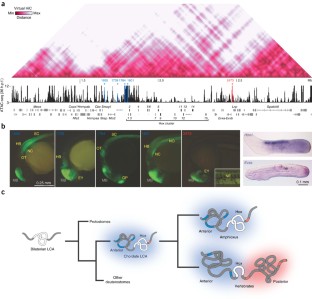 Accession codes
Primary accessions
Gene Expression Omnibus
Referenced accessions
NCBI Reference Sequence
References
Lonfat, N. & Duboule, D. Structure, function and evolution of topologically associating domains (TADs) at HOX loci. FEBS Lett. 589, 2869–2876 (2015).

Andrey, G. et al. A switch between topological domains underlies HoxD genes collinearity in mouse limbs. Science 340, 1234167 (2013).

de Laat, W. & Duboule, D. Topology of mammalian developmental enhancers and their regulatory landscapes. Nature 502, 499–506 (2013).

Gómez-Díaz, E. & Corces, V.G. Architectural proteins: regulators of 3D genome organization in cell fate. Trends Cell Biol. 24, 703–711 (2014).

Ciabrelli, F. & Cavalli, G. Chromatin-driven behavior of topologically associating domains. J. Mol. Biol. 427, 608–625 (2015).

Mallo, M. & Alonso, C.R. The regulation of Hox gene expression during animal development. Development 140, 3951–3963 (2013).

Montavon, T. et al. A regulatory archipelago controls Hox genes transcription in digits. Cell 147, 1132–1145 (2011).

Woltering, J.M., Noordermeer, D., Leleu, M. & Duboule, D. Conservation and divergence of regulatory strategies at Hox loci and the origin of tetrapod digits. PLoS Biol. 12, e1001773 (2014).

Berlivet, S. et al. Clustering of tissue-specific sub-TADs accompanies the regulation of HoxA genes in developing limbs. PLoS Genet. 9, e1004018 (2013).

Lonfat, N., Montavon, T., Darbellay, F., Gitto, S. & Duboule, D. Convergent evolution of complex regulatory landscapes and pleiotropy at Hox loci. Science 346, 1004–1006 (2014).

Dehal, P. & Boore, J.L. Two rounds of whole genome duplication in the ancestral vertebrate. PLoS Biol. 3, e314 (2005).

Lehoczky, J.A., Williams, M.E. & Innis, J.W. Conserved expression domains for genes upstream and within the HoxA and HoxD clusters suggests a long-range enhancer existed before cluster duplication. Evol. Dev. 6, 423–430 (2004).

Maeso, I. et al. An ancient genomic regulatory block conserved across bilaterians and its dismantling in tetrapods by retrogene replacement. Genome Res. 22, 642–655 (2012).

Paps, J., Holland, P.W. & Shimeld, S.M. A genome-wide view of transcription factor gene diversity in chordate evolution: less gene loss in amphioxus? Brief. Funct. Genomics 11, 177–186 (2012).

Bertrand, S. & Escriva, H. Evolutionary crossroads in developmental biology: amphioxus. Development 138, 4819–4830 (2011).

Holland, L.Z. & Onai, T. Early development of cephalochordates (amphioxus). Wiley Interdiscip. Rev. Dev. Biol. 1, 167–183 (2012).

Noordermeer, D. et al. Temporal dynamics and developmental memory of 3D chromatin architecture at Hox gene loci. eLife 3, e02557 (2014).

Noordermeer, D. et al. The dynamic architecture of Hox gene clusters. Science 334, 222–225 (2011).

Pascual-Anaya, J. et al. Broken colinearity of the amphioxus Hox cluster. Evodevo 3, 28 (2012).

Dixon, J.R. et al. Topological domains in mammalian genomes identified by analysis of chromatin interactions. Nature 485, 376–380 2012).

Ghavi-Helm, Y. et al. Enhancer loops appear stable during development and are associated with paused polymerase. Nature 512, 96–100 (2014).

Gonzalez, F., Duboule, D. & Spitz, F. Transgenic analysis of Hoxd gene regulation during digit development. Dev. Biol. 306, 847–859 (2007).

Gehrke, A.R. et al. Deep conservation of wrist and digit enhancers in fish. Proc. Natl. Acad. Sci. USA 112, 803–808 (2015).

Buenrostro, J.D., Giresi, P.G., Zaba, L.C., Chang, H.Y. & Greenleaf, W.J. Transposition of native chromatin for fast and sensitive epigenomic profiling of open chromatin, DNA-binding proteins and nucleosome position. Nat. Methods 10, 1213–1218 (2013).

Ferrier, D.E., Minguillón, C., Cebrián, C. & Garcia-Fernàndez, J. Amphioxus Evx genes: implications for the evolution of the midbrain-hindbrain boundary and the chordate tailbud. Dev. Biol. 237, 270–281 (2001).

Liu, Y., Schröder, J. & Schmidt, B. Musket: a multistage k-mer spectrum–based error corrector for Illumina sequence data. Bioinformatics 29, 308–315 (2013).

Magoč, T. & Salzberg, S.L. FLASH: fast length adjustment of short reads to improve genome assemblies. Bioinformatics 27, 2957–2963 (2011).

Luo, R. et al. SOAPdenovo2: an empirically improved memory-efficient short-read de novo assembler. Gigascience 1, 18 (2012).

Huang, S. et al. HaploMerger: reconstructing allelic relationships for polymorphic diploid genome assemblies. Genome Res. 22, 1581–1588 (2012).

Haas, B.J. et al. Automated eukaryotic gene structure annotation using EVidenceModeler and the Program to Assemble Spliced Alignments. Genome Biol. 9, R7 (2008).

Stanke, M. et al. AUGUSTUS: ab initio prediction of alternative transcripts. Nucleic Acids Res. 34, W435–W439 (2006).

Parra, G., Bradnam, K. & Korf, I. CEGMA: a pipeline to accurately annotate core genes in eukaryotic genomes. Bioinformatics 23, 1061–1067 (2007).

Slater, G.S. & Birney, E. Automated generation of heuristics for biological sequence comparison. BMC Bioinformatics 6, 31 (2005).

Baughman, K.W. et al. Genomic organization of Hox and ParaHox clusters in the echinoderm, Acanthaster planci. Genesis 52, 952–958 (2014).

Frazer, K.A., Pachter, L., Poliakov, A., Rubin, E.M. & Dubchak, I. VISTA: computational tools for comparative genomics. Nucleic Acids Res. 32, W273–W279 (2004).

Fuentes, M. et al. Insights into spawning behavior and development of the European amphioxus (Branchiostoma lanceolatum). J. Exp. Zool. B Mol. Dev. Evol. 308, 484–493 (2007).

Fuentes, M. et al. Preliminary observations on the spawning conditions of the European amphioxus (Branchiostoma lanceolatum) in captivity. J. Exp. Zool. B Mol. Dev. Evol. 302, 384–391 (2004).

Somorjai, I., Bertrand, S., Camasses, A., Haguenauer, A. & Escriva, H. Evidence for stasis and not genetic piracy in developmental expression patterns of Branchiostoma lanceolatum and Branchiostoma floridae, two amphioxus species that have evolved independently over the course of 200 Myr. Dev. Genes Evol. 218, 703–713 (2008).

Dekker, J., Rippe, K., Dekker, M. & Kleckner, N. Capturing chromosome conformation. Science 295, 1306–1311 (2002).

Hagège, H. et al. Quantitative analysis of chromosome conformation capture assays (3C-qPCR). Nat. Protoc. 2, 1722–1733 (2007).

Splinter, E., de Wit, E., van de Werken, H.J., Klous, P. & de Laat, W. Determining long-range chromatin interactions for selected genomic sites using 4C-seq technology: from fixation to computation. Methods 58, 221–230 (2012).

Rozen, S. & Skaletsky, H. Primer3 on the WWW for general users and for biologist programmers. Methods Mol. Biol. 132, 365–386 (2000).

Smemo, S. et al. Obesity-associated variants within FTO form long-range functional connections with IRX3. Nature 507, 371–375 (2014).

Baù, D. et al. The three-dimensional folding of the α-globin gene domain reveals formation of chromatin globules. Nat. Struct. Mol. Biol. 18, 107–114 (2011).

Russel, D. et al. Putting the pieces together: integrative modeling platform software for structure determination of macromolecular assemblies. PLoS Biol. 10, e1001244 (2012).

Saeed, A.I. et al. TM4: a free, open-source system for microarray data management and analysis. Biotechniques 34, 374–378 (2003).

Lupiáñez, D.G. et al. Disruptions of topological chromatin domains cause pathogenic rewiring of gene-enhancer interactions. Cell 161, 1012–1025 (2015).

van Weerd, J.H. et al. A large permissive regulatory domain exclusively controls Tbx3 expression in the cardiac conduction system. Circ. Res. 115, 432–441 (2014).

Vietri Rudan, M. et al. Comparative Hi-C reveals that CTCF underlies evolution of chromosomal domain architecture. Cell Rep. 10, 1297–1309 (2015).

Hou, C., Li, L., Qin, Z.S. & Corces, V.G. Gene density, transcription, and insulators contribute to the partition of the Drosophila genome into physical domains. Mol. Cell 48, 471–484 (2012).

Zhang, Y. et al. Spatial organization of the mouse genome and its role in recurrent chromosomal translocations. Cell 148, 908–921 (2012).

Bessa, J. et al. Zebrafish enhancer detection (ZED) vector: a new tool to facilitate transgenesis and the functional analysis of cis-regulatory regions in zebrafish. Dev. Dyn. 238, 2409–2417 (2009).

Kawakami, K. Transgenesis and gene trap methods in zebrafish by using the Tol2 transposable element. Methods Cell Biol. 77, 201–222 (2004).
Acknowledgements
We specially thank J. Pascual-Anaya for helping with some figures and helpful discussions. We would also like to thank F. Casares, I. Almudí and J.R. Martínez-Morales for fruitful discussions. Work was funded by grants from the Ministerio de Economía y Competitividad (BFU2013-41322-P to J.L.G.-S.; Juan de la Cierva postdoctoral contract to I.M.; BFU2014-58449-JIN to J.J.T.); the Andalusian government (BIO-396 to J.L.G.-S.; C2A (EE: 2013/2506) to D.P.D. and I.I.-A.); the European Research Council (ERC; grant 268513) to P.W.H.H. and F.M.; a European Molecular Biology Organization (EMBO) short fellowship to I.M.; the Universidad Pablo de Olavide to J.J.T.; and Conicyt 'Becas Chile' to D.A.
Ethics declarations
Competing interests
The authors declare no competing financial interests.
Integrated supplementary information
Supplementary information
Supplementary Figures 1–15, Supplementary Tables 1–4 and Supplementary Note. (PDF 6509 kb)
About this article
Cite this article
Acemel, R., Tena, J., Irastorza-Azcarate, I. et al. A single three-dimensional chromatin compartment in amphioxus indicates a stepwise evolution of vertebrate Hox bimodal regulation. Nat Genet 48, 336–341 (2016). https://doi.org/10.1038/ng.3497
Received:

Accepted:

Published:

Issue Date:

DOI: https://doi.org/10.1038/ng.3497