Abstract
An unexpectedly large number of human autosomal genes are subject to monoallelic expression (MAE). Our analysis of 4,227 such genes uncovers surprisingly high genetic variation across human populations. This increased diversity is unlikely to reflect relaxed purifying selection. Remarkably, MAE genes exhibit an elevated recombination rate and an increased density of hypermutable sequence contexts. However, these factors do not fully account for the increased diversity. We find that the elevated nucleotide diversity of MAE genes is also associated with greater allelic age: variants in these genes tend to be older and are enriched in polymorphisms shared by Neanderthals and chimpanzees. Both synonymous and nonsynonymous alleles of MAE genes have elevated average population frequencies. We also observed strong enrichment of the MAE signature among genes reported to evolve under balancing selection. We propose that an important biological function of widespread MAE might be the generation of cell-to-cell heterogeneity; the increased genetic variation contributes to this heterogeneity.
Access options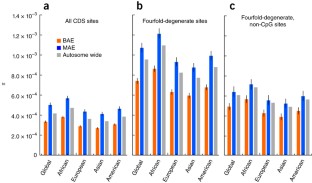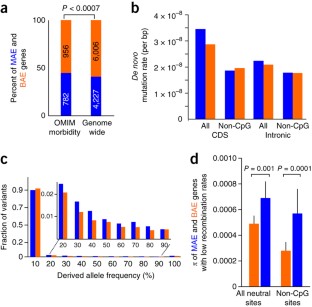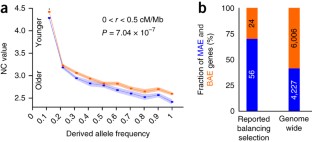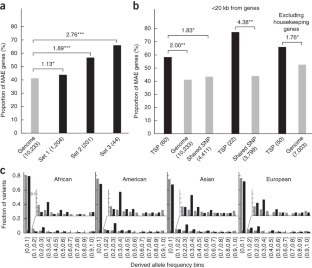 References
1

Savova, V., Vigneau, S. & Gimelbrant, A.A. Autosomal monoallelic expression: genetics of epigenetic diversity? Curr. Opin. Genet. Dev. 23, 642–648 (2013).

2

Chess, A., Simon, I., Cedar, H. & Axel, R. Allelic inactivation regulates olfactory receptor gene expression. Cell 78, 823–834 (1994).

3

Gimelbrant, A., Hutchinson, J.N., Thompson, B.R. & Chess, A. Widespread monoallelic expression on human autosomes. Science 318, 1136–1140 (2007).

4

Zwemer, L.M. et al. Autosomal monoallelic expression in the mouse. Genome Biol. 13, R10 (2012).

5

Nag, A. et al. Chromatin signature of widespread monoallelic expression. eLife 2, e01256 (2013).

6

Deng, Q., Ramsköld, D., Reinius, B. & Sandberg, R. Single-cell RNA-seq reveals dynamic, random monoallelic gene expression in mammalian cells. Science 343, 193–196 (2014).

7

Jeffries, A.R. et al. Stochastic choice of allelic expression in human neural stem cells. Stem Cells 30, 1938–1947 (2012).

8

Gendrel, A.V. et al. Developmental dynamics and disease potential of random monoallelic gene expression. Dev. Cell 28, 366–380 (2014).

9

Eckersley-Maslin, M.A. et al. Random monoallelic gene expression increases upon embryonic stem cell differentiation. Dev. Cell 28, 351–365 (2014).

10

Li, S.M. et al. Transcriptome-wide survey of mouse CNS-derived cells reveals monoallelic expression within novel gene families. PLoS One 7, e31751 (2012).

11

Pereira, J.P., Girard, R., Chaby, R., Cumano, A. & Vieira, P. Monoallelic expression of the murine gene encoding Toll-like receptor 4. Nat. Immunol. 4, 464–470 (2003).

12

Spencer, H.G. Population genetics and evolution of genomic imprinting. Annu. Rev. Genet. 34, 457–477 (2000).

13

Wilkins, J.F. & Haig, D. What good is genomic imprinting: the function of parent-specific gene expression. Nat. Rev. Genet. 4, 359–368 (2003).

14

Wu, C.T. & Dunlap, J.C. Homology effects: the difference between 1 and 2. Adv. Genet. 46, xvii–xxiii (2002).

15

Hoehe, M.R. et al. Multiple haplotype–resolved genomes reveal population patterns of gene and protein diplotypes. Nat. Commun. 5, 5569 (2014).

16

Chess, A. Mechanisms and consequences of widespread random monoallelic expression. Nat. Rev. Genet. 13, 421–428 (2012).

17

1000 Genomes Project Consortium. A map of human genome variation from population-scale sequencing. Nature 467, 1061–1073 (2010).

18

Tennessen, J.A. et al. Evolution and functional impact of rare coding variation from deep sequencing of human exomes. Science 337, 64–69 (2012).

19

Drmanac, R. et al. Human genome sequencing using unchained base reads on self-assembling DNA nanoarrays. Science 327, 78–81 (2010).

20

Francioli, L.C. et al. Genome-wide patterns and properties of de novo mutations in humans. Nat. Genet. 47, 822–826 (2015).

21

ENCODE Project Consortium. An integrated encyclopedia of DNA elements in the human genome. Nature 489, 57–74 (2012).

22

Nag, A., Vigneau, S., Savova, V., Zwemer, L.M. & Gimelbrant, A.A. Chromatin signature identifies monoallelic gene expression across mammalian cell types. G3 (Bethesda) 5, 1713–1720 (2015).

23

Nei, M. & Li, W.H. Mathematical model for studying genetic variation in terms of restriction endonucleases. Proc. Natl. Acad. Sci. USA 76, 5269–5273 (1979).

24

Kimura, M. Preponderance of synonymous changes as evidence for the neutral theory of molecular evolution. Nature 267, 275–276 (1977).

25

Chamary, J.V. & Hurst, L.D. Evidence for selection on synonymous mutations affecting stability of mRNA secondary structure in mammals. Genome Biol. 6, R75 (2005).

26

Samocha, K.E. et al. A framework for the interpretation of de novo mutation in human disease. Nat. Genet. 46, 944–950 (2014).

27

Walser, J.C. & Furano, A.V. The mutational spectrum of non-CpG DNA varies with CpG content. Genome Res. 20, 875–882 (2010).

28

Li, W.-H. Molecular Evolution (Sinauer Associates, 1997).

29

Begun, D.J. & Aquadro, C.F. Levels of naturally occurring DNA polymorphism correlate with recombination rates in D. melanogaster. Nature 356, 519–520 (1992).

30

Charlesworth, B., Morgan, M.T. & Charlesworth, D. The effect of deleterious mutations on neutral molecular variation. Genetics 134, 1289–1303 (1993).

31

Smith, J.M. & Haigh, J. The hitch-hiking effect of a favourable gene. Genet. Res. 23, 23–35 (1974).

32

Hellmann, I. et al. Why do human diversity levels vary at a megabase scale? Genome Res. 15, 1222–1231 (2005).

33

Necsulea, A., Sémon, M., Duret, L. & Hurst, L.D. Monoallelic expression and tissue specificity are associated with high crossover rates. Trends Genet. 25, 519–522 (2009).

34

Kong, A. et al. Fine-scale recombination rate differences between sexes, populations and individuals. Nature 467, 1099–1103 (2010).

35

Kiezun, A. et al. Deleterious alleles in the human genome are on average younger than neutral alleles of the same frequency. PLoS Genet. 9, e1003301 (2013).

36

Rasmussen, M.D., Hubisz, M.J., Gronau, I. & Siepel, A. Genome-wide inference of ancestral recombination graphs. PLoS Genet. 10, e1004342 (2014).

37

Andrés, A.M. et al. Targets of balancing selection in the human genome. Mol. Biol. Evol. 26, 2755–2764 (2009).

38

Leffler, E.M. et al. Multiple instances of ancient balancing selection shared between humans and chimpanzees. Science 339, 1578–1582 (2013).

39

Veyrieras, J.B. et al. High-resolution mapping of expression-QTLs yields insight into human gene regulation. PLoS Genet. 4, e1000214 (2008).

40

Sellis, D., Callahan, B.J., Petrov, D.A. & Messer, P.W. Heterozygote advantage as a natural consequence of adaptation in diploids. Proc. Natl. Acad. Sci. USA 108, 20666–20671 (2011).

41

DeGiorgio, M., Lohmueller, K.E. & Nielsen, R. A model-based approach for identifying signatures of ancient balancing selection in genetic data. PLoS Genet. 10, e1004561 (2014).

42

Yang, S. et al. Parent-progeny sequencing indicates higher mutation rates in heterozygotes. Nature 523, 463–467 (2015).

43

Eisenberg, E. & Levanon, E.Y. Human housekeeping genes, revisited. Trends Genet. 29, 569–574 (2013).

44

Borel, C. et al. Biased allelic expression in human primary fibroblast single cells. Am. J. Hum. Genet. 96, 70–80 (2015).

45

Prüfer, K. et al. The complete genome sequence of a Neanderthal from the Altai Mountains. Nature 505, 43–49 (2014).

46

Cai, J.J., Macpherson, J.M., Sella, G. & Petrov, D.A. Pervasive hitchhiking at coding and regulatory sites in humans. PLoS Genet. 5, e1000336 (2009).

47

Adzhubei, I.A. et al. A method and server for predicting damaging missense mutations. Nat. Methods 7, 248–249 (2010).

48

Bustamante, C.D. et al. Natural selection on protein-coding genes in the human genome. Nature 437, 1153–1157 (2005).

49

Yanai, I. et al. Genome-wide midrange transcription profiles reveal expression level relationships in human tissue specification. Bioinformatics 21, 650–659 (2005).
Acknowledgements
We thank D. Balick for useful discussions and I. Adzhubei for help with PolyPhen analysis. This work was supported in part by the following US National Institutes of Health (NIH) awards: R01 GM114864 to A.A.G. and R01 GM078598, GM105857 and MH101244 to S.R.S. A.A.G. was supported in part by the Pew scholar award; T.L.L. was supported by a fellowship from the German Research Foundation (DFG; LE 2593/1-1 and LE 2593/2-1); L.G. was a summer scholar in the Harvard/Massachusetts Institute of Technology BIG program (supported by US NIH award U54 LM008748); and R.B.M. and C.W. were supported by grants from the US NIH/National Institute of General Medical Sciences (R01 GM61936 and 5DP1 GM106412) and Harvard Medical School.
Ethics declarations
Competing interests
The authors declare no competing financial interests.
Integrated supplementary information
Supplementary information
About this article
Cite this article
Savova, V., Chun, S., Sohail, M. et al. Genes with monoallelic expression contribute disproportionately to genetic diversity in humans. Nat Genet 48, 231–237 (2016). https://doi.org/10.1038/ng.3493
Received:

Accepted:

Published:

Issue Date: