Abstract
The circadian clock is a critical regulator of plant physiology and development, controlling key agricultural traits in crop plants1. In addition, natural variation in circadian rhythms is important for local adaptation2,3,4. However, quantitative modulation of circadian rhythms due to artificial selection has not yet been reported. Here we show that the circadian clock of cultivated tomato (Solanum lycopersicum) has slowed during domestication. Allelic variation of the tomato homolog of the Arabidopsis gene EID1 is responsible for a phase delay. Notably, the genomic region harboring EID1 shows signatures of a selective sweep. We find that the EID1 allele in cultivated tomatoes enhances plant performance specifically under long day photoperiods, suggesting that humans selected slower circadian rhythms to adapt the cultivated species to the long summer days it encountered as it was moved away from the equator.
Your institute does not have access to this article
Relevant articles
Open Access articles citing this article.
Junwei Yang

,

Bin Liang

…

Tao Lin

BMC Biology Open Access 24 May 2022

Yanli Xiang

,

Thomas Sapir

…

José M. Jiménez-Gómez

BMC Plant Biology Open Access 09 April 2022

Xiaoya Lin

,

Chao Fang

…

Fanjiang Kong

aBIOTECH Open Access 02 June 2021
Access options
Subscribe to Journal
Get full journal access for 1 year
$59.00
only $4.92 per issue
All prices are NET prices.
VAT will be added later in the checkout.
Tax calculation will be finalised during checkout.
Buy article
Get time limited or full article access on ReadCube.
$32.00
All prices are NET prices.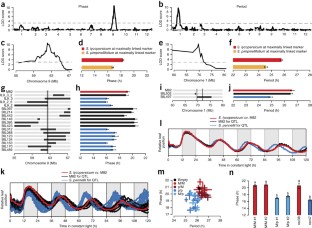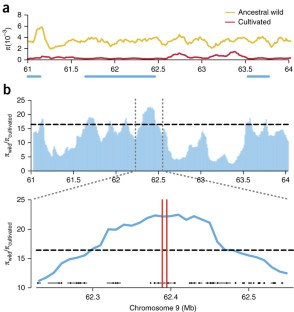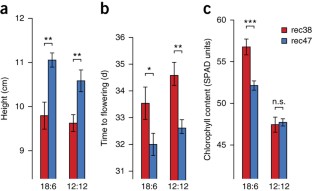 Accession codes
Primary accessions
BioProject
References
Hsu, P.Y. & Harmer, S.L. Wheels within wheels: the plant circadian system. Trends Plant Sci. 19, 240–249 (2014).

Michael, T.P. et al. Enhanced fitness conferred by naturally occurring variation in the circadian clock. Science 302, 1049–1053 (2003).

Pittendrigh, C.S. & Takamura, T. Latitudinal clines in the properties of a circadian pacemaker. J. Biol. Rhythms 4, 217–235 (1989).

Joshi, D.S. Latitudinal variation in locomotor activity rhythm in adult Drosophila ananassae. Can. J. Zool. 77, 865–870 (1999).

Edgar, R.S. et al. Peroxiredoxins are conserved markers of circadian rhythms. Nature 485, 459–464 (2012).

Nagel, D.H. & Kay, S.A. Complexity in the wiring and regulation of plant circadian networks. Curr. Biol. 22, R648–R657 (2012).

Beaver, L.M. et al. Loss of circadian clock function decreases reproductive fitness in males of Drosophila melanogaster. Proc. Natl. Acad. Sci. USA 99, 2134–2139 (2002).

Woelfle, M.A., Ouyang, Y., Phanvijhitsiri, K. & Johnson, C.H. The adaptive value of circadian clocks: an experimental assessment in cyanobacteria. Curr. Biol. 14, 1481–1486 (2004).

Green, R.M., Tingay, S., Wang, Z.Y. & Tobin, E.M. Circadian rhythms confer a higher level of fitness to Arabidopsis plants. Plant Physiol. 129, 576–584 (2002).

Dodd, A.N. et al. Plant circadian clocks increase photosynthesis, growth, survival, and competitive advantage. Science 309, 630–633 (2005).

McClung, C.R. Wheels within wheels: new transcriptional feedback loops in the Arabidopsis circadian clock. F1000Prime Rep. 6, 2 (2014).

Turner, A., Beales, J., Faure, S., Dunford, R.P. & Laurie, D.A. The pseudo-response regulator Ppd-H1 provides adaptation to photoperiod in barley. Science 310, 1031–1034 (2005).

Murphy, R.L. et al. Coincident light and clock regulation of pseudoresponse regulator protein 37 (PRR37) controls photoperiodic flowering in sorghum. Proc. Natl. Acad. Sci. USA 108, 16469–16474 (2011).

Pin, P.A. et al. The role of a pseudo-response regulator gene in life cycle adaptation and domestication of beet. Curr. Biol. 22, 1095–1101 (2012).

Zakhrabekova, S. et al. Induced mutations in circadian clock regulator Mat-a facilitated short-season adaptation and range extension in cultivated barley. Proc. Natl. Acad. Sci. USA 109, 4326–4331 (2012).

Faure, S. et al. Mutation at the circadian clock gene EARLY MATURITY 8 adapts domesticated barley (Hordeum vulgare) to short growing seasons. Proc. Natl. Acad. Sci. USA 109, 8328–8333 (2012).

Weller, J.L. et al. A conserved molecular basis for photoperiod adaptation in two temperate legumes. Proc. Natl. Acad. Sci. USA 109, 21158–21163 (2012).

Gao, H. et al. Days to heading 7, a major quantitative locus determining photoperiod sensitivity and regional adaptation in rice. Proc. Natl. Acad. Sci. USA 111, 16337–16342 (2014).

Campoli, C., Shtaya, M., Davis, S.J. & von Korff, M. Expression conservation within the circadian clock of a monocot: natural variation at barley Ppd-H1 affects circadian expression of flowering time genes, but not clock orthologs. BMC Plant Biol. 12, 97 (2012).

Blanca, J. et al. Variation revealed by SNP genotyping and morphology provides insight into the origin of the tomato. PLoS ONE 7, e48198 (2012).

Filichkin, S.A. et al. Global profiling of rice and poplar transcriptomes highlights key conserved circadian-controlled pathways and cis-regulatory modules. PLoS ONE 6, e16907 (2011).

Kazmi, R.H. et al. Complex genetics controls natural variation among seed quality phenotypes in a recombinant inbred population of an interspecific cross between Solanum lycopersicum x Solanum pimpinellifolium. Plant Cell Environ. 35, 929–951 (2012).

Eshed, Y. & Zamir, D. An introgression line population of Lycopersicon pennellii in the cultivated tomato enables the identification and fine mapping of yield-associated QTL. Genetics 141, 1147–1162 (1995).

Dieterle, M., Zhou, Y.C., Schafer, E., Funk, M. & Kretsch, T. EID1, an F-box protein involved in phytochrome A–specific light signaling. Genes Dev. 15, 939–944 (2001).

Somers, D.E., Devlin, P.F. & Kay, S.A. Phytochromes and cryptochromes in the entrainment of the Arabidopsis circadian clock. Science 282, 1488–1490 (1998).

Aflitos, S. et al. Exploring genetic variation in the tomato (Solanum section Lycopersicon) clade by whole-genome sequencing. Plant J. 80, 136–148 (2014).

Lin, T. et al. Genomic analyses provide insights into the history of tomato breeding. Nat. Genet. 46, 1220–1226 (2014).

Velez-Ramirez, A.I., van Ieperen, W., Vreugdenhil, D. & Millenaar, F.F. Plants under continuous light. Trends Plant Sci. 16, 310–318 (2011).

Velez-Ramirez, A.I. et al. A single locus confers tolerance to continuous light and allows substantial yield increase in tomato. Nat. Commun. 5, 4549 (2014).

Chitwood, D.H. et al. A quantitative genetic basis for leaf morphology in a set of precisely defined tomato introgression lines. Plant Cell 25, 2465–2481 (2013).

Monson-Miller, J. et al. Reference genome-independent assessment of mutation density using restriction enzyme-phased sequencing. BMC Genomics 13, 72 (2012).

Li, H. & Durbin, R. Fast and accurate short read alignment with Burrows-Wheeler transform. Bioinformatics 25, 1754–1760 (2009).

Koboldt, D.C. et al. VarScan 2: somatic mutation and copy number alteration discovery in cancer by exome sequencing. Genome Res. 22, 568–576 (2012).

Salathia, N., Lynn, J.R., Millar, A.J. & King, G.J. Detection and resolution of genetic loci affecting circadian period in Brassica oleracea. Theor. Appl. Genet. 114, 683–692 (2007).

Schneider, C.A., Rasband, W.S. & Eliceiri, K.W. NIH Image to ImageJ: 25 years of image analysis. Nat. Methods 9, 671–675 (2012).

Plautz, J.D. et al. Quantitative analysis of Drosophila period gene transcription in living animals. J. Biol. Rhythms 12, 204–217 (1997).

Broman, K.W. & Sen, S. A guide to QTL mapping with R/qtl. (Springer, 2009).

Koenig, D. et al. Comparative transcriptomics reveals patterns of selection in domesticated and wild tomato. Proc. Natl. Acad. Sci. USA 110, E2655–E2662 (2013).

Bolger, A. et al. The genome of the stress-tolerant wild tomato species Solanum pennellii. Nat. Genet. 46, 1034–1038 (2014).

Expósito-Rodríguez, M., Borges, A.A., Borges-Pérez, A. & Pérez, J.A. Selection of internal control genes for quantitative real-time RT-PCR studies during tomato development process. BMC Plant Biol. 8, 131 (2008).

Kim, D. et al. TopHat2: accurate alignment of transcriptomes in the presence of insertions, deletions and gene fusions. Genome Biol. 14, R36 (2013).

R Development Core Team. R: A Language and Environment for Statistical Computing (R Foundation for Statistical Computing, 2011).

Lawrence, M. et al. Software for computing and annotating genomic ranges. PLoS Comput. Biol. 9, e1003118 (2013).

Morgan, M., Pagès, H., Obenchain, V. & Haydon, N. Rsamtools: Binary alignment (BAM), FASTA, variant call (BCF) and tabix file import. R package version 1.18.2.

Love, M.I., Huber, W. & Anders, S. Moderated estimation of fold change and dispersion for RNA-seq data with DESeq2. Genome Biol. 15, 550 (2014).

Yang, R. & Su, Z. Analyzing circadian expression data by harmonic regression based on autoregressive spectral estimation. Bioinformatics 26, i168–i174 (2010).

Falcon, S. & Gentleman, R. Using GOstats to test gene lists for GO term association. Bioinformatics 23, 257–258 (2007).

Nakagawa, T. et al. Development of series of gateway binary vectors, pGWBs, for realizing efficient construction of fusion genes for plant transformation. J. Biosci. Bioeng. 104, 34–41 (2007).

McCormick, S. et al. Leaf disc transformation of cultivated tomato (L. esculentum) using Agrobacterium tumefaciens. Plant Cell Rep. 5, 81–84 (1986).

Langmead, B. & Salzberg, S.L. Fast gapped-read alignment with Bowtie 2. Nat. Methods 9, 357–359 (2012).

DePristo, M.A. et al. A framework for variation discovery and genotyping using next-generation DNA sequencing data. Nat. Genet. 43, 491–498 (2011).

Paradis, E., Claude, J. & Strimmer, K. APE: Analyses of Phylogenetics and Evolution in R language. Bioinformatics 20, 289–290 (2004).

Markwell, J., Osterman, J.C. & Mitchell, J.L. Calibration of the Minolta SPAD-502 leaf chlorophyll meter. Photosynth. Res. 46, 467–472 (1995).
Acknowledgements
We thank M. Koornneef and A. de Montaigu for helpful discussions and critical reading of the manuscript, U. Tartler and M. Pohe for technical assistance, members of the department, members of the Plan Breeding and Genetics Department at the Max Planck Institute for Plant Breeding Research and S.J. Davis for comments and advice, E.M. Willing for technical advice, and A.W. van Heusden for providing seeds and genotype information for the S. pimpinellifolium RIL population. We acknowledge funding from a core grant from the Max Planck Society. N.A.M., A.S. and C.L.W. were funded from a core grant from the Max Planck Society. M.R. was supported by funding from the German Research Foundation under the German-Israeli Project Cooperation program (DFG DIP project number FE552/12-1 awarded to J.M.J.-G.). D.Z. received a European Research Council Advanced grant (YIELD).
Ethics declarations
Competing interests
The authors declare no competing financial interests.
Integrated supplementary information
Supplementary information
About this article
Cite this article
Müller, N., Wijnen, C., Srinivasan, A. et al. Domestication selected for deceleration of the circadian clock in cultivated tomato. Nat Genet 48, 89–93 (2016). https://doi.org/10.1038/ng.3447
Received:

Accepted:

Published:

Issue Date:

DOI: https://doi.org/10.1038/ng.3447