Abstract
The function of human regulatory regions depends exquisitely on their local genomic environment and on cellular context, complicating experimental analysis of common disease- and trait-associated variants that localize within regulatory DNA. We use allelically resolved genomic DNase I footprinting data encompassing 166 individuals and 114 cell types to identify >60,000 common variants that directly influence transcription factor occupancy and regulatory DNA accessibility in vivo. The unprecedented scale of these data enables systematic analysis of the impact of sequence variation on transcription factor occupancy in vivo. We leverage this analysis to develop accurate models of variation affecting the recognition sites for diverse transcription factors and apply these models to discriminate nearly 500,000 common regulatory variants likely to affect transcription factor occupancy across the human genome. The approach and results provide a new foundation for the analysis and interpretation of noncoding variation in complete human genomes and for systems-level investigation of disease-associated variants.
Relevant articles
Open Access articles citing this article.
Jasmine A. McQuerry

,

Merry Mclaird

…

Scott T. Younger

Scientific Reports Open Access 09 May 2022

Seminars in Immunopathology Open Access 12 January 2022

Hye Kyung Lee

,

Olive Jung

&

Lothar Hennighausen

Communications Biology Open Access 02 June 2021
Access options
Subscribe to Journal
Get full journal access for 1 year
$99.00
only $8.25 per issue
All prices are NET prices.
VAT will be added later in the checkout.
Tax calculation will be finalised during checkout.
Buy article
Get time limited or full article access on ReadCube.
$32.00
All prices are NET prices.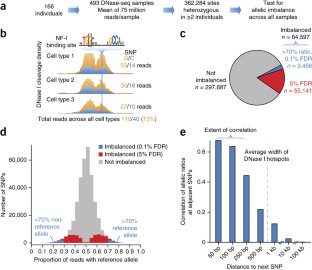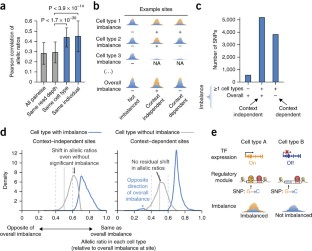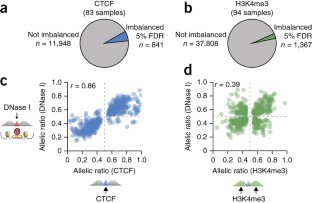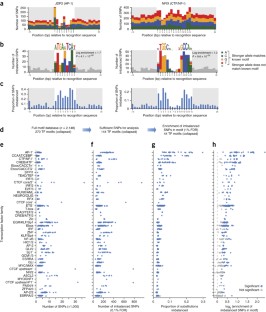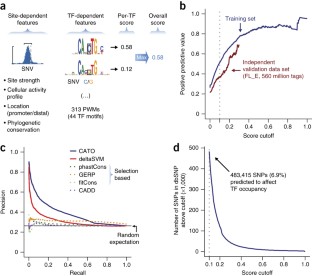 References
Gross, D.S. & Garrard, W.T. Nuclease hypersensitive sites in chromatin. Annu. Rev. Biochem. 57, 159–197 (1988).

Thurman, R.E. et al. The accessible chromatin landscape of the human genome. Nature 489, 75–82 (2012).

Maurano, M.T. et al. Systematic localization of common disease-associated variation in regulatory DNA. Science 337, 1190–1195 (2012).

Degner, J.F. et al. DNase I sensitivity QTLs are a major determinant of human expression variation. Nature 482, 390–394 (2012).

Palmiter, R.D. & Brinster, R.L. Germ-line transformation of mice. Annu. Rev. Genet. 20, 465–499 (1986).

Sanyal, A., Lajoie, B.R., Jain, G. & Dekker, J. The long-range interaction landscape of gene promoters. Nature 489, 109–113 (2012).

Peterson, K.R. & Stamatoyannopoulos, G. Role of gene order in developmental control of human γ- and β-globin gene expression. Mol. Cell. Biol. 13, 4836–4843 (1993).

Thanos, D. & Maniatis, T. Virus induction of human IFN β gene expression requires the assembly of an enhanceosome. Cell 83, 1091–1100 (1995).

Archer, T.K., Lefebvre, P., Wolford, R.G. & Hager, G.L. Transcription factor loading on the MMTV promoter: a bimodal mechanism for promoter activation. Science 255, 1573–1576 (1992).

Mendenhall, E.M. et al. Locus-specific editing of histone modifications at endogenous enhancers. Nat. Biotechnol. 31, 1133–1136 (2013).

Aalfs, J.D. & Kingston, R.E. What does 'chromatin remodeling' mean? Trends Biochem. Sci. 25, 548–555 (2000).

Ronald, J. et al. Simultaneous genotyping, gene-expression measurement, and detection of allele-specific expression with oligonucleotide arrays. Genome Res. 15, 284–291 (2005).

Ni, Y., Hall, A.W., Battenhouse, A. & Iyer, V.R. Simultaneous SNP identification and assessment of allele-specific bias from ChIP-seq data. BMC Genet. 13, 46 (2012).

Knight, J.C., Keating, B.J., Rockett, K.A. & Kwiatkowski, D.P. In vivo characterization of regulatory polymorphisms by allele-specific quantification of RNA polymerase loading. Nat. Genet. 33, 469–475 (2003).

McDaniell, R. et al. Heritable individual-specific and allele-specific chromatin signatures in humans. Science 328, 235–239 (2010).

Kasowski, M. et al. Variation in transcription factor binding among humans. Science 328, 232–235 (2010).

Maurano, M.T., Wang, H., Kutyavin, T. & Stamatoyannopoulos, J.A. Widespread site-dependent buffering of human regulatory polymorphism. PLoS Genet. 8, e1002599 (2012).

Kilpinen, H. et al. Coordinated effects of sequence variation on DNA binding, chromatin structure, and transcription. Science 342, 744–747 (2013).

Reddy, T.E. et al. Effects of sequence variation on differential allelic transcription factor occupancy and gene expression. Genome Res. 22, 860–869 (2012).

McVicker, G. et al. Identification of genetic variants that affect histone modifications in human cells. Science 342, 747–749 (2013).

Li, H. et al. The Sequence Alignment/Map format and SAMtools. Bioinformatics 25, 2078–2079 (2009).

ENCODE Project Consortium. An integrated encyclopedia of DNA elements in the human genome. Nature 489, 57–74 (2012).

Heap, G.A. et al. Genome-wide analysis of allelic expression imbalance in human primary cells by high-throughput transcriptome resequencing. Hum. Mol. Genet. 19, 122–134 (2010).

Stergachis, A.B. et al. Exonic transcription factor binding directs codon choice and affects protein evolution. Science 342, 1367–1372 (2013).

Zhang, K. et al. Digital RNA allelotyping reveals tissue-specific and allele-specific gene expression in human. Nat. Methods 6, 613–618 (2009).

Henikoff, S. & Shilatifard, A. Histone modification: cause or cog? Trends Genet. 27, 389–396 (2011).

Neph, S. et al. An expansive human regulatory lexicon encoded in transcription factor footprints. Nature 489, 83–90 (2012).

Spivakov, M. et al. Analysis of variation at transcription factor binding sites in Drosophila and humans. Genome Biol. 13, R49 (2012).

Biddie, S.C. et al. Transcription factor AP1 potentiates chromatin accessibility and glucocorticoid receptor binding. Mol. Cell 43, 145–155 (2011).

Sherry, S.T. et al. dbSNP: the NCBI database of genetic variation. Nucleic Acids Res. 29, 308–311 (2001).

Badis, G. et al. Diversity and complexity in DNA recognition by transcription factors. Science 324, 1720–1723 (2009).

Zhao, Y. & Stormo, G.D. Quantitative analysis demonstrates most transcription factors require only simple models of specificity. Nat. Biotechnol. 29, 480–483 (2011).

Rohs, R. et al. The role of DNA shape in protein-DNA recognition. Nature 461, 1248–1253 (2009).

Meijsing, S.H. et al. DNA binding site sequence directs glucocorticoid receptor structure and activity. Science 324, 407–410 (2009).

Jolma, A. et al. DNA-binding specificities of human transcription factors. Cell 152, 327–339 (2013).

Lee, J.-H. et al. A robust approach to identifying tissue-specific gene expression regulatory variants using personalized human induced pluripotent stem cells. PLoS Genet. 5, e1000718 (2009).

Ding, J. et al. Gene expression in skin and lymphoblastoid cells: refined statistical method reveals extensive overlap in cis-eQTL signals. Am. J. Hum. Genet. 87, 779–789 (2010).

Price, A.L. et al. Single-tissue and cross-tissue heritability of gene expression via identity-by-descent in related or unrelated individuals. PLoS Genet. 7, e1001317 (2011).

Grundberg, E. et al. Mapping cis- and trans-regulatory effects across multiple tissues in twins. Nat. Genet. 44, 1084–1089 (2012).

Flutre, T., Wen, X., Pritchard, J. & Stephens, M. A statistical framework for joint eQTL analysis in multiple tissues. PLoS Genet. 9, e1003486 (2013).

Veyrieras, J.-B. et al. High-resolution mapping of expression-QTLs yields insight into human gene regulation. PLoS Genet. 4, e1000214 (2008).

John, S. et al. Chromatin accessibility pre-determines glucocorticoid receptor binding patterns. Nat. Genet. 43, 264–268 (2011).

John, S. et al. Genome-scale mapping of DNase I hypersensitivity. Curr. Protoc. Mol. Biol. Chapter 27, Unit 21.27 (2013).

Wang, H. et al. Widespread plasticity in CTCF occupancy linked to DNA methylation. Genome Res. 22, 1680–1688 (2012).

Langmead, B., Trapnell, C., Pop, M. & Salzberg, S.L. Ultrafast and memory-efficient alignment of short DNA sequences to the human genome. Genome Biol. 10, R25 (2009).

Neph, S. et al. BEDOPS: high-performance genomic feature operations. Bioinformatics 28, 1919–1920 (2012).

Danecek, P. et al. The variant call format and VCFtools. Bioinformatics 27, 2156–2158 (2011).

Li, H. & Durbin, R. Fast and accurate short read alignment with Burrows-Wheeler transform. Bioinformatics 25, 1754–1760 (2009).

Lazarovici, A. et al. Probing DNA shape and methylation state on a genomic scale with DNase I. Proc. Natl. Acad. Sci. USA 110, 6376–6381 (2013).

1000 Genomes Project Consortium. A map of human genome variation from population-scale sequencing. Nature 467, 1061–1073 (2010).

Le Novère, N. MELTING, computing the melting temperature of nucleic acid duplex. Bioinformatics 17, 1226–1227 (2001).

Matys, V. et al. TRANSFAC and its module TRANSCompel: transcriptional gene regulation in eukaryotes. Nucleic Acids Res. 34, D108–D110 (2006).

Portales-Casamar, E. et al. JASPAR 2010: the greatly expanded open-access database of transcription factor binding profiles. Nucleic Acids Res. 38, D105–D110 (2010).

Newburger, D.E. & Bulyk, M.L. UniPROBE: an online database of protein binding microarray data on protein-DNA interactions. Nucleic Acids Res. 37, D77–D82 (2009).

Grant, C.E., Bailey, T.L. & Noble, W.S. FIMO: scanning for occurrences of a given motif. Bioinformatics 27, 1017–1018 (2011).

Gupta, S., Stamatoyannopoulos, J.A., Bailey, T.L. & Noble, W.S. Quantifying similarity between motifs. Genome Biol. 8, R24 (2007).

Galas, D.J. & Schmitz, A. DNAse footprinting: a simple method for the detection of protein-DNA binding specificity. Nucleic Acids Res. 5, 3157–3170 (1978).

Sing, T., Sander, O., Beerenwinkel, N. & Lengauer, T. ROCR: visualizing classifier performance in R. Bioinformatics 21, 3940–3941 (2005).

Cooper, G.M. et al. Characterization of evolutionary rates and constraints in three Mammalian genomes. Genome Res. 14, 539–548 (2004).

Siepel, A. et al. Evolutionarily conserved elements in vertebrate, insect, worm, and yeast genomes. Genome Res. 15, 1034–1050 (2005).

Kircher, M. et al. A general framework for estimating the relative pathogenicity of human genetic variants. Nat. Genet. 46, 310–315 (2014).

Gulko, B., Hubisz, M.J., Gronau, I. & Siepel, A. A method for calculating probabilities of fitness consequences for point mutations across the human genome. Nat. Genet. 47, 276–283 (2015).

Lee, D. et al. A method to predict the impact of regulatory variants from DNA sequence. Nat. Genet. 47, 955–961 (2015).
Acknowledgements
This work was supported by US National Institutes of Health grants U54HG004592, U54HG007010, U01ES01156, 1S10RR026770 and 1S10OD017999 to J.A.S. and National Institute of Mental Health fellowship F31MH094073 to M.T.M. J.V. was supported by a National Science Foundation Graduate Research Fellowship under grant DGE-071824.
Ethics declarations
Competing interests
The authors declare no competing financial interests.
Supplementary information
About this article
Cite this article
Maurano, M., Haugen, E., Sandstrom, R. et al. Large-scale identification of sequence variants influencing human transcription factor occupancy in vivo. Nat Genet 47, 1393–1401 (2015). https://doi.org/10.1038/ng.3432
Received:

Accepted:

Published:

Issue Date:

DOI: https://doi.org/10.1038/ng.3432