Abstract
Pancreatic ductal adenocarcinoma (PDAC) remains a lethal disease with a 5-year survival rate of 4%. A key hallmark of PDAC is extensive stromal involvement, which makes capturing precise tumor-specific molecular information difficult. Here we have overcome this problem by applying blind source separation to a diverse collection of PDAC gene expression microarray data, including data from primary tumor, metastatic and normal samples. By digitally separating tumor, stromal and normal gene expression, we have identified and validated two tumor subtypes, including a 'basal-like' subtype that has worse outcome and is molecularly similar to basal tumors in bladder and breast cancers. Furthermore, we define 'normal' and 'activated' stromal subtypes, which are independently prognostic. Our results provide new insights into the molecular composition of PDAC, which may be used to tailor therapies or provide decision support in a clinical setting where the choice and timing of therapies are critical.
This is a preview of subscription content
Access options
Subscribe to Journal
Get full journal access for 1 year
$59.00
only $4.92 per issue
All prices are NET prices.
VAT will be added later in the checkout.
Tax calculation will be finalised during checkout.
Buy article
Get time limited or full article access on ReadCube.
$32.00
All prices are NET prices.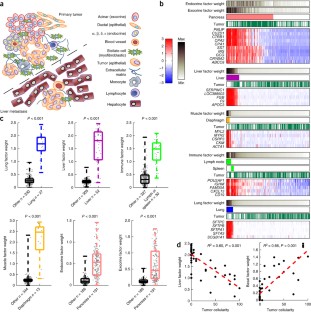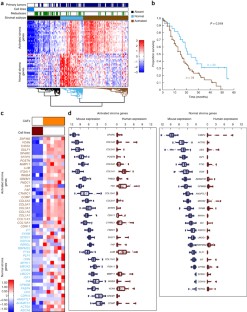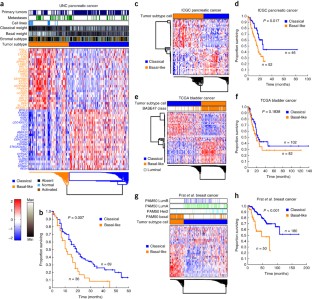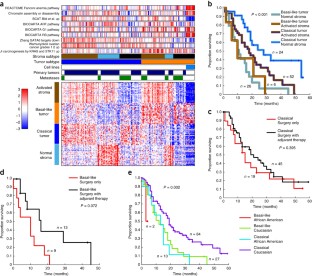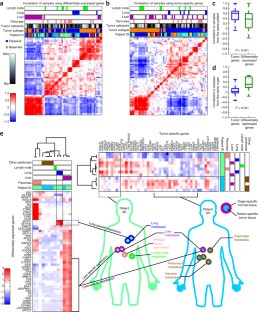 References
Biankin, A.V. et al. Pancreatic cancer genomes reveal aberrations in axon guidance pathway genes. Nature 491, 399–405 (2012).

Jones, S. et al. Core signaling pathways in human pancreatic cancers revealed by global genomic analyses. Science 321, 1801–1806 (2008).

Waddell, N. et al. Whole genomes redefine the mutational landscape of pancreatic cancer. Nature 518, 495–501 (2015).

Yachida, S. et al. Distant metastasis occurs late during the genetic evolution of pancreatic cancer. Nature 467, 1114–1117 (2010).

Collisson, E.A. et al. Subtypes of pancreatic ductal adenocarcinoma and their differing responses to therapy. Nat. Med. 17, 500–503 (2011).

Crnogorac-Jurcevic, T. et al. Expression profiling of microdissected pancreatic adenocarcinomas. Oncogene 21, 4587–4594 (2002).

Witkiewicz, A.K. et al. Whole-exome sequencing of pancreatic cancer defines genetic diversity and therapeutic targets. Nat. Commun. 6, 6744 (2015).

Iacobuzio-Donahue, C.A. et al. Exploration of global gene expression patterns in pancreatic adenocarcinoma using cDNA microarrays. Am. J. Pathol. 162, 1151–1162 (2003).

Logsdon, C.D. et al. Molecular profiling of pancreatic adenocarcinoma and chronic pancreatitis identifies multiple genes differentially regulated in pancreatic cancer. Cancer Res. 63, 2649–2657 (2003).

Stuart, R.O. et al. In silico dissection of cell-type-associated patterns of gene expression in prostate cancer. Proc. Natl. Acad. Sci. USA 101, 615–620 (2004).

Wang, Y. et al. In silico estimates of tissue components in surgical samples based on expression profiling data. Cancer Res. 70, 6448–6455 (2010).

Yoshihara, K. et al. Inferring tumour purity and stromal and immune cell admixture from expression data. Nat. Commun. 4, 2612 (2013).

Alexandrov, L.B., Nik-Zainal, S., Wedge, D.C., Campbell, P.J. & Stratton, M.R. Deciphering signatures of mutational processes operative in human cancer. Cell Rep. 3, 246–259 (2013).

Alexandrov, L.B. et al. Signatures of mutational processes in human cancer. Nature 500, 415–421 (2013).

Biton, A. et al. Independent component analysis uncovers the landscape of the bladder tumor transcriptome and reveals insights into luminal and basal subtypes. Cell Rep. 9, 1235–1245 (2014).

Stratford, J.K. et al. A six-gene signature predicts survival of patients with localized pancreatic ductal adenocarcinoma. PLoS Med. 7, e1000307 (2010).

Whitfield, M.L. et al. Identification of genes periodically expressed in the human cell cycle and their expression in tumors. Mol. Biol. Cell 13, 1977–2000 (2002).

Froeling, F.E. et al. Retinoic acid—induced pancreatic stellate cell quiescence reduces paracrine Wnt–β-catenin signaling to slow tumor progression. Gastroenterology 141, 1486–1497 (2011).

Özdemir, B.C. et al. Depletion of carcinoma-associated fibroblasts and fibrosis induces immunosuppression and accelerates pancreas cancer with reduced survival. Cancer Cell 25, 719–734 (2014).

Rhim, A.D. et al. Stromal elements act to restrain, rather than support, pancreatic ductal adenocarcinoma. Cancer Cell 25, 735–747 (2014).

Lee, J.J. et al. Stromal response to Hedgehog signaling restrains pancreatic cancer progression. Proc. Natl. Acad. Sci. USA 111, E3091–E3100 (2014).

Olive, K.P. et al. Inhibition of Hedgehog signaling enhances delivery of chemotherapy in a mouse model of pancreatic cancer. Science 324, 1457–1461 (2009).

Erkan, M. et al. The activated stroma index is a novel and independent prognostic marker in pancreatic ductal adenocarcinoma. Clin. Gastroenterol. Hepatol. 6, 1155–1161 (2008).

Cohen, S.J. et al. Fibroblast activation protein and its relationship to clinical outcome in pancreatic adenocarcinoma. Pancreas 37, 154–158 (2008).

Hwang, R.F. et al. Cancer-associated stromal fibroblasts promote pancreatic tumor progression. Cancer Res. 68, 918–926 (2008).

Vonlaufen, A. et al. Pancreatic stellate cells: partners in crime with pancreatic cancer cells. Cancer Res. 68, 2085–2093 (2008).

Herrera, M. et al. Functional heterogeneity of cancer-associated fibroblasts from human colon tumors shows specific prognostic gene expression signature. Clin. Cancer Res. 19, 5914–5926 (2013).

Nones, K. et al. Genome-wide DNA methylation patterns in pancreatic ductal adenocarcinoma reveal epigenetic deregulation of SLIT-ROBO, ITGA2 and MET signaling. Int. J. Cancer 135, 1110–1118 (2014).

Cancer Genome Atlas Research Network. Comprehensive molecular characterization of urothelial bladder carcinoma. Nature 507, 315–322 (2014).

Damrauer, J.S. et al. Intrinsic subtypes of high-grade bladder cancer reflect the hallmarks of breast cancer biology. Proc. Natl. Acad. Sci. USA 111, 3110–3115 (2014).

McConkey, D.J., Choi, W. & Dinney, C.P. New insights into subtypes of invasive bladder cancer: considerations of the clinician. Eur. Urol. 67, e76–e78 (2015).

Parker, J.S. et al. Supervised risk predictor of breast cancer based on intrinsic subtypes. J. Clin. Oncol. 27, 1160–1167 (2009).

Prat, A. et al. Phenotypic and molecular characterization of the claudin-low intrinsic subtype of breast cancer. Breast Cancer Res. 12, R68 (2010).

Tibshirani, R., Hastie, T., Narasimhan, B. & Chu, G. Diagnosis of multiple cancer types by shrunken centroids of gene expression. Proc. Natl. Acad. Sci. USA 99, 6567–6572 (2002).

Isella, C. et al. Stromal contribution to the colorectal cancer transcriptome. Nat. Genet. 47, 312–319 (2015).

Rubio-Viqueira, B. et al. An in vivo platform for translational drug development in pancreatic cancer. Clin. Cancer Res. 12, 4652–4661 (2006).

Stolze, B., Reinhart, S., Bulllinger, L., Fröhling, S. & Scholl, C. Comparative analysis of KRAS codon 12, 13, 18, 61, and 117 mutations using human MCF10A isogenic cell lines. Sci. Rep. 5, 8535 (2015).

Ihle, N.T. et al. Effect of KRAS oncogene substitutions on protein behavior: implications for signaling and clinical outcome. J. Natl. Cancer Inst. 104, 228–239 (2012).

Carey, L., Winer, E., Viale, G., Cameron, D. & Gianni, L. Triple-negative breast cancer: disease entity or title of convenience? Nat. Rev. Clin. Oncol. 7, 683–692 (2010).

Bardeesy, N. et al. Smad4 is dispensable for normal pancreas development yet critical in progression and tumor biology of pancreas cancer. Genes Dev. 20, 3130–3146 (2006).

Haeger, S.M. et al. Smad4 loss promotes lung cancer formation but increases sensitivity to DNA topoisomerase inhibitors. Oncogene 10.1038/onc.2015.112 (20 April 2015).

Garrido-Laguna, I. et al. Tumor engraftment in nude mice and enrichment in stroma- related gene pathways predict poor survival and resistance to gemcitabine in patients with pancreatic cancer. Clin. Cancer Res. 17, 5793–5800 (2011).

Dal Molin, M. et al. Very long-term survival following resection for pancreatic cancer is not explained by commonly mutated genes: results of whole-exome sequencing analysis. Clin. Cancer Res. 21, 1944–1950 (2015).

Zhang, Y. et al. A Gata6-Wnt pathway required for epithelial stem cell development and airway regeneration. Nat. Genet. 40, 862–870 (2008).

Zhong, Y. et al. GATA6 activates Wnt signaling in pancreatic cancer by negatively regulating the Wnt antagonist Dickkopf-1. PLoS ONE 6, e22129 (2011).

Wamunyokoli, F.W. et al. Expression profiling of mucinous tumors of the ovary identifies genes of clinicopathologic importance. Clin. Cancer Res. 12, 690–700 (2006).

Ji, H. et al. LKB1 modulates lung cancer differentiation and metastasis. Nature 448, 807–810 (2007).

Croft, D. et al. The Reactome pathway knowledgebase. Nucleic Acids Res. 42, D472–D477 (2014).

Ashburner, M. et al. Gene Ontology: tool for the unification of biology. Nat. Genet. 25, 25–29 (2000).

Bild, A.H. et al. Oncogenic pathway signatures in human cancers as a guide to targeted therapies. Nature 439, 353–357 (2006).

Nishimura, D. BioCarta. Biotech. Software Internet Rep. 2, 117–120 (2001).

Shi, L. et al. The MicroArray Quality Control (MAQC)-II study of common practices for the development and validation of microarray-based predictive models. Nat. Biotechnol. 28, 827–838 (2010).

Hoadley, K.A. et al. Multiplatform analysis of 12 cancer types reveals molecular classification within and across tissues of origin. Cell 158, 929–944 (2014).

Iacobuzio-Donahue, C.A. et al. DPC4 gene status of the primary carcinoma correlates with patterns of failure in patients with pancreatic cancer. J. Clin. Oncol. 27, 1806–1813 (2009).

Subramanian, A. et al. Gene set enrichment analysis: a knowledge-based approach for interpreting genome-wide expression profiles. Proc. Natl. Acad. Sci. USA 102, 15545–15550 (2005).

Neel, N.F. et al. Response to MLN8237 in pancreatic cancer is not dependent on RalA phosphorylation. Mol. Cancer Ther. 13, 122–133 (2014).

Bachem, M.G. et al. Pancreatic carcinoma cells induce fibrosis by stimulating proliferation and matrix synthesis of stellate cells. Gastroenterology 128, 907–921 (2005).

Conway, T. et al. Xenome—a tool for classifying reads from xenograft samples. Bioinformatics 28, i172–i178 (2012).

Kim, D. et al. TopHat2: accurate alignment of transcriptomes in the presence of insertions, deletions and gene fusions. Genome Biol. 14, R36 (2013).

Trapnell, C. et al. Differential gene and transcript expression analysis of RNA-seq experiments with TopHat and Cufflinks. Nat. Protoc. 7, 562–578 (2012).

Cancer Genome Atlas Network. Comprehensive molecular portraits of human breast tumours. Nature 490, 61–70 (2012).
Acknowledgements
We thank the University of North Carolina (UNC) Tissue Procurement, Translational Pathology Laboratory, Animal Studies, Animal Histopathology, and Center for Gastrointestinal Biology and Disease Histopathology core facilities (NIH grant P30-DK034897), the PDX Program and Department of Pharmacology for tremendous technical support. We thank the patients and their families who generously donated their samples to research and in particular to the University of Nebraska Medical Center Rapid Autopsy Pancreatic Program and the Johns Hopkins Gastrointestinal Cancer Rapid Medical Donation Program. This work was partially supported by grant R01-CA140424 from the US National Institutes of Health (NIH) (J.J.Y.), the Kimmel Foundation (J.J.Y.), the American College of Surgeons (J.J.Y.), the University Cancer Research Fund (J.J.Y.) and UNC Lineberger Comprehensive Cancer Center Postdoctoral Training Grant T32-CA009156 from the US NIH (R.A.M.).
Ethics declarations
Competing interests
The authors declare no competing financial interests.
Integrated supplementary information
Supplementary information
About this article
Cite this article
Moffitt, R., Marayati, R., Flate, E. et al. Virtual microdissection identifies distinct tumor- and stroma-specific subtypes of pancreatic ductal adenocarcinoma. Nat Genet 47, 1168–1178 (2015). https://doi.org/10.1038/ng.3398
Received:

Accepted:

Published:

Issue Date:

DOI: https://doi.org/10.1038/ng.3398