Abstract
The Polycomb repressive complexes PRC1 and PRC2 maintain embryonic stem cell (ESC) pluripotency by silencing lineage-specifying developmental regulator genes1. Emerging evidence suggests that Polycomb complexes act through controlling spatial genome organization2,3,4,5,6,7,8,9. We show that PRC1 functions as a master regulator of mouse ESC genome architecture by organizing genes in three-dimensional interaction networks. The strongest spatial network is composed of the four Hox gene clusters and early developmental transcription factor genes, the majority of which contact poised enhancers. Removal of Polycomb repression leads to disruption of promoter-promoter contacts in the Hox gene network. In contrast, promoter-enhancer contacts are maintained in the absence of Polycomb repression, with accompanying widespread acquisition of active chromatin signatures at network enhancers and pronounced transcriptional upregulation of network genes. Thus, PRC1 physically constrains developmental transcription factor genes and their enhancers in a silenced but poised spatial network. We propose that the selective release of genes from this spatial network underlies cell fate specification during early embryonic development.
Relevant articles
Open Access articles citing this article.
Kristina M. Garske

,

Asha Kar

…

Päivi Pajukanta

Nature Communications Open Access 14 July 2023

Nimrod Rappoport

,

Elad Chomsky

…

Amos Tanay

Nature Communications Open Access 29 June 2023

Xiaohui Jia

,

Weifeng Lin

&

Wei Wang

Cell Regeneration Open Access 01 June 2023
Access options
Subscribe to this journal
Receive 12 print issues and online access
$209.00 per year
only $17.42 per issue
Rent or buy this article
Prices vary by article type
from$1.95
to$39.95
Prices may be subject to local taxes which are calculated during checkout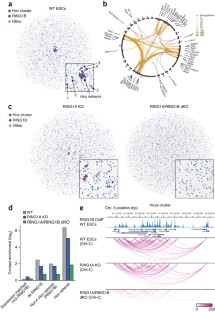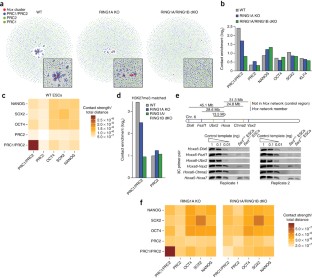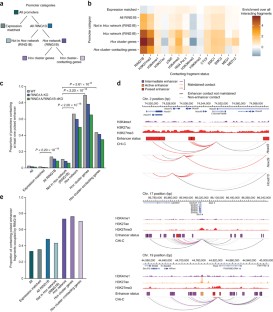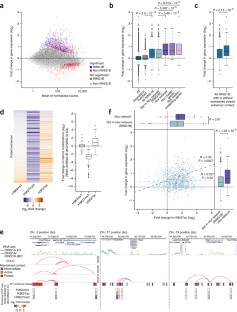 Accession codes
Primary accessions
ArrayExpress
References
Simon, J.A. & Kingston, R.E. Occupying chromatin: Polycomb mechanisms for getting to genomic targets, stopping transcriptional traffic, and staying put. Mol. Cell 49, 808–824 (2013).

Bantignies, F. et al. Polycomb-dependent regulatory contacts between distant Hox loci in Drosophila. Cell 144, 214–226 (2011).

Sexton, T. et al. Three-dimensional folding and functional organization principles of the Drosophila genome. Cell 148, 458–472 (2012).

Eskeland, R. et al. Ring1B compacts chromatin structure and represses gene expression independent of histone ubiquitination. Mol. Cell 38, 452–464 (2010).

Denholtz, M. et al. Long-range chromatin contacts in embryonic stem cells reveal a role for pluripotency factors and polycomb proteins in genome organization. Cell Stem Cell 13, 602–616 (2013).

Isono, K. et al. SAM domain polymerization links subnuclear clustering of PRC1 to gene silencing. Dev. Cell 26, 565–577 (2013).

Endoh, M. et al. Histone H2A mono-ubiquitination is a crucial step to mediate PRC1-dependent repression of developmental genes to maintain ES cell identity. PLoS Genet. 8, e1002774 (2012).

Kondo, T. et al. Polycomb potentiates Meis2 activation in midbrain by mediating interaction of the promoter with a tissue-specific enhancer. Dev. Cell 28, 94–101 (2014).

Vieux-Rochas, M., Fabre, P.J., Leleu, M., Duboule, D. & Noordermeer, D. Clustering of mammalian Hox genes with other H3K27me3 targets within an active nuclear domain. Proc. Natl. Acad. Sci. USA 112, 4672–4677 (2015).

Hughes, J.R. et al. Analysis of hundreds of cis-regulatory landscapes at high resolution in a single, high-throughput experiment. Nat. Genet. 46, 205–212 (2014).

Dryden, N.H. et al. Unbiased analysis of potential targets of breast cancer susceptibility loci by Capture Hi-C. Genome Res. 24, 1854–1868 (2014).

Lieberman-Aiden, E. et al. Comprehensive mapping of long-range interactions reveals folding principles of the human genome. Science 326, 289–293 (2009).

Mifsud, B. et al. High-resolution capture Hi-C to map long-range promoter contacts in human cells. Nat. Genet. 47, 598–606 (2015).

Schoenfelder, S. et al. The pluripotent regulatory circuitry connecting promoters to their long-range interacting elements. Genome Res. 25, 582–597 (2015).

Azuara, V. et al. Chromatin signatures of pluripotent cell lines. Nat. Cell Biol. 8, 532–538 (2006).

Bernstein, B.E. et al. A bivalent chromatin structure marks key developmental genes in embryonic stem cells. Cell 125, 315–326 (2006).

Tavares, L. et al. RYBP-PRC1 complexes mediate H2A ubiquitylation at polycomb target sites independently of PRC2 and H3K27me3. Cell 148, 664–678 (2012).

Montavon, T. et al. A regulatory archipelago controls Hox genes transcription in digits. Cell 147, 1132–1145 (2011).

Noordermeer, D. et al. Temporal dynamics and developmental memory of 3D chromatin architecture at Hox gene loci. eLife 3, e02557 (2014).

Noordermeer, D. et al. The dynamic architecture of Hox gene clusters. Science 334, 222–225 (2011).

Williamson, I. et al. Anterior-posterior differences in HoxD chromatin topology in limb development. Development 139, 3157–3167 (2012).

de Wit, E. et al. The pluripotent genome in three dimensions is shaped around pluripotency factors. Nature 501, 227–231 (2013).

Creyghton, M.P. et al. Histone H3K27ac separates active from poised enhancers and predicts developmental state. Proc. Natl. Acad. Sci. USA 107, 21931–21936 (2010).

Rada-Iglesias, A. et al. A unique chromatin signature uncovers early developmental enhancers in humans. Nature 470, 279–283 (2011).

Zentner, G.E., Tesar, P.J. & Scacheri, P.C. Epigenetic signatures distinguish multiple classes of enhancers with distinct cellular functions. Genome Res. 21, 1273–1283 (2011).

Endoh, M. et al. Polycomb group proteins Ring1A/B are functionally linked to the core transcriptional regulatory circuitry to maintain ES cell identity. Development 135, 1513–1524 (2008).

Blackledge, N.P. et al. Variant PRC1 complex–dependent H2A ubiquitylation drives PRC2 recruitment and polycomb domain formation. Cell 157, 1445–1459 (2014).

Rosa, S. et al. Physical clustering of FLC alleles during Polycomb-mediated epigenetic silencing in vernalization. Genes Dev. 27, 1845–1850 (2013).

Ghavi-Helm, Y. et al. Enhancer loops appear stable during development and are associated with paused polymerase. Nature 512, 96–100 (2014).

Zhou, X. et al. Exploring long-range genome interactions using the WashU Epigenome Browser. Nat. Methods 10, 375–376 (2013).

Atsuta, T. et al. Production of monoclonal antibodies against mammalian Ring1B proteins. Hybridoma 20, 43–46 (2001).

de Napoles, M. et al. Polycomb group proteins Ring1A/B link ubiquitylation of histone H2A to heritable gene silencing and X inactivation. Dev. Cell 7, 663–676 (2004).

Silva, J. et al. Establishment of histone H3 methylation on the inactive X chromosome requires transient recruitment of Eed-Enx1 polycomb group complexes. Dev. Cell 4, 481–495 (2003).

Dekker, J., Rippe, K., Dekker, M. & Kleckner, N. Capturing chromosome conformation. Science 295, 1306–1311 (2002).

Bolland, D.J., King, M.R., Reik, W., Corcoran, A.E. & Krueger, C. Robust 3D DNA FISH using directly labeled probes. J. Vis. Exp. doi:10.3791/50587 (2013).

Parkhomchuk, D. et al. Transcriptome analysis by strand-specific sequencing of complementary DNA. Nucleic Acids Res. 37, e123 (2009).

Levin, J.Z. et al. Comprehensive comparative analysis of strand-specific RNA sequencing methods. Nat. Methods 7, 709–715 (2010).

Langmead, B., Trapnell, C., Pop, M. & Salzberg, S.L. Ultrafast and memory-efficient alignment of short DNA sequences to the human genome. Genome Biol. 10, R25 (2009).

Zhang, Y. et al. Model-based analysis of ChIP-Seq (MACS). Genome Biol. 9, R137 (2008).

Ross-Innes, C.S. et al. Differential oestrogen receptor binding is associated with clinical outcome in breast cancer. Nature 481, 389–393 (2012).

Trapnell, C., Pachter, L. & Salzberg, S.L. TopHat: discovering splice junctions with RNA-Seq. Bioinformatics 25, 1105–1111 (2009).

Love, M.I., Huber, W. & Anders, S. Moderated estimation of fold changes and dispersion for RNA-Seq data with DESeq2. bioRxiv doi:10.1101/002832 (2014).

Shannon, P. et al. Cytoscape: a software environment for integrated models of biomolecular interaction networks. Genome Res. 13, 2498–2504 (2003).
Acknowledgements
We thank members of the Elderkin, Fraser and Luscombe groups for discussions and J. Houseley and P. Rugg-Gunn for commenting on the manuscript. We thank F. Krueger for help with data processing and formatting. We thank R.J. Klose and N. Brockdorff for sequencing. We thank D. Bolland, J. Martins and A. Corcoran for help and advice with the three-dimensional DNA FISH and MetaCyte data analyses. This work was funded by the Wellcome Trust (WT085102MA) (S.E.), the Biotechnology and Biological Science Research Council, the Medical Research Council UK (P.F.) and the European Union Framework Programme 7 Epigenesys Network of Excellence (N.M.L.).
Ethics declarations
Competing interests
The authors declare no competing financial interests.
Integrated supplementary information
Supplementary information
About this article
Cite this article
Schoenfelder, S., Sugar, R., Dimond, A. et al. Polycomb repressive complex PRC1 spatially constrains the mouse embryonic stem cell genome. Nat Genet 47, 1179–1186 (2015). https://doi.org/10.1038/ng.3393
Received:

Accepted:

Published:

Issue Date:

DOI: https://doi.org/10.1038/ng.3393