Abstract
The interplay of active and repressive histone modifications is assumed to have a key role in the regulation of gene expression. In contrast to this generally accepted view, we show that the transcription of genes temporally regulated during fly and worm development occurs in the absence of canonically active histone modifications. Conversely, strong chromatin marking is related to transcriptional and post-transcriptional stability, an association that we also observe in mammals. Our results support a model in which chromatin marking is associated with the stable production of RNA, whereas unmarked chromatin would permit rapid gene activation and deactivation during development. In the latter case, regulation by transcription factors would have a comparatively more important regulatory role than chromatin marks.
Relevant articles
Open Access articles citing this article.
Jareth C. Wolfe

,

Liudmila A. Mikheeva

…

Nicolae Radu Zabet

Genome Biology Open Access 08 November 2021

Enrique Blanco

,

Mar González-Ramírez

&

Luciano Di Croce

Scientific Reports Open Access 01 October 2021

Jérômine Vigneau

&

Michael Borg

Plant Reproduction Open Access 08 July 2021
Access options
Subscribe to this journal
Receive 12 print issues and online access
$209.00 per year
only $17.42 per issue
Rent or buy this article
Prices vary by article type
from$1.95
to$39.95
Prices may be subject to local taxes which are calculated during checkout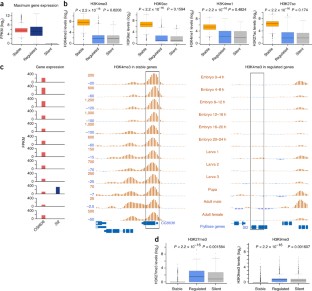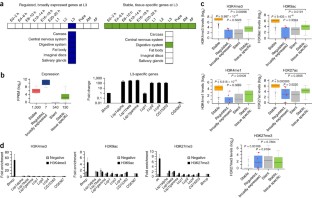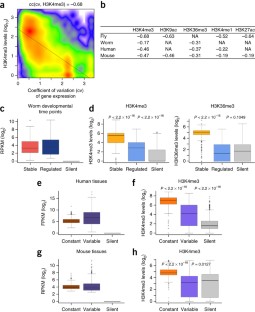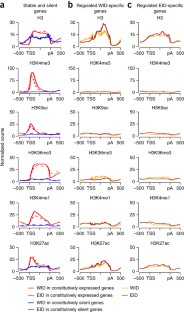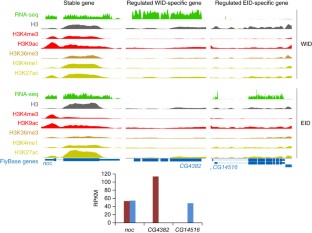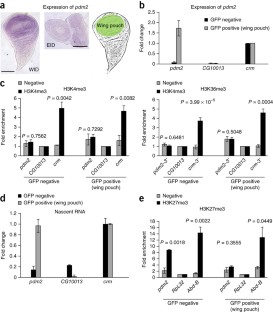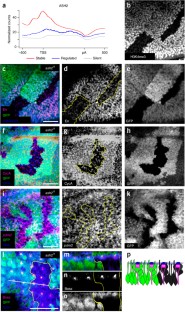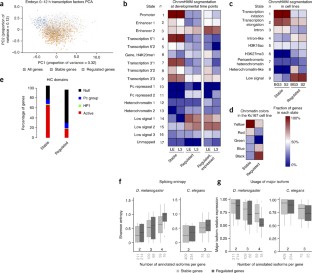 References
Li, B., Carey, M. & Workman, J.L. The role of chromatin during transcription. Cell 128, 707–719 (2007).

Black, J.C., Van Rechem, C. & Whetstine, J.R. Histone lysine methylation dynamics: establishment, regulation, and biological impact. Mol. Cell 48, 491–507 (2012).

Wagner, E.J. & Carpenter, P.B. Understanding the language of Lys36 methylation at histone H3. Nat. Rev. Mol. Cell Biol. 13, 115–126 (2012).

Dong, X. et al. Modeling gene expression using chromatin features in various cellular contexts. Genome Biol. 13, R53 (2012).

Karlić, R., Chung, H.R., Lasserre, J., Vlahovicek, K. & Vingron, M. Histone modification levels are predictive for gene expression. Proc. Natl. Acad. Sci. USA 107, 2926–2931 (2010).

Nègre, N. et al. A cis-regulatory map of the Drosophila genome. Nature 471, 527–531 (2011).

Hödl, M. & Basler, K. Transcription in the absence of histone H3.2 and H3K4 methylation. Curr. Biol. 22, 2253–2257 (2012).

Chen, K. et al. A global change in RNA polymerase II pausing during the Drosophila midblastula transition. eLife 2, e00861 (2013).

Zhang, H., Gao, L., Anandhakumar, J. & Gross, D.S. Uncoupling transcription from covalent histone modification. PLoS Genet. 10, e1004202 (2014).

Graveley, B.R. et al. The developmental transcriptome of Drosophila melanogaster. Nature 471, 473–479 (2011).

Roy, S. et al. Identification of functional elements and regulatory circuits by Drosophila modENCODE. Science 330, 1787–1797 (2010).

Tweedie, S. et al. FlyBase: enhancing Drosophila Gene Ontology annotations. Nucleic Acids Res. 37, D555–D559 (2009).

Spencer, W.C. et al. A spatial and temporal map of C. elegans gene expression. Genome Res. 21, 325–341 (2011).

Kundaje, A. et al. Integrative analysis of 111 reference human epigenomes. Nature 518, 317–330 (2015).

Yue, F. et al. A comparative encyclopedia of DNA elements in the mouse genome. Nature 515, 355–364 (2014).

Barski, A. et al. High-resolution profiling of histone methylations in the human genome. Cell 129, 823–837 (2007).

Pérez-Lluch, S. et al. Genome-wide chromatin occupancy analysis reveals a role for ASH2 in transcriptional pausing. Nucleic Acids Res. 39, 4628–4639 (2011).

Teves, S.S. & Henikoff, S. Transcription-generated torsional stress destabilizes nucleosomes. Nat. Struct. Mol. Biol. 21, 88–94 (2014).

Luque, C.M. & Milan, M. Growth control in the proliferative region of the Drosophila eye-head primordium: the elbow-noc gene complex. Dev. Biol. 301, 327–339 (2007).

Weihe, U., Dorfman, R., Wernet, M.F., Cohen, S.M. & Milan, M. Proximodistal subdivision of Drosophila legs and wings: the elbow–no ocelli gene complex. Development 131, 767–774 (2004).

Ng, M., Diaz-Benjumea, F.J. & Cohen, S.M. Nubbin encodes a POU-domain protein required for proximal-distal patterning in the Drosophila wing. Development 121, 589–599 (1995).

Beltran, S., Angulo, M., Pignatelli, M., Serras, F. & Corominas, M. Functional dissection of the ash2 and ash1 transcriptomes provides insights into the transcriptional basis of wing phenotypes and reveals conserved protein interactions. Genome Biol. 8, R67 (2007).

Beltran, S. et al. Transcriptional network controlled by the trithorax-group gene ash2 in Drosophila melanogaster. Proc. Natl. Acad. Sci. USA 100, 3293–3298 (2003).

Zeitlinger, J. & Stark, A. Developmental gene regulation in the era of genomics. Dev. Biol. 339, 230–239 (2010).

Stark, A. et al. Discovery of functional elements in 12 Drosophila genomes using evolutionary signatures. Nature 450, 219–232 (2007).

Carninci, P. et al. Genome-wide analysis of mammalian promoter architecture and evolution. Nat. Genet. 38, 626–635 (2006).

Gaertner, B. et al. Poised RNA polymerase II changes over developmental time and prepares genes for future expression. Cell Rep. 2, 1670–1683 (2012).

Hoskins, R.A. et al. Genome-wide analysis of promoter architecture in Drosophila melanogaster. Genome Res. 21, 182–192 (2011).

Rach, E.A., Yuan, H.Y., Majoros, W.H., Tomancak, P. & Ohler, U. Motif composition, conservation and condition-specificity of single and alternative transcription start sites in the Drosophila genome. Genome Biol. 10, R73 (2009).

Ni, T. et al. A paired-end sequencing strategy to map the complex landscape of transcription initiation. Nat. Methods 7, 521–527 (2010).

Lenhard, B., Sandelin, A. & Carninci, P. Metazoan promoters: emerging characteristics and insights into transcriptional regulation. Nat. Rev. Genet. 13, 233–245 (2012).

Teves, S.S. & Henikoff, S. The heat shock response: a case study of chromatin dynamics in gene regulation. Biochem. Cell Biol. 91, 42–48 (2013).

Juven-Gershon, T. & Kadonaga, J.T. Regulation of gene expression via the core promoter and the basal transcriptional machinery. Dev. Biol. 339, 225–229 (2010).

Farley, E. & Levine, M. HOT DNAs: a novel class of developmental enhancers. Genes Dev. 26, 873–876 (2012).

Gerstein, M.B. et al. Integrative analysis of the Caenorhabditis elegans genome by the modENCODE project. Science 330, 1775–1787 (2010).

Froldi, F. et al. The transcription factor Nerfin-1 prevents reversion of neurons into neural stem cells. Genes Dev. 29, 129–143 (2015).

Georlette, D. et al. Genomic profiling and expression studies reveal both positive and negative activities for the Drosophila Myb MuvB/dREAM complex in proliferating cells. Genes Dev. 21, 2880–2896 (2007).

Pennington, K.L., Marr, S.K., Chirn, G.W. & Marr, M.T. II. Holo-TFIID controls the magnitude of a transcription burst and fine-tuning of transcription. Proc. Natl. Acad. Sci. USA 110, 7678–7683 (2013).

Piñeyro, D., Blanch, M., Badal, M., Kosoy, A. & Bernues, J. GAGA factor repression of transcription is a rare event but the negative regulation of Trl is conserved in Drosophila species. Biochim. Biophys. Acta 1829, 1056–1065 (2013).

Turkel, N. et al. The BTB–zinc finger transcription factor Abrupt acts as an epithelial oncogene in Drosophila melanogaster through maintaining a progenitor-like cell state. PLoS Genet. 9, e1003627 (2013).

Filion, G.J. et al. Systematic protein location mapping reveals five principal chromatin types in Drosophila cells. Cell 143, 212–224 (2010).

Kharchenko, P.V. et al. Comprehensive analysis of the chromatin landscape in Drosophila melanogaster. Nature 471, 480–485 (2011).

Ho, J.W. et al. Comparative analysis of metazoan chromatin organization. Nature 512, 449–452 (2014).

Sexton, T. et al. Three-dimensional folding and functional organization principles of the Drosophila genome. Cell 148, 458–472 (2012).

Guelen, L. et al. Domain organization of human chromosomes revealed by mapping of nuclear lamina interactions. Nature 453, 948–951 (2008).

van Bemmel, J.G. et al. The insulator protein SU(HW) fine-tunes nuclear lamina interactions of the Drosophila genome. PLoS ONE 5, e15013 (2010).

Schwartz, S., Meshorer, E. & Ast, G. Chromatin organization marks exon-intron structure. Nat. Struct. Mol. Biol. 16, 990–995 (2009).

Tilgner, H. et al. Nucleosome positioning as a determinant of exon recognition. Nat. Struct. Mol. Biol. 16, 996–1001 (2009).

de Almeida, S.F. et al. Splicing enhances recruitment of methyltransferase HYPB/Setd2 and methylation of histone H3 Lys36. Nat. Struct. Mol. Biol. 18, 977–983 (2011).

Luco, R.F. et al. Regulation of alternative splicing by histone modifications. Science 327, 996–1000 (2010).

Sims, R.J. III et al. Recognition of trimethylated histone H3 lysine 4 facilitates the recruitment of transcription postinitiation factors and pre-mRNA splicing. Mol. Cell 28, 665–676 (2007).

Delest, A., Sexton, T. & Cavalli, G. Polycomb: a paradigm for genome organization from one to three dimensions. Curr. Opin. Cell Biol. 24, 405–414 (2012).

Espada, J. & Esteller, M. DNA methylation and the functional organization of the nuclear compartment. Semin. Cell Dev. Biol. 21, 238–246 (2010).

Gan, Q. et al. Dynamic regulation of alternative splicing and chromatin structure in Drosophila gonads revealed by RNA-seq. Cell Res. 20, 763–783 (2010).

Ciabrelli, F. & Cavalli, G. Chromatin-driven behavior of topologically associating domains. J. Mol. Biol. 427, 608–625 (2015).

Karolchik, D. et al. The UCSC Genome Browser Database: 2008 update. Nucleic Acids Res. 36, D773–D779 (2008).

Xu, T. & Rubin, G.M. Analysis of genetic mosaics in developing and adult Drosophila tissues. Development 117, 1223–1237 (1993).

Cagan, R.L., Kramer, H., Hart, A.C. & Zipursky, S.L. The bride of sevenless and sevenless interaction: internalization of a transmembrane ligand. Cell 69, 393–399 (1992).

Derrien, T. et al. Fast computation and applications of genome mappability. PLoS ONE 7, e30377 (2012).

Montgomery, S.B. et al. Transcriptome genetics using second generation sequencing in a Caucasian population. Nature 464, 773–777 (2010).

Blanco, E., Messeguer, X., Smith, T.F. & Guigo, R. Transcription factor map alignment of promoter regions. PLoS Comput. Biol. 2, e49 (2006).

Portales-Casamar, E. et al. JASPAR 2010: the greatly expanded open-access database of transcription factor binding profiles. Nucleic Acids Res. 38, D105–D110 (2010).

Wingender, E. The TRANSFAC project as an example of framework technology that supports the analysis of genomic regulation. Brief. Bioinform. 9, 326–332 (2008).

Siepel, A. et al. Evolutionarily conserved elements in vertebrate, insect, worm, and yeast genomes. Genome Res. 15, 1034–1050 (2005).

Zhu, L.J. et al. FlyFactorSurvey: a database of Drosophila transcription factor binding specificities determined using the bacterial one-hybrid system. Nucleic Acids Res. 39, D111–D117 (2011).

Ernst, J. & Kellis, M. ChromHMM: automating chromatin-state discovery and characterization. Nat. Methods 9, 215–216 (2012).

Cherbas, L. et al. The transcriptional diversity of 25 Drosophila cell lines. Genome Res. 21, 301–314 (2011).
Acknowledgements
We thank D. Gonzalez-Knowles, A. Breschi and M. Melé for help with data analysis, F. Serras, M. Morey and A. Kornblihtt for insightful suggestions and G. Cavalli for discussing data before publication, as well as the anonymous reviewers for their critical input. We thank R. Garrido for administrative assistance. We thank the modENCODE project, the ENCODE Project (human and mouse data) and the Roadmap Epigenomics Mapping Consortium for granting open access of these resources to the scientific community. We also thank the Ultrasequencing Unit of the Centre for Genomic Regulation (CRG, Barcelona, Spain) for sample processing and the Confocal Unit of CCiTUB (Centres Científics i Tecnològics de la Universitat de Barcelona) (Universitat de Barcelona, Barcelona, Spain). This work was performed under the financial support of the Spanish Ministry of Economy and Competitiveness with grants BIO2011-26205 to R.G., CSD2007-00008 and BFU2012-36888 to M.C., and 'Centro de Excelencia Severo Ochoa 2013–2017', SEV-2012-0208 and the European Research Council/European Community's Seventh Framework Programme with grant 294653 RNA-MAPS to R.G. E.B. is supported by the European Commission's Seventh Framework Programme 4DCellFate grant 277899. This research reflects only the authors' views, and the Community is not liable for any use that may be made of the information contained therein. J.C. is supported by grant SFRH/BD/33535/2008 from the Portuguese Foundation of Science and Technology.
Ethics declarations
Competing interests
The authors declare no competing financial interests.
Integrated supplementary information
Supplementary information
About this article
Cite this article
Pérez-Lluch, S., Blanco, E., Tilgner, H. et al. Absence of canonical marks of active chromatin in developmentally regulated genes. Nat Genet 47, 1158–1167 (2015). https://doi.org/10.1038/ng.3381
Received:

Accepted:

Published:

Issue Date:

DOI: https://doi.org/10.1038/ng.3381