Abstract
No major predisposition gene for familial myeloproliferative neoplasms (MPN) has been identified. Here we demonstrate that the autosomal dominant transmission of a 700-kb duplication in four genetically related families predisposes to myeloid malignancies, including MPN, frequently progressing to leukemia. Using induced pluripotent stem cells and primary cells, we demonstrate that overexpression of ATG2B and GSKIP enhances hematopoietic progenitor differentiation, including of megakaryocytes, by increasing progenitor sensitivity to thrombopoietin (TPO). ATG2B and GSKIP cooperate with acquired JAK2, MPL and CALR mutations during MPN development. Thus, the germline duplication may change the fitness of cells harboring signaling pathway mutations and increases the probability of disease development.
Relevant articles
Open Access articles citing this article.
Jian Wen

,

Lijia Wan

&

Xieping Dong

BMC Bioinformatics Open Access 28 July 2022

Yi Chen

,

Yang Zhang

…

Guangsen Zhang

Cell Death & Disease Open Access 07 July 2022

Wonhyoung Seo

,

Prashanta Silwal

…

Eun-Kyeong Jo

Journal of Hematology & Oncology Open Access 07 May 2022
Access options
Subscribe to Journal
Get full journal access for 1 year
$79.00
only $6.58 per issue
All prices are NET prices.
VAT will be added later in the checkout.
Tax calculation will be finalised during checkout.
Buy article
Get time limited or full article access on ReadCube.
$32.00
All prices are NET prices.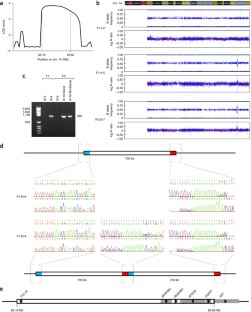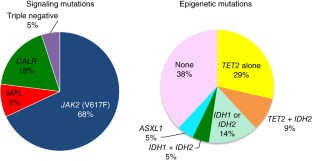 Accession codes
Primary accessions
ArrayExpress
Gene Expression Omnibus
References
Song, W.J. et al. Haploinsufficiency of CBFA2 causes familial thrombocytopenia with propensity to develop acute myelogenous leukaemia. Nat. Genet. 23, 166–175 (1999).

Smith, M.L., Cavenagh, J.D., Lister, T.A. & Fitzgibbon, J. Mutation of CEBPA in familial acute myeloid leukemia. N. Engl. J. Med. 351, 2403–2407 (2004).

Hahn, C.N. et al. Heritable GATA2 mutations associated with familial myelodysplastic syndrome and acute myeloid leukemia. Nat. Genet. 43, 1012–1017 (2011).

Pasquet, M. et al. High frequency of GATA2 mutations in patients with mild chronic neutropenia evolving to MonoMac syndrome, myelodysplasia, and acute myeloid leukemia. Blood 121, 822–829 (2013).

Bluteau, D. et al. Thrombocytopenia-associated mutations in the ANKRD26 regulatory region induce MAPK hyperactivation. J. Clin. Invest. 124, 580–591 (2014).

Bellanné-Chantelot, C. et al. Genetic and clinical implications of the Val617Phe JAK2 mutation in 72 families with myeloproliferative disorders. Blood 108, 346–352 (2006).

Saint-Martin, C. et al. Analysis of the ten-eleven translocation 2 (TET2) gene in familial myeloproliferative neoplasms. Blood 114, 1628–1632 (2009).

Yamada, O. et al. Emergence of a BCR-ABL translocation in a patient with the JAK2V617F mutation: evidence for secondary acquisition of BCR-ABL in the JAK2V617F clone. J. Clin. Oncol. 32, e76–e79 (2014).

Jones, A.V. et al. JAK2 haplotype is a major risk factor for the development of myeloproliferative neoplasms. Nat. Genet. 41, 446–449 (2009).

Kilpivaara, O. et al. A germline JAK2 SNP is associated with predisposition to the development of JAK2V617F-positive myeloproliferative neoplasms. Nat. Genet. 41, 455–459 (2009).

Olcaydu, D. et al. A common JAK2 haplotype confers susceptibility to myeloproliferative neoplasms. Nat. Genet. 41, 450–454 (2009).

Jäger, R. et al. Common germline variation at the TERT locus contributes to familial clustering of myeloproliferative neoplasms. Am. J. Hematol. 89, 1107–1110 (2014).

Oddsson, A. et al. The germline sequence variant rs2736100_C in TERT associates with myeloproliferative neoplasms. Leukemia 28, 1371–1374 (2014).

Takahashi, K. et al. Induction of pluripotent stem cells from adult human fibroblasts by defined factors. Cell 131, 861–872 (2007).

Saliba, J. et al. Heterozygous and homozygous JAK2V617F states modeled by induced pluripotent stem cells from myeloproliferative neoplasm patients. PLoS ONE 8, e74257 (2013).

Takayama, N. et al. Generation of functional platelets from human embryonic stem cells in vitro via ES-sacs, VEGF-promoted structures that concentrate hematopoietic progenitors. Blood 111, 5298–5306 (2008).

Klimchenko, O. et al. A common bipotent progenitor generates the erythroid and megakaryocyte lineages in embryonic stem cell–derived primitive hematopoiesis. Blood 114, 1506–1517 (2009).

Vodyanik, M.A., Bork, J.A., Thomson, J.A. & Slukvin, I.I. Human embryonic stem cell–derived CD34+ cells: efficient production in the coculture with OP9 stromal cells and analysis of lymphohematopoietic potential. Blood 105, 617–626 (2005).

Prchal, J.F. & Axelrad, A.A. Letter: bone-marrow responses in polycythemia vera. N. Engl. J. Med. 290, 1382 (1974).

James, C. et al. A unique clonal JAK2 mutation leading to constitutive signalling causes polycythaemia vera. Nature 434, 1144–1148 (2005).

Jones, A.V. & Cross, N.C. Inherited predisposition to myeloproliferative neoplasms. Ther. Adv. Hematol. 4, 237–253 (2013).

Harutyunyan, A.S. & Kralovics, R. Role of germline genetic factors in MPN pathogenesis. Hematol. Oncol. Clin. North Am. 26, 1037–1051 (2012).

Krepischi, A.C., Pearson, P.L. & Rosenberg, C. Germline copy number variations and cancer predisposition. Future Oncol. 8, 441–450 (2012).

Kuiper, R.P., Ligtenberg, M.J., Hoogerbrugge, N. & Geurts van Kessel, A. Germline copy number variation and cancer risk. Curr. Opin. Genet. Dev. 20, 282–289 (2010).

Klampfl, T. et al. Genome integrity of myeloproliferative neoplasms in chronic phase and during disease progression. Blood 118, 167–176 (2011).

Rice, K.L. et al. Analysis of genomic aberrations and gene expression profiling identifies novel lesions and pathways in myeloproliferative neoplasms. Blood Cancer J. 1, e40 (2011).

Rumi, E. et al. Identification of genomic aberrations associated with disease transformation by means of high-resolution SNP array analysis in patients with myeloproliferative neoplasm. Am. J. Hematol. 86, 974–979 (2011).

Cui, W. et al. Trisomy 14 as a sole chromosome abnormality is associated with older age, a heterogenous group of myeloid neoplasms with dysplasia, and a wide spectrum of disease progression. J. Biomed. Biotechnol. 2010, 365318 (2010).

Mancini, M. et al. Trisomy 14 in hematologic diseases. Another non-random abnormality within myeloid proliferative disorders. Cancer Genet. Cytogenet. 66, 39–42 (1993).

Mertens, F. et al. Trisomy 14 in atypical chronic myeloid leukemia. Leukemia 4, 117–120 (1990).

Toze, C.L., Barnett, M.J., Naiman, S.C. & Horsman, D.E. Trisomy 14 is a non-random karyotypic abnormality associated with myeloid malignancies. Br. J. Haematol. 98, 177–185 (1997).

Bellanne-Chantelot, C., Jego, P., Lionne-Huyghe, P., Tulliez, M. & Najman, A. The JAK2V617F mutation may be present several years before the occurrence of overt myeloproliferative disorders. Leukemia 22, 450–451 (2008).

Rumi, E. et al. CALR exon 9 mutations are somatically acquired events in familial cases of essential thrombocythemia or primary myelofibrosis. Blood 123, 2416–2419 (2014).

Cabagnols, X., Cayuela, J.M. & Vainchenker, W. A CALR mutation preceding BCR-ABL1 in an atypical myeloproliferative neoplasm. N. Engl. J. Med. 372, 688–690 (2015).

Delhommeau, F. et al. Mutation in TET2 in myeloid cancers. N. Engl. J. Med. 360, 2289–2301 (2009).

Abdel-Wahab, O. et al. Genetic analysis of transforming events that convert chronic myeloproliferative neoplasms to leukemias. Cancer Res. 70, 447–452 (2010).

Lundberg, P. et al. Clonal evolution and clinical correlates of somatic mutations in myeloproliferative neoplasms. Blood 123, 2220–2228 (2014).

Yoshida, K. et al. The landscape of somatic mutations in Down syndrome–related myeloid disorders. Nat. Genet. 45, 1293–1299 (2013).

Chou, S.T. et al. Trisomy 21–associated defects in human primitive hematopoiesis revealed through induced pluripotent stem cells. Proc. Natl. Acad. Sci. USA 109, 17573–17578 (2012).

Maclean, G.A. et al. Altered hematopoiesis in trisomy 21 as revealed through in vitro differentiation of isogenic human pluripotent cells. Proc. Natl. Acad. Sci. USA 109, 17567–17572 (2012).

Gore, A. et al. Somatic coding mutations in human induced pluripotent stem cells. Nature 471, 63–67 (2011).

Genovese, G. et al. Clonal hematopoiesis and blood-cancer risk inferred from blood DNA sequence. N. Engl. J. Med. 371, 2477–2487 (2014).

Jaiswal, S. et al. Age-related clonal hematopoiesis associated with adverse outcomes. N. Engl. J. Med. 371, 2488–2498 (2014).

McKerrell, T. et al. Leukemia-associated somatic mutations drive distinct patterns of age-related clonal hemopoiesis. Cell Rep. 10, 1239–1245 (2015).

Xie, M. et al. Age-related mutations associated with clonal hematopoietic expansion and malignancies. Nat. Med. 20, 1472–1478 (2014).

Lundberg, P. et al. Myeloproliferative neoplasms can be initiated from a single hematopoietic stem cell expressing JAK2-V617F. J. Exp. Med. 211, 2213–2230 (2014).

Kishi-Itakura, C., Koyama-Honda, I., Itakura, E. & Mizushima, N. Ultrastructural analysis of autophagosome organization using mammalian autophagy-deficient cells. J. Cell Sci. 127, 4089–4102 (2014).

Kang, M.R. et al. Frameshift mutations of autophagy-related genes ATG2B, ATG5, ATG9B and ATG12 in gastric and colorectal cancers with microsatellite instability. J. Pathol. 217, 702–706 (2009).

Mortensen, M., Watson, A.S. & Simon, A.K. Lack of autophagy in the hematopoietic system leads to loss of hematopoietic stem cell function and dysregulated myeloid proliferation. Autophagy 7, 1069–1070 (2011).

Warr, M.R. et al. FOXO3A directs a protective autophagy program in haematopoietic stem cells. Nature 494, 323–327 (2013).

Chou, H.Y. et al. GSKIP is homologous to the Axin GSK3 (interaction domain and functions as a negative regulator of GSK3β. Biochemistry 45, 11379–11389 (2006).

Lin, C.C. et al. GSKIP, an inhibitor of GSK3β, mediates the N-cadherin/β-catenin pool in the differentiation of SH-SY5Y cells. J. Cell. Biochem. 108, 1325–1336 (2009).

Li, D., August, S. & Woulfe, D.S. GSK3β is a negative regulator of platelet function and thrombosis. Blood 111, 3522–3530 (2008).

Soda, M., Willert, K., Kaushansky, K. & Geddis, A.E. Inhibition of GSK-3β promotes survival and proliferation of megakaryocytic cells through a β-catenin–independent pathway. Cell. Signal. 20, 2317–2323 (2008).

Abrahamsson, A.E. et al. Glycogen synthase kinase 3β missplicing contributes to leukemia stem cell generation. Proc. Natl. Acad. Sci. USA 106, 3925–3929 (2009).

Wang, Y. et al. The Wnt/β-catenin pathway is required for the development of leukemia stem cells in AML. Science 327, 1650–1653 (2010).

Tefferi, A. et al. Proposals and rationale for revision of the World Health Organization diagnostic criteria for polycythemia vera, essential thrombocythemia, and primary myelofibrosis: recommendations from an ad hoc international expert panel. Blood 110, 1092–1097 (2007).

Malak, S., Labopin, M., Saint-Martin, C., Bellanne-Chantelot, C. & Najman, A. Long term follow up of 93 families with myeloproliferative neoplasms: life expectancy and implications of JAK2V617F in the occurrence of complications. Blood Cells Mol. Dis. 49, 170–176 (2012).

Mali, P. et al. Improved efficiency and pace of generating induced pluripotent stem cells from human adult and fetal fibroblasts. Stem Cells 26, 1998–2005 (2008).

Debili, N. et al. Characterization of a bipotent erythro-megakaryocytic progenitor in human bone marrow. Blood 88, 1284–1296 (1996).

Livak, K.J. & Schmittgen, T.D. Analysis of relative gene expression data using real-time quantitative PCR and the 2−ΔΔCT method. Methods 25, 402–408 (2001).

Plo, I. et al. JAK2 stimulates homologous recombination and genetic instability: potential implication in the heterogeneity of myeloproliferative disorders. Blood 112, 1402–1412 (2008).
Acknowledgements
We greatly thank all the patients and family members involved in the study. We also thank O. Bawa and P. Opolon for the histopathological analysis of teratomas. We thank B. Benyahia for cytogenetic analysis. We thank M. Vestris for recruitment of patients. We greatly thank B. Job and the genomic platform for transcriptome and CGH analysis and also the iPSC platform of Institut Gustave Roussy. We thank S. Saker and T. Larmonier from the Généthon DNA and Cell Bank (Evry, France) for the establishment of B-lymphoblastoid cells from 'NMP' patients. We thank the cytometry platform of Institut Gustave Roussy (P. Rameau and Y. Lecluse). We thank C. Marzac for clinical data. We are grateful to S. Constantinescu and J. Feunteun for critical reading of the manuscript. We are also very grateful to E. Schwartz for proofreading the manuscript.
This work was supported by grants from Agence Nationale de la Recherche (ANR) (Blanc Megon 2009, Thrombocytosis 2011; ANR-13-JVSV1-GERMPN-01), Association pour la Recherche contre le Cancer (ARC) (Fondation ARC Libre 2012-SL220120605292), Groupe Information Santé (GIS)–Institute for Rare Diseases for High-Throughput Sequencing (AO9102LS), Association de Recherche sur la Moelle Osseuse (ARMO), regional Programme Hospitalier de Recherche Clinique (PHRC) AOR07014, Association Laurette Fugain and INCa-DGOS-INSERM 6043. Labex GR-Ex (I.P. and W.V.) is funded by the program 'Investissements d'Avenir'. G. Lenglet was supported by a postdoctoral fellowship from Ile-de-France Cancéropôle and ANR Molecular Medicine in Oncology (MMO) (funded by the program 'Investissements d'Avenir'). F.P. was supported by ARC. L.S. and J.S. were supported by doctoral grants from the Ile-de-France region (Cancéropôle and DIM Cellule Souche) and from Fondation pour la Recherche Médicale (FRM). C.M. was supported by ANR-13-JVSV1-GERMPN-01.
Ethics declarations
Competing interests
The authors declare no competing financial interests.
Integrated supplementary information
Supplementary information
About this article
Cite this article
Saliba, J., Saint-Martin, C., Di Stefano, A. et al. Germline duplication of ATG2B and GSKIP predisposes to familial myeloid malignancies. Nat Genet 47, 1131–1140 (2015). https://doi.org/10.1038/ng.3380
Received:

Accepted:

Published:

Issue Date:

DOI: https://doi.org/10.1038/ng.3380