Abstract
Elucidation of mutagenic processes shaping cancer genomes is a fundamental problem whose solution promises insights into new treatment, diagnostic and prevention strategies1. Single-strand DNA–specific APOBEC cytidine deaminase(s) are major source(s) of mutation in several cancer types2,3,4. Previous indirect evidence implicated APOBEC3B as the more likely major mutator deaminase, whereas the role of APOBEC3A is not established5,6. Using yeast models enabling the controlled generation of long single-strand genomic DNA substrates7, we show that the mutation signatures of APOBEC3A and APOBEC3B are statistically distinguishable. We then apply three complementary approaches to identify cancer samples with mutation signatures resembling either APOBEC. Strikingly, APOBEC3A-like samples have over tenfold more APOBEC-signature mutations than APOBEC3B-like samples. We propose that APOBEC3A-mediated mutagenesis is much more frequent because APOBEC3A itself is highly proficient at generating DNA breaks8,9,10, whose repair can trigger the formation of single-strand hypermutation substrates.
Your institute does not have access to this article
Relevant articles
Open Access articles citing this article.
Bettina Trimmel

,

Andre Oszwald

…

Melanie R. Hassler

Scientific Reports Open Access 28 July 2022

Mia Petljak

,

Alexandra Dananberg

…

John Maciejowski

Nature Open Access 20 July 2022

Yunzhen Qian

,

Yitao Gong

…

Chen Liu

Oncogenesis Open Access 24 June 2022
Access options
Subscribe to Journal
Get full journal access for 1 year
$59.00
only $4.92 per issue
All prices are NET prices.
VAT will be added later in the checkout.
Tax calculation will be finalised during checkout.
Buy article
Get time limited or full article access on ReadCube.
$32.00
All prices are NET prices.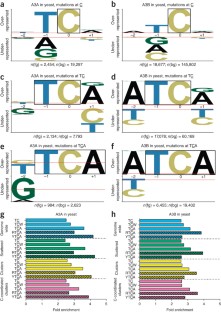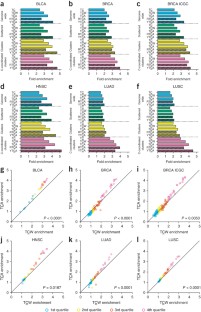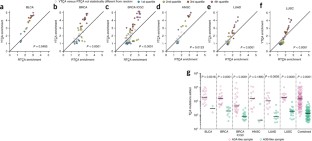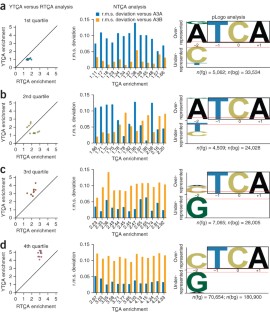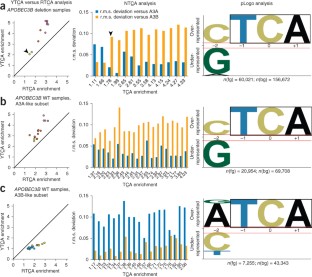 References
Stratton, M.R. Exploring the genomes of cancer cells: progress and promise. Science 331, 1553–1558 (2011).

Alexandrov, L.B. et al. Signatures of mutational processes in human cancer. Nature 500, 415–421 (2013).

Burns, M.B., Temiz, N.A. & Harris, R.S. Evidence for APOBEC3B mutagenesis in multiple human cancers. Nat. Genet. 45, 977–983 (2013).

Roberts, S.A. et al. An APOBEC cytidine deaminase mutagenesis pattern is widespread in human cancers. Nat. Genet. 45, 970–976 (2013).

Burns, M.B., Leonard, B. & Harris, R.S. APOBEC3B: pathological consequences of an innate immune DNA mutator. Biomed. J. 38, 102–110 (2015).

Harris, R.S. Molecular mechanism and clinical impact of APOBEC3B-catalyzed mutagenesis in breast cancer. Breast Cancer Res. 17, 8 (2015).

Chan, K. et al. Base damage within single-strand DNA underlies in vivo hypermutability induced by a ubiquitous environmental agent. PLoS Genet. 8, e1003149 (2012).

Landry, S., Narvaiza, I., Linfesty, D.C. & Weitzman, M.D. APOBEC3A can activate the DNA damage response and cause cellcycle arrest. EMBO Rep. 12, 444–450 (2011).

Burns, M.B. et al. APOBEC3B is an enzymatic source of mutation in breast cancer. Nature 494, 366–370 (2013).

Mussil, B. et al. Human APOBEC3A isoforms translocate to the nucleus and induce DNA double strand breaks leading to cell stress and death. PLoS ONE 8, e73641 (2013).

Nik-Zainal, S. et al. Mutational processes molding the genomes of 21 breast cancers. Cell 149, 979–993 (2012).

Roberts, S.A. et al. Clustered mutations in yeast and in human cancers can arise from damaged long single-strand DNA regions. Mol. Cell 46, 424–435 (2012).

Bishop, K.N. et al. Cytidine deamination of retroviral DNA by diverse APOBEC proteins. Curr. Biol. 14, 1392–1396 (2004).

Dang, Y., Wang, X., Esselman, W.J. & Zheng, Y.-H. Identification of APOBEC3DE as another antiretroviral factor from the human APOBEC family. J. Virol. 80, 10522–10533 (2006).

Harris, R.S., Petersen-Mahrt, S.K. & Neuberger, M.S. RNA editing enzyme APOBEC1 and some of its homologs can act as DNA mutators. Mol. Cell 10, 1247–1253 (2002).

Henry, M. et al. Genetic editing of HBV DNA by monodomain human APOBEC3 cytidine deaminases and the recombinant nature of APOBEC3G. PLoS ONE 4, e4277 (2009).

Yu, Q. et al. APOBEC3B and APOBEC3C are potent inhibitors of simian immunodeficiency virus replication. J. Biol. Chem. 279, 53379–53386 (2004).

Cescon, D.W., Haibe-Kains, B. & Mak, T.W. APOBEC3B expression in breast cancer reflects cellular proliferation, while a deletion polymorphism is associated with immune activation. Proc. Natl. Acad. Sci. USA 112, 2841–2846 (2015).

Waters, C.E., Saldivar, J.C., Amin, Z.A., Schrock, M.S. & Huebner, K. FHIT loss–induced DNA damage creates optimal APOBEC substrates: insights into APOBEC-mediated mutagenesis. Oncotarget 6, 3409–3419 (2015)

Sasaki, H. et al. APOBEC3B gene overexpression in non-small-cell lung cancer. Biomed. Rep. 2, 392–395 (2014).

Leonard, B. et al. APOBEC3B upregulation and genomic mutation patterns in Serous ovarian carcinoma. Cancer Res. 73, 7222–7231 (2013).

de Bruin, E.C. et al. Spatial and temporal diversity in genomic instability processes defines lung cancer evolution. Science 346, 251–256 (2014).

Caval, V., Suspène, R., Vartanian, J.-P. & Wain-Hobson, S. Orthologous mammalian APOBEC3A cytidine deaminases hypermutate nuclear DNA. Mol. Biol. Evol. 31, 330–340 (2014).

Shee, C. et al. Engineered proteins detect spontaneous DNA breakage in human and bacterial cells. eLife 2, e01222 (2013).

Nik-Zainal, S. et al. Association of a germline copy number polymorphism of APOBEC3A and APOBEC3B with burden of putative APOBEC-dependent mutations in breast cancer. Nat. Genet. 46, 487–491 (2014).

Caval, V., Suspène, R., Shapira, M., Vartanian, J.-P. & Wain-Hobson, S. A prevalent cancer susceptibility APOBEC3A hybrid allele bearing APOBEC3B 3′ UTR enhances chromosomal DNA damage. Nat. Commun. 5, 5129 (2014).

Roberts, S.A. & Gordenin, D.A. Hypermutation in human cancer genomes: footprints and mechanisms. Nat. Rev. Cancer 14, 786–800 (2014).

Poon, S.L., McPherson, J.R., Tan, P., Teh, B.T. & Rozen, S.G. Mutation signatures of carcinogen exposure: genome-wide detection and new opportunities for cancer prevention. Genome Med. 6, 24 (2014).

Degtyareva, N.P. et al. Oxidative stress–induced mutagenesis in single-strand DNA occurs primarily at cytosines and is DNA polymerase ζ–dependent only for adenines and guanines. Nucleic Acids Res. 41, 8995–9005 (2013).

O'Shea, J.P. et al. pLogo: a probabilistic approach to visualizing sequence motifs. Nat. Methods 10, 1211–1212 (2013).

Taylor, B.J. et al. DNA deaminases induce break-associated mutation showers with implication of APOBEC3B and 3A in breast cancer kataegis. eLife 2, e00534 (2013).

Fredriksson, N.J., Ny, L., Nilsson, J.A. & Larsson, E. Systematic analysis of noncoding somatic mutations and gene expression alterations across 14 tumor types. Nat. Genet. 46, 1258–1263 (2014).

Walker, B.A. et al. APOBEC family mutational signatures are associated with poor prognosis translocations in multiple myeloma. Nat. Commun. 6, 6997 (2015).

Long, J. et al. A common deletion in the APOBEC3 genes and breast cancer risk. J. Natl. Cancer Inst. 105, 573–579 (2013).

Xuan, D. et al. APOBEC3 deletion polymorphism is associated with breast cancer risk among women of European ancestry. Carcinogenesis 34, 2240–2243 (2013).

Chan, K., Resnick, M.A. & Gordenin, D.A. The choice of nucleotide inserted opposite abasic sites formed within chromosomal DNA reveals the polymerase activities participating in translesion DNA synthesis. DNA Repair (Amst.) 12, 878–889 (2013).

Drier, Y. et al. Somatic rearrangements across cancer reveal classes of samples with distinct patterns of DNA breakage and rearrangement-induced hypermutability. Genome Res. 23, 228–235 (2013).

Mimitou, E.P. & Symington, L.S. DNA end resection—unraveling the tail. DNA Repair (Amst.) 10, 344–348 (2011).

Sakofsky, C.J. et al. Break-induced replication is a source of mutation clusters underlying kataegis. Cell Rep. 7, 1640–1648 (2014).

The Cancer Genome Atlas Research Network. Comprehensive molecular characterization of urothelial bladder carcinoma. Nature 507, 315–322 (2014).

Davis, C.F. et al. The somatic genomic landscape of chromophobe renal cell carcinoma. Cancer Cell 26, 319–330 (2014).

Broad Institute TCGA Genome Data Analysis Center. Analysis of Mutagenesis by APOBEC Cytidine Deaminases (P-MACD) (Broad Institute of MIT and Harvard, 2014).

Rooney, M.S., Shukla, S.A., Wu, C.J., Getz, G. & Hacohen, N. Molecular and genetic properties of tumors associated with local immune cytolytic activity. Cell 160, 48–61 (2015).

Snyder, A. et al. Genetic basis for clinical response to CTLA-4 blockade in melanoma. N. Engl. J. Med. 371, 2189–2199 (2014).

Casey, R.G. et al. Diagnosis and management of urothelial carcinoma in situ of the lower urinary tract: a systematic review. Eur. Urol. 67, 876–888 (2015).

Powles, T. et al. MPDL3280A (anti–PD-L1) treatment leads to clinical activity in metastatic bladder cancer. Nature 515, 558–562 (2014).

Bellí, G., Garí, E., Piedrafita, L., Aldea, M. & Herrero, E. An activator/repressor dual system allows tight tetracycline-regulated gene expression in budding yeast. Nucleic Acids Res. 26, 942–947 (1998).

Storici, F. & Resnick, M.A. in Methods Enzymology Vol. 409 (eds. Judith, L.C. & Paul, M.) 329–345 (Academic Press, 2006).

Morrison, A., Bell, J.B., Kunkel, T.A. & Sugino, A. Eukaryotic DNA polymerase amino acid sequence required for 3′→5′ exonuclease activity. Proc. Natl. Acad. Sci. USA 88, 9473–9477 (1991).

Sakamoto, A.N. et al. Mutator alleles of yeast DNA polymerase ζ. DNA Repair (Amst.) 6, 1829–1838 (2007).

Matsuda, T., Bebenek, K., Masutani, C., Hanaoka, F. & Kunkel, T.A. Low fidelity DNA synthesis by human DNA polymerase-ɛ. Nature 404, 1011–1013 (2000).

Haldane, J.B.S. On a method of estimating frequencies. Biometrika 33, 222–225 (1945).

Lawrence, M.S. et al. Mutational heterogeneity in cancer and the search for new cancer-associated genes. Nature 499, 214–218 (2013).

Benjamini, Y. & Hochberg, Y. Controlling the false discovery rate: a practical and powerful approach to multiple testing. J. R. Stat. Soc. B 57, 289–300 (1995).

Maiorov, V.N. & Crippen, G.M. Significance of root-mean-square deviation in comparing three-dimensional structures of globular proteins. J. Mol. Biol. 235, 625–634 (1994).
Acknowledgements
We thank T.A. Kunkel, S.A. Lujan and D.V. Zaykin for critical reading of the manuscript. This work was supported by US National Institutes of Health Intramural Research Program Project Z1AES103266 to D.A.G. and US National Institutes of Health grants U24CA143845 to G.G., R01GM052319 to P.A.M., 1P01CA120964 to D.J.K., R00ES022633 to S.A.R. and K99ES024424 to K.C.
Ethics declarations
Competing interests
The authors declare no competing financial interests.
Integrated supplementary information
Supplementary information
About this article
Cite this article
Chan, K., Roberts, S., Klimczak, L. et al. An APOBEC3A hypermutation signature is distinguishable from the signature of background mutagenesis by APOBEC3B in human cancers. Nat Genet 47, 1067–1072 (2015). https://doi.org/10.1038/ng.3378
Received:

Accepted:

Published:

Issue Date:

DOI: https://doi.org/10.1038/ng.3378