Abstract
Expression of the intermediate filament protein keratin 17 (K17) is robustly upregulated in inflammatory skin diseases and in many tumors originating in stratified and pseudostratified epithelia1,2,3. We report that autoimmune regulator (Aire), a transcriptional regulator, is inducibly expressed in human and mouse tumor keratinocytes in a K17-dependent manner and is required for timely onset of Gli2-induced skin tumorigenesis in mice. The induction of Aire mRNA in keratinocytes depends on a functional interaction between K17 and the heterogeneous nuclear ribonucleoprotein hnRNP K4. Further, K17 colocalizes with Aire protein in the nucleus of tumor-prone keratinocytes, and each factor is bound to a specific promoter region featuring an NF-κB consensus sequence in a relevant subset of K17- and Aire-dependent proinflammatory genes. These findings provide radically new insight into keratin intermediate filament and Aire function, along with a molecular basis for the K17-dependent amplification of inflammatory and immune responses in diseased epithelia.
This is a preview of subscription content
Access options
Subscribe to Journal
Get full journal access for 1 year
$59.00
only $4.92 per issue
All prices are NET prices.
VAT will be added later in the checkout.
Tax calculation will be finalised during checkout.
Buy article
Get time limited or full article access on ReadCube.
$32.00
All prices are NET prices.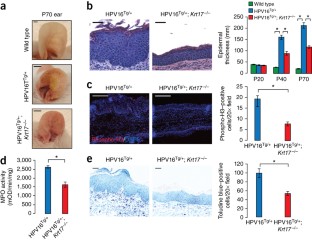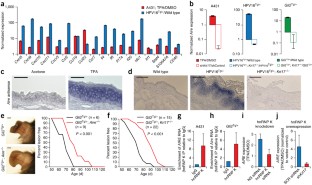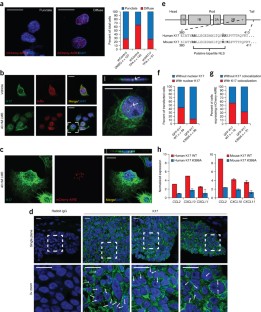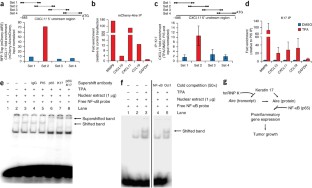 References
Moll, R., Franke, W.W., Schiller, D.L., Geiger, B. & Krepler, R. The catalog of human cytokeratins: patterns of expression in normal epithelia, tumors and cultured cells. Cell 31, 11–24 (1982).

Karantza, V. Keratins in health and cancer: more than mere epithelial cell markers. Oncogene 30, 127–138 (2011).

Jin, L. & Wang, G. Keratin 17: a critical player in the pathogenesis of psoriasis. Med. Res. Rev. 34, 438–454 (2014).

Chung, B.M. et al. Regulation of C-X-C chemokine gene expression by keratin 17 and hnRNP K in skin tumor keratinocytes. J. Cell Biol. 208, 613–627 (2015).

Depianto, D., Kerns, M.L., Dlugosz, A.A. & Coulombe, P.A. Keratin 17 promotes epithelial proliferation and tumor growth by polarizing the immune response in skin. Nat. Genet. 42, 910–914 (2010).

Sankar, S. et al. A novel role for keratin 17 in coordinating oncogenic transformation and cellular adhesion in Ewing sarcoma. Mol. Cell. Biol. 33, 4448–4460 (2013).

Kim, S., Wong, P. & Coulombe, P.A. A keratin cytoskeletal protein regulates protein synthesis and epithelial cell growth. Nature 441, 362–365 (2006).

Chen, R. et al. Rac1 regulates skin tumors by regulation of keratin 17 through recruitment and interaction with CD11b+Gr1+ cells. Oncotarget 5, 4406–4417 (2014).

Arbeit, J.M., Munger, K., Howley, P.M. & Hanahan, D. Progressive squamous epithelial neoplasia in K14–human papillomavirus type 16 transgenic mice. J. Virol. 68, 4358–4368 (1994).

McGowan, K.M. & Coulombe, P.A. Onset of keratin 17 expression coincides with the definition of major epithelial lineages during skin development. J. Cell Biol. 143, 469–486 (1998).

Woodworth, C.D. et al. Strain-dependent differences in malignant conversion of mouse skin tumors is an inherent property of the epidermal keratinocyte. Carcinogenesis 25, 1771–1778 (2004).

Mueller, M.M. Inflammation in epithelial skin tumours: old stories and new ideas. Eur. J. Cancer 42, 735–744 (2006).

Lee, C.H., Kim, M.S., Chung, B.M., Leahy, D.J. & Coulombe, P.A. Structural basis for heteromeric assembly and perinuclear organization of keratin filaments. Nat. Struct. Mol. Biol. 19, 707–715 (2012).

Tong, X. & Coulombe, P.A. A novel mouse type I intermediate filament gene, keratin 17n (K17n), exhibits preferred expression in nail tissue. J. Invest. Dermatol. 122, 965–970 (2004).

Laan, M. & Peterson, P. The many faces of Aire in central tolerance. Front. Immunol. 4, 326 (2013).

Mathis, D. & Benoist, C. A decade of AIRE. Nat. Rev. Immunol. 7, 645–650 (2007).

Metzger, T.C. & Anderson, M.S. Control of central and peripheral tolerance by Aire. Immunol. Rev. 241, 89–103 (2011).

Kisand, K. & Peterson, P. Autoimmune polyendocrinopathy candidiasis ectodermal dystrophy: known and novel aspects of the syndrome. Ann. NY Acad. Sci. 1246, 77–91 (2011).

Sillanpää, N. et al. Autoimmune regulator induced changes in the gene expression profile of human monocyte-dendritic cell-lineage. Mol. Immunol. 41, 1185–1198 (2004).

Giraud, M. et al. Aire unleashes stalled RNA polymerase to induce ectopic gene expression in thymic epithelial cells. Proc. Natl. Acad. Sci. USA 109, 535–540 (2012).

Laan, M. et al. Autoimmune regulator deficiency results in decreased expression of CCR4 and CCR7 ligands and in delayed migration of CD4+ thymocytes. J. Immunol. 183, 7682–7691 (2009).

Uhlén, M. et al. Proteomics: tissue-based map of the human proteome. Science 347, 1260419 (2015).

Kumar, V. et al. The autoimmune regulator (AIRE), which is defective in autoimmune polyendocrinopathy-candidiasis-ectodermal dystrophy patients, is expressed in human epidermal and follicular keratinocytes and associates with the intermediate filament protein cytokeratin 17. Am. J. Pathol. 178, 983–988 (2011).

Anderson, M.S. et al. Projection of an immunological self shadow within the thymus by the Aire protein. Science 298, 1395–1401 (2002).

Barboro, P., Ferrari, N. & Balbi, C. Emerging roles of heterogeneous nuclear ribonucleoprotein K (hnRNP K) in cancer progression. Cancer Lett. 352, 152–159 (2014).

Pitkänen, J., Vähämurto, P., Krohn, K. & Peterson, P. Subcellular localization of the autoimmune regulator protein. Characterization of nuclear targeting and transcriptional activation domain. J. Biol. Chem. 276, 19597–19602 (2001).

Akiyoshi, H. et al. Subcellular expression of autoimmune regulator is organized in a spatiotemporal manner. J. Biol. Chem. 279, 33984–33991 (2004).

Lallemand-Breitenbach, V. & de The, H. PML nuclear bodies. Cold Spring Harb. Perspect. Biol. 2, a000661 (2010).

Gaetani, M. et al. AIRE-PHD fingers are structural hubs to maintain the integrity of chromatin-associated interactome. Nucleic Acids Res. 40, 11756–11768 (2012).

Liao, J., Lowthert, L.A., Ghori, N. & Omary, M.B. The 70-kDa heat shock proteins associate with glandular intermediate filaments in an ATP-dependent manner. J. Biol. Chem. 270, 915–922 (1995).

Kumeta, M., Hirai, Y., Yoshimura, S.H., Horigome, T. & Takeyasu, K. Antibody-based analysis reveals "filamentous vs. non-filamentous" and "cytoplasmic vs. nuclear" crosstalk of cytoskeletal proteins. Exp. Cell Res. 319, 3226–3237 (2013).

Kosugi, S., Hasebe, M., Tomita, M. & Yanagawa, H. Systematic identification of cell cycle–dependent yeast nucleocytoplasmic shuttling proteins by prediction of composite motifs. Proc. Natl. Acad. Sci. USA 106, 10171–10176 (2009).

Abramson, J., Giraud, M., Benoist, C. & Mathis, D. Aire's partners in the molecular control of immunological tolerance. Cell 140, 123–135 (2010).

Lenardo, M.J. & Baltimore, D. NF-κB: a pleiotropic mediator of inducible and tissue-specific gene control. Cell 58, 227–229 (1989).

Pasparakis, M. Role of NF-κB in epithelial biology. Immunol. Rev. 246, 346–358 (2012).

McGowan, K.M. et al. Keratin 17 null mice exhibit age- and strain-dependent alopecia. Genes Dev. 16, 1412–1422 (2002).

Reichelt, J. & Haase, I. Establishment of spontaneously immortalized keratinocyte lines from wild-type and mutant mice. Methods Mol. Biol. 585, 59–69 (2010).

Ran, F.A. et al. Genome engineering using the CRISPR-Cas9 system. Nat. Protoc. 8, 2281–2308 (2013).

Lessard, J.C. et al. Keratin 16 regulates innate immunity in response to epidermal barrier breach. Proc. Natl. Acad. Sci. USA 110, 19537–19542 (2013).

Adamson, K.A., Pearce, S.H., Lamb, J.R., Seckl, J.R. & Howie, S.E. A comparative study of mRNA and protein expression of the autoimmune regulator gene (Aire) in embryonic and adult murine tissues. J. Pathol. 202, 180–187 (2004).

Wan, F. et al. Ribosomal protein S3: a KH domain subunit in NF-κB complexes that mediates selective gene regulation. Cell 131, 927–939 (2007).

Fu, K. et al. Sam68 modulates the promoter specificity of NF-κB and mediates expression of CD25 in activated T cells. Nat. Commun. 4, 1909 (2013).
Acknowledgements
We thank members of the Coulombe laboratory for support, P. Peterson (Aire constructs; Tartu University), R. Foisner (subcellular fractionation), M. Vladut-Talor (central tolerance study) and J. Folmer (electron microscopy) for advice and assistance. These studies were supported by research grants CA160255 and AR044232 (to P.A.C.) and GM111682 (to F.W.) and by training grant CA009110 (to R.P.H.), all from the US National Institutes of Health.
Ethics declarations
Competing interests
The authors declare no competing financial interests.
Integrated supplementary information
Supplementary information
About this article
Cite this article
Hobbs, R., DePianto, D., Jacob, J. et al. Keratin-dependent regulation of Aire and gene expression in skin tumor keratinocytes. Nat Genet 47, 933–938 (2015). https://doi.org/10.1038/ng.3355
Received:

Accepted:

Published:

Issue Date:

DOI: https://doi.org/10.1038/ng.3355