Abstract
A duplication variant within the middle ear–specific gene A2ML1 cosegregates with otitis media in an indigenous Filipino pedigree (LOD score = 7.5 at reduced penetrance) and lies within a founder haplotype that is also shared by 3 otitis-prone European-American and Hispanic-American children but is absent in non-otitis-prone children and >62,000 next-generation sequences. We identified seven additional A2ML1 variants in six otitis-prone children. Collectively, our studies support a role for A2ML1 in the pathophysiology of otitis media.
Access options
Subscribe to Journal
Get full journal access for 1 year
$59.00
only $4.92 per issue
All prices are NET prices.
VAT will be added later in the checkout.
Tax calculation will be finalised during checkout.
Rent or Buy article
Get time limited or full article access on ReadCube.
from$8.99
All prices are NET prices.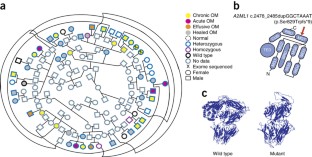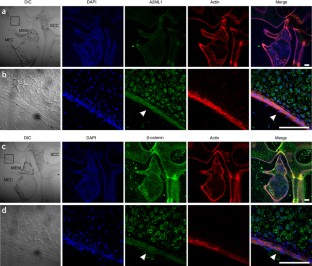 Accession codes
Accessions
Protein Data Bank
References
1

Monasta, L. et al. Burden of disease caused by otitis media: systematic review and global estimates. PLoS ONE 7, e36226 (2012).

2

Acuin, J. Chronic Suppurative Otitis Media. Burden of Illness and Management Options (World Health Organization, 2004).

3

Casey, J.R. & Pichichero, M.E. Payment analysis of two diagnosis and management approaches of acute otitis media. Clin. Pediatr. (Phila.) 53, 865–873 (2014).

4

Kvestad, E. et al. Otitis media: genetic factors and sex differences. Twin Res. 7, 239–244 (2004).

5

Patel, J.A. et al. Association of proinflammatory cytokine gene polymorphisms with susceptibility to otitis media. Pediatrics 118, 2273–2279 (2006).

6

Daly, K.A. et al. Chronic and recurrent otitis media: a genome scan for susceptibility loci. Am. J. Hum. Genet. 75, 988–997 (2004).

7

Allen, E.K. et al. A genome-wide association study of chronic otitis media with effusion and recurrent otitis media identifies a novel susceptibility locus on chromosome 2. J. Assoc. Res. Otolaryngol. 14, 791–800 (2013).

8

Sakagami, M., Harada, T., Juhn, S.K. & Duvall, A.J. Morphologic and biochemical study of vascular permeability of the middle ear mucosa in experimental otitis media. Ann. Otol. Rhinol. Laryngol. 99, 654–659 (1990).

9

McKenna, A. et al. The Genome Analysis Toolkit: a MapReduce framework for analyzing next-generation DNA sequencing data. Genome Res. 20, 1297–1303 (2010).

10

Marrero, A. et al. The crystal structure of human α2-macroglobulin reveals a unique molecular cage. Angew. Chem. Int. Edn Engl. 51, 3340–3344 (2012).

11

Wong, L.P. et al. Deep whole-genome sequencing of 100 southeast Asian Malays. Am. J. Hum. Genet. 92, 52–66 (2013).

12

Kircher, M. et al. A general framework for estimating the relative pathogenicity of human genetic variants. Nat. Genet. 46, 310–315 (2014).

13

Carlsson, B., Lundberg, C. & Ohlsson, K. Granulocyte protease inhibition in acute and chronic middle ear effusion. Acta Otolaryngol. (Stockh.) 95, 341–349 (1983).

14

Bondestam, M., Foucard, T. & Gebre-Medhin, M. Serum albumin, retinol-binding protein, thyroxin-binding prealbumin and acute phase reactants as indicators of undernutrition in children with undue susceptibility to acute infections. Acta Paediatr. Scand. 77, 94–98 (1988).

15

van Dongen, T.M., van der Heijden, G.J., Venekamp, R.P., Rovers, M.M. & Schilder, A.G. A trial of treatment for acute otorrhea in children with tympanostomy tubes. N. Engl. J. Med. 370, 723–733 (2014).

16

Marynen, P., Van Leuven, F., Cassiman, J.J. & Van den Berghe, H. Solubilization and affinity purification of the α2-macroglobulin receptor for human fibroblasts. J. Biol. Chem. 259, 7075–7079 (1984).

17

Vissers, L.E. et al. Heterozygous germline mutations in A2ML1 are associated with a disorder clinically related to Noonan syndrome. Eur. J. Hum. Genet. 23, 317–324 (2015).

18

HUGO Pan-Asian SNP Consortium. Mapping human genetic diversity in Asia. Science 326, 1541–1545 (2009).

19

Santos-Cortez, R.L.P. et al. Mutations in KARS, encoding lysyl-tRNA synthetase, cause autosomal-recessive nonsyndromic hearing impairment DFNB89. Am. J. Hum. Genet. 93, 132–140 (2013).

20

Wang, G.T., Peng, B. & Leal, S.M. Variant association tools for quality control and analysis of large-scale sequence and genotyping array data. Am. J. Hum. Genet. 94, 770–783 (2014).

21

Fishelson, M. & Geiger, D. Exact genetic linkage computations for general pedigrees. Bioinformatics 18 (suppl. 1), S189–S198 (2002).

22

Kelley, L.A. & Sternberg, M.J. Protein structure prediction on the Web: a case study using the Phyre server. Nat. Protoc. 4, 363–371 (2009).

23

Reeve, J.P. & Rannala, B. DMLE+: Bayesian linkage disequilibrium gene mapping. Bioinformatics 18, 894–895 (2002).
Acknowledgements
We are very grateful to the indigenous community, families and individuals who participated in this study. We also thank M. Pedro, S.M. Lagrana, V. Ostan, and the surgical residents and audiology students who assisted in data collection and J. Belmont and S. Lalani for overall support. This study was supported by the Hearing Health Foundation, Action On Hearing Loss and the National Organization for Hearing Research Foundation (to R.L.P.S.-C.); the University of the Philippines Manila–National Institutes of Health (to G.T.A. and R.L.P.S.-C.); and US National Institutes of Health grants U54 HG006493 (to D.A.N.), R01 DK084350 (to M.M.S.), R01 DC003166 (to K.A.D.), R01 DC005841 (to T.C.), R01 DC011803 and R01 DC012564 (to S.R. and Z.M.A.), and R01 DC011651 and R01 DC003594 (to S.M.L.).
Ethics declarations
Competing interests
The authors declare no competing financial interests.
Integrated supplementary information
Supplementary information
Supplementary Figures 1–4, Supplementary Tables 1 and 2, and Supplementary Note. (PDF 1182 kb)
About this article
Cite this article
Santos-Cortez, R., Chiong, C., Reyes-Quintos, M. et al. Rare A2ML1 variants confer susceptibility to otitis media. Nat Genet 47, 917–920 (2015). https://doi.org/10.1038/ng.3347
Received:

Accepted:

Published:

Issue Date: