Abstract
Cohesin is present in almost all active enhancer regions, where it is associated with transcription factors1,2. Cohesin frequently colocalizes with CTCF (CCCTC-binding factor), affecting genomic stability, expression and epigenetic homeostasis3,4,5,6. Cohesin subunits are mutated in cancer7,8, but CTCF/cohesin-binding sites (CBSs) in DNA have not been examined for mutations. Here we report frequent mutations at CBSs in cancers displaying a mutational signature where mutations in A•T base pairs predominate. Integration of whole-genome sequencing data from 213 colorectal cancer (CRC) samples and chromatin immunoprecipitation sequencing (ChIP-exo) data identified frequent point mutations at CBSs. In contrast, CRCs showing an ultramutator phenotype caused by defects in the exonuclease domain of DNA polymerase ɛ (POLE) displayed significantly fewer mutations at and adjacent to CBSs. Analysis of public data showed that multiple cancer types accumulate CBS mutations. CBSs are a major mutational hotspot in the noncoding cancer genome.
Relevant articles
Open Access articles citing this article.
Timon Heide

,

Jacob Househam

…

Andrea Sottoriva

Nature Open Access 26 October 2022

Mischan Vali-Pour

,

Ben Lehner

&

Fran Supek

Nature Communications Open Access 28 June 2022

Borja Sesé

,

Miquel Ensenyat-Mendez

…

Diego M. Marzese

Clinical Epigenetics Open Access 31 July 2021
Access options
Subscribe to Journal
Get full journal access for 1 year
$79.00
only $6.58 per issue
All prices are NET prices.
VAT will be added later in the checkout.
Tax calculation will be finalised during checkout.
Buy article
Get time limited or full article access on ReadCube.
$32.00
All prices are NET prices.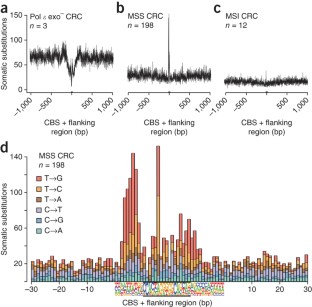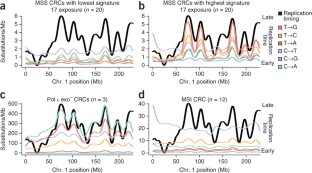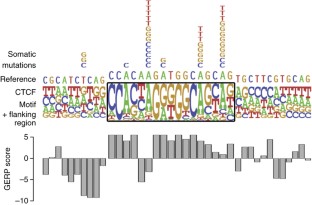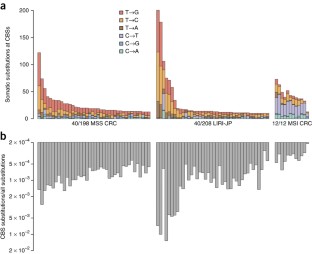 Accession codes
Accessions
European Nucleotide Archive
References
Kagey, M.H. et al. Mediator and cohesin connect gene expression and chromatin architecture. Nature 467, 430–435 (2010).

Yan, J. et al. Transcription factor binding in human cells occurs in dense clusters formed around cohesin anchor sites. Cell 154, 801–813 (2013).

Parelho, V. et al. Cohesins functionally associate with CTCF on mammalian chromosome arms. Cell 132, 422–433 (2008).

Rubio, E.D. et al. CTCF physically links cohesin to chromatin. Proc. Natl. Acad. Sci. USA 105, 8309–8314 (2008).

Wendt, K.S. et al. Cohesin mediates transcriptional insulation by CCCTC-binding factor. Nature 451, 796–801 (2008).

Rao, S.S. et al. A 3D map of the human genome at kilobase resolution reveals principles of chromatin looping. Cell 159, 1665–1680 (2014).

Kon, A. et al. Recurrent mutations in multiple components of the cohesin complex in myeloid neoplasms. Nat. Genet. 45, 1232–1237 (2013).

Leiserson, M.D. et al. Pan-cancer network analysis identifies combinations of rare somatic mutations across pathways and protein complexes. Nat. Genet. 47, 106–114 (2015).

Huang, F.W. et al. Highly recurrent TERT promoter mutations in human melanoma. Science 339, 957–959 (2013).

Mansour, M.R. et al. An oncogenic super-enhancer formed through somatic mutation of a noncoding intergenic element. Science 346, 1373–1377 (2014).

Alexandrov, L.B. et al. Signatures of mutational processes in human cancer. Nature 500, 415–421 (2013).

Chen, C.L. et al. Impact of replication timing on non-CpG and CpG substitution rates in mammalian genomes. Genome Res. 20, 447–457 (2010).

Lawrence, M.S. et al. Mutational heterogeneity in cancer and the search for new cancer-associated genes. Nature 499, 214–218 (2013).

Hoffman, M.M. et al. Integrative annotation of chromatin elements from ENCODE data. Nucleic Acids Res. 41, 827–841 (2013).

Hudson, T.J. et al. International network of cancer genome projects. Nature 464, 993–998 (2010).

Guillou, E. et al. Cohesin organizes chromatin loops at DNA replication factories. Genes Dev. 24, 2812–2822 (2010).

Helleday, T., Eshtad, S. & Nik-Zainal, S. Mechanisms underlying mutational signatures in human cancers. Nat. Rev. Genet. 15, 585–598 (2014).

Dulak, A.M. et al. Exome and whole-genome sequencing of esophageal adenocarcinoma identifies recurrent driver events and mutational complexity. Nat. Genet. 45, 478–486 (2013).

Satou, K., Kawai, K., Kasai, H., Harashima, H. & Kamiya, H. Mutagenic effects of 8-hydroxy-dGTP in live mammalian cells. Free Radic. Biol. Med. 42, 1552–1560 (2007).

Narendra, V. et al. CTCF establishes discrete functional chromatin domains at the Hox clusters during differentiation. Science 347, 1017–1021 (2015).

Li, H. & Durbin, R. Fast and accurate short read alignment with Burrows-Wheeler transform. Bioinformatics 25, 1754–1760 (2009).

DePristo, M.A. et al. A framework for variation discovery and genotyping using next-generation DNA sequencing data. Nat. Genet. 43, 491–498 (2011).

Cibulskis, K. et al. Sensitive detection of somatic point mutations in impure and heterogeneous cancer samples. Nat. Biotechnol. 31, 213–219 (2013).

Alexandrov, L.B., Nik-Zainal, S., Wedge, D.C., Campbell, P.J. & Stratton, M.R. Deciphering signatures of mutational processes operative in human cancer. Cell Rep. 3, 246–259 (2013).

Rhee, H.S. & Pugh, B.F. Comprehensive genome-wide protein-DNA interactions detected at single-nucleotide resolution. Cell 147, 1408–1419 (2011).

Guo, Y. et al. Discovering homotypic binding events at high spatial resolution. Bioinformatics 26, 3028 (2010).

Jolma, A. et al. Multiplexed massively parallel SELEX for characterization of human transcription factor binding specificities. Genome Res. 20, 861–873 (2010).

Jolma, A. et al. DNA-binding specificities of human transcription factors. Cell 152, 327–339 (2013).

Rausch, T. et al. DELLY: structural variant discovery by integrated paired-end and split-read analysis. Bioinformatics 28, i333–i339 (2012).
Acknowledgements
We thank S. Augsten, L. Hu, H. Metsola, S. Nieminen, A. Ollikainen, M. Rajalaakso, S. Soisalo, I.-L. Svedberg, M. Turunen, I. Vuoristo and A. Zetterlund for technical assistance. Further, we thank M. Aavikko, I. Donner, A. Karhu and M. Mehine for additional help with the manuscript. We acknowledge the International Cancer Genome Consortium (ICGC) for the somatic mutation data. This work was supported by grants from the Academy of Finland (Finnish Center of Excellence Program 2012–2017, 250345, personal grants 137680 and 274474 to O.K.), the University of Helsinki (personal grant to S.T.), the Finnish Cancer Society (also a personal grant to K.P.), the European Research Council (ERC; 268648), the Sigrid Juselius Foundation, SYSCOL (a European Union Framework Programme 7 Collaborative Project, 258236), the Nordic Information for Action eScience Center (NIASC), the Nordic Center of Excellence financed by NordForsk (project 62721, personal grant to K.P.) and State Research Funding of Kuopio University Hospital (B1401). We acknowledge the computational resources provided by the ELIXIR node, hosted at the CSC–IT Center for Science, Finland, and funded by the Academy of Finland (grants 271642 and 263164), the Ministry of Education and Culture, Finland.
Ethics declarations
Competing interests
The authors declare no competing financial interests.
Integrated supplementary information
Supplementary information
About this article
Cite this article
Katainen, R., Dave, K., Pitkänen, E. et al. CTCF/cohesin-binding sites are frequently mutated in cancer. Nat Genet 47, 818–821 (2015). https://doi.org/10.1038/ng.3335
Received:

Accepted:

Published:

Issue Date:

DOI: https://doi.org/10.1038/ng.3335