Abstract
Docosahexanoic acid (DHA) is the most abundant omega-3 fatty acid in brain, and, although it is considered essential, deficiency has not been linked to disease1,2. Despite the large mass of DHA in phospholipids, the brain does not synthesize it. DHA is imported across the blood-brain barrier (BBB) through the major facilitator superfamily domain–containing 2a (MFSD2A) protein3. MFSD2A transports DHA as well as other fatty acids in the form of lysophosphatidylcholine (LPC). We identify two families displaying MFSD2A mutations in conserved residues. Affected individuals exhibited a lethal microcephaly syndrome linked to inadequate uptake of LPC lipids. The MFSD2A mutations impaired transport activity in a cell-based assay. Moreover, when expressed in mfsd2aa-morphant zebrafish, mutants failed to rescue microcephaly, BBB breakdown and lethality. Our results establish a link between transport of DHA and LPCs by MFSD2A and human brain growth and function, presenting the first evidence of monogenic disease related to transport of DHA in humans.
Relevant articles
Open Access articles citing this article.
Andreia Goncalves

&

David A. Antonetti

Fluids and Barriers of the CNS Open Access 01 November 2022

Lan Guan

&

Parameswaran Hariharan

Communications Biology Open Access 02 August 2021
Access options
Subscribe to Journal
Get full journal access for 1 year
$79.00
only $6.58 per issue
All prices are NET prices.
VAT will be added later in the checkout.
Tax calculation will be finalised during checkout.
Buy article
Get time limited or full article access on ReadCube.
$32.00
All prices are NET prices.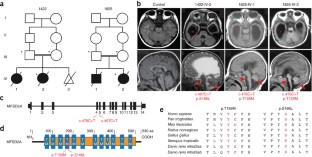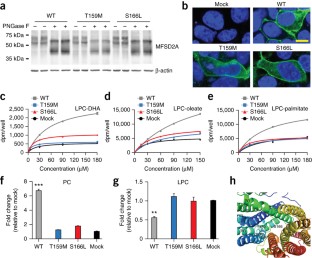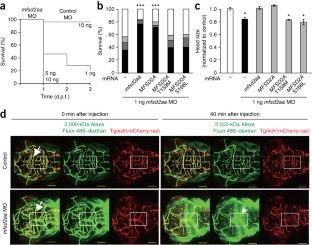 Accession codes
Accessions
NCBI Reference Sequence
References
Svennerholm, L. Distribution and fatty acid composition of phosphoglycerides in normal human brain. J. Lipid Res. 9, 570–579 (1968).

Söderberg, M., Edlund, C., Kristensson, K. & Dallner, G. Fatty acid composition of brain phospholipids in aging and in Alzheimer's disease. Lipids 26, 421–425 (1991).

Nguyen, L.N. et al. Mfsd2a is a transporter for the essential omega-3 fatty acid docosahexaenoic acid. Nature 509, 503–506 (2014).

Engle, P.L. et al. Strategies to avoid the loss of developmental potential in more than 200 million children in the developing world. Lancet 369, 229–242 (2007).

Ben-Zvi, A. et al. Mfsd2a is critical for the formation and function of the blood-brain barrier. Nature 509, 507–511 (2014).

Daneman, R. et al. The mouse blood-brain barrier transcriptome: a new resource for understanding the development and function of brain endothelial cells. PLoS ONE 5, e13741 (2010).

Berger, J.H., Charron, M.J. & Silver, D.L. Major facilitator superfamily domain–containing protein 2a (MFSD2A) has roles in body growth, motor function, and lipid metabolism. PLoS ONE 7, e50629 (2012).

Nakanishi, H. et al. Cloning and characterization of mouse lung-type acyl-CoA:lysophosphatidylcholine acyltransferase 1 (LPCAT1). Expression in alveolar type II cells and possible involvement in surfactant production. J. Biol. Chem. 281, 20140–20147 (2006).

Ethayathulla, A.S. et al. Structure-based mechanism for Na+/melibiose symport by MelB. Nat. Commun. 5, 3009 (2014).

Cordat, E., Leblanc, G. & Mus-Veteau, I. Evidence for a role of helix IV in connecting cation- and sugar-binding sites of Escherichia coli melibiose permease. Biochemistry 39, 4493–4499 (2000).

Fleming, A., Diekmann, H. & Goldsmith, P. Functional characterization of the maturation of the blood-brain barrier in larval zebrafish. PLoS ONE 8, e77548 (2013).

Kok, F.O. et al. Reverse genetic screening reveals poor correlation between morpholino-induced and mutant phenotypes in zebrafish. Dev. Cell 32, 97–108 (2015).

Chi, N.C. et al. Foxn4 directly regulates tbx2b expression and atrioventricular canal formation. Genes Dev. 22, 734–739 (2008).

He, C., Qu, X., Cui, L., Wang, J. & Kang, J.X. Improved spatial learning performance of fat-1 mice is associated with enhanced neurogenesis and neuritogenesis by docosahexaenoic acid. Proc. Natl. Acad. Sci. USA 106, 11370–11375 (2009).

Kawakita, E., Hashimoto, M. & Shido, O. Docosahexaenoic acid promotes neurogenesis in vitro and in vivo. Neuroscience 139, 991–997 (2006).

Daneman, R., Zhou, L., Kebede, A.A. & Barres, B.A. Pericytes are required for blood-brain barrier integrity during embryogenesis. Nature 468, 562–566 (2010).

Bell, R.D. et al. Pericytes control key neurovascular functions and neuronal phenotype in the adult brain and during brain aging. Neuron 68, 409–427 (2010).

Armulik, A. et al. Pericytes regulate the blood-brain barrier. Nature 468, 557–561 (2010).

Harata, N. & Iwasaki, Y. The blood-brain barrier and selective vulnerability in experimental thiamine-deficiency encephalopathy in the mouse. Metab. Brain Dis. 11, 55–69 (1996).

DePristo, M.A. et al. A framework for variation discovery and genotyping using next-generation DNA sequencing data. Nat. Genet. 43, 491–498 (2011).

Fromer, M. et al. Discovery and statistical genotyping of copy-number variation from whole-exome sequencing depth. Am. J. Hum. Genet. 91, 597–607 (2012).

Tennessen, J.A. et al. Evolution and functional impact of rare coding variation from deep sequencing of human exomes. Science 337, 64–69 (2012).

Shui, G. et al. Comparative plasma lipidome between human and cynomolgus monkey: are plasma polar lipids good biomarkers for diabetic monkeys? PLoS ONE 6, e19731 (2011).
Acknowledgements
This work was supported by grants from the US National Institutes of Health, including P01HD070494 (to J.G.G. and N.C.C.), R01NS048453 (to J.G.G.), K99NS089943 (to A.G.-G.), and U54HG003067 to the Broad Institute and U54HG006504 to the Yale Center for Mendelian Disorders (M.G.), grant CBRG/069/2014 from the Singapore Ministry of Health's National Medical Research Council (to D.L.S.), Singapore National Research Foundation Competitive Research Program grant 2007-04 (to M.R.W.) and the National University of Singapore's Life Sciences Institute (to M.R.W.). Sequencing was provided in part by a gift from BGI to Rady Children's Hospital, San Diego for undiagnosed patients. Human brain samples were provided by S. Roy (University of California, San Diego).
Ethics declarations
Competing interests
The authors declare no competing financial interests.
Integrated supplementary information
Supplementary information
About this article
Cite this article
Guemez-Gamboa, A., Nguyen, L., Yang, H. et al. Inactivating mutations in MFSD2A, required for omega-3 fatty acid transport in brain, cause a lethal microcephaly syndrome. Nat Genet 47, 809–813 (2015). https://doi.org/10.1038/ng.3311
Received:

Accepted:

Published:

Issue Date:

DOI: https://doi.org/10.1038/ng.3311