Abstract
Some familial platelet disorders are associated with predisposition to leukemia, myelodysplastic syndrome (MDS) or dyserythropoietic anemia1,2. We identified a family with autosomal dominant thrombocytopenia, high erythrocyte mean corpuscular volume (MCV) and two occurrences of B cell–precursor acute lymphoblastic leukemia (ALL). Whole-exome sequencing identified a heterozygous single-nucleotide change in ETV6 (ets variant 6), c.641C>T, encoding a p.Pro214Leu substitution in the central domain, segregating with thrombocytopenia and elevated MCV. A screen of 23 families with similar phenotypes identified 2 with ETV6 mutations. One family also had a mutation encoding p.Pro214Leu and one individual with ALL. The other family had a c.1252A>G transition producing a p.Arg418Gly substitution in the DNA-binding domain, with alternative splicing and exon skipping. Functional characterization of these mutations showed aberrant cellular localization of mutant and endogenous ETV6, decreased transcriptional repression and altered megakaryocyte maturation. Our findings underscore a key role for ETV6 in platelet formation and leukemia predisposition.
Relevant articles
Open Access articles citing this article.
Nadine Rüchel

,

Vera H. Jepsen

…

Katharina L. Gössling

Current Treatment Options in Oncology Open Access 16 March 2022

Xin Wang

,

Yanling Wen

…

Zheng Zhang

Cell Discovery Open Access 04 August 2021
Access options
Subscribe to Journal
Get full journal access for 1 year
$99.00
only $8.25 per issue
All prices are NET prices.
VAT will be added later in the checkout.
Tax calculation will be finalised during checkout.
Buy article
Get time limited or full article access on ReadCube.
$32.00
All prices are NET prices.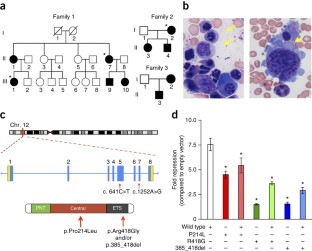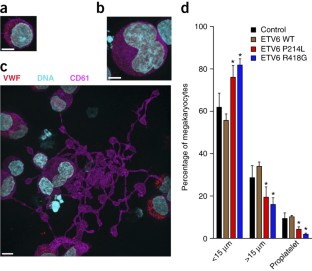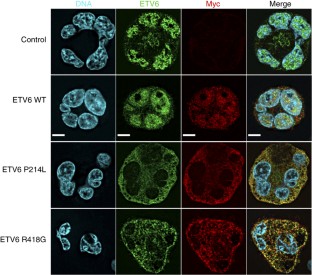 Accession codes
Primary accessions
BioProject
Sequence Read Archive
Referenced accessions
NCBI Reference Sequence
Swiss-Prot
References
Song, W.J. et al. Haploinsufficiency of CBFA2 causes familial thrombocytopenia with propensity to develop acute myelogenous leukaemia. Nat. Genet. 23, 166–175 (1999).

Nichols, K.E. et al. Familial dyserythropoietic anaemia and thrombocytopenia due to an inherited mutation in GATA1. Nat. Genet. 24, 266–270 (2000).

Kar, A. & Gutierrez-Hartmann, A. Molecular mechanisms of ETS transcription factor–mediated tumorigenesis. Crit. Rev. Biochem. Mol. Biol. 48, 522–543 (2013).

Romana, S.P. et al. Deletion of the short arm of chromosome 12 is a secondary event in acute lymphoblastic leukemia with t(12;21). Leukemia 10, 167–170 (1996).

Patel, N. et al. Expression profile of wild-type ETV6 in childhood acute leukaemia. Br. J. Haematol. 122, 94–98 (2003).

Barjesteh van Waalwijk van Doorn-Khosrovani, S. et al. Somatic heterozygous mutations in ETV6 (TEL) and frequent absence of ETV6 protein in acute myeloid leukemia. Oncogene 24, 4129–4137 (2005).

Bejar, R. et al. Clinical effect of point mutations in myelodysplastic syndromes. N. Engl. J. Med. 364, 2496–2506 (2011).

Van Vlierberghe, P. et al. ETV6 mutations in early immature human T cell leukemias. J. Exp. Med. 208, 2571–2579 (2011).

Zhang, M.Y. et al. Germline ETV6 mutations in familial thrombocytopenia and hematologic malignancy. Nat. Genet. 47, 180–185 (2015).

Rasighaemi, P., Onnebo, S.M., Liongue, C. & Ward, A.C. ETV6 (TEL1) regulates embryonic hematopoiesis in zebrafish. Haematologica 100, 23–31 (2015).

Wang, L.C. et al. Yolk sac angiogenic defect and intra-embryonic apoptosis in mice lacking the Ets-related factor TEL. EMBO J. 16, 4374–4383 (1997).

Wang, L.C. et al. The TEL/ETV6 gene is required specifically for hematopoiesis in the bone marrow. Genes Dev. 12, 2392–2402 (1998).

Hock, H. et al. Tel/Etv6 is an essential and selective regulator of adult hematopoietic stem cell survival. Genes Dev. 18, 2336–2341 (2004).

Pereira, C.F. et al. Induction of a hemogenic program in mouse fibroblasts. Cell Stem Cell 13, 205–218 (2013).

Orkin, S.H. et al. Abnormal RNA processing due to the exon mutation of β E-globin gene. Nature 300, 768–769 (1982).

Green, S.M., Coyne, H.J. III, McIntosh, L.P. & Graves, B.J. DNA binding by the ETS protein TEL (ETV6) is regulated by autoinhibition and self-association. J. Biol. Chem. 285, 18496–18504 (2010).

Kwiatkowski, B.A. et al. The ets family member Tel binds to the Fli-1 oncoprotein and inhibits its transcriptional activity. J. Biol. Chem. 273, 17525–17530 (1998).

Raslova, H. et al. FLI1 monoallelic expression combined with its hemizygous loss underlies Paris-Trousseau/Jacobsen thrombopenia. J. Clin. Invest. 114, 77–84 (2004).

Million, R.P., Harakawa, N., Roumiantsev, S., Varticovski, L. & Van Etten, R.A. A direct binding site for Grb2 contributes to transformation and leukemogenesis by the Tel-Abl (ETV6-Abl) tyrosine kinase. Mol. Cell. Biol. 24, 4685–4695 (2004).

Roukens, M.G., Alloul-Ramdhani, M., Moghadasi, S., Op den Brouw, M. & Baker, D.A. Downregulation of vertebrate Tel (ETV6) and Drosophila Yan is facilitated by an evolutionarily conserved mechanism of F-box-mediated ubiquitination. Mol. Cell. Biol. 28, 4394–4406 (2008).

Lopez, R.G. et al. TEL is a sequence-specific transcriptional repressor. J. Biol. Chem. 274, 30132–30138 (1999).

Fenrick, R. et al. TEL, a putative tumor suppressor, modulates cell growth and cell morphology of ras-transformed cells while repressing the transcription of stromelysin-1. Mol. Cell. Biol. 20, 5828–5839 (2000).

Machlus, K.R. & Italiano, J.E. Jr. The incredible journey: from megakaryocyte development to platelet formation. J. Cell Biol. 201, 785–796 (2013).

Mullighan, C.G. et al. Genome-wide analysis of genetic alterations in acute lymphoblastic leukaemia. Nature 446, 758–764 (2007).

Strehl, S., Konig, M., Dworzak, M.N., Kalwak, K. & Haas, O.A. PAX5/ETV6 fusion defines cytogenetic entity dic(9;12)(p13;p13). Leukemia 17, 1121–1123 (2003).

Wu, T.D. & Nacu, S. Fast and SNP-tolerant detection of complex variants and splicing in short reads. Bioinformatics 26, 873–881 (2010).

McKenna, A. et al. The Genome Analysis Toolkit: a MapReduce framework for analyzing next-generation DNA sequencing data. Genome Res. 20, 1297–1303 (2010).

Wang, K., Li, M. & Hakonarson, H. ANNOVAR: functional annotation of genetic variants from high-throughput sequencing data. Nucleic Acids Res. 38, e164 (2010).

Liu, X., Jian, X. & Boerwinkle, E. dbNSFP: a lightweight database of human nonsynonymous SNPs and their functional predictions. Hum. Mutat. 32, 894–899 (2011).

Rowley, J.W. et al. Genome-wide RNA-seq analysis of human and mouse platelet transcriptomes. Blood 118, e101–e111 (2011).

Love, M., Huber, W. & Anders, S. Moderated estimation of fold change and dispersion for RNA-seq data with DESeq2. bioRxiv. http://dx.doi.org/10.1101/002832.

Subramanian, A. et al. Gene set enrichment analysis: a knowledge-based approach for interpreting genome-wide expression profiles. Proc. Natl. Acad. Sci. USA 102, 15545–15550 (2005).

Kim, D. & Salzberg, S. TopHat-Fusion: an algorithm for discovery of novel fusion transcripts. Genome Biol. 12, R72 (2011).

Ge, H. et al. FusionMap: detecting fusion genes from next-generation sequencing data at base-pair resolution. Bioinformatics 27, 1922–1928 (2011).

Wilcox, D.A. et al. Induction of megakaryocytes to synthesize and store a releasable pool of human factor VIII. J. Thromb. Haemost. 1, 2477–2489 (2003).

Kahr, W.H. et al. Abnormal megakaryocyte development and platelet function in Nbeal2−/− mice. Blood 122, 3349–3358 (2013).

Urban, D. et al. The VPS33B-binding protein VPS16B is required in megakaryocyte and platelet α-granule biogenesis. Blood 120, 5032–5040 (2012).
Acknowledgements
We are grateful to the families studied for their contribution to this project. We are also grateful to T. Shaikh, R. Spritz and J. Murray for their insightful comments. This work was supported by the Postle Family Chair in Pediatric Cancer and Blood Disorders (J.D.P.) and by US National Institutes of Health grants HL112311 (A.S.W.) and GM103806 (J.W.R.). W.H.A.K. was supported by operating grants from the Canadian Institutes of Health Research (CIHR; MOP-81208 and MOP-259952). P.N. and A.S. were supported by grant GGP13082 from the Telethon Foundation.
Ethics declarations
Competing interests
The authors declare no competing financial interests.
Integrated supplementary information
Supplementary information
About this article
Cite this article
Noetzli, L., Lo, R., Lee-Sherick, A. et al. Germline mutations in ETV6 are associated with thrombocytopenia, red cell macrocytosis and predisposition to lymphoblastic leukemia. Nat Genet 47, 535–538 (2015). https://doi.org/10.1038/ng.3253
Received:

Accepted:

Published:

Issue Date:

DOI: https://doi.org/10.1038/ng.3253