Abstract
Recent molecular classifications of colorectal cancer (CRC) based on global gene expression profiles have defined subtypes displaying resistance to therapy and poor prognosis. Upon evaluation of these classification systems, we discovered that their predictive power arises from genes expressed by stromal cells rather than epithelial tumor cells. Bioinformatic and immunohistochemical analyses identify stromal markers that associate robustly with disease relapse across the various classifications. Functional studies indicate that cancer-associated fibroblasts (CAFs) increase the frequency of tumor-initiating cells, an effect that is dramatically enhanced by transforming growth factor (TGF)-β signaling. Likewise, we find that all poor-prognosis CRC subtypes share a gene program induced by TGF-β in tumor stromal cells. Using patient-derived tumor organoids and xenografts, we show that the use of TGF-β signaling inhibitors to block the cross-talk between cancer cells and the microenvironment halts disease progression.
Relevant articles
Open Access articles citing this article.
Dan Zhang

,

Qi-Qi Ni

…

Ya-Ping Ye

Oncogene Open Access 17 August 2023

Maryam Maghsoudi

,

Rosa Aghdam

&

Changiz Eslahchi

Scientific Reports Open Access 29 May 2023

Eunji Jang

,

Min-Kyue Shin

…

Jae-Ho Cheong

Experimental & Molecular Medicine Open Access 01 May 2023
Access options
Subscribe to this journal
Receive 12 print issues and online access
$209.00 per year
only $17.42 per issue
Rent or buy this article
Prices vary by article type
from$1.95
to$39.95
Prices may be subject to local taxes which are calculated during checkout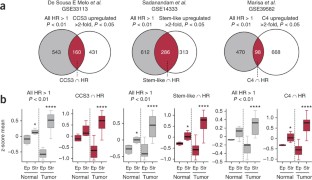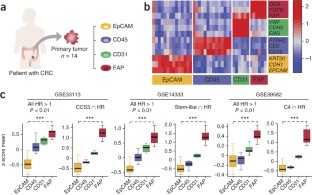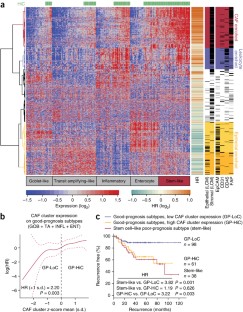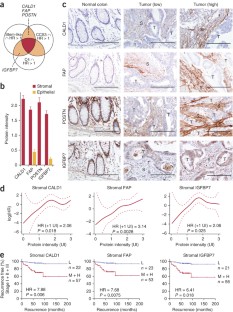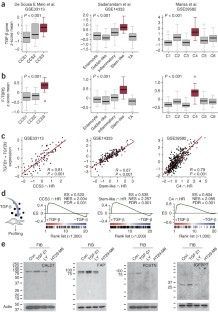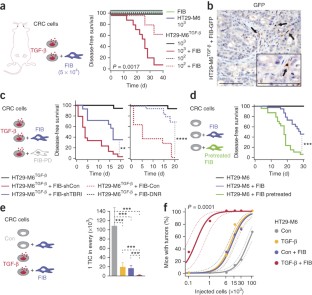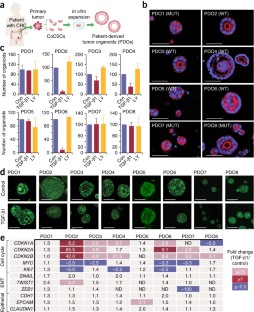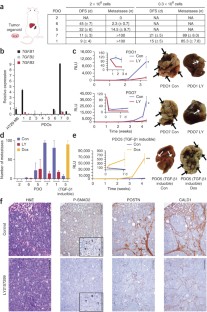 References
De Sousa E Melo, F. et al. Poor-prognosis colon cancer is defined by a molecularly distinct subtype and develops from serrated precursor lesions. Nat. Med. 19, 614–618 (2013).

Sadanandam, A. et al. A colorectal cancer classification system that associates cellular phenotype and responses to therapy. Nat. Med. 19, 619–625 (2013).

Marisa, L. et al. Gene expression classification of colon cancer into molecular subtypes: characterization, validation, and prognostic value. PLoS Med. 10, e1001453 (2013).

Sadanandam, A. et al. Reconciliation of classification systems defining molecular subtypes of colorectal cancer: interrelationships and clinical implications. Cell Cycle 13, 353–357 (2014).

Nishida, N. et al. Microarray analysis of colorectal cancer stromal tissue reveals upregulation of two oncogenic miRNA clusters. Clin. Cancer Res. 18, 3054–3070 (2012).

Calon, A. et al. Dependency of colorectal cancer on a TGF-β–driven program in stromal cells for metastasis initiation. Cancer Cell 22, 571–584 (2012).

Uhlen, M. et al. Towards a knowledge-based Human Protein Atlas. Nat. Biotechnol. 28, 1248–1250 (2010).

Mouradov, D. et al. Colorectal cancer cell lines are representative models of the main molecular subtypes of primary cancer. Cancer Res. 74, 3238–3247 (2014).

O'Brien, C.A., Pollett, A., Gallinger, S. & Dick, J.E. A human colon cancer cell capable of initiating tumour growth in immunodeficient mice. Nature 445, 106–110 (2007).

Ricci-Vitiani, L. et al. Identification and expansion of human colon-cancer-initiating cells. Nature 445, 111–115 (2007).

Oskarsson, T., Batlle, E. & Massague, J. Metastatic stem cells: sources, niches, and vital pathways. Cell Stem Cell 14, 306–321 (2014).

Thiery, J.P., Acloque, H., Huang, R.Y. & Nieto, M.A. Epithelial-mesenchymal transitions in development and disease. Cell 139, 871–890 (2009).

Markowitz, S.D. & Bertagnolli, M.M. Molecular origins of cancer: molecular basis of colorectal cancer. N. Engl. J. Med. 361, 2449–2460 (2009).

Grady, W.M. & Markowitz, S.D. Genetic and epigenetic alterations in colon cancer. Annu. Rev. Genomics Hum. Genet. 3, 101–128 (2002).

Markowitz, S. et al. Inactivation of the type II TGF-β receptor in colon cancer cells with microsatellite instability. Science 268, 1336–1338 (1995).

Jung, P. et al. Isolation and in vitro expansion of human colonic stem cells. Nat. Med. 17, 1225–1227 (2011).

Sato, T. et al. Long-term expansion of epithelial organoids from human colon, adenoma, adenocarcinoma, and Barrett's epithelium. Gastroenterology 141, 1762–1772 (2011).

Bueno, L. et al. Semi-mechanistic modelling of the tumour growth inhibitory effects of LY2157299, a new type I receptor TGF-β kinase antagonist, in mice. Eur. J. Cancer 44, 142–150 (2008).

Seoane, J., Le, H.V. & Massague, J. Myc suppression of the p21Cip1 Cdk inhibitor influences the outcome of the p53 response to DNA damage. Nature 419, 729–734 (2002).

Seoane, J. et al. TGFβ influences Myc, Miz-1 and Smad to control the CDK inhibitor p15INK4b. Nat. Cell Biol. 3, 400–408 (2001).

Giannelli, G., Villa, E. & Lahn, M. Transforming growth factor-β as a therapeutic target in hepatocellular carcinoma. Cancer Res. 74, 1890–1894 (2014).

Kosinski, C. et al. Gene expression patterns of human colon tops and basal crypts and BMP antagonists as intestinal stem cell niche factors. Proc. Natl. Acad. Sci. USA 104, 15418–15423 (2007).

Berdiel-Acer, M. et al. A 5-gene classifier from the carcinoma-associated fibroblast transcriptomic profile and clinical outcome in colorectal cancer. Oncotarget. 5, 6437–6452 (2014).

O'Shannessy, D.J. et al. Influence of tumor microenvironment on prognosis in colorectal cancer: tissue architecture–dependent signature of endosialin (TEM-1) and associated proteins. Oncotarget. 5, 3983–3995 (2014).

Francí, C. et al. Snail1 protein in the stroma as a new putative prognosis marker for colon tumours. PLoS ONE 4, e5595 (2009).

Ngan, C.Y. et al. Quantitative evaluation of vimentin expression in tumour stroma of colorectal cancer. Br. J. Cancer 96, 986–992 (2007).

Calon, A., Tauriello, D.V. & Batlle, E. TGF-β in CAF-mediated tumor growth and metastasis. Semin. Cancer Biol. 25, 15–22 (2014).

Barrett, T. & Edgar, R. Gene expression omnibus: microarray data storage, submission, retrieval, and analysis. Methods Enzymol. 411, 352–369 (2006).

Jorissen, R.N. et al. Metastasis-associated gene expression changes predict poor outcomes in patients with Dukes stage B and C colorectal cancer. Clin. Cancer Res. 15, 7642–7651 (2009).

De Sousa E Melo, F. et al. Methylation of cancer-stem-cell-associated Wnt target genes predicts poor prognosis in colorectal cancer patients. Cell Stem Cell 9, 476–485 (2011).

Benjamini, Y., Krieger, A.M. & Yekutieli, D. Adaptive linear step-up procedures that control the false discovery rate. Biometrika 93, 491–507 (2006).

Tibshirani, R., Hastie, T., Narasimhan, B. & Chu, G. Diagnosis of multiple cancer types by shrunken centroids of gene expression. Proc. Natl. Acad. Sci. USA 99, 6567–6572 (2002).

Merlos-Suárez, A. et al. The intestinal stem cell signature identifies colorectal cancer stem cells and predicts disease relapse. Cell Stem Cell 8, 511–524 (2011).

Lombardo, Y. et al. Bone morphogenetic protein 4 induces differentiation of colorectal cancer stem cells and increases their response to chemotherapy in mice. Gastroenterology 140, 297–309 (2011).

Morikawa, K., Walker, S.M., Jessup, J.M. & Fidler, I.J. In vivo selection of highly metastatic cells from surgical specimens of different primary human colon carcinomas implanted into nude mice. Cancer Res. 48, 1943–1948 (1988).

Morikawa, K. et al. Influence of organ environment on the growth, selection, and metastasis of human colon carcinoma cells in nude mice. Cancer Res. 48, 6863–6871 (1988).

Böttinger, E.P., Jakubczak, J.L., Haines, D.C., Bagnall, K. & Wakefield, L.M. Transgenic mice overexpressing a dominant-negative mutant type II transforming growth factor β receptor show enhanced tumorigenesis in the mammary gland and lung in response to the carcinogen 7,12-dimethylbenz-[a]-anthracene. Cancer Res. 57, 5564–5570 (1997).

Subramanian, A. et al. Gene set enrichment analysis: a knowledge-based approach for interpreting genome-wide expression profiles. Proc. Natl. Acad. Sci. USA 102, 15545–15550 (2005).

Witten, I.H. et al. Weka: practical machine learning tools and techniques with Java implementations. Proceedings of the ICONIP/ANZIIS/ANNES'99 Workshop on Emerging Knowledge Engineering and Connectionist-Based Information Systems 192–196 (1999).

Warren, R.S., Yuan, H., Matli, M.R., Gillett, N.A. & Ferrara, N. Regulation by vascular endothelial growth factor of human colon cancer tumorigenesis in a mouse model of experimental liver metastasis. J. Clin. Invest. 95, 1789–1797 (1995).

Hu, Y. & Smyth, G.K. ELDA: extreme limiting dilution analysis for comparing depleted and enriched populations in stem cell and other assays. J. Immunol. Methods 347, 70–78 (2009).

Lander, E.S. et al. Initial sequencing and analysis of the human genome. Nature 409, 860–921 (2001).

Li, H. et al. The Sequence Alignment/Map format and SAMtools. Bioinformatics 25, 2078–2079 (2009).

O'Brien, C.A. et al. ID1 and ID3 regulate the self-renewal capacity of human colon cancer–initiating cells through p21. Cancer Cell 21, 777–792 (2012).

McKenna, A. et al. The Genome Analysis Toolkit: a MapReduce framework for analyzing next-generation DNA sequencing data. Genome Res. 20, 1297–1303 (2010).

DePristo, M.A. et al. A framework for variation discovery and genotyping using next-generation DNA sequencing data. Nat. Genet. 43, 491–498 (2011).

Pathmanathan, S., Hamilton, E., Atcheson, E. & Timson, D.J. The interaction of IQGAPs with calmodulin-like proteins. Biochem. Soc. Trans. 39, 694–699 (2011).

Clevers, H. & Batlle, E. EphB/EphrinB receptors and Wnt signaling in colorectal cancer. Cancer Res. 66, 2–5 (2006).

Cingolani, P. et al. A program for annotating and predicting the effects of single nucleotide polymorphisms, SnpEff: SNPs in the genome of Drosophila melanogaster strain w1118; iso-2; iso-3. Fly (Austin) 6, 80–92 (2012).

R Core Team. R: A Language and Environment for Statistical Computing (R Foundation for Statistical Computing, 2014).

Kent, W.J. et al. The human genome browser at UCSC. Genome Res. 12, 996–1006 (2002).

Lawrence, M., Gentleman, R. & Carey, V. rtracklayer: an R package for interfacing with genome browsers. Bioinformatics 25, 1841–1842 (2009).

Wood, S.N. Fast stable restricted maximum likelihood and marginal likelihood estimation of semiparametric generalized linear models. J. Royal Statist. Soc. (B) 73, 3–36 (2011).

Venkatraman, E.S. & Olshen, A.B. A faster circular binary segmentation algorithm for the analysis of array CGH data. Bioinformatics 23, 657–663 (2007).
Acknowledgements
We thank G. Stassi (University of Palermo) for providing PDO7 and PDO8, L. Wakefield (US National Cancer Institute) for providing the plasmid encoding DNR, I. Joval for assistance in mounting the figures, M. Virtudes Cespedes and R. Mangues (IIB Sant Pau) for logistic support with CRC samples, and all members of the Batlle laboratory for support and discussions We are grateful for the excellent assistance of the IRB Barcelona core facilities for Histology, Functional Genomics and Advanced Digital Micropscopy. D.V.F.T. holds a Juan de la Cierva postdoctoral fellowship, from the Spanish Ministry of Economy and Competitiveness, and E.L. holds a fellowship from Fundación Olga Torres and Asociación Española contra el Cáncer (AECC). This work has been supported by grants from the Doctor Josef Steiner Foundation, AECC, Red Temática de Investigación Cooperativa en Cáncer, Instituto de Salud Carlos III (RTICC:RD12/0036/0024) and grant SAF2011-27068, the latter two from the Spanish Ministry of Economy and Competitiveness, and by 'Xarxa de Bancs de Tumors' sponsored by Pla Director d'Oncologia de Catalunya (XBTC).
Ethics declarations
Competing interests
The authors declare no competing financial interests.
Integrated supplementary information
Supplementary information
About this article
Cite this article
Calon, A., Lonardo, E., Berenguer-Llergo, A. et al. Stromal gene expression defines poor-prognosis subtypes in colorectal cancer. Nat Genet 47, 320–329 (2015). https://doi.org/10.1038/ng.3225
Received:

Accepted:

Published:

Issue Date:

DOI: https://doi.org/10.1038/ng.3225