Abstract
Recent studies identified a poor-prognosis stem/serrated/mesenchymal (SSM) transcriptional subtype of colorectal cancer (CRC). We noted that genes upregulated in this subtype are also prominently expressed by stromal cells, suggesting that SSM transcripts could derive from stromal rather than epithelial cancer cells. To test this hypothesis, we analyzed CRC expression data from patient-derived xenografts, where mouse stroma supports human cancer cells. Species-specific expression analysis showed that the mRNA levels of SSM genes were mostly due to stromal expression. Transcriptional signatures built to specifically report the abundance of cancer-associated fibroblasts (CAFs), leukocytes or endothelial cells all had significantly higher expression in human CRC samples of the SSM subtype. High expression of the CAF signature was associated with poor prognosis in untreated CRC, and joint high expression of the stromal signatures predicted resistance to radiotherapy in rectal cancer. These data show that the distinctive transcriptional and clinical features of the SSM subtype can be ascribed to its particularly abundant stromal component.
Relevant articles
Open Access articles citing this article.
Zhuoqi Li

,

Jing Zhou

…

Baozhen Zhang

Scientific Reports Open Access 22 October 2022

Emre Küçükköse

,

Niek A. Peters

…

Onno Kranenburg

Cell Death & Disease Open Access 16 July 2022

Ateeq M. Khaliq

,

Cihat Erdogan

…

Ashiq Masood

Genome Biology Open Access 11 May 2022
Access options
Subscribe to Journal
Get full journal access for 1 year
$79.00
only $6.58 per issue
All prices are NET prices.
VAT will be added later in the checkout.
Tax calculation will be finalised during checkout.
Buy article
Get time limited or full article access on ReadCube.
$32.00
All prices are NET prices.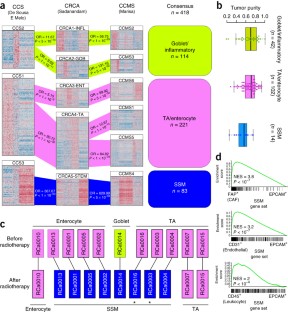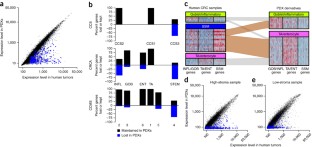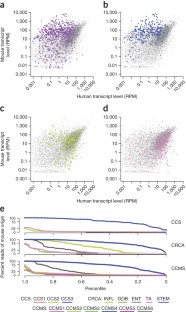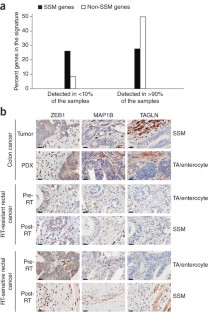 References
Walther, A. et al. Genetic prognostic and predictive markers in colorectal cancer. Nat. Rev. Cancer 9, 489–499 (2009).

Cunningham, D. et al. Colorectal cancer. Lancet 375, 1030–1047 (2010).

De Sousa, E. & Melo, F. et al. Poor-prognosis colon cancer is defined by a molecularly distinct subtype and develops from serrated precursor lesions. Nat. Med. 19, 614–618 (2013).

Sadanandam, A. et al. A colorectal cancer classification system that associates cellular phenotype and responses to therapy. Nat. Med. 19, 619–625 (2013).

Marisa, L. et al. Gene expression classification of colon cancer into molecular subtypes: characterization, validation, and prognostic value. PLoS Med. 10, e1001453 (2013).

Sadanandam, A. et al. Reconciliation of classification systems defining molecular subtypes of colorectal cancer: interrelationships and clinical implications. Cell Cycle 13, 353–357 (2014).

Pai, R.K. et al. Histologic and molecular analyses of colonic perineurial-like proliferations in serrated polyps: perineurial-like stromal proliferations are seen in sessile serrated adenomas. Am. J. Surg. Pathol. 35, 1373–1380 (2011).

Farmer, P. et al. A stroma-related gene signature predicts resistance to neoadjuvant chemotherapy in breast cancer. Nat. Med. 15, 68–74 (2009).

Yoshihara, K. et al. Inferring tumour purity and stromal and immune cell admixture from expression data. Nat. Commun. 4, 2612 (2013).

Bertotti, A. et al. A molecularly annotated platform of patient-derived xenografts ("xenopatients") identifies HER2 as an effective therapeutic target in cetuximab-resistant colorectal cancer. Cancer Discov. 1, 508–523 (2011).

Chou, J. et al. Phenotypic and transcriptional fidelity of patient-derived colon cancer xenografts in immune-deficient mice. PLoS ONE 8, e79874 (2013).

Julien, S. et al. Characterization of a large panel of patient-derived tumor xenografts representing the clinical heterogeneity of human colorectal cancer. Clin. Cancer Res. 18, 5314–5328 (2012).

Cancer Genome Atlas Research Network. Comprehensive molecular characterization of human colon and rectal cancer. Nature 487, 330–337 (2012).

Hoshida, Y. Nearest template prediction: a single-sample-based flexible class prediction with confidence assessment. PLoS ONE 5, e15543 (2010).

Lex, A. et al. StratomeX: visual analysis of large-scale heterogeneous genomics data for cancer subtype characterization. Comput. Graph. Forum 31, 1175–1184 (2012).

Mathew, S. et al. The gene for fibroblast activation protein α (FAP), a putative cell surface–bound serine protease expressed in cancer stroma and wound healing, maps to chromosome band 2q23. Genomics 25, 335–337 (1995).

Fearon, D.T. The carcinoma-associated fibroblast expressing fibroblast activation protein and escape from immune surveillance. Cancer Immunol. Res. 2, 187–193 (2014).

Laizé, V., Martel, P., Viegas, C.S., Price, P.A. & Cancela, M.L. Evolution of matrix and bone γ-carboxyglutamic acid proteins in vertebrates. J. Biol. Chem. 280, 26659–26668 (2005).

Peinado, H., Olmeda, D. & Cano, A. Snail, Zeb and bHLH factors in tumour progression: an alliance against the epithelial phenotype? Nat. Rev. Cancer 7, 415–428 (2007).

Nishimura, G. et al. δEF1 mediates TGF-β signaling in vascular smooth muscle cell differentiation. Dev. Cell 11, 93–104 (2006).

Funahashi, J., Sekido, R., Murai, K., Kamachi, Y. & Kondoh, H. δ-crystallin enhancer binding protein δEF1 is a zinc finger–homeodomain protein implicated in postgastrulation embryogenesis. Development 119, 433–446 (1993).

Carter, S.L. et al. Absolute quantification of somatic DNA alterations in human cancer. Nat. Biotechnol. 30, 413–421 (2012).

Calon, A. et al. Dependency of colorectal cancer on a TGF-β–driven program in stromal cells for metastasis initiation. Cancer Cell 22, 571–584 (2012).

Mootha, V.K. et al. PGC-1α–responsive genes involved in oxidative phosphorylation are coordinately downregulated in human diabetes. Nat. Genet. 34, 267–273 (2003).

Uronis, J.M. et al. Histological and molecular evaluation of patient-derived colorectal cancer explants. PLoS ONE 7, e38422 (2012).

Huang, W., Sherman, B.T. & Lempicki, R.A. Systematic and integrative analysis of large gene lists using DAVID bioinformatics resources. Nat. Protoc. 4, 44–57 (2009).

Martelli, M.L. et al. Exploiting orthologue diversity for systematic detection of gain-of-function phenotypes. BMC Genomics 9, 254 (2008).

Conway, T. et al. Xenome—a tool for classifying reads from xenograft samples. Bioinformatics 28, i172–i178 (2012).

Salazar, R. et al. Gene expression signature to improve prognosis prediction of stage II and III colorectal cancer. J. Clin. Oncol. 29, 17–24 (2011).

Popovici, V. et al. Identification of a poor-prognosis BRAF-mutant-like population of patients with colon cancer. J. Clin. Oncol. 30, 1288–1295 (2012).

De Sousa, E. & Melo, F. et al. Methylation of cancer-stem-cell-associated Wnt target genes predicts poor prognosis in colorectal cancer patients. Cell Stem Cell 9, 476–485 (2011).

Oh, S.C. et al. Prognostic gene expression signature associated with two molecularly distinct subtypes of colorectal cancer. Gut 61, 1291–1298 (2012).

Jorissen, R.N. et al. Metastasis-associated gene expression changes predict poor outcomes in patients with Dukes stage B and C colorectal cancer. Clin. Cancer Res. 15, 7642–7651 (2009).

Smith, J.J. et al. Experimentally derived metastasis gene expression profile predicts recurrence and death in patients with colon cancer. Gastroenterology 138, 958–968 (2010).

Loboda, A. et al. EMT is the dominant program in human colon cancer. BMC Med. Genomics 4, 9 (2011).

Uhlen, M. et al. Towards a knowledge-based Human Protein Atlas. Nat. Biotechnol. 28, 1248–1250 (2010).

Zhang, B. et al. Proteogenomic characterization of human colon and rectal cancer. Nature 513, 382–387 (2014).

Gutman, D.A. et al. Cancer Digital Slide Archive: an informatics resource to support integrated in silico analysis of TCGA pathology data. J. Am. Med. Inform. Assoc. 20, 1091–1098 (2013).

Suárez, J. et al. Pathologic response assessed by Mandard grade is a better prognostic factor than down staging for disease-free survival after preoperative radiochemotherapy for advanced rectal cancer. Colorectal Dis. 10, 563–568 (2008).

Budinska, E. et al. Gene expression patterns unveil a new level of molecular heterogeneity in colorectal cancer. J. Pathol. 231, 63–76 (2013).

Yang, A.D. et al. Chronic oxaliplatin resistance induces epithelial-to-mesenchymal transition in colorectal cancer cell lines. Clin. Cancer Res. 12, 4147–4153 (2006).

Merlos-Suárez, A. et al. The intestinal stem cell signature identifies colorectal cancer stem cells and predicts disease relapse. Cell Stem Cell 8, 511–524 (2011).

Medema, J.P. Cancer stem cells: the challenges ahead. Nat. Cell Biol. 15, 338–344 (2013).

Sautès-Fridman, C. et al. Tumor microenvironment is multifaceted. Cancer Metastasis Rev. 30, 13–25 (2011).

Micke, P. & Ostman, A. Exploring the tumour environment: cancer-associated fibroblasts as targets in cancer therapy. Expert Opin. Ther. Targets 9, 1217–1233 (2005).

Torres, S. et al. Proteome profiling of cancer-associated fibroblasts identifies novel proinflammatory signatures and prognostic markers for colorectal cancer. Clin. Cancer Res. 19, 6006–6019 (2013).

Chargari, C., Clemenson, C., Martins, I., Perfettini, J.L. & Deutsch, E. Understanding the functions of tumor stroma in resistance to ionizing radiation: emerging targets for pharmacological modulation. Drug Resist. Updat. 16, 10–21 (2013).

Saigusa, S. et al. Cancer-associated fibroblasts correlate with poor prognosis in rectal cancer after chemoradiotherapy. Int. J. Oncol. 38, 655–663 (2011).

Schneider, S. et al. Gene expression in tumor-adjacent normal tissue is associated with recurrence in patients with rectal cancer treated with adjuvant chemoradiation. Pharmacogenet. Genomics 16, 555–563 (2006).

Reich, M. et al. GenePattern 2.0. Nat. Genet. 38, 500–501 (2006).

Tibshirani, R., Hastie, T., Narasimhan, B. & Chu, G. Diagnosis of multiple cancer types by shrunken centroids of gene expression. Proc. Natl. Acad. Sci. USA 99, 6567–6572 (2002).

Hoshida, Y., Brunet, J.P., Tamayo, P., Golub, T.R. & Mesirov, J.P. Subclass mapping: identifying common subtypes in independent disease data sets. PLoS ONE 2, e1195 (2007).

Hollingshead, M.G. et al. Gene expression profiling of 49 human tumor xenografts from in vitro culture through multiple in vivo passages—strategies for data mining in support of therapeutic studies. BMC Genomics 15, 393 (2014).

Dai, M. et al. Evolving gene/transcript definitions significantly alter the interpretation of GeneChip data. Nucleic Acids Res. 33, e175 (2005).

Sandberg, R. & Larsson, O. Improved precision and accuracy for microarrays using updated probe set definitions. BMC Bioinformatics 8, 48 (2007).

Isella, C., Renzulli, T., Cora, D. & Medico, E. Mulcom: a multiple comparison statistical test for microarray data in Bioconductor. BMC Bioinformatics 12, 382 (2011).

Gentleman, R.C. et al. Bioconductor: open software development for computational biology and bioinformatics. Genome Biol. 5, R80 (2004).
Acknowledgements
We thank E. Trisolini, R. Porporato, D. Cantarella, B. Martinoglio, F. Sassi and S. Destefanis for technical assistance. E.M., A.B. and L.T. are members of the EurOPDX Consortium. This work was supported by grants from Associazione Italiana per la Ricerca sul Cancro (IG12944 and IG14205; 9970-2010 Special Program Molecular Clinical Oncology 5x1000), Fondazione Piemontese per la Ricerca sul Cancro (5x1000 Ministero della Salute 2010 and 2011) and Compagnia di San Paolo/Ateneo (project 'Rethe').
Ethics declarations
Competing interests
The authors declare no competing financial interests.
Integrated supplementary information
Supplementary information
Supplementary Figures 1–11 and Supplementary Note (PDF 9171 kb)
Supplementary Tables 1–16 (XLS 2837 kb)
About this article
Cite this article
Isella, C., Terrasi, A., Bellomo, S. et al. Stromal contribution to the colorectal cancer transcriptome. Nat Genet 47, 312–319 (2015). https://doi.org/10.1038/ng.3224
Received:

Accepted:

Published:

Issue Date:

DOI: https://doi.org/10.1038/ng.3224