Abstract
Complex human traits are influenced by variation in regulatory DNA through mechanisms that are not fully understood. Because regulatory elements are conserved between humans and mice, a thorough annotation of cis regulatory variants in mice could aid in further characterizing these mechanisms. Here we provide a detailed portrait of mouse gene expression across multiple tissues in a three-way diallel. Greater than 80% of mouse genes have cis regulatory variation. Effects from these variants influence complex traits and usually extend to the human ortholog. Further, we estimate that at least one in every thousand SNPs creates a cis regulatory effect. We also observe two types of parent-of-origin effects, including classical imprinting and a new global allelic imbalance in expression favoring the paternal allele. We conclude that, as with humans, pervasive regulatory variation influences complex genetic traits in mice and provide a new resource toward understanding the genetic control of transcription in mammals.
Relevant articles
Open Access articles citing this article.
Diyan Li

,

Mengnan He

…

Mingzhou Li

BMC Biology Open Access 06 May 2022

Per Johnsson

,

Christoph Ziegenhain

…

Rickard Sandberg

Nature Genetics Open Access 03 March 2022

Katrina Sherbina

,

Luis G. León-Novelo

…

Fabio Marroni

BMC Research Notes Open Access 27 November 2021
Access options
Subscribe to this journal
Receive 12 print issues and online access
$189.00 per year
only $15.75 per issue
Rent or buy this article
Get just this article for as long as you need it
$39.95
Prices may be subject to local taxes which are calculated during checkout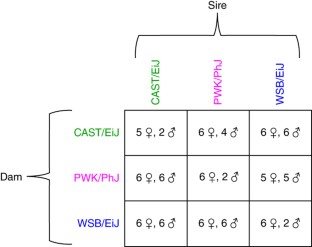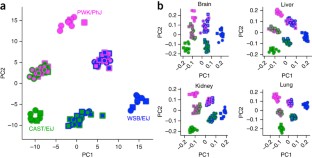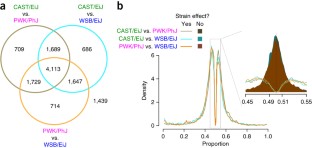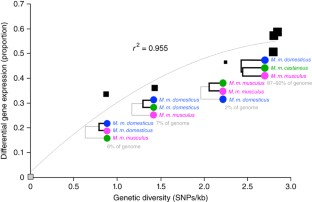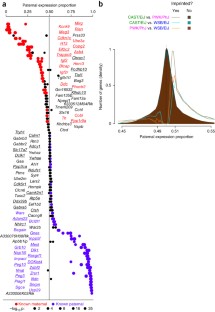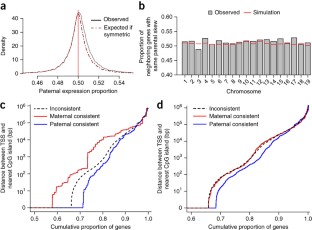 References
ENCODE Project Consortium. An integrated encyclopedia of DNA elements in the human genome. Nature 489, 57–74 (2012).

King, M.C. & Wilson, A.C. Evolution at two levels in humans and chimpanzees. Science 188, 107–116 (1975).

Gan, X. et al. Multiple reference genomes and transcriptomes for Arabidopsis thaliana. Nature 477, 419–423 (2011).

Keane, T.M. et al. Mouse genomic variation and its effect on phenotypes and gene regulation. Nature 477, 289–294 (2011).

Maurano, M.T. et al. Systematic localization of common disease-associated variation in regulatory DNA. Science 337, 1190–1195 (2012).

Hindorff, L.A. et al. Potential etiologic and functional implications of genome-wide association loci for human diseases and traits. Proc. Natl. Acad. Sci. USA 106, 9362–9367 (2009).

Schaub, M.A., Boyle, A.P., Kundaje, A., Batzoglou, S. & Snyder, M. Linking disease associations with regulatory information in the human genome. Genome Res. 22, 1748–1759 (2012).

Nicolae, D.L. et al. Trait-associated SNPs are more likely to be eQTLs: annotation to enhance discovery from GWAS. PLoS Genet. 6, e1000888 (2010).

Wang, X. et al. Transcriptome-wide identification of novel imprinted genes in neonatal mouse brain. PLoS ONE 3, e3839 (2008).

Gregg, C. et al. High-resolution analysis of parent-of-origin allelic expression in the mouse brain. Science 329, 643–648 (2010).

Gregg, C., Zhang, J., Butler, J.E., Haig, D. & Dulac, C. Sex-specific parent-of-origin allelic expression in the mouse brain. Science 329, 682–685 (2010).

DeVeale, B., van der Kooy, D. & Babak, T. Critical evaluation of imprinted gene expression by RNA-Seq: a new perspective. PLoS Genet. 8, e1002600 (2012).

Wang, X., Soloway, P.D. & Clark, A.G. A survey for novel imprinted genes in the mouse placenta by mRNA-seq. Genetics 189, 109–122 (2011).

Okae, H. et al. Re-investigation and RNA sequencing-based identification of genes with placenta-specific imprinted expression. Hum. Mol. Genet. 21, 548–558 (2012).

Goncalves, A. et al. Extensive compensatory cis-trans regulation in the evolution of mouse gene expression. Genome Res. 22, 2376–2384 (2012).

Babak, T. et al. Global survey of genomic imprinting by transcriptome sequencing. Curr. Biol. 18, 1735–1741 (2008).

Hayden, E.C. RNA studies under fire. Nature 484, 428 (2012).

Barlow, D.P. Gametic imprinting in mammals. Science 270, 1610–1613 (1995).

Skarnes, W.C. et al. A conditional knockout resource for the genome-wide study of mouse gene function. Nature 474, 337–342 (2011).

Collaborative Cross Consortium. The genome architecture of the Collaborative Cross mouse genetic reference population. Genetics 190, 389–401 (2012).

Churchill, G.A., Gatti, D.M., Munger, S.C. & Svenson, K.L. The Diversity Outbred mouse population. Mamm. Genome 23, 713–718 (2012).

Huang, S., Holt, J., Kao, C.Y., McMillan, L. & Wang, W. A novel multi-alignment pipeline for high-throughput sequencing data. Database (Oxford) 2014, bau057 (2014).

Zhang, Z. et al. GeneScissors: a comprehensive approach to detecting and correcting spurious transcriptome inference due to RNAseq reads misalignment. Bioinformatics 29, 291–299 (2013).

Zou, F. et al. A novel statistical approach for jointly analyzing RNA-Seq data from F1 reciprocal crosses and inbred lines. Genetics 197, 389–399 (2014).

Wright, F.A. et al. Heritability and genomics of gene expression in peripheral blood. Nat. Genet. 46, 430–437 (2014).

Kim, Y. et al. A meta-analysis of gene expression quantitative trait loci in brain. Transl. Psychiatry 4, e459 (2014).

Yang, H. et al. Subspecific origin and haplotype diversity in the laboratory mouse. Nat. Genet. 43, 648–655 (2011).

Xie, W. et al. Base-resolution analyses of sequence and parent-of-origin dependent DNA methylation in the mouse genome. Cell 148, 816–831 (2012).

Ohno, S., Kaplan, W.D. & Kinosita, R. Formation of the sex chromatin by a single X-chromosome in liver cells of Rattus norvegicus. Exp. Cell Res. 18, 415–418 (1959).

Lyon, M.F. Gene action in the X-chromosome of the mouse (Mus musculus L.). Nature 190, 372–373 (1961).

Ohno, S. Sex Chromosomes and Sex Linked Genes (Springer Verlag, 1967).

Cattanach, B.M. Controlling elements in the mouse X-chromosome. 3. Influence upon both parts of an X divided by rearrangement. Genet. Res. 16, 293–301 (1970).

Calaway, J.D. et al. Genetic architecture of skewed X inactivation in the laboratory mouse. PLoS Genet. 9, e1003853 (2013).

Aylor, D.L. et al. Genetic analysis of complex traits in the emerging Collaborative Cross. Genome Res. 21, 1213–1222 (2011).

Cui, X., Affourtit, J., Shockley, K.R., Woo, Y. & Churchill, G.A. Inheritance patterns of transcript levels in F1 hybrid mice. Genetics 174, 627–637 (2006).

Price, A.L. et al. Single-tissue and cross-tissue heritability of gene expression via identity-by-descent in related or unrelated individuals. PLoS Genet. 7, e1001317 (2011).

Schadt, E.E. et al. Genetics of gene expression surveyed in maize, mouse and man. Nature 422, 297–302 (2003).

Kong, A. et al. Rate of de novo mutations and the importance of father's age to disease risk. Nature 488, 471–475 (2012).

Drost, J.B. & Lee, W.R. Biological basis of germline mutation: comparisons of spontaneous germline mutation rates among Drosophila, mouse, and human. Environ. Mol. Mutagen. 25 (suppl. 26), 48–64 (1995).

Lin, H. et al. Dosage compensation in the mouse balances up-regulation and silencing of X-linked genes. PLoS Biol. 5, e326 (2007).

Johnston, C.M. et al. Large-scale population study of human cell lines indicates that dosage compensation is virtually complete. PLoS Genet. 4, e9 (2008).

Yang, F., Babak, T., Shendure, J. & Disteche, C.M. Global survey of escape from X inactivation by RNA-sequencing in mouse. Genome Res. 20, 614–622 (2010).

Li, N. & Carrel, L. Escape from X chromosome inactivation is an intrinsic property of the Jarid1c locus. Proc. Natl. Acad. Sci. USA 105, 17055–17060 (2008).

Lopes, A.M. et al. Transcriptional changes in response to X chromosome dosage in the mouse: implications for X inactivation and the molecular basis of Turner Syndrome. BMC Genomics 11, 82 (2010).

Carrel, L. & Willard, H.F. X-inactivation profile reveals extensive variability in X-linked gene expression in females. Nature 434, 400–404 (2005).

Berletch, J.B., Yang, F. & Disteche, C.M. Escape from X inactivation in mice and humans. Genome Biol. 11, 213 (2010).

Nguyen, D.K. & Disteche, C.M. Dosage compensation of the active X chromosome in mammals. Nat. Genet. 38, 47–53 (2006).

Gupta, V. et al. Global analysis of X-chromosome dosage compensation. J. Biol. 5, 3 (2006).

Xiong, Y. et al. RNA sequencing shows no dosage compensation of the active X-chromosome. Nat. Genet. 42, 1043–1047 (2010).

Deng, X. et al. Evidence for compensatory upregulation of expressed X-linked genes in mammals, Caenorhabditis elegans and Drosophila melanogaster. Nat. Genet. 43, 1179–1185 (2011).

Kharchenko, P.V., Xi, R. & Park, P.J. Evidence for dosage compensation between the X chromosome and autosomes in mammals. Nat. Genet. 43, 1167–1169 author reply 1171–1172 (2011).

Lin, H. et al. Relative overexpression of X-linked genes in mouse embryonic stem cells is consistent with Ohno's hypothesis. Nat. Genet. 43, 1169–1170 author reply 1171–1172 (2011).

Yildirim, E., Sadreyev, R.I., Pinter, S.F. & Lee, J.T. X-chromosome hyperactivation in mammals via nonlinear relationships between chromatin states and transcription. Nat. Struct. Mol. Biol. 19, 56–61 (2012).

He, X. et al. He et al. reply. Nat. Genet. 43, 1171–1172 (2011).

Lin, F., Xing, K., Zhang, J. & He, X. Expression reduction in mammalian X chromosome evolution refutes Ohno's hypothesis of dosage compensation. Proc. Natl. Acad. Sci. USA 109, 11752–11757 (2012).

Brawand, D. et al. The evolution of gene expression levels in mammalian organs. Nature 478, 343–348 (2011).

Disteche, C.M. Dosage compensation of the sex chromosomes. Annu. Rev. Genet. 46, 537–560 (2012).

Jue, N.K. et al. Determination of dosage compensation of the mammalian X chromosome by RNA-seq is dependent on analytical approach. BMC Genomics 14, 150 (2013).
Acknowledgements
We thank P. Mieczkowski, A. Brandt, E. Malc, M. Vernon, J. Brennan and M. Calabrese for helpful discussions. Major funding was provided by National Institute of Mental Health/National Human Genome Research Institute Center of Excellence for Genome Sciences grants (P50MH090338 and P50HG006582, co-principal investigators F.P.-M.d.V. and P.F.S.). This work was also supported by grants R01GM074175 (principal investigator F.Z.) from the National Institute of General Medical Sciences and K01MH094406 (principal investigator J.J.C.) from the National Institute of Mental Health.
Ethics declarations
Competing interests
The authors declare no competing financial interests.
Integrated supplementary information
Supplementary information
Supplementary Figures 1–13, Supplementary Tables 1–5 and Supplementary Note. (PDF 6288 kb)
Detailed gene-level statistical effects and list of 95 imprinted genes. (XLSX 11859 kb)
About this article
Cite this article
Crowley, J., Zhabotynsky, V., Sun, W. et al. Analyses of allele-specific gene expression in highly divergent mouse crosses identifies pervasive allelic imbalance. Nat Genet 47, 353–360 (2015). https://doi.org/10.1038/ng.3222
Received:

Accepted:

Published:

Issue Date:

DOI: https://doi.org/10.1038/ng.3222