Abstract
Natural variation within species reveals aspects of genome evolution and function. The fission yeast Schizosaccharomyces pombe is an important model for eukaryotic biology, but researchers typically use one standard laboratory strain. To extend the usefulness of this model, we surveyed the genomic and phenotypic variation in 161 natural isolates. We sequenced the genomes of all strains, finding moderate genetic diversity (π = 3 × 10−3 substitutions/site) and weak global population structure. We estimate that dispersal of S. pombe began during human antiquity (∼340 BCE), and ancestors of these strains reached the Americas at ∼1623 CE. We quantified 74 traits, finding substantial heritable phenotypic diversity. We conducted 223 genome-wide association studies, with 89 traits showing at least one association. The most significant variant for each trait explained 22% of the phenotypic variance on average, with indels having larger effects than SNPs. This analysis represents a rich resource to examine genotype-phenotype relationships in a tractable model.
Access options
Subscribe to this journal
Receive 12 print issues and online access
$209.00 per year
only $17.42 per issue
Rent or buy this article
Prices vary by article type
from$1.95
to$39.95
Prices may be subject to local taxes which are calculated during checkout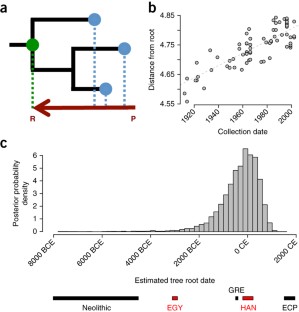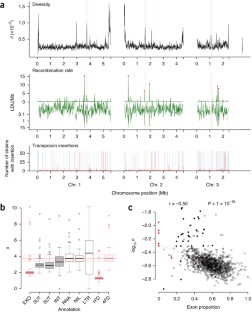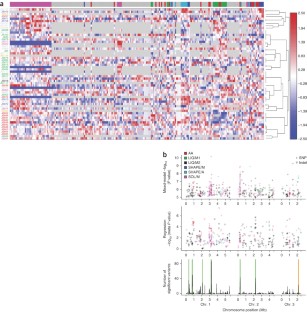 Similar content being viewed by others
Accession codes
Accessions
GenBank/EMBL/DDBJ
References
Gomes, F.C.O. et al. Physiological diversity and trehalose accumulation in Schizosaccharomyces pombe strains isolated from spontaneous fermentations during the production of the artisanal Brazilian cachaça. Can. J. Microbiol. 48, 399–406 (2002).

Brown, W.R.A. et al. A geographically diverse collection of Schizosaccharomyces pombe isolates shows limited phenotypic variation but extensive karyotypic diversity. G3 1, 615–626 (2011).

Fawcett, J.A. et al. Population genomics of the fission yeast Schizosaccharomyces pombe. PLoS ONE 9, e104241 (2014).

Osterwalder, A. Schizosaccharomyces liquefaciens n.sp., eine gegen freie schweflige Säure widerstandsfähige Gärhefe. Mitt. Geb. Lebensmittelunters. Hyg. 15, 5–28 (1924).

Florenzano, G., Balloni, W. & Materassi, R. Contributo alla ecologia dei lieviti Schizosaccharomyces sulle uve. Vitis 16, 38–44 (1977).

Teoh, A.L., Heard, G. & Cox, J. Yeast ecology of Kombucha fermentation. Int. J. Food Microbiol. 95, 119–126 (2004).

Wood, V. et al. The genome sequence of Schizosaccharomyces pombe. Nature 415, 871–880 (2002).

Liti, G. et al. Population genomics of domestic and wild yeasts. Nature 458, 337–341 (2009).

Schacherer, J., Shapiro, J.A., Ruderfer, D.M. & Kruglyak, L. Comprehensive polymorphism survey elucidates population structure of Saccharomyces cerevisiae. Nature 458, 342–345 (2009).

Avelar, A.T., Perfeito, L., Gordo, I. & Godinho Ferreira, M. Genome architecture is a selectable trait that can be maintained by antagonistic pleiotropy. Nat. Commun. 4, 2235 (2013).

Seich Al Basatena, N.-K., Hoggart, C.J., Coin, L.J. & O'Reilly, P.F. The effect of genomic inversions on estimation of population genetic parameters from SNP data. Genetics 193, 243–253 (2013).

Zanders, S.E. et al. Genome rearrangements and pervasive meiotic drive cause hybrid infertility in fission yeast. eLife 3, e02630 (2014).

Cromie, G.A. et al. Genomic sequence diversity and population structure of Saccharomyces cerevisiae assessed by RAD-seq. G3 3, 2163–2171 (2013).

Alexander, D.H., Novembre, J. & Lange, K. Fast model-based estimation of ancestry in unrelated individuals. Genome Res. 19, 1655–1664 (2009).

Lawson, D.J., Hellenthal, G., Myers, S. & Falush, D. Inference of population structure using dense haplotype data. PLoS Genet. 8, e1002453 (2012).

Hornsey, I.S. A History of Beer and Brewing (The Royal Society of Chemistry, 2003).

Fay, J.C. & Benavides, J.A. Evidence for domesticated and wild populations of Sacchoromyces cerevisiae. PLoS Genet. 1, 66–71 (2005).

Zhou, T., Gu, W. & Wilke, C.O. Detecting positive and purifying selection at synonymous sites in yeast and worm. Mol. Biol. Evol. 27, 1912–1922 (2010).

Bowen, N.J., Jordan, I.K., Epstein, J.A., Wood, V. & Levin, H.L. Retrotransposons and their recognition of pol II promoters: a comprehensive survey of the transposable elements from the complete genome sequence of Schizosaccharomyces pombe. Genome Res. 13, 1984–1997 (2003).

Mourier, T. & Willerslev, E. Large-scale transcriptome data reveals transcriptional activity of fission yeast LTR retrotransposons. BMC Genomics 11, 167 (2010).

Kwon, E.-J.G. et al. Deciphering the transcriptional-regulatory network of flocculation in Schizosaccharomyces pombe. PLoS Genet. 8, e1003104 (2012).

Guo, Y. & Levin, H.L. High-throughput sequencing of retrotransposon integration provides a saturated profile of target activity in Schizosaccharomyces pombe. Genome Res. 20, 239–248 (2010).

Guo, Y. et al. Integration profiling of gene function with dense maps of transposon integration. Genetics 195, 599–609 (2013).

Feng, G., Leem, Y.-E. & Levin, H.L. Transposon integration enhances expression of stress response genes. Nucleic Acids Res. 41, 775–789 (2013).

Jeffares, D.C., Penkett, C.J. & Bähler, J. Rapidly regulated genes are intron poor. Trends Genet. 24, 375–378 (2008).

Chen, D. et al. Global transcriptional responses of fission yeast to environmental stress. Mol. Biol. Cell 14, 214–229 (2003).

Cromie, G.A. et al. A discrete class of intergenic DNA dictates meiotic DNA break hotspots in fission yeast. PLoS Genet. 3, e141 (2007).

Fowler, K.R., Gutiérrez-Velasco, S., Martín-Castellanos, C. & Smith, G.R. Protein determinants of meiotic DNA break hot spots. Mol. Cell 49, 983–996 (2013).

Maniatis, N. et al. The first linkage disequilibrium (LD) maps: delineation of hot and cold blocks by diplotype analysis. Proc. Natl. Acad. Sci. USA 99, 2228–2233 (2002).

Liti, G. & Louis, E.J. Advances in quantitative trait analysis in yeast. PLoS Genet. 8, e1002912 (2012).

Mackay, T.F.C. Epistasis and quantitative traits: using model organisms to study gene-gene interactions. Nat. Rev. Genet. 15, 22–33 (2014).

Speed, D., Hemani, G., Johnson, M.R. & Balding, D.J. Improved heritability estimation from genome-wide SNPs. Am. J. Hum. Genet. 91, 1011–1021 (2012).

Warringer, J. et al. Trait variation in yeast is defined by population history. PLoS Genet. 7, e1002111 (2011).

Listgarten, J. et al. Improved linear mixed models for genome-wide association studies. Nat. Methods 9, 525–526 (2012).

Drummond, A.J., Suchard, M.A., Xie, D. & Rambaut, A. Bayesian phylogenetics with BEAUti and the BEAST 1.7. Mol. Biol. Evol. 29, 1969–1973 (2012).

Clément-Ziza, M. et al. Natural genetic variation impacts expression levels of coding, non-coding, and antisense transcripts in fission yeast. Mol. Syst. Biol. 10, 764 (2014).

Lunter, G. & Goodson, M. Stampy: a statistical algorithm for sensitive and fast mapping of Illumina sequence reads. Genome Res. 21, 936–939 (2011).

DePristo, M.A. et al. A framework for variation discovery and genotyping using next-generation DNA sequencing data. Nat. Genet. 43, 491–498 (2011).

Iqbal, Z., Caccamo, M., Turner, I., Flicek, P. & McVean, G. De novo assembly and genotyping of variants using colored de Bruijn graphs. Nat. Genet. 44, 226–232 (2012).

Li, H. & Durbin, R. Fast and accurate long-read alignment with Burrows-Wheeler transform. Bioinformatics 26, 589–595 (2010).

Thorvaldsdóttir, H., Robinson, J.T. & Mesirov, J.P. Integrative Genomics Viewer (IGV): high-performance genomics data visualization and exploration. Brief. Bioinform. 14, 178–192 (2013).

Keane, T.M., Wong, K. & Adams, D.J. RetroSeq: transposable element discovery from next-generation sequencing data. Bioinformatics 29, 389–390 (2013).

Rausch, T. et al. DELLY: structural variant discovery by integrated paired-end and split-read analysis. Bioinformatics 28, i333–i339 (2012).

Hutter, S., Vilella, A.J. & Rozas, J. Genome-wide DNA polymorphism analyses using VariScan. BMC Bioinformatics 7, 409 (2006).

Lau, W., Kuo, T.-Y., Tapper, W., Cox, S. & Collins, A. Exploiting large scale computing to construct high resolution linkage disequilibrium maps of the human genome. Bioinformatics 23, 517–519 (2007).

Purcell, S. et al. PLINK: a tool set for whole-genome association and population-based linkage analyses. Am. J. Hum. Genet. 81, 559–575 (2007).

Danecek, P. et al. The variant call format and VCFtools. Bioinformatics 27, 2156–2158 (2011).

Edgar, R.C. MUSCLE: multiple sequence alignment with high accuracy and high throughput. Nucleic Acids Res. 32, 1792–1797 (2004).

Lanfear, R., Calcott, B., Ho, S.Y.W. & Guindon, S. Combined selection of partitioning schemes and substitution models for phylogenetic analyses. Mol. Biol. Evol. 29, 1695–1701 (2012).

Baele, G., Li, W.L.S., Drummond, A.J., Suchard, M.A. & Lemey, P. Accurate model selection of relaxed molecular clocks in Bayesian phylogenetics. Mol. Biol. Evol. 30, 239–243 (2013).

O'Fallon, B.D. ACG: rapid inference of population history from recombining nucleotide sequences. BMC Bioinformatics 14, 40 (2013).

Tamura, K. & Nei, M. Estimation of the number of nucleotide substitutions in the control region of mitochondrial DNA in humans and chimpanzees. Mol. Biol. Evol. 10, 512–526 (1993).

Simpson, J.T. & Durbin, R. Efficient de novo assembly of large genomes using compressed data structures. Genome Res. 22, 549–556 (2012).

Stanke, M., Schoffmann, O., Morgenstern, B. & Waack, S. Gene prediction in eukaryotes with a generalized hidden Markov model that uses hints from external sources. BMC Bioinformatics 7, 62 (2006).

Camacho, C., Coulouris, G. & Avagyan, V. BLAST+: architecture and applications. BMC Bioinformatics 10, 421 (2009).

van Dongen, S. & Abreu-Goodger, C. Using MCL to extract clusters from networks. Methods Mol. Biol. 804, 281–295 (2012).

Sievers, F. et al. Fast, scalable generation of high-quality protein multiple sequence alignments using Clustal Omega. Mol. Syst. Biol. 7, 539 (2011).

Dieterle, F., Ross, A., Schlotterbeck, G. & Senn, H. Probabilistic quotient normalization as robust method to account for dilution of complex biological mixtures. Application in 1H NMR metabonomics. Anal. Chem. 78, 4281–4290 (2006).

Kahm, M., Hasenbrink, G., Lichtenberg-Frate, H., Ludwig, J. & Kschischo, M. Grofit: fitting biological growth curves with R. J. Stat. Softw. 33, 1–21 (2010).

Sazer, S. & Sherwood, S.W. Mitochondrial growth and DNA synthesis occur in the absence of nuclear DNA replication in fission yeast. J. Cell Sci. 97, 509–516 (1990).

Graml, V. et al. A genomic multiprocess survey of machineries that control and link cell shape, microtubule organization, and cell-cycle progression. Dev. Cell 31, 227–239 (2014).

Yu, J. et al. A unified mixed-model method for association mapping that accounts for multiple levels of relatedness. Nat. Genet. 38, 203–208 (2006).

The R Core Team. R: A Language and Environment for Statistical Computing (R Foundation for Statistical Computing, 2013).
Acknowledgements
We thank L. Clissold, H. Musk, D. Baker and R. Davey for their contributions to sequencing, H. Levin for discussions about transposons, and J. Mata and S. Marguerat for comments on the manuscript. This work was supported by a Wellcome Trust Senior Investigator Award to J.B. (grant 095598/Z/11/Z), by the Wellcome Trust to S.B., T.K., J.T.S. and R.D., by grant 260801-BIG-IDEA from the European Research Council (ERC) and grant BB/H005854/1 from the Biotechnology and Biological Sciences Research Council (BBSRC) to A.R. and F.B., by UK Medical Research Council grant G0901388 to D.S. and D.J.B., by a Cancer Research UK Postdoctoral Fellowship to T.M.K.C., by an ERC Starting Grant (SYSGRO) to R.E.C.S., a Wellcome Trust PhD studentship to J.L.D.L. and BBSRC grant BB/K006320/1 to R.E.C.S. and A.C., by a Wellcome Trust grant (RG 093735/Z/10/Z) and ERC Starting Grant 260809 to M.R. (M.R. is a Wellcome Trust Research Career Development and Wellcome-Beit Prize Fellow), by Czech Science Foundation grant P305/12/P040 and Charles University grant UNCE 204013 to M.P. and by Cancer Research UK to L.J. and J.H.
Ethics declarations
Competing interests
The authors declare no competing financial interests.
Integrated supplementary information
Supplementary information
Supplementary Figures 1–10 and Supplementary Note. (PDF 2988 kb)
Supplementary Tables 1–9. (XLSX 961 kb)
About this article
Cite this article
Jeffares, D., Rallis, C., Rieux, A. et al. The genomic and phenotypic diversity of Schizosaccharomyces pombe. Nat Genet 47, 235–241 (2015). https://doi.org/10.1038/ng.3215
Received:

Accepted:

Published:

Issue Date:

DOI: https://doi.org/10.1038/ng.3215