Betalains are bright red and yellow pigments, which are produced in only one order of plants, the Caryophyllales, and replace the more familiar anthocyanin pigments. The evolutionary origin of betalain production is a mystery, but a new study has identified the first regulator of betalain production and discovered a previously unknown link between the two pigment pathways.
Access options
Subscribe to Journal
Get full journal access for 1 year
$79.00
only $6.58 per issue
All prices are NET prices.
VAT will be added later in the checkout.
Tax calculation will be finalised during checkout.
Buy article
Get time limited or full article access on ReadCube.
$32.00
All prices are NET prices.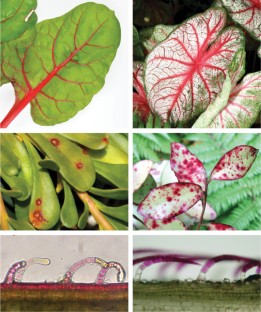 References
Brockington, S.F., Walker, R.H., Glover, B.J., Soltis, P.S. & Soltis, D.E. New Phytol. 190, 854–864 (2011).

Hatlestad, G.J. et al. Nat. Genet. 47, 92–96 (2015).

Feller, A., Machemer, K., Braun, E.L. & Grotewold, E. Plant J. 66, 94–116 (2011).

Stafford, H.A. Plant Sci. 101, 91–98 (1994).

Stracke, R., Werber, M. & Weisshaar, B. Curr. Opin. Plant Biol. 4, 447–456 (2001).

Albert, N.W. et al. Plant Cell 26, 962–980 (2014).

Stracke, R. et al. BMC Plant Biol. 14, 249 (2014).

Martin, C., Ellis, N. & Rook, F. Plant Physiol. 154, 506–511 (2010).

Paz-Ares, J., Ghosal, D., Wienand, U., Peterson, P.A. & Saedler, H. EMBO J. 6, 3553–3558 (1987).

Wessinger, C.A. & Rausher, M.D. J. Exp. Bot. 63, 5741–5749 (2012).

Schwinn, K. et al. Plant Cell 18, 831–851 (2006).
Ethics declarations
Competing interests
The author declares no competing financial interests.
About this article
Cite this article
Davies, K. Swapping one red pigment for another. Nat Genet 47, 5–6 (2015). https://doi.org/10.1038/ng.3174
Published:

Issue Date:

DOI: https://doi.org/10.1038/ng.3174
This article is cited by
Yanfen Lu
Suxiao Hao
Yuncong Yao

Brazilian Journal of Botany (2016)