Abstract
Nearly all flowering plants produce red/violet anthocyanin pigments. Caryophyllales is the only order containing families that replace anthocyanins with unrelated red and yellow betalain pigments1,2. Close biological correlation of pigmentation patterns suggested that betalains might be regulated by a conserved anthocyanin-regulating transcription factor complex consisting of a MYB, a bHLH and a WD repeat–containing protein (the MBW complex)3. Here we show that a previously uncharacterized anthocyanin MYB-like protein, Beta vulgaris MYB1 (BvMYB1), regulates the betalain pathway in beets. Silencing BvMYB1 downregulates betalain biosynthetic genes and pigmentation, and overexpressing BvMYB1 upregulates them. However, unlike anthocyanin MYBs, BvMYB1 will not interact with bHLH members of heterologous anthocyanin MBW complexes because of identified nonconserved residues. BvMYB1 resides at the historic beet pigment-patterning locus, Y, required for red-fleshed beets4. We show that Y and y express different levels of BvMYB1 transcripts. The co-option of a transcription factor regulating anthocyanin biosynthesis would be an important evolutionary event allowing betalains to largely functionally replace anthocyanins.
This is a preview of subscription content
Access options
Subscribe to Journal
Get full journal access for 1 year
$59.00
only $4.92 per issue
All prices are NET prices.
VAT will be added later in the checkout.
Tax calculation will be finalised during checkout.
Buy article
Get time limited or full article access on ReadCube.
$32.00
All prices are NET prices.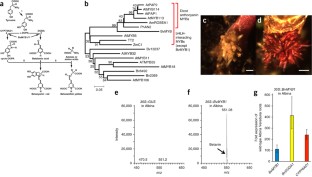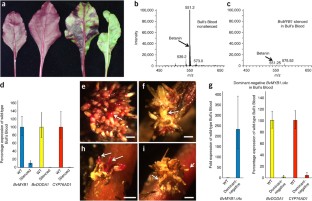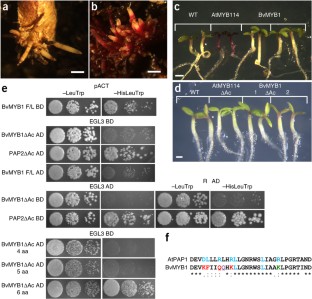 References
Clement, J.S. & Mabry, T.J. Pigment evolution in the Caryophyllales: a systematic overview. Bot. Acta 109, 360–367 (1996).

Brockington, S.F., Walker, R.H., Glover, B.J., Soltis, P.S. & Soltis, D.E. Complex pigment evolution in the Caryophyllales. New Phytol. 190, 854–864 (2011).

Feller, A., Machemer, K., Braun, E.L. & Grotewold, E. Evolutionary and comparative analysis of MYB and bHLH plant transcription factors. Plant J. 66, 94–116 (2011).

Keller, W. Inheritance of some major color types in beets. J. Agric. Res. 52, 27–38 (1936).

Stafford, H.A. Anthocyanins and betalains: evolution of the mutually exclusive pathways. Plant Sci. 101, 91–98 (1994).

Hatlestad, G.J. et al. The beet R locus encodes a new cytochrome P450 required for red betalain production. Nat. Genet. 44, 816–820 (2012).

Dubos, C. et al. MYB transcription factors in Arabidopsis. Trends Plant Sci. 15, 573–581 (2010).

Stracke, R., Werber, M. & Weisshaar, B. The R2R3-MYB gene family in Arabidopsis thaliana. Curr. Opin. Plant Biol. 4, 447–456 (2001).

Lin-Wang, K. et al. An R2R3 MYB transcription factor associated with regulation of the anthocyanin biosynthetic pathway in Rosaceae. BMC Plant Biol. 10, 50 (2010).

Christinet, L., Burdet, F.X., Zaiko, M., Hinz, U. & Zryd, J.-P. Characterization and functional identification of a novel plant 4,5-extradiol dioxygenase involved in betalain pigment biosynthesis in Portulaca grandiflora. Plant Physiol. 134, 265–274 (2004).

Gonzalez, A., Zhao, M., Leavitt, J. & Lloyd, A. Regulation of the anthocyanin pigment pathway by MYB and bHLH transcription factor complexes. Plant J. 53, 814–827 (2008).

Borevitz, J.O., Xia, Y., Blount, J., Dixon, R.A. & Lamb, C.J. Activation tagging identifies a conserved MYB regulator of phenylpropanoid biosynthesis. Plant Cell 12, 2383–2394 (2000).

Liu, Y., Schiff, M. & Dinesh-Kumar, S.P. Virus-induced gene silencing in tomato. Plant J. 31, 777–786 (2002).

Zimmermann, I.M., Heim, M.A., Weisshaar, B. & Uhrig, J.F. Comprehensive identification of Arabidopsis thaliana MYB transcription factors interacting with R/B-like bHLH proteins. Plant J. 40, 22–34 (2004).

Grotewold, E. et al. Identification of the residues in the Myb domain of maize C1 that specify the interaction with the bHLH cofactor R. Proc. Natl. Acad. Sci. USA 97, 13579–13584 (2000).

McGrath, J.M. et al. An open-source first-generation molecular genetic map from a sugarbeet × table beet cross and its extension to physical mapping. Crop Sci. 47, S27–S44 (2007).

Goldman, I.L. & Austin, D. Linkage among the R, Y and Bl loci in table beet. TAG 100, 337–343 (2000).

Quattrocchio, F., Wing, J.F., van der Woude, K., Mol, J.N.M. & Koes, R. Regulatory genes controlling anthocyanin pigmentation are functionally conserved among plant species and have distinct sets of target genes. Plant Cell 5, 1497–1512 (1993).

Schwinn, K. et al. A small family of MYB-regulatory genes controls floral pigmentation intensity and patterning in the genus Antirrhinum. Plant Cell 18, 831–851 (2006).

Nakayama, M., Kikuno, R. & Ohara, O. Protein-protein interactions between large proteins: two-hybrid screening using a functionally classified library composed of long cDNAs. Genome Res. 12, 1773–1784 (2002).

Tamura, K. et al. MEGA5: molecular evolutionary genetics analysis using maximum likelihood, evolutionary distance, and maximum parsimony methods. Mol. Biol. Evol. 28, 2731–2739 (2011).

Karimi, M., Inze, D. & Depicker, A. GATEWAY vectors for Agrobacterium-mediated plant transformation. Trends Plant Sci. 7, 193–195 (2002).

Quandt, H.J., Pühler, A. & Broer, I. Transgenic root nodules of Vicia hirsuta: a fast and efficient system for the study of gene expression in indeterminate-type nodules. Mol. Plant Microbe Interact. 6, 699–706 (1993).

Koncz, C. & Schell, J. The promoter TL-DNA gene 5 controls the tissue-specific expression of chimaeric genes carried by a novel type of Agrobacterium vector. Mol. Gen. Genet. 204, 383–396 (1986).

Kugler, F., Stintzing, F.C. & Carle, R. Identification of betalains from petioles of differently colored Swiss chard (Beta vulgaris L. ssp. cicla (L.) Alef. Cv. Bright Lights) by high-performance liquid chromatography–electrospray ionization mass spectrometry. J. Agric. Food Chem. 52, 2975–2981 (2004).

Deplancke, B., Dupuy, D., Vidal, M. & Walhout, A.J.A. Gateway-compatible yeast one-hybrid system. Genome Res. 14, 2093–2101 (2004).

Deplancke, B., Vermeirssen, V., Arda, H.E., Martinez, N.J. & Walhout, A.J. Gateway-compatible yeast one-hybrid screens. CSH Protoc. 2006, pdb.prot4590 (2006).

Baudry, A. et al. TT2, TT8, and TTG1 synergistically specify the expression of BANYULS and proanthocyanidin biosynthesis in Arabidopsis thaliana. Plant J. 39, 366–380 (2004).

Haldane, J.B.S. & Waddington, C. Inbreeding and linkage. Genetics 16, 357–374 (1931).
Acknowledgements
This work was supported by US Department of Agriculture grant 2008-35301-19032 and US National Science Foundation grant MCB-1122179. We thank E. Huq, S. Sung and V. Symonds for comments on the manuscript and discussion, I. Goldman (University of Wisconsin–Madison) for the W357B beet cultivar and K. Keller for pigment analysis.
Ethics declarations
Competing interests
The authors declare no competing financial interests.
Integrated supplementary information
Supplementary information
Supplementary Figures 1–15 and Supplementary Tables 1–4. (PDF 1545 kb)
About this article
Cite this article
Hatlestad, G., Akhavan, N., Sunnadeniya, R. et al. The beet Y locus encodes an anthocyanin MYB-like protein that activates the betalain red pigment pathway. Nat Genet 47, 92–96 (2015). https://doi.org/10.1038/ng.3163
Received:

Accepted:

Published:

Issue Date:

DOI: https://doi.org/10.1038/ng.3163