Abstract
A scarlet fever outbreak began in mainland China and Hong Kong in 2011 (refs. 1–6). Macrolide- and tetracycline-resistant Streptococcus pyogenes emm12 isolates represent the majority of clinical cases. Recently, we identified two mobile genetic elements that were closely associated with emm12 outbreak isolates: the integrative and conjugative element ICE-emm12, encoding genes for tetracycline and macrolide resistance, and prophage ΦHKU.vir, encoding the superantigens SSA and SpeC, as well as the DNase Spd1 (ref. 4). Here we sequenced the genomes of 141 emm12 isolates, including 132 isolated in Hong Kong between 2005 and 2011. We found that the introduction of several ICE-emm12 variants, ΦHKU.vir and a new prophage, ΦHKU.ssa, occurred in three distinct emm12 lineages late in the twentieth century. Acquisition of ssa and transposable elements encoding multidrug resistance genes triggered the expansion of scarlet fever–associated emm12 lineages in Hong Kong. The occurrence of multidrug-resistant ssa-harboring scarlet fever strains should prompt heightened surveillance within China and abroad for the dissemination of these mobile genetic elements.
Relevant articles
Open Access articles citing this article.
Junhui Qiu

,

Qi Zhou

…

Yun-Juan Bao

BMC Bioinformatics Open Access 06 January 2022

Stephan Brouwer

,

Timothy C. Barnett

…

Mark J. Walker

Nature Communications Open Access 06 October 2020

Shelby Spring

,

Hasitha Premathilake

…

Adel Pezeshki

Scientific Reports Open Access 28 September 2020
Access options
Subscribe to Journal
Get full journal access for 1 year
$79.00
only $6.58 per issue
All prices are NET prices.
VAT will be added later in the checkout.
Tax calculation will be finalised during checkout.
Buy article
Get time limited or full article access on ReadCube.
$32.00
All prices are NET prices.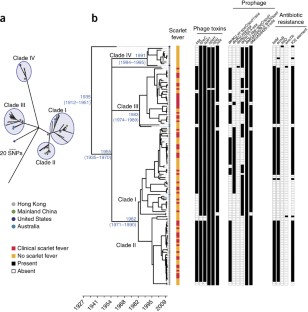 References
Chen, M. et al. Outbreak of scarlet fever associated with emm12 type group A Streptococcus in 2011 in Shanghai, China. Pediatr. Infect. Dis. J. 31, e158–e162 (2012).

Hsieh, Y.C. & Huang, Y.C. Scarlet fever outbreak in Hong Kong, 2011. J. Microbiol. Immunol. Infect. 44, 409–411 (2011).

Lau, E.H., Nishiura, H., Cowling, B.J., Ip, D.K. & Wu, J.T. Scarlet fever outbreak, Hong Kong, 2011. Emerg. Infect. Dis. 18, 1700–1702 (2012).

Tse, H. et al. Molecular characterization of the 2011 Hong Kong scarlet fever outbreak. J. Infect. Dis. 206, 341–351 (2012).

Wong, S.S.Y. & Yuen, K.Y. Streptococcus pyogenes and re-emergence of scarlet fever as a public health problem. Emerging Microbes Infections 1, e2 (2012).

Yang, P. et al. Characteristics of group A Streptococcus strains circulating during scarlet fever epidemic, Beijing, China, 2011. Emerg. Infect. Dis. 19, 909–915 (2013).

Walker, M.J. et al. Disease manifestations and pathogenic mechanisms of group A Streptococcus. Clin. Microbiol. Rev. 27, 264–301 (2014).

Duncan, S.R., Scott, S. & Duncan, C.J. Modelling the dynamics of scarlet fever epidemics in the 19th century. Eur. J. Epidemiol. 16, 619–626 (2000).

Katz, A.R. & Morens, D.M. Severe streptococcal infections in historical perspective. Clin. Infect. Dis. 14, 298–307 (1992).

Su, Y.F. et al. Changing epidemiology of Streptococcus pyogenes emm types and associated invasive and noninvasive infections in Southern Taiwan. J. Clin. Microbiol. 47, 2658–2661 (2009).

Liang, Y. et al. Epidemiological and molecular characteristics of clinical isolates of Streptococcus pyogenes collected between 2005 and 2008 from Chinese children. J. Med. Microbiol. 61, 975–983 (2012).

Jing, H.B. et al. Epidemiological analysis of group A streptococci recovered from patients in China. J. Med. Microbiol. 55, 1101–1107 (2006).

Beres, S.B. et al. Molecular genetic anatomy of inter- and intraserotype variation in the human bacterial pathogen group A Streptococcus. Proc. Natl. Acad. Sci. USA 103, 7059–7064 (2006).

You, Y. et al. Draft genome sequences of two Streptococcus pyogenes strains involved in abnormal sharp raised scarlet fever in China, 2011. J. Bacteriol. 194, 5983–5984 (2012).

Croucher, N.J. et al. Rapid pneumococcal evolution in response to clinical interventions. Science 331, 430–434 (2011).

Drummond, A.J. & Rambaut, A. BEAST: Bayesian evolutionary analysis by sampling trees. BMC Evol. Biol. 7, 214 (2007).

Beres, S.B. et al. Molecular complexity of successive bacterial epidemics deconvoluted by comparative pathogenomics. Proc. Natl. Acad. Sci. USA 107, 4371–4376 (2010).

Silva-Costa, C., Carriço, J.A., Ramirez, M. & Melo-Cristino, J. Scarlet fever is caused by a limited number of Streptococcus pyogenes lineages and is associated with the exotoxin genes ssa, speA and speC. Pediatr. Infect. Dis. J. 33, 306–310 (2014).

Banks, D.J., Beres, S.B. & Musser, J.M. The fundamental contribution of phages to GAS evolution, genome diversification and strain emergence. Trends Microbiol. 10, 515–521 (2002).

Harris, S.R. et al. Evolution of MRSA during hospital transmission and intercontinental spread. Science 327, 469–474 (2010).

He, M. et al. Emergence and global spread of epidemic healthcare-associated Clostridium difficile. Nat. Genet. 45, 109–113 (2013).

Stamatakis, A. RAxML-VI-HPC: maximum likelihood–based phylogenetic analyses with thousands of taxa and mixed models. Bioinformatics 22, 2688–2690 (2006).

Drummond, A.J., Suchard, M.A., Xie, D. & Rambaut, A. Bayesian phylogenetics with BEAUti and the BEAST 1.7. Mol. Biol. Evol. 29, 1969–1973 (2012).

Lemey, P., Rambaut, A., Drummond, A.J. & Suchard, M.A. Bayesian phylogeography finds its roots. PLoS Comput. Biol. 5, e1000520 (2009).

Zerbino, D.R. & Birney, E. Velvet: algorithms for de novo short read assembly using de Bruijn graphs. Genome Res. 18, 821–829 (2008).

Carver, T.J. et al. ACT: the Artemis Comparison Tool. Bioinformatics 21, 3422–3423 (2005).

Zhou, Y., Liang, Y., Lynch, K.H., Dennis, J.J. & Wishart, D.S. PHAST: a fast phage search tool. Nucleic Acids Res. 39, W347–W352 (2011).

Alikhan, N.F., Petty, N.K., Ben Zakour, N.L. & Beatson, S.A. BLAST Ring Image Generator (BRIG): simple prokaryote genome comparisons. BMC Genomics 12, 402 (2011).

Hyatt, D. et al. Prodigal: prokaryotic gene recognition and translation initiation site identification. BMC Bioinformatics 11, 119 (2010).

Seemann, T. Prokka: rapid prokaryotic genome annotation. Bioinformatics 30, 2068–2069 (2014).

Wong, S.S., Ho, P.L., Woo, P.C. & Yuen, K.Y. Bacteremia caused by staphylococci with inducible vancomycin heteroresistance. Clin. Infect. Dis. 29, 760–767 (1999).

Cole, J.N. et al. Role of group A Streptococcus HtrA in the maturation of SpeB protease. Proteomics 7, 4488–4498 (2007).

van de Rijn, I. & Kessler, R.E. Growth characteristics of group A streptococci in a new chemically defined medium. Infect. Immun. 27, 444–448 (1980).

Barnett, T.C. et al. The globally disseminated M1T1 clone of group A Streptococcus evades autophagy for intracellular replication. Cell Host Microbe 14, 675–682 (2013).
Acknowledgements
We thank the core sequencing and pathogen informatics teams at the Sanger Institute for their assistance. This work was supported by National Health and Medical Research Council of Australia (NHMRC) program grant 565526, Australian Research Council grant DP140102881, a Research Fund for the Control of Infectious Diseases Commissioned Grant from the Hong Kong government and Wellcome Trust grant 098051. M.R.D. is supported by an NHMRC postdoctoral training fellowship (635250). M.J.W. is supported by an NHMRC principal research fellowship (631386).
Ethics declarations
Competing interests
The authors declare no competing financial interests.
Integrated supplementary information
Supplementary information
Supplementary Figures 1–7. (PDF 1780 kb)
Details of S. pyogenes M12 strains used in this study and associated distribution of toxin and antibiotic resistance genes. (XLSX 65 kb)
About this article
Cite this article
Davies, M., Holden, M., Coupland, P. et al. Emergence of scarlet fever Streptococcus pyogenes emm12 clones in Hong Kong is associated with toxin acquisition and multidrug resistance. Nat Genet 47, 84–87 (2015). https://doi.org/10.1038/ng.3147
Received:

Accepted:

Published:

Issue Date:

DOI: https://doi.org/10.1038/ng.3147