Abstract
Functional interpretation of genomic variation is critical to understanding human disease, but it remains difficult to predict the effects of specific mutations on protein interaction networks and the phenotypes they regulate. We describe an analytical framework based on multiscale statistical mechanics that integrates genomic and biophysical data to model the human SH2-phosphoprotein network in normal and cancer cells. We apply our approach to data in The Cancer Genome Atlas (TCGA) and test model predictions experimentally. We find that mutations mapping to phosphoproteins often create new interactions but that mutations altering SH2 domains result almost exclusively in loss of interactions. Some of these mutations eliminate all interactions, but many cause more selective loss, thereby rewiring specific edges in highly connected subnetworks. Moreover, idiosyncratic mutations appear to be as functionally consequential as recurrent mutations. By synthesizing genomic, structural and biochemical data, our framework represents a new approach to the interpretation of genetic variation.
Relevant articles
Open Access articles citing this article.
Abdoelnaser M. Degoot

,

Emmanuel S. Adabor

…

Wilfred Ndifon

Scientific Reports Open Access 15 July 2019

Aparna Rai

,

Pramod Shinde

&

Sarika Jalan

Applied Network Science Open Access 17 December 2018

Sheng Wang

,

Jianzhu Ma

…

Trey Ideker

Nature Communications Open Access 08 October 2018
Access options
Subscribe to this journal
Receive 12 print issues and online access
$189.00 per year
only $15.75 per issue
Rent or buy this article
Get just this article for as long as you need it
$39.95
Prices may be subject to local taxes which are calculated during checkout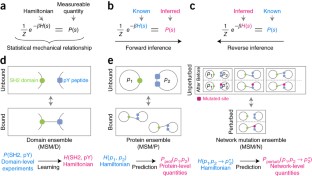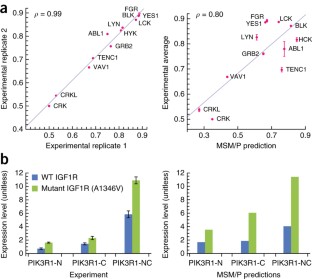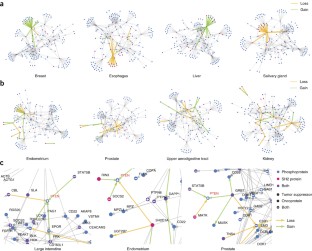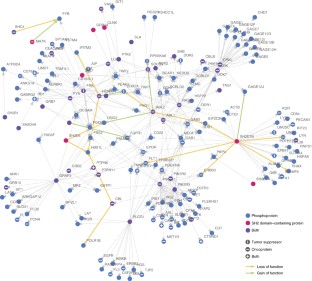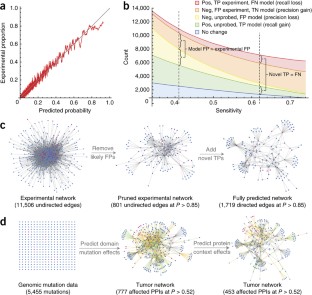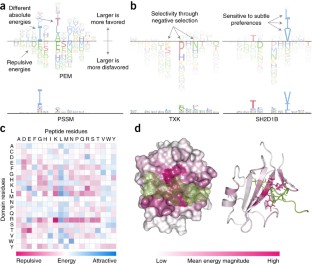 Accession codes
Accessions
Protein Data Bank
References
Lawrence, M.S. et al. Discovery and saturation analysis of cancer genes across 21 tumour types. Nature 505, 495–501 (2014).

Liu, B.A., Engelmann, B.W. & Nash, P.D. High-throughput analysis of peptide-binding modules. Proteomics 12, 1527–1546 (2012).

Ho, Y. et al. Systematic identification of protein complexes in Saccharomyces cerevisiae by mass spectrometry. Nature 415, 180–183 (2002).

Bader, G.D. & Hogue, C.W.V. Analyzing yeast protein-protein interaction data obtained from different sources,. Nat. Biotechnol. 20, 991–997 (2002).

Gschwind, A., Fischer, O.M. & Ullrich, A. The discovery of receptor tyrosine kinases: targets for cancer therapy. Nat. Rev. Cancer 4, 361–370 (2004).

Zhong, Q. et al. Edgetic perturbation models of human inherited disorders. Mol. Syst. Biol. 5, 321 (2009).

Ren, J. et al. PhosSNP for systematic analysis of genetic polymorphisms that influence protein phosphorylation. Mol. Cell. Proteomics 9, 623–634 (2010).

Tamborero, D. et al. Comprehensive identification of mutational cancer driver genes across 12 tumor types. Sci. Rep. 3, 2650 (2013).

Birge, R.B., Kalodimos, C., Inagaki, F. & Tanaka, S. Crk and CrkL adaptor proteins: networks for physiological and pathological signaling. Cell Commun. Signal. 7, 13 (2009).

Li, L. et al. Prediction of phosphotyrosine signaling networks using a scoring matrix-assisted ligand identification approach. Nucleic Acids Res. 36, 3263–3273 (2008).

Kundu, K., Costa, F., Huber, M., Reth, M. & Backofen, R. Semi-supervised prediction of SH2-peptide interactions from imbalanced high-throughput data. PLoS ONE 8, e62732 (2013).

Miller, M.L. et al. Linear motif atlas for phosphorylation-dependent signaling. Sci. Signal. 1, ra2 (2008).

Wunderlich, Z. & Mirny, L.A. Using genome-wide measurements for computational prediction of SH2-peptide interactions. Nucleic Acids Res. 37, 4629–4641 (2009).

Zhang, Q.C. et al. Structure-based prediction of protein-protein interactions on a genome-wide scale. Nature 490, 556–560 (2012).

Franceschini, A. et al. STRING v9.1: protein-protein interaction networks, with increased coverage and integration. Nucleic Acids Res. 41, D808–D815 (2013).

Forbes, S.A. et al. COSMIC: mining complete cancer genomes in the Catalogue of Somatic Mutations in Cancer. Nucleic Acids Res. 39, D945–D950 (2011).

AlQuraishi, M. & McAdams, H.H. Direct inference of protein-DNA interactions using compressed sensing methods. Proc. Natl. Acad. Sci. USA 108, 14819–14824 (2011).

Koytiger, G. et al. Phosphotyrosine signaling proteins that drive oncogenesis tend to be highly interconnected. Mol. Cell. Proteomics 12, 1204–1213 (2013).

Hause, R.J. et al. Comprehensive binary interaction mapping of SH2 domains via fluorescence polarization reveals novel functional diversification of ErbB receptors. PLoS ONE 7, e44471 (2012).

Liu, B.A. et al. SH2 domains recognize contextual peptide sequence information to determine selectivity. Mol. Cell. Proteomics 9, 2391–2404 (2010).

Tinti, M. et al. The SH2 domain interaction landscape. Cell Rep. 3, 1293–1305 (2013).

Hornbeck, P.V. et al. PhosphoSitePlus: a comprehensive resource for investigating the structure and function of experimentally determined post-translational modifications in man and mouse. Nucleic Acids Res. 40, D261–D270 (2012).

Branden, C. & Tooze, J. Introduction to Protein Structure (Garland Science, New York, 1999).

von Mering, C. et al. Comparative assessment of large-scale data sets of protein-protein interactions. Nature 417, 399–403 (2002).

Lossos, I.S., Alizadeh, A.A., Rajapaksa, R., Tibshirani, R. & Levy, R. HGAL is a novel interleukin-4–inducible gene that strongly predicts survival in diffuse large B-cell lymphoma. Blood 101, 433–440 (2003).

Natkunam, Y. et al. Expression of the human germinal center–associated lymphoma (HGAL) protein identifies a subset of classic Hodgkin lymphoma of germinal center derivation and improved survival. Blood 109, 298–305 (2007).

Pan, Z. et al. Studies of a germinal centre B-cell expressed gene, GCET2, suggest its role as a membrane associated adapter protein. Br. J. Haematol. 137, 578–590 (2007).

Romero-Camarero, I. et al. Germinal centre protein HGAL promotes lymphoid hyperplasia and amyloidosis via BCR-mediated Syk activation. Nat. Commun. 4, 1338 (2013).

Davies, H. et al. Somatic mutations of the protein kinase gene family in human lung cancer. Cancer Res. 65, 7591–7595 (2005).

Zhao, M., Sun, J. & Zhao, Z. TSGene: a web resource for tumor suppressor genes. Nucleic Acids Res. 41, D970–D976 (2013).

Watson, I.R., Takahashi, K., Futreal, P.A. & Chin, L. Emerging patterns of somatic mutations in cancer. Nat. Rev. Genet. 14, 703–718 (2013).

Marengere, L.E. et al. SH2 domain specificity and activity modified by a single residue. Nature 369, 502–505 (1994).

Cabodi, S., del Pilar Camacho-Leal, M., Di Stefano, P. & Defilippi, P. Integrin signalling adaptors: not only figurants in the cancer story. Nat. Rev. Cancer 10, 858–870 (2010).

Haynie, D.T. Molecular physiology of the tensin brotherhood of integrin adaptor proteins. Proteins 82, 1113–1127 (2014).

Ewan, K.B.R. et al. Proliferation of estrogen receptor-α–positive mammary epithelial cells is restrained by transforming growth factor-β1 in adult mice. Am. J. Pathol. 167, 409–417 (2005).

Ewing, B., Hillier, L., Wendl, M.C. & Green, P. Base-calling of automated sequencer traces using Phred. I. Accuracy assessment. Genome Res. 8, 175–185 (1998).

Freedman, L.P. & Inglese, J. The increasing urgency for standards in basic biologic research. Cancer Res. 74, 4024–4029 (2014).
Acknowledgements
This work was supported by US National Institutes of Health grants GM68762, GM107618 and GM072872. We used the resources of the National Energy Research Scientific Computing Center, which is supported by the Office of Science of the US Department of Energy under contract DE-AC02-05CH11231.
Ethics declarations
Competing interests
G.M. is an employee of and shareholder in Merrimack Pharmaceuticals, Inc. P.K.S. is also a stockholder in Merrimack Pharmaceuticals, Inc., and is chair of its scientific advisory board.
Integrated supplementary information
Supplementary information
About this article
Cite this article
AlQuraishi, M., Koytiger, G., Jenney, A. et al. A multiscale statistical mechanical framework integrates biophysical and genomic data to assemble cancer networks. Nat Genet 46, 1363–1371 (2014). https://doi.org/10.1038/ng.3138
Received:

Accepted:

Published:

Issue Date:

DOI: https://doi.org/10.1038/ng.3138