Abstract
Naturally occurring genetic variation in the universal florigen flowering pathway has produced major advancements in crop domestication1,2,3,4,5,6,7,8,9,10. However, variants that can maximize crop yields may not exist in natural populations. Here we show that tomato productivity can be fine-tuned and optimized by exploiting combinations of selected mutations in multiple florigen pathway components. By screening for chemically induced mutations that suppress the bushy, determinate growth habit of field tomatoes, we isolated a new weak allele of the florigen gene SINGLE FLOWER TRUSS (SFT) and two mutations affecting a bZIP transcription factor component of the 'florigen activation complex' (ref. 11). By combining heterozygous mutations, we pinpointed an optimal balance of flowering signals, resulting in a new partially determinate architecture that translated to maximum yields. We propose that harnessing mutations in the florigen pathway to customize plant architecture and flower production offers a broad toolkit to boost crop productivity.
Relevant articles
Open Access articles citing this article.
Sagheer Ahmad

,

Chuqiao Lu

…

Fengxi Yang

BMC Plant Biology Open Access 10 December 2021

Xiaofeng Liu

,

Jiacai Chen

&

Xiaolan Zhang

Horticulture Research Open Access 01 July 2021

Xiya Zuo

,

Shixiang Wang

…

Dong Zhang

BMC Genomics Open Access 08 January 2021
Access options
Subscribe to this journal
Receive 12 print issues and online access
$209.00 per year
only $17.42 per issue
Rent or buy this article
Prices vary by article type
from$1.95
to$39.95
Prices may be subject to local taxes which are calculated during checkout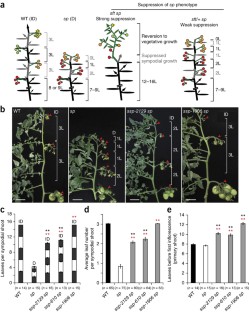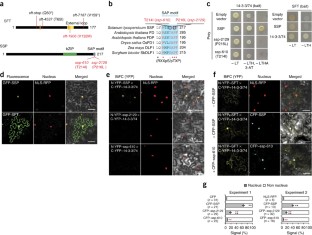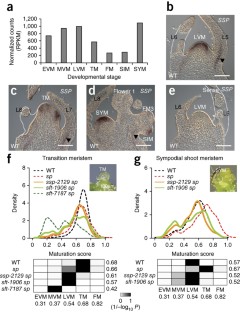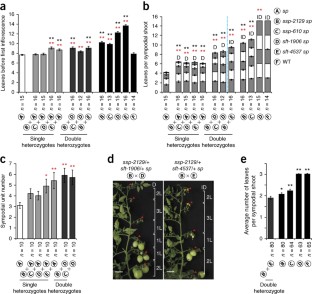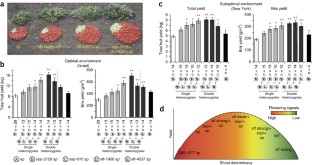 References
Comadran, J. et al. Natural variation in a homolog of Antirrhinum CENTRORADIALIS contributed to spring growth habit and environmental adaptation in cultivated barley. Nat. Genet. 44, 1388–1392 (2012).

Fernandez, L., Torregrosa, L., Segura, V., Bouquet, A. & Martinez-Zapater, J.M. Transposon-induced gene activation as a mechanism generating cluster shape somatic variation in grapevine. Plant J. 61, 545–557 (2010).

Repinski, S.L., Kwak, M. & Gepts, P. The common bean growth habit gene PvTFL1y is a functional homolog of Arabidopsis TFL1. Theor. Appl. Genet. 124, 1539–1547 (2012).

Ogiso-Tanaka, E. et al. Natural variation of the RICE FLOWERING LOCUS T 1 contributes to flowering time divergence in rice. PLoS ONE 8, e75959 (2013).

Iwata, H. et al. The TFL1 homologue KSN is a regulator of continuous flowering in rose and strawberry. Plant J. 69, 116–125 (2012).

Liu, B. et al. The soybean stem growth habit gene Dt1 is an ortholog of Arabidopsis TERMINAL FLOWER1. Plant Physiol. 153, 198–210 (2010).

Tian, Z. et al. Artificial selection for determinate growth habit in soybean. Proc. Natl. Acad. Sci. USA 107, 8563–8568 (2010).

Pin, P.A. et al. An antagonistic pair of FT homologs mediates the control of flowering time in sugar beet. Science 330, 1397–1400 (2010).

Blackman, B.K., Strasburg, J.L., Raduski, A.R., Michaels, S.D. & Rieseberg, L.H. The role of recently derived FT paralogs in sunflower domestication. Curr. Biol. 20, 629–635 (2010).

Pnueli, L. et al. The SELF-PRUNING gene of tomato regulates vegetative to reproductive switching of sympodial meristems and is the ortholog of CEN and TFL1. Development 125, 1979–1989 (1998).

Taoka, K. et al. 14-3-3 proteins act as intracellular receptors for rice Hd3a florigen. Nature 476, 332–335 (2011).

Meyer, R.S. & Purugganan, M.D. Evolution of crop species: genetics of domestication and diversification. Nat. Rev. Genet. 14, 840–852 (2013).

Doebley, J., Stec, A. & Hubbard, L. The evolution of apical dominance in maize. Nature 386, 485–488 (1997).

Jin, J. et al. Genetic control of rice plant architecture under domestication. Nat. Genet. 40, 1365–1369 (2008).

Tan, L. et al. Control of a key transition from prostrate to erect growth in rice domestication. Nat. Genet. 40, 1360–1364 (2008).

Yeager, A.F. Determinate growth in the tomato. J. Hered. 18, 263–265 (1927).

Rick, C.M. The tomato. Sci. Am. 239, 76–87 (1978).

Lifschitz, E. et al. The tomato FT ortholog triggers systemic signals that regulate growth and flowering and substitute for diverse environmental stimuli. Proc. Natl. Acad. Sci. USA 103, 6398–6403 (2006).

Park, S.J., Jiang, K., Schatz, M.C. & Lippman, Z.B. Rate of meristem maturation determines inflorescence architecture in tomato. Proc. Natl. Acad. Sci. USA 109, 639–644 (2012).

Shalit, A. et al. The flowering hormone florigen functions as a general systemic regulator of growth and termination. Proc. Natl. Acad. Sci. USA 106, 8392–8397 (2009).

Krieger, U., Lippman, Z.B. & Zamir, D. The flowering gene SINGLE FLOWER TRUSS drives heterosis for yield in tomato. Nat. Genet. 42, 459–463 (2010).

Jiang, K., Liberatore, K.L., Park, S.J., Alvarez, J.P. & Lippman, Z.B. Tomato yield heterosis is triggered by a dosage sensitivity of the florigen pathway that fine-tunes shoot architecture. PLoS Genet. 9, e1004043 (2013).

Ahn, J.H. et al. A divergent external loop confers antagonistic activity on floral regulators FT and TFL1. EMBO J. 25, 605–614 (2006).

Ho, W.W. & Weigel, D. Structural features determining flower-promoting activity of Arabidopsis FLOWERING LOCUS T. Plant Cell 26, 552–564 (2014).

Pnueli, L. et al. Tomato SP-interacting proteins define a conserved signaling system that regulates shoot architecture and flowering. Plant Cell 13, 2687–2702 (2001).

Wigge, P.A. et al. Integration of spatial and temporal information during floral induction in Arabidopsis. Science 309, 1056–1059 (2005).

Abe, M. et al. FD, a bZIP protein mediating signals from the floral pathway integrator FT at the shoot apex. Science 309, 1052–1056 (2005).

Jaeger, K.E., Pullen, N., Lamzin, S., Morris, R.J. & Wigge, P.A. Interlocking feedback loops govern the dynamic behavior of the floral transition in Arabidopsis. Plant Cell 25, 820–833 (2013).

Veitia, R.A. A generalized model of gene dosage and dominant negative effects in macromolecular complexes. FASEB J. 24, 994–1002 (2010).

Lifschitz, E., Ayre, B.G. & Eshed, Y. Florigen and anti-florigen—a systemic mechanism for coordinating growth and termination in flowering plants. Front. Plant Sci. 5, 465 (2014).

Guo, Y., Hans, H., Christian, J. & Molina, C. Mutations in single FT- and TFL1-paralogs of rapeseed (Brassica napus L.) and their impact on flowering time and yield components. Front. Plant Sci. 5, 282 (2014).

Graham, P.H. & Vance, C.P. Legumes: importance and constraints to greater use. Plant Physiol. 131, 872–877 (2003).

Belhaj, K., Chaparro-Garcia, A., Kamoun, S. & Nekrasov, V. Plant genome editing made easy: targeted mutagenesis in model and crop plants using the CRISPR/Cas system. Plant Methods 9, 39 (2013).

Menda, N., Semel, Y., Peled, D., Eshed, Y. & Zamir, D. In silico screening of a saturated mutation library of tomato. Plant J. 38, 861–872 (2004).

Tomato Genome Consortium. The tomato genome sequence provides insights into fleshy fruit evolution. Nature 485, 635–641 (2012).

Li, H. & Durbin, R. Fast and accurate short read alignment with Burrows-Wheeler transform. Bioinformatics 25, 1754–1760 (2009).

Li, H. et al. The Sequence Alignment/Map format and SAMtools. Bioinformatics 25, 2078–2079 (2009).

Jackson, D., Veit, B. & Hake, S. Expression of maize KNOTTED1 related homeobox genes in the shoot apical meristem predicts patterns of morphogenesis in the vegetative shoot. Development 120, 405–413 (1994).

Langmead, B. Aligning short sequencing reads with Bowtie. Curr. Protoc. Bioinformatics Chapter 11, Unit 11.7 (2010).

Efroni, I., Blum, E., Goldshmidt, A. & Eshed, Y. A protracted and dynamic maturation schedule underlies Arabidopsis leaf development. Plant Cell 20, 2293–2306 (2008).

Voinnet, O., Rivas, S., Mestre, P. & Baulcombe, D. An enhanced transient expression system in plants based on suppression of gene silencing by the p19 protein of tomato bushy stunt virus. Plant J. 33, 949–956 (2003).

Desprez, T. et al. Organization of cellulose synthase complexes involved in primary cell wall synthesis in Arabidopsis thaliana. Proc. Natl. Acad. Sci. USA 104, 15572–15577 (2007).
Acknowledgements
We thank members of the Lippman laboratory for discussions, C. Brooks for technical assistance, T. Mulligan and P. Hanlon for plant care, and staff from Cornell University's Long Island Horticultural Research and Extension Center in Riverhead, New York, and the Western Galilee Experimental Station in Akko, Israel, for assistance with the yield trials. We also thank M. Lodha and D. Jackson (Cold Spring Harbor Laboratory) for providing vectors, F. Yang and Y.K. Lee for guidance on in situ hybridization and Agrobacterium infiltration in tobacco, and S. Hearn for assistance with confocal microscopy. This research was supported by a European Research Council (ERC)-Advanced grant entitled YIELD to D.Z., by Israel Science Foundation (ISF; 1294-10) and Binational Agricultural Research and Development Fund (BARD; IS4536-12C) grants to Y.E. and by a grant from the National Science Foundation (NSF) Plant Genome Research Program (1237880) to Z.B.L.
Ethics declarations
Competing interests
The authors (S.J.P. and Z.B.L., on behalf of Cold Spring Harbor Laboratory) have filed a PCT patent application based in part on this work with the US Patent and Trademark Office.
Integrated supplementary information
Supplementary information
Supplementary Figures 1–13 and Supplementary Tables 1–6. (PDF 6566 kb)
About this article
Cite this article
Park, S., Jiang, K., Tal, L. et al. Optimization of crop productivity in tomato using induced mutations in the florigen pathway. Nat Genet 46, 1337–1342 (2014). https://doi.org/10.1038/ng.3131
Received:

Accepted:

Published:

Issue Date:

DOI: https://doi.org/10.1038/ng.3131