Abstract
Febrile seizures affect 2–4% of all children1 and have a strong genetic component2. Recurrent mutations in three main genes (SCN1A, SCN1B and GABRG2)3,4,5 have been identified that cause febrile seizures with or without epilepsy. Here we report the identification of mutations in STX1B, encoding syntaxin-1B6, that are associated with both febrile seizures and epilepsy. Whole-exome sequencing in independent large pedigrees7,8 identified cosegregating STX1B mutations predicted to cause an early truncation or an in-frame insertion or deletion. Three additional nonsense or missense mutations and a de novo microdeletion encompassing STX1B were then identified in 449 familial or sporadic cases. Video and local field potential analyses of zebrafish larvae with antisense knockdown of stx1b showed seizure-like behavior and epileptiform discharges that were highly sensitive to increased temperature. Wild-type human syntaxin-1B but not a mutated protein rescued the effects of stx1b knockdown in zebrafish. Our results thus implicate STX1B and the presynaptic release machinery in fever-associated epilepsy syndromes.
Relevant articles
Open Access articles citing this article.
Pingyang Ke

,

Juan Gu

…

Fei Xiao

Cell Death Discovery Open Access 22 June 2023

Johannes Luppe

,

Heinrich Sticht

…

Konrad Platzer

European Journal of Human Genetics Open Access 23 December 2022

Elissa Yozawitz

&

Solomon L. Moshé

Acta Epileptologica Open Access 26 October 2022
Access options
Subscribe to this journal
Receive 12 print issues and online access
$209.00 per year
only $17.42 per issue
Rent or buy this article
Prices vary by article type
from$1.95
to$39.95
Prices may be subject to local taxes which are calculated during checkout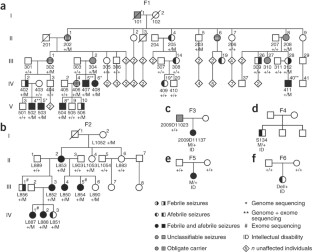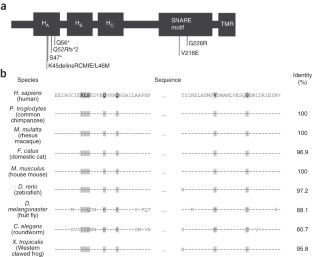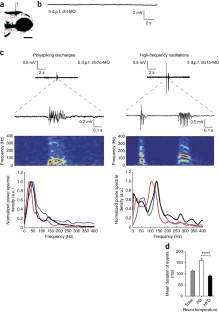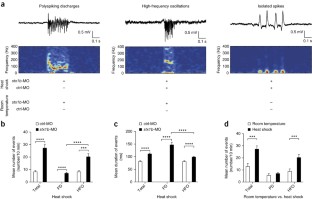 Accession codes
Accessions
Ensembl
NCBI Reference Sequence
References
Berg, A.T., Jallon, P. & Preux, P.M. The epidemiology of seizure disorders in infancy and childhood: definitions and classifications. Handb. Clin. Neurol. 111, 391–398 (2013).

Eckhaus, J. et al. Genetics of febrile seizure subtypes and syndromes: a twin study. Epilepsy Res. 105, 103–109 (2013).

Escayg, A. et al. Mutations of SCN1A, encoding a neuronal sodium channel, in two families with GEFS+2. Nat. Genet. 24, 343–345 (2000).

Wallace, R.H. et al. Febrile seizures and generalized epilepsy associated with a mutation in the Na+-channel β1 subunit gene SCN1B. Nat. Genet. 19, 366–370 (1998).

Wallace, R.H. et al. Mutant GABA(A) receptor γ2-subunit in childhood absence epilepsy and febrile seizures. Nat. Genet. 28, 49–52 (2001).

Südhof, T.C. Neurotransmitter release: the last millisecond in the life of a synaptic vesicle. Neuron 80, 675–690 (2013).

Lerche, H. et al. Generalized epilepsy with febrile seizures plus: further heterogeneity in a large family. Neurology 57, 1191–1198 (2001).

Weber, Y.G. et al. A BFIS-like syndrome with late onset and febrile seizures: suggestive linkage to chromosome 16p11.2-16q12.1. Epilepsia 49, 1959–1964 (2008).

Chen, W.J. et al. Exome sequencing identifies truncating mutations in PRRT2 that cause paroxysmal kinesigenic dyskinesia. Nat. Genet. 43, 1252–1255 (2011).

Wang, J.L. et al. Identification of PRRT2 as the causative gene of paroxysmal kinesigenic dyskinesias. Brain 134, 3493–3501 (2011).

Lee, H.Y. et al. Mutations in the gene PRRT2 cause praroxysmal kinesigenic dyskinesia with infantile convulsions. Cell Rep. 1, 2–12 (2012).

Schubert, J. et al. PRRT2 mutations are the major cause of benign familial infantile seizures. Hum. Mutat. 33, 1439–1443 (2012).

Heron, S.E. et al. PRRT2 mutations cause benign familial infantile epilepsy and infantile convulsions with choreoathetosis syndrome. Am. J. Hum. Genet. 90, 152–160 (2012).

Becker, F. et al. PRRT2-related disorders: further PKD and ICCA cases and review of the literature. J. Neurol. 260, 1234–1244 (2013).

Saitsu, H. et al. De novo mutations in the gene encoding STXBP1 (MUNC18-1) cause early infantile epileptic encephalopathy. Nat. Genet. 40, 782–788 (2008).

Lemke, J.R. et al. Targeted next generation sequencing as a diagnostic tool in epileptic disorders. Epilepsia 53, 1387–1398 (2012).

Nasevicius, A. & Ekker, S.C. Effective targeted gene "knockdown" in zebrafish. Nat. Genet. 26, 216–220 (2000).

Afrikanova, T. et al. Validation of the zebrafish pentylenetetrazol seizure model: locomotor versus electrographic responses to antiepileptic drugs. PLoS ONE 8, e54166 (2013).

Jefferys, J.G. et al. Mechanisms of physiological and epileptic HFO generation. Prog. Neurobiol. 98, 250–264 (2012).

Epi4K Consortium & Epilepsy Phenome/Genome Project. De novo mutations in epileptic encephalopathies. Nature 501, 217–221 (2013).

Bragina, L., Giovedì, S., Barbaresi, P., Benfenati, F. & Conti, F. Heterogeneity of glutamatergic and GABAergic release machinery in cerebral cortex: analysis of synaptogyrin, vesicle-associated membrane protein, and syntaxin. Neuroscience 165, 934–943 (2010).

Pietri, T., Manalo, E., Ryan, J., Saint-Amant, L. & Washbourne, P. Glutamate drives the touch response through a rostral loop in the spinal cord of zebrafish embryos. Dev. Neurobiol. 69, 780–795 (2009).

Zhou, P. et al. Syntaxin-1 N-peptide and Habc-domain perform distinct essential functions in synaptic vesicle fusion. EMBO J. 32, 159–171 (2013).

Gerber, S.H. et al. Conformational switch of syntaxin-1 controls synaptic vesicle fusion. Science 321, 1507–1510 (2008).

Foletti, D.L., Lin, R., Finley, M.A. & Scheller, R.H. Phosphorylated syntaxin 1 is localized to discrete domains along a subset of axons. J. Neurosci. 20, 4535–4544 (2000).

Rüschendorf, F. & Nürnberg, P. ALOHOMORA: a tool for linkage analysis using 10K SNP array data. Bioinformatics 21, 2123–2125 (2005).

Abecasis, G.R., Cherny, S.S., Cookson, W.O. & Cardon, L.R. GRR: graphical representation of relationship errors. Bioinformatics 17, 742–743 (2001).

O'Connell, J.R. & Weeks, D.E. PedCheck: a program for identification of genotype incompatibilities in linkage analysis. Am. J. Hum. Genet. 63, 259–266 (1998).

Abecasis, G.R., Cherny, S.S., Cookson, W.O. & Cardon, L.R. Merlin—rapid analysis of dense genetic maps using sparse gene flow trees. Nat. Genet. 30, 97–101 (2002).

Sobel, E. & Lange, K. Descent graphs in pedigree analysis: applications to haplotyping,location scores, and marker sharing statistics. Am. J. Hum. Genet. 58, 1323–1337 (1996).

Sobel, E., Sengul, H. & Weeks, D.E. Multipoint estimation of identity-by-descent probabilities at arbitrary positions among marker loci on general pedigrees. Hum. Hered. 52, 121–131 (2001).

Mukhopadhyay, N., Almasy, L., Schroeder, M., Mulvihill, W.P. & Weeks, D.E. Mega2: data-handling for facilitating genetic linkage and association analyses. Bioinformatics 21, 2556–2557 (2005).

Thiele, H. & Nürnberg, P. HaploPainter: a tool for drawing pedigrees with complex haplotypes. Bioinformatics 21, 1730–1732 (2005).

Purcell, S. et al. PLINK: a toolset for whole-genome association and population-based linkage analysis. Am. J. Hum. Genet. 81, 559–575 (2007).

Li, H., Ruan, J. & Durbin, R. Mapping short DNA sequencing reads and calling variants using mapping quality scores. Genome Res. 18, 1851–1858 (2008).

Li, H. & Durbin, R. Fast and accurate short read alignment with Burrows-Wheeler transform. Bioinformatics 25, 1754–1760 (2009).

Li, H. et al. The Sequence alignment/map (SAM) format and SAMtools. Bioinformatics 25, 2078–2079 (2009).

McKenna, A. et al. The Genome Analysis Toolkit: a MapReduce framework for analyzing next-generation DNA sequencing data. Genome Res. 20, 1297–1303 (2010).

Albers, C.A. et al. Dindel: accurate indel calls from short-read data. Genome Res. 21, 961–973 (2011).

Yeo, G. & Burge, C.B. Maximum entropy modeling of short sequence motifs with applications to RNA splicing signals. J. Comput. Biol. 11, 377–394 (2004).

Drmanac, R. et al. Human genome sequencing using unchained base reads on self-assembling nanoarrays. Science 327, 78–81 (2010).

Roach, J.C. et al. Analysis of genetic inheritance in a family quartet by whole-genome sequencing. Science 328, 636–639 (2010).

Roach, J.C. et al. Chromosomal haplotypes by genetics phasing of human families. Am. J. Hum. Genet. 89, 382–397 (2011).

Summerton, J. & Weller, D. Morpholino antisense oligomers: design, preparation, and properties. Antisense Nucleic Acid Drug Dev. 7, 187–195 (1997).
Acknowledgements
We thank the families and their relatives for their cooperation. We thank P. Verstreken (VIB, KU Leuven) for providing access to the electrophysiology equipment. This study was supported by the Federal Ministry for Education and Research (BMBF; NGFNplus/EMINet to H.L., P.N. and T.S., 01GS08123 and 01GS08120; IonNeurONet to H.L., K.J.-R., F.L.-H. and S. Biskup, 01GM1105), funding to the EuroEPINOMICS Consortium coordinated by the European Science Foundation from the German Research Foundation (DFG; Le1030/11-1 to H.L., He5415/3-1 to I.H., Sa434/5-1 to T.S. and Nu50/8-1 to P.N.), the Swiss National Fund (32EP30_136042/1 to J.R.L.) and the Fund for Scientific Research Flanders (GA13611N to P.D.J.). Y.G.W. and I.H. were funded by the German Research Foundation (DFG: WE4896/3-1 and HE5415/6-1). Y.G.W. and S. Biskup received intramural funding from the University of Tübingen (AKF 297-0-0). The German Society for Epileptology (DGfE) gave funding to H.L., Y.G.W., I.H. and H.M., and the foundation no-epilep gave funding to H.L. I.H. and H.M. received further support through intramural grants from the University of Kiel and infrastructural support from the Institute of Clinical Molecular Biology in Kiel, supported in part by the popgen 2.0 network (P2N) through a grant from the BMBF (01EY1103) and Cluster of Excellence 'Inflammation at Interfaces' and 'Future Ocean' programs funded by the DFG. The study was further supported by a Center for Systems Biology P50 grant (GM076547, US National Institutes of Health) to L.H. and by the University of Luxembourg–Institute for Systems Biology Program (P.M., J.C.R., G.G., L.H. and D.J.G.). M. Brunkow provided project management for the whole-genome sequencing. P.M. was supported by 'Le Plan Technologies de la Santé par le Gouvernment du Grand-Duché de Luxembourg' through the Luxembourg Centre for Systems Biomedicine (LCSB), University of Luxembourg. A. Kecskés and K.H. are recipients of a PhD fellowship from the Agency for Innovation by Science and Technology (IWT, Flanders). A. Suls is a postdoctoral fellow of the Research Foundation–Flanders (FWO Vlaanderen). M.L. and M.J. were supported by the LCSB KT program. F.L.-H. and K.J.-R. are supported by the Hertie Foundation. S. Baulac received financial support from the program 'Investissements d'Avenir' (ANR-10-IAIHU-06).
Ethics declarations
Competing interests
P.N. is a founder, CEO and shareholder of ATLAS Biolabs. ATLAS Biolabs is a service provider for genomic analyses. A.D.C. and R.B. are shareholders of Theracule.
Integrated supplementary information
Supplementary information
About this article
Cite this article
Schubert, J., Siekierska, A., Langlois, M. et al. Mutations in STX1B, encoding a presynaptic protein, cause fever-associated epilepsy syndromes. Nat Genet 46, 1327–1332 (2014). https://doi.org/10.1038/ng.3130
Received:

Accepted:

Published:

Issue Date:

DOI: https://doi.org/10.1038/ng.3130